How to Fix iTunes Error 4005
You might get some errors when you try to update or restore iPhone, iPad or iPod touch. One of the most annoying issues is iTunes error 4005. Actually, there is no need to worry about it. In this article, we will show 5 useful methods on how to fix iTunes error 4005 which you can try out, because one of them will hopefully work, and the error will be gone.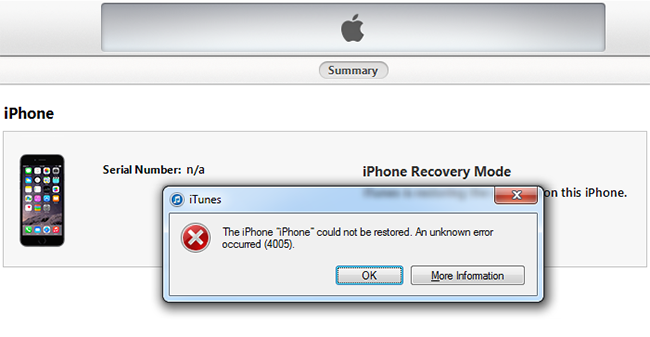 Symptoms of Error 4005
"Error 4005" appears and crashes the active program window.
Your PC always crashes with iTunes Error 4005 when running the same program.
"The iPhone [device name] could not be restored" is shown .
Windows runs sluggishly and responds slowly to mouse or keyboard input.
Your computer periodically "freezes" for a few seconds at a time.
These 4005 error messages can appear during program installation, while an Apple Inc.-related software program (eg. iTunes) is running, during Windows startup or shutdown, or even during the installation of the Windows operating system. Keeping track of when and where your 4005 error occurs is a critical piece of information on how to correct iTunes error code 4005.
Causes of iTunes Error 4005
The iTunes software hasn't been properly downloaded or incompletely installed.
iCloud hasn't been properly turned off, which leads to its inability to restore.
The infection of viruses as well as poisonous links and software which corrupt iOS or iTunes-related program files and result in the inefficiency work of iOS devices.
5 Ways to Fix iTunes Error 4005 When You Restore or Update iPhone/iPad
Here are 5 useful ways listed you can have a try to fix iTunes error.
Solution 1: Restart iTunes
When we are offering solutions, we always start from the one that is considered to be simple and easy. Turn off iTunes on your computer, and turn it on again. Most of the errors you see, sometimes simply disappear after the software restarts.
Solution 2: Reboot your computer
If the error is still there, reboot your computer. This can be very helpful, especially if you did not reboot your computer for some period of time.
Solution 3: Install the latest iTunes version
If you are a Mac user, open iTunes, and choose iTunes from the menu. Click on Check for Updates.
If you are a Windows user, open the program, and choose help from the menu. Check for Updates.
Solution 4: Update your computer
Maybe your computer is not up to date. If that is the case, maybe that is exactly why the error occurred. If you are an OS X user, from the Apple Menu click on the Apple Store, and see if there are available updates. If you are a Windows user, click on Start, then on All Programs, and choose Windows update.
Solution 5: Change the USB cable and the USB port as well
Sometimes, changing the cable that connects your iPhone to your computer may help. Also, change the USB port and try to restore or update your device.
Done! Hope those methods above can help you to remove this annoying issue completely and fix iPhone error 4005. For more information, please feel free to visit our official website.