Issue: Help, Lost password to iPhone 6 backup!
"One day when I connect my iPhone 6 to the Windows PC, iTunes asks for a password to unlock backup. I don't know why. I have never set up any password. I have no idea whether somebody had setup a backup password or not. Please does anyone have any good ideas to help me recover my lost iPhone 6 backup password?"
Solution: How to Recover Lost iPhone 6 Backup Password
It is generally known that you use password to protect your personal information like contacts, messages, call history, photos, etc. But accident always happens. The worst thing is you forgot iPhone backup password. In the following, we will introduce the 2 ways to retrieve lost iPhone 6 backup password.
Solution 1: Try Possible Passwords
Once you lost password for your iPhone backup, the first thing you may do is to try all possible password combinations to meet your fortune. You may try your Apple ID password, your Windows administrator password, or try all kinds of variations of your family's name or birthday. But password is not promised to be found with this method.
Solution 2: Use iPhone 6 Backup Password Recovery Tool (Recommended)
Your best choice for recovering password for iPhone 6 backup is to use an iPhone backup password recovery tool. Currently, the best one is called iPhone Backup Unlocker, according to user reviews from CNET. This software is capable of hack iTunes backup of all iPhone models, including iPhone 6 Plus, iPhone 6, 5S, 5, 4S. Free download the trial version on Windows 10/8.1/8/7/XP/Vista and see how you can do.
Free Download
For Win 10/8.1/8/7/XP
Secure Download
Step 1: Import the password locked iPhone 6 backup file to iPhone Backup Unlocker.
Cluck "Add" to load the file to the program. If no backup file is listed in the drop-down box, click "Import backup file" to load your backup file manually.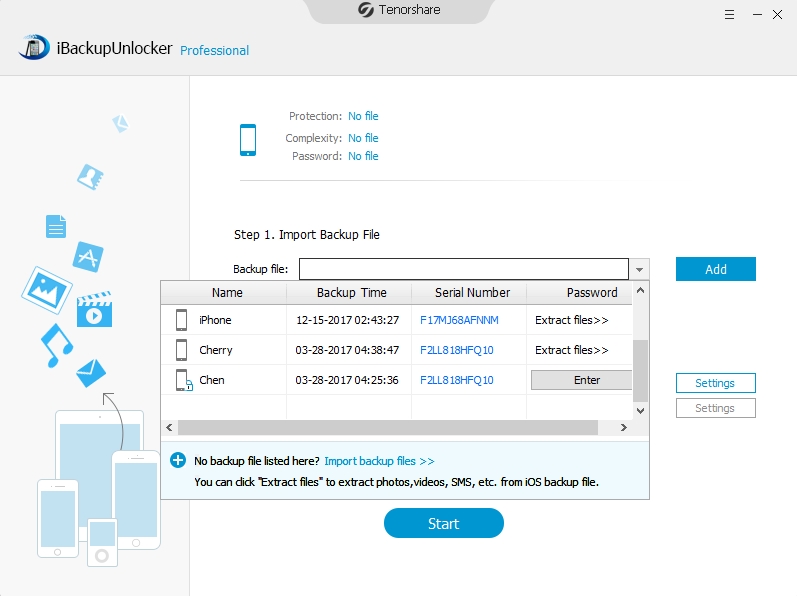 Step 2: Select an attack type and define the settings.
You have three types of attack types to choose from, namely Brute-force Attack, Brute-force with Mask Attack, and Dictionary Attack. Choose one of them and then set up the settings accordingly.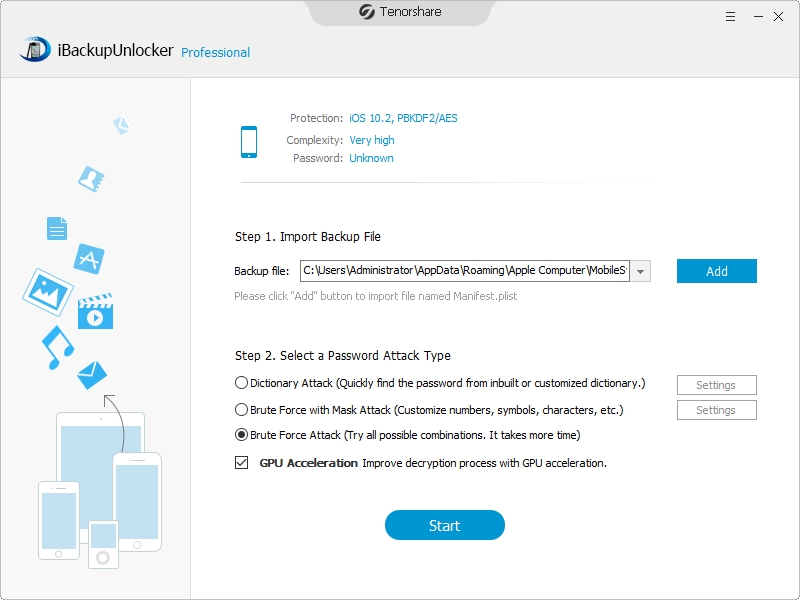 Note
:
Dictionary Attack
is highly suggested. You could set a text file with all possible passwords and import it to the program. This is the fastest way to get back your lost password.
Step 3: Start to recover iPhone 6 backup password.
Lastly, click "Start" to initiate the program. Wait for several minutes until the password is displayed.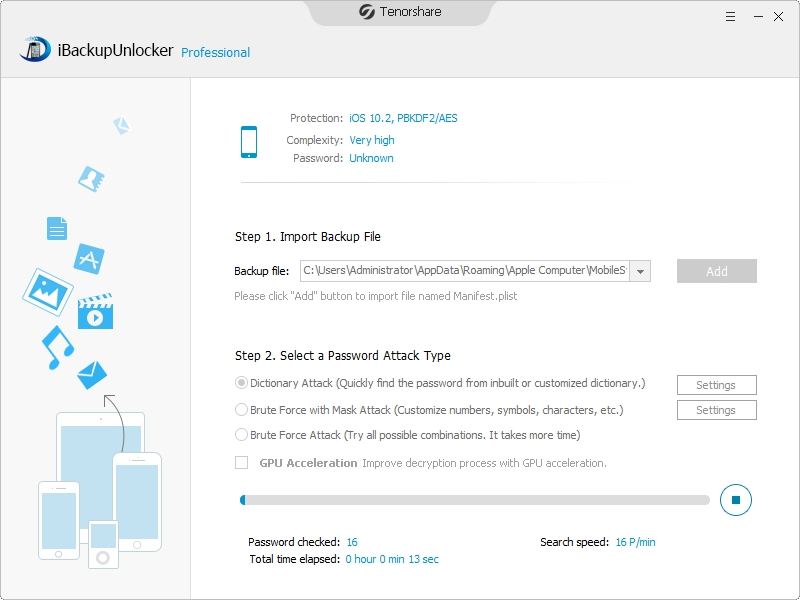 With these simple steps, you can recover your iPhone 6 backup password. You can feel free to try.
Free Download
For Win 10/8.1/8/7/XP
Secure Download
Related Articles
comments powered by