"I'm trying to restore my iPhone with iTunes backup and it asks for my password to unlock iphone backup. I thought this was the same as iTunes password but it is not. I have iPhone 6, iTunes 12. Please help me unlock my backup file."
Quite a lot of people have been troubled by this problem. Sometimes, they locked their backup file and forgot it gradually. Sometimes, iTunes automatically encrypted them backup containing "business/company/IT secure information". No matter for what reasons, now you restore your iPhone with iTunes backup until you have the password.
In this article we list 2 easy ways for Windows and Mac users to unlock iPhone backup password on iTunes 12.
Part 1: How to Unlock iPhone Backup Password on iTunes 12 Windows?
Apple doesn't offer you anyway to unlock encrypted iTunes backup but erase your device and set up as new. In this way you'll lost all data on your device. Alternatively, an iPhone Backup Unlocker can easily to unlock iPhone restore backup password on iTunes 12 and offer you an option to deleted password from your encrypted iTunes backup which iTunes can't do.
To get started, you need to free download iPhone Backup Password Unlocker and installed it in a Windows computer.
Free Download
For Win 10/8.1/8/7/XP
Secure Download
Run iPhone Password Unlocker and click on "Open" on the main interface to import your password protected iPhone backup file.
Select an attack type to unlock encrypted backup files. (Brute-force Attack, Brute-force with Mask Attack and Directory Attack)
Click on "Start" to retrieve your lost backup password. After several minutes, your lost password will be listed in the File Opening Password Box.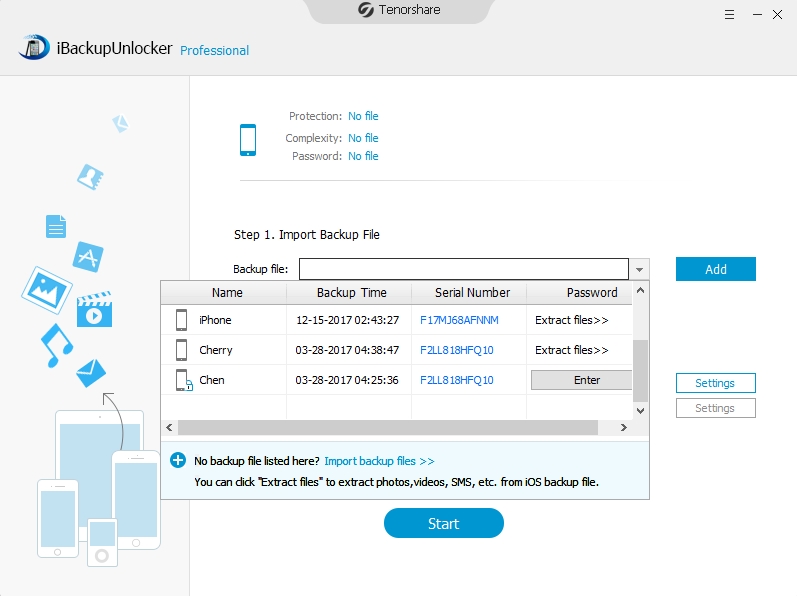 Part 2: How to Unlock iPhone Backup Password on iTunes 12 Mac?
For Mac users, if you saved your backup password in KeyChain, there is still a chance to find your lost password unlock iPhone backup on it. The success rate depends on the usage of Keychain in your Mac OS X.
Open the Keychain Access utility from /Application/Utilities. Select "All items" under categories
In the upper right search field enter "iphone" or the name of your backup file and then look for a keychain item named "iPhone Backup" of kind "application password".
Double click on the "iPhone Backup" entry and in the new window that will open, click on the "show password" checkbox.
Enter your password (the one your user has on your Mac) to show the iPhone backup password; click Allow (once).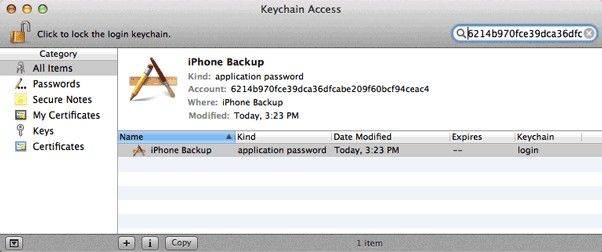 Remember that if you're using an installed profile (for business or education devices), you must delete the file containing "business/company/IT secure information" to turn off iPhone backup password on iTunes 12.
Free Download
For Win 10/8.1/8/7/XP
Secure Download
Related Articles
comments powered by