[2021]How to Unlock iPhone Contact, Follow The Steps
by Sophie Green Updated on 2021-09-15 / Update for iPhone Tips
Can You Unblock A Number on iPhone? The answer is yes, if you accidentally blocked someone you did not want, or if you blocked a number before you realized who it was, you can unblock it just as easily. You can completely block callers and misdirected iMessagers who make you angry or spam you with BS.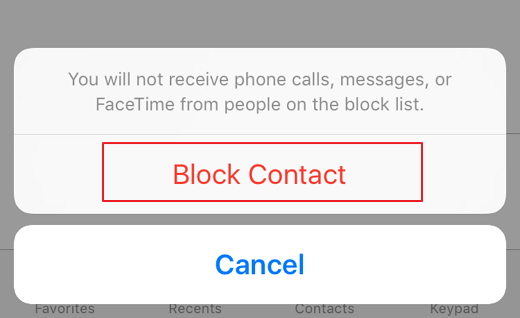 Your phone will routes the call to voicemail when a blocked number calls you, and your iPhone will not send you a notification that you have received a new voicemail message. A blocked iPhone number can not call you. Nor can it contact you directly via FaceTime or text message. But that does not mean the blocked caller has no way to contact you, as they can still leave a voicemail. Rather, the blocked caller's voicemail will remain in your inbox until you go in and delete it.
How to Unlock iPhone Contact
Sometimes you may block someone who has called you, but afterwards you find that it is someone you knew before. You are so confused and do not know how to unblock the iPhone contact and do not know where he is. Take it easy and follow the steps to unlock iPhone contact in the Contact app.
Open "Contacts" on your iPhone.
Find the particular contact you want to unblock.

Go into " Contact" and tap "Unblock this Caller" at the bottom.
How to Unblock A Phone Number on iPhone
Here is another way to unblock a number on your iPhone. This way you can manage and edit the numbers you have previously locked.
Go to the Settings app on iPhone.
Choose Phone and go into it.
Call Blocking & Identification.
Edit in the upper right corner of your screen.
Tap the minus button (red circle) next to the number or email address you'd like to unblock.

Tap Unblock.
How to Unblock A Phone Number on iPhone
If you follow the steps above, you will usually know how to unlock iPhone contact now. If unlocking contact failed, it means that your iPhone may have a bug or there is a bug in the contact feature. To fix the iPhone system problem, I recommend you Tenorshare ReiBoot to fix these relevant issues. Such software that can fix iOS system without causing data loss is extremely rare. Follow the steps and do a check-up for your iPhone.
Here are the steps to repair iPhone without data loss.
Download Tenroshare ReiBoot on Your PC

Click the bottom and download ReiBoot base on your PC system, it provides client for windows an mac users.

Click 'Standard Repair' to Start the Repair

Connecting your iPhone to PC via USB cable and click the standard repair to continue the process.

Attention:

If you device can't be detected, follow the instruction to enter Recovery Mode first.

When Recovery Mode do not show up, click 'Try DFU Mode' on the bottom to enter DFU mode by following the instruction below.

Download Firmware Package

Download the latest firmware package to start the standard repair, don't worry, ReiBoot will automatically detect your iPhone model and download the latest firmware package.

Start Standard Repair

When everything is ready, finally can we begin to Standard Repair by clicking the bottom.

Standard Repair Completed

The entire process takes a few minutes. After the standard repair is complete, your iPhone will automatically reboot and all your data will not be deleted.
The Bottom Line
It's nice that you have read through the article to the end, I really hope the above methods will help you. The nice thing about the block list in iOS is that you can have only certain email addresses or phone numbers of a person blocked, and you can also remove only certain ones if you want to.
Sometimes we have followed the steps, but still do not reach our goal when using iPhone. This situation is probably caused by an iOS system problem. Try Tenorshare ReiBoot to repair your iPhone bravely, you no longer need to be afraid of data loss.