Tips to Stop Someone from Spying on My Cell Phone
by Anna Sherry Updated on 2020-08-27 / Update for iPhone Tips
There is something common that we all hate when people do it. Guess what it is? Being spied by someone on your phone! It is the most frustrating thing that almost we all have gone through in our life. Imagine your phone getting traced by someone else that you may or may not know. No one in the world would like one's phone to be spied on. And we are here to guide you about how you can stop the people around you from spying on your phone. Put all your worries aside, and let's dive with us and iron out the details about how to stop someone from spying on your phone!
Part 1: How to Tell If Someone Is Spying on Your Cell Phone?
Before finding a solution, you need to get the answer to how you will get to know that someone is spying on your phone. Before reaching the solution, we need to go to the root of the issue to devise a solution accordingly. The following are some methods through which you can get to know if someone is spying on your phone or not.
1. Signs of Activity in Standby Mode:
The first thing that will alarm you about your phone is that you will see the signs of your home activity in the standby mode. For example, you standby your phone after closing all the background apps. And when you get back to your phone, you see some apps running in the background. If you see this, you must take some instant actions to secure your phones from spies.
2. Deteriorating Battery Life:
The next very significant thing that will show red flags is the deteriorating battery life. We all know about the estimated battery life of our cell phones, and we know how much longer they go. But when you see any sudden change in battery life, it is time to figure out the spy software installed on your phone.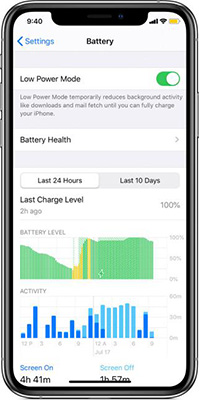 Part 2: The Risks of Cell Phone Being Tracked from Someone:
There are so many risks that you have to face if someone is tracking your phone. We got to list out a few of them. Let's have a view of them!
Data loss:

The first thing that you may have to face is that someone who is illegally checking up on your phone can damage your sensitive data. If you want to keep your data safe, you have to keep your cell phone safe from the unauthentic people.

Data misuse:

The terrible thing that a spy can do is extract your personal information from your cell phone and use it for some criminal purposes. Moreover, someone can also misuse your pictures and other personal information.
Part 3: How to Stop Someone from Accessing Your Phone Remotely
The question here is how we can stop someone from spying over your phone. You can't ask the spies to quit doing what they are doing, and of course, they won't obey you even if you ask them to stop it. So, the thing is that you have to take some steps so that the unauthentic people can secure your phone. There are some ways you can make your cell phone safe from these spies, and there will be no threat to your data privacy. We are here to tell you about those methods that you should follow. Let's have a look!
Way 1. Delete All The Spy Software from Your Device:
The first thing that you need to know is that it is not always the person sitting right next to you spying on your phone. Sometimes, someone is spying on you not around you but at a significant distance from you. He/she is accessing your phone remotely, and you also have to stop them. What they had done to your phone is that they installed spy software on your phone. This software delivers all your information and all activities that you do on your phone to the spy. You have to check your cell phone for all such spy software and uninstall them at once so that they can't deliver your information to a third party.
Way 2. Fake GPS Location on Your Phone:
Some people also trace your phone's location to note your activity and know your location. To stop such people, faking the GPS location is the best thing that you can do to your cell phone to keep your device safe from spies. Now you must be thinking about how to change the GPS location on your phone. So, let me show you how you can do it! Download the software named Tenorshare iAnyGo and follow the steps given below!
Video Guide: How to Change iPhone Location with iAnyGo
Launch the app and select the default mode "Change Location".

The next step is to connect your iPhone with the laptop through a USB cable.

The next step is to select the desired location on the screen that you want to fake and replace your real location with. And hit "start to modify" to confirm the changes!
Ta-dah…! Your location is changed now; you can check it in Google maps.
Way3: Factory Reset Your iPhone or Android Phone (Data Loss)
If you happen to see any signals that alarm you about your phone being tracked by someone, and you don't get to find the spy apps in your phone, you should instantly reset your device. Resetting your device will uninstall all the third-party apps on your phone, and only the default apps will be left in the mobile device. In this way, all the spy apps will also get uninstalled. Let me show you how you can reset your device!
Go to the settings menu on the mobile phone.
Search for the "Erase All Content and Settings" option.
When you hit this option, the screen will ask you to enter your passcode.
When you enter the password, you will be asked for permission to erase all the data.

Hit "erase everything" and then reboot your device.
The phone factory data reset process is completed. Now your phone is completely safe from the spies.
Conclusion:
We told you everything you need to know about the spies and how to stay safe from those spies. It is now up to you how carefully you follow all the things so nobody can track your phone and misuse your sensitive data saved in your mobile phone. Take care of your device; don't give it to an unknown person. Try to keep your phone locked whenever you go out. Password protected phone is less likely to fall prey to spies, so set a difficult password so that nobody can bypass it.