How to Manage Subscriptions on an iPhone 7/7 Plus
On an Apple iPhone, you can have a number of subscriptions some of which renew automatically when they are about to expire while others need to be manually renewed. If you've ever subscribed to something on your iPhone, you'd know the process of subscriptions very well.
The aim of the following guide is to teach you how you can manage subscriptions in an efficient manner on your iPhone 7/7 Plus, or any other iPhone for that matter. Managing subscriptions on iPhones is extremely easier than you think and the following gives more details about it.
According to an official post by Apple, there are a few subscriptions that renew automatically on your iPhone and those subscriptions are as follows:
Apple Music
Apple News
Newspaper
Magazine
Subscriptions to many apps available in the App Store
Online memberships or subscriptions to services such as HBO NOW, Spotify, Netflix, Pandora, Hulu, etc.
As you can see above, you can have the official Apple subscriptions as well as subscriptions from the apps you have downloaded from the App Store.
When you have all of these subscriptions, you'll definitely want to learn how you can manage them on your iPhone. Managing subscriptions is really important as sometimes you may want to adjust or cancel a subscription. Your iPhone allows you to do that and it's pretty easy to do it.
How to Manage and Cancel App Subscription On iPhone
The first thing you'll want to do to manage subscriptions on your iPhone is to go to the Settings panel and tap on your username. Then, tap on iTunes & App Store followed by a tap on your Apple ID. When you get a prompt, tap on the option that says View Apple ID to view details of your Apple account.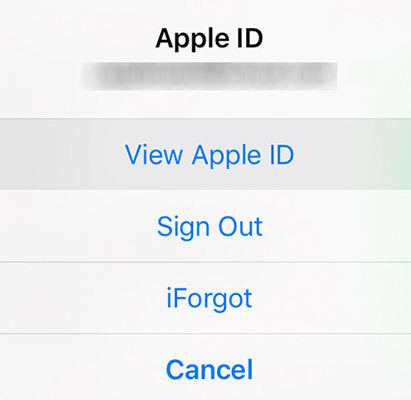 On the screen that follows, scroll down and tap on the option that says Subscriptions and there you are. Your screen will then show all of the services you have subscribed to and that's where you can manage all the subscriptions from.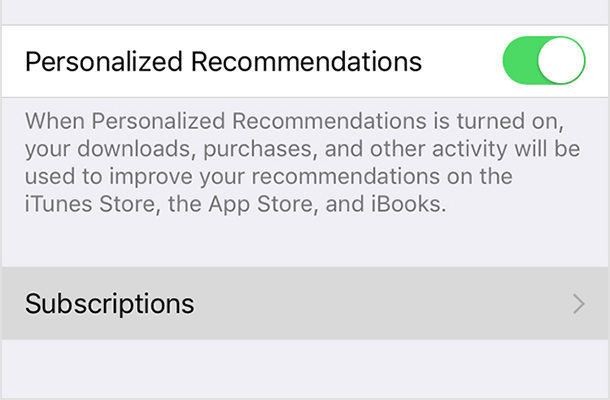 Some of the things you can do with your subscriptions are that you can view the subscriptions, modify them if you wish, and even cancel the ones you don't want to use anymore. All from a single screen on your iPhone. For example, if you are a member of Apple Music, you will see the following on your screen.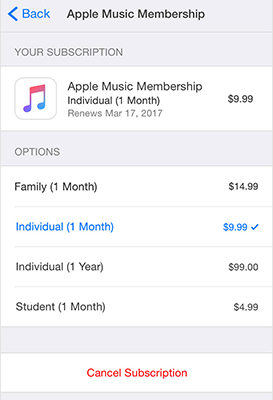 As you can see, you can view the cost of your subscription, you have the options to change the subscription such as to upgrade or downgrade your plan, and finally you have the button that lets you end the subscription. When you tap it, it cancels your subscription from the next billing cycle.
When you subscribe to some particular services, they let you download files to your iPhone so you can access them even when you're offline. However, if you cancel your subscription, the files get removed from your device and you cannot access them.
In such cases, it's advised that you use a backup program and make a full backup of your iPhone. While you can always use iTunes to backup your iOS devices, sometimes you may wish to use something else and that's when the Tenorshare iCareFone app comes into the picture.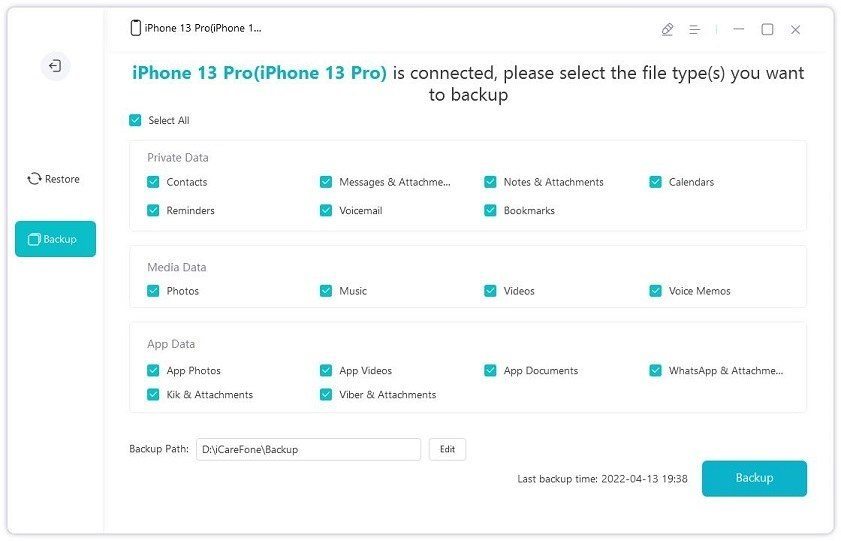 The app offers features like creating full backups of an iPhone, restoring the backups, speeding up the device by removing junk files, and so on. When you get the app, simply make a full backup of your device and all of your device's files will be copied to your computer.
So, that was how you could manage subscriptions on an iPhone 7 or iPhone 6s/6/5s/5.