How to Fake Location on Find My Friends (Video Included)
by Anna Sherry Updated on 2020-09-14 / Update for iPhone Tips
You can easily enjoy all your favorite location-based apps and games, even in the restricted regions. Isn't it sounding fantastic? Of course, it does! Put all your worries aside and read the information given below with sheer attention so that you can get the easiest solution to all your location-based issues that keep you from enjoying your favorite apps.
Part 1: Why Do People Want to Fake Location of Find My friends
Find my friend is a mobile tracing application through which you can locate your friends' iPhone, iPad and other devices. It is quite a useful application, but few people use it for malicious purposes. For example, people use it to check on their friends and spy on them, which is a pretty unethical job. The biggest reason people want to fake locations to find my friend is to avoid the spies who have nothing to do with their lives but still checking up on them illegally. In my opinion, it is the only reason for which most of the people use location spoofing to keep themselves safe from such annoying people.
Part 2: How to Fake Location on Find My Friends without Jailbreak
The people who are tired of trying ways to get rid of such annoying people are now looking for the best solution to this problem, and guess what? We found one excellent tool for you. Tenorshare iAnyGo is the best software tool for location spoofing that you can opt for. Let's have a view of the features of this incredible location changing tool.
Features:
It gives you the best location changing opportunity.
You can also stimulate GPS movement and plan virtual routes to make them look natural.
You can also enjoy the multi-spot movement.
Step-by-step guide:
First of all, download the application on your laptop or pc. Then, launch the app. you will see the default mode is "change location," and it is what you want.

Then, connect your iPhone with the laptop or pc, make sure that the connection is made correctly and don't disconnect the mobile while the process is working.

A map will appear on the screen, select the location that you want to replace your current location with. Drag your cursor on the desired location and click to add location. You can also use the search bar to select the location.
Related Video
Part 3: How to Fake Location on Find My Friends for Jailbroken iDevice (Jailbreak Required)
If your device is previously jailbroken, don't worry, we still have a solution for it! Yes, you heard, right! It is all the game of software tools that you have to have to get your location spoofing done. The software that will help you in changing the location of your jailbroken iPhone is FMFNotifier. It is an incredible application that you can ever have, as it will improve your find my friend's experience. let's have a view at the features of this application:
Features:
The best thing about this game is that you will get notified through notification whenever your friend wants your location.
The second best thing about this app is that you can change your current location and replace it with a new one so that nobody can get your actual location.
You can also enable or disable your spoof location with SMS.
How to install the application?
Follow the following steps to install the application to enjoy the best features of this game.
Launch Cydia and go to search.
Search for locationFaker.
Now, you have to select your version of the iPhone and start the installation.
Your app is now installed on your phone, and you can open it by tapping on its icon on the home screen.
How to use it to fake location?
Follow the following steps to get your location spoofing done.
Turn on the location spoofer just after you install it on your phone. Choose or customize the label that you want to display while the location is changed.

The next step is to select the location that you want your current location to be replaced with and then lock it.

And here you go, your location is now changed, and now if someone requests the location or even starts following you, you will get a notification about it.
Part 4: How to Turn off Find My Friends (Step-by-Step Guide)
Follow the following steps to turn off find my friends, have a look!
Open settings on your phone. Tap and then enter your Apple account credentials.
Scroll down to "find my" and then switch the option "share my location" to turn it off.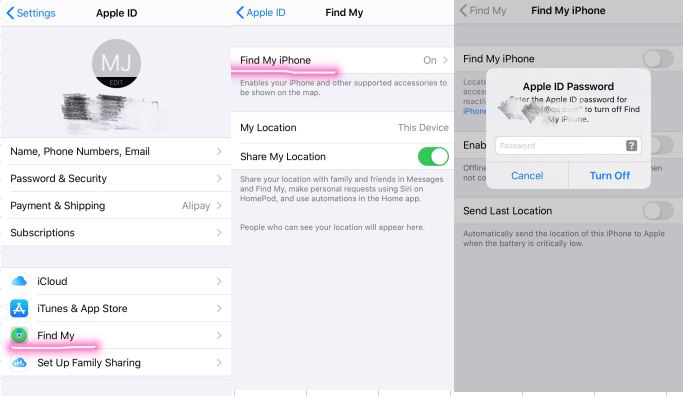 Conclusion
It is all that you need to know about how you can change your location with the software tool. Now it is relatively easy for you to keep the people seeing your current location. You can easily fake a location so that nobody can spy on you. What are you waiting for then? Just get this application now, install it on your device. Put all your worries aside and get rid of annoying people!