Question: Can't update iPhoto because it is not available in App Store
Updating Mac to Sierra is not always smooth. I cannot open iPhoto. iPhoto doesn't work on Mac Sierra. I got a prompt saying that I need to update to the latest version and leads me to App Store. However,no new version of iPhoto available in the US store.Please help. (iMac, macOS Sierra 10.12)
Answers:
Solution 1: Update to iPhoto 9.6.1 by Reinstalling
Starting from 2014, Apple gradually ceases development of Aperture and iPhotos and replaces the two with Photos. If you didn't update iPhoto (9.x) before updating OS X Yosemite 10.10.3, you can't update iPhoto after Yosemite through App Store. However, you can still update to iPhoto 9.6.1 by reinstalling the app, which will download the current version (provided you've purchased iPhoto 9.x).
Preparations:
1. Go to Application folder and copy iPhoto to an external hard disk or USB as a backup.
2. Move iPhoto from Applications folder to Trash. Make sure no disks mounted that have a copy of the iPhoto app on them.
Go to App Store à Purchase Tab. Make sure iPhoto is in purchased software list. If not, you can skip to Solution 2.
Go to the Purchases tab and find iPhoto with the Update button labeled "Install".
NOTE: You might come across 503 error and be asked if you want to retry. Click on "Retry", and it will start downloading.
Click "Install" and it should download the current version of iPhoto. This will take some time as there is 1.2GB to download.
You might also be interested in How to Transfer iPhone Photos to Mac without iPhoto.
Solution 2: Switch from iPhoto to Photos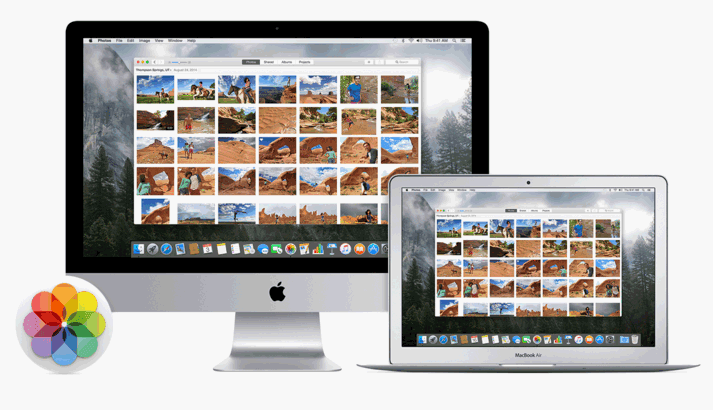 The new Photos app has added many features that iPhoto doesn't have. Changes you make in iPhoto won't appear in Photos, so is the other way round. Photos refresh makes it a lot easier to finding people, places and things. When iPhoto doesn't work on Mac Sierra, it's time to switch from iPhoto to Photos.
According to Apple, as long as you've installed OS X Yosemite v10.10.3 or later, the new Photos app will be included in the update. If you have only one iPhoto library, all items (photos, videos, albums, projects, etc.) in this library will automatically appears in Photo the first time you open it.  If you have more than one photo library, you can feel free to choose libraries iPhoto and Aperture created. Here's how:
Quit Photos.
Hold down the Option key and open Photos.
Select the library you want to open and then click Choose Library. If the library you want isn't listed, click Other Library. Navigate to the library you want, and click Open.
Just make the switch and don't look back. You'll love Photos after adapting to the differences between iPhoto and Photos. Plus, I know how important photos mean to all of us, share a marvelous iOS data recovery app that allows to restore photos, notes, contacts, messages and up to 20 types of files off iPhone, iPad and iPod.It's a trust worthy tool and gets4-star review by CNET editors and users.
Free Download
For Win 10/8.1/8/7/XP
Secure Download
Free Download
For macOS 10.13 and below
Secure Download
Related Articles
comments powered by