8 Solutions to Fix iPhone 13 Won't Connect to WiFi
by Anna Sherry Updated on 2021-09-24 / Update for iPhone Fix
Since iOS 15, I cannot connect to WI-FI. I have tried every troubleshooting option, nothing works. Can't connect to internet. Extremely frustrated. Any suggestions?"

-- From discussions.apple.com
If your iPhone wont connect to Wi-Fi or iPhone wont work on wifi, then you might be looking for a viable solution to fix this issue. While there are many reasons why this is happening to your iPhone, the considerate reason can't be determined.
The most common issues that are reported regarding iPhone's Wi-Fi not working are listed below:
Wi-Fi keeps turning on and off itself.
Connection keeps dropping.
iPhone wont join wifi.
WiFi gets disconnected after iPhone is locked.
Slow Wi-Fi connection.
Wi-Fi greyed out.
Incorrect password issue.
iPhone 13/12/11/XR keeps dropping Wi-Fi after iOS 15 update.
Whatever the problem is, here we will resolve all the iPhone wont connect to Wi-Fi problems effectively.
Part 1. 7 Common Ways to Fix WiFi Wont Turn on iPhone
Here is the most common solution that works out for fixing 'iPhone wont connect to network'issue.
Way 1: Check Your Wi-Fi Router
The first thing you should check is the Wi-Fi router as there might be a problem in the connection of the router. So, Restart your Wi-Fi router and ensure that you are within the range of the Router.
Way 2: Make Sure That Wi-Fi is On
Ensuring that your Wi-Fi is on and you can see your network in the enlisted network connection. You can also try disconnecting and reconnecting your iPhone with the Wi-Fi router.
Way 3: Check Your Cables and Connections
The iPhone not connecting to the Wi-Fi problem can arise if your cables are not connected properly. Ensure that your Wi-Fi cables are connected properly and the connection is also stable. This way you will ensure that the connection is established properly.
Way 4: Restart iPhone to Fix iPhone Wont Connect to Network
Whichever model of iPhone you have, you can simply restart it if your iPhone keeps disconnecting from WiFi. Restarting will close the apps and clear the cache that might be causing the issue.
Way 5: Reset Network
One more option you can try resetting the network settings. If your iPhone cannot connect to Wi-Fi, then resetting the network settings will completely erase all customized settings and reset them to default. To reset all settings follow the steps below:
Step 1. Open the settings app, go to General settings, and scroll down to find the Transfer or Reset iPhone option.
Step 2. Now, tap on Reset, and from the various options, choose the Reset Network Settings options and your iPhone will reboot.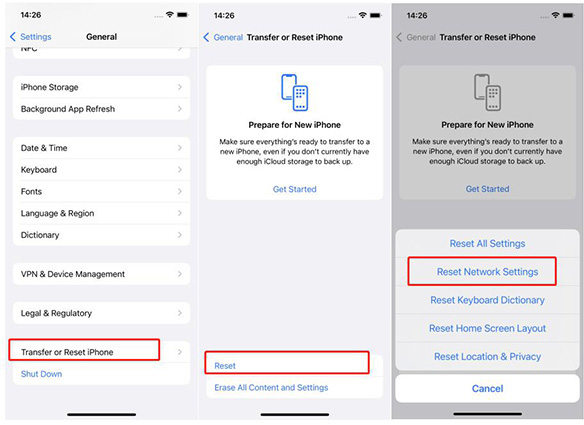 By the time, iPhone is switched on, there are 50-50% chances that the problem will be fixed.
Way 6: Force Restart iPhone
Force Restart is like the simplest way that works most of the time but no one knows why. So if your iPhone cannot connect to Wi-Fi, then try force restart as follows:
For iPhone 13/12/11/X/8: Press the Volume Up button, Volume down button and then press and hold the Lock screen button. This will force your iPhone to restart.
For iPhone 7 and 7 Plus: For the earlier versions, press the Sleep/Wake button and the volume down button. This will restart your iPhone and most probably fix the issue.
For iPhone 6 and earlier: Earlier iPhone should press the Sleep/Wake button along with the home button until the Apple logo appears on the screen.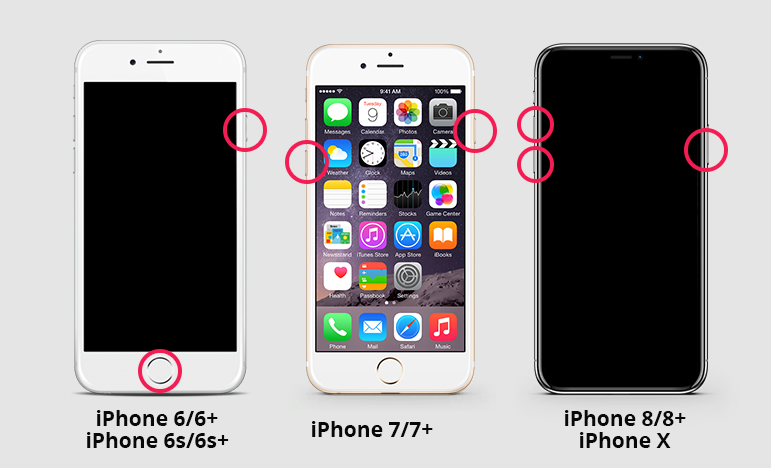 Way 7: Still Can't Connect? Reset All Settings (Data loss)
Another choice that the users have if the iPhone keeps dropping Wi-Fi is to perform a complete erasure of settings and data. For this, follow the steps below:
Step 1. Launch Settings app, open General settings and scroll down to look for Transfer or Reset iPhone option.
Step 2. Then select the Erase All Content and Settings option to remove all the data and settings and restore your iPhone.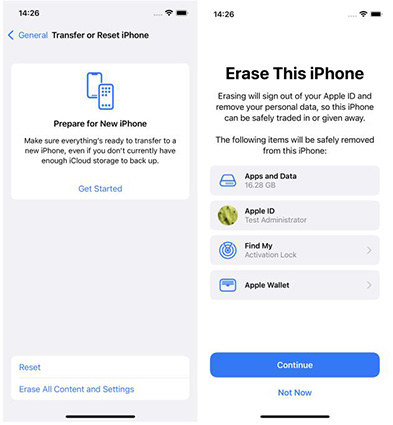 Part 2. Repair iPhone System to Fix iPhone Wont Connect to WiFi
If none of the methods works effectively to fix the issue, then you are left with Tenorshare ReiBoot . It is specially designed so that you can fix the iPhone keeps disconnecting from Wi-Fi problem. Tenorshare ReiBoot is the tool that can efficiently fix all the iOS issues. So, if your iPhone's Wi-Fi not working, it gets stuck or has a frozen screen, just try this program to repair iOS without data loss.
Follow the steps below to fix the Wi-Fi problem in your iPhone:
Download and install the Tenorshare ReiBoot app in your system. Launch the app and then connect iPhone to the computer. The software will automatically detect the iPhone. Click Start to begin.

Click Start Repair and you will be asked to download a firmware package that is suitable for your iOS system.

With the downloaded firmware package, ReiBoot will repair the iOS on your iPhone and fix the Wi-Fi problem.
The best thing is that none of your data will be lost during and after the repair.
Conclusion
Still searching "Why my iphone wont connect to wifi"? Then stop your search as we have gathered up all the possible solution for your problem. So, the next time if you have a similar problem, instead of trying out all the methods, you can directly switch to Tenorshare ReiBoot to save your time and data. ReiBoot will fix your iPhone as if it never had an issue.