"After updating to iOS 9, neither my iPhone 6 Plus, nor my iPad Air 2 can consistently connect to the wireless network. The iPhone doesn't acknowledge anything besides asking for the encryption key again, or it says incorrect passcode."
Experience the iOS 9 WiFi connectivity problems? If you have WiFi connectivity issues, your iPhone can't connect to a wireless network, or connects to a network but unable to browse, or experience limited connectivity when connect to WiFi. In this article, you will find 5 ways to fix WiFi problems on iPhone SE, 6s Plus, 6s, 6 Plus, 6, 5s, 5, 4s.
Top 1: Restart iPhone, Modem and Router
Force restart your iPhone by holding down the Sleep/Wake button and Home button at the same time for at least 15 seconds, until you see the Apple logo and the screen goes blank. Moreover, you can also go for rebooting modem and router with which your iPhone is connected. This is a basic and simple solution but it does work sometimes.
Top 2: Reset Networking Settings
Another way to troubleshoot iOS 9/9.1/9.2WiFi not working issue is to reset the network settings on your iDevcie. Go to Settings > General > Reset > Reset Network Settings. Note that this behavior would erase your current cellular and WiFi network settings, WiFi password and VPN settings.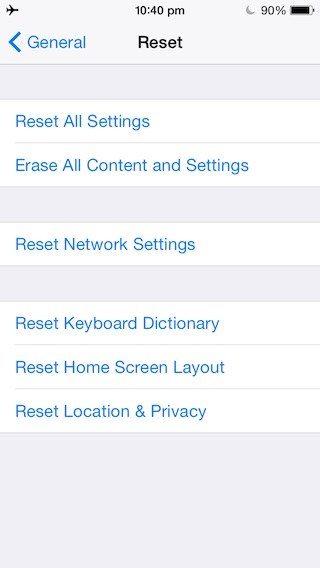 Top 3: Forget WiFi Network and Rejoin
If the above steps don't work, you can try forgetting WiFi network and then reconnecting it. to do this, simply open Settings and tap on WiFi option. Then tap on the name of your network and click on "Forget this network" and "Forget" to confirm. After this, you can enter the password again to rejoin your WiFi. This step may help resolve WiFi not working in iOS 9.2, 9.1, 9, 8 and more.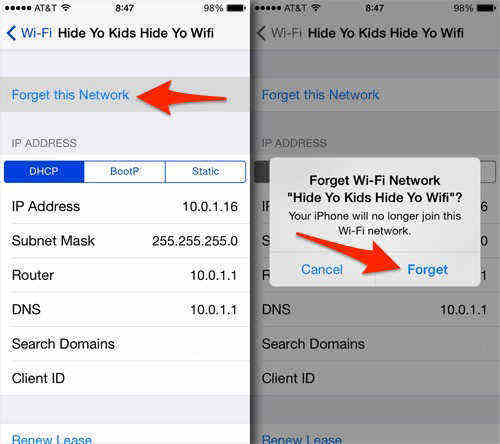 Top 4: Switch to OpenDNS or GoogleDNS
Change the DNS server on your iPhone may be helpful in solving iPhone 6s, 6s Plus, 6, 6 Plus etc. WiFi problems.
Open Settings app and tap on WiFi. Tap on the name of network you are running, and you will see IP Address, Subnet Mask, Router, and DNS. Tap on numbers seen next to DNS; there you can type Google DNS in Primary DNS and Secondary DNS separated by comma (8.8.8.8, 8.8.4.4) alternatively you can use OpenDNS, 208.67.222.123, 208.67.220.123.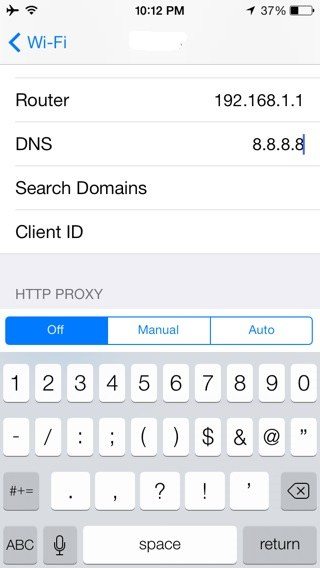 Top 5: Restore iPhone to Factory Settings via iTunes
If none of the above tips works, you have the last way to fix your WiFi not working issue: restore your iPhone and set it as a new one.
Before you start restoring, you should know that factory restore would erase all data on iPhone. So you'd better backup your iPhone in advance.
Connect your iPhone to computer, and open iTunes. Select your iPhone in iTunes. In the Summary tab, choose Restore. When the process is finished, your iPhone will restart.
If you lose data during the process, you can use Tenorshare iPhone Data Recovery to bring back missing photos, contacts, messages, notes and more.
These are the best 5 tips and tweaks to solve WiFi not working on iPhone 6s, 6s Plus, 6, 6 Plus, 5s, 5, 4s and more. If you have more suggestions, you are appreciated to share with us by leaving a comment below!
Free Download
For Win 10/8.1/8/7/XP
Secure Download
Free Download
For macOS 10.13 and below
Secure Download
Related Articles
comments powered by