Is your iPad or iPhone frozen? Has your iPhone or iPad been "bricked" by some ill advised software or a failed jailbreak? Annoying, isn't it? Usually you see solutions to these kind of problems which feature iTunes, but what if that doesn't work and iTunes isn't seeing your iOS device?
The process of rebooting or restarting a frozen iPhone or frozen iPad is a little laborious, and unless you already know how to do it means a bit of time "getting the knack" of it. You perhaps have to watch a couple of video tutorials, and even then after all that, even with the help of iTunes, you may still be where you started and not get your iPhone or iPad back to normal with your data intact.
So what do you do?
Three Ways to Reboot Your Hung iPad
Obviously the very FIRST thing you should try whenever you have any kind of stuck iPhone or iPad is a hard reboot. Just hold down the power button and Home button for a few seconds until you see the Apple logo.
The SECOND method is to get your iPhone into "recovery mode" and perform a reset or return to factory settings using iTunes. However, in this way all data on your iPad will get lost.
But what if that doesn't work because the phone is stuck and not detectable? Luckily there is a better THIRD option in the form of a piece of software that can help get out of any stuck iPhone situation, a sort of Swiss army knife for iOS rebooting. Below we will show the third option for you in details.
How to Reboot your Frozen or Hung iPad with Free Tenorshare ReiBoot
The easiest method to unstick a stuck iPad is using Tenorshare ReiBoot. Tenorshare ReiBoot is a free app for Mac OS and Windows that allows you to connect your iPad and unstick it by entering or exiting recovery mode with a simple on screen interface. In order to reboot your iPad or iPhone with Reiboot just do the following:
Free Download
For Win 10/8.1/8/7/XP
Secure Download
Free Download
For macOS 10.13 and below
Secure Download
Connect a USB cable to your iOS device and start the Reiboot software. There's no buttons to hold down, or anything like that. Just wait for a short while and the interface will load.
Once plugged in you can click the enter recovery mode button. And then the device will get into recovery mode.
When the recovery mode (connect to iTunes screen) shows on your iPhone or iPad, click the Exit Recovery Mode button. Now you device will automatically restart to normal.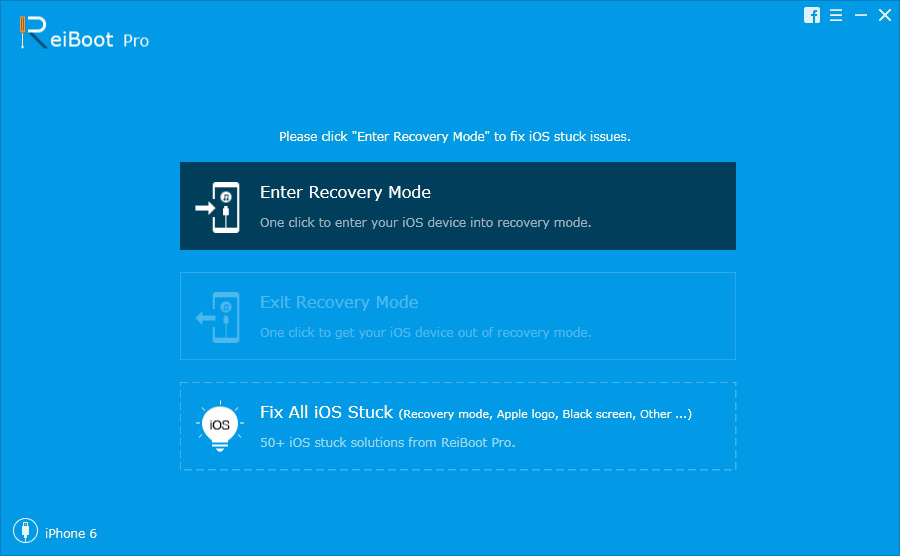 With Reiboot putting your iPad into and out of recovery mode is a 1 click process, much easier than the fiddly process with iTunes. That's a powerful tool.
Also when you upgrade to Tenorshare ReiBoot Pro to you get another layer of powerful tools which solve over 50 more potential iOS crash and stuck problems by repairing the operating system. It's that simple.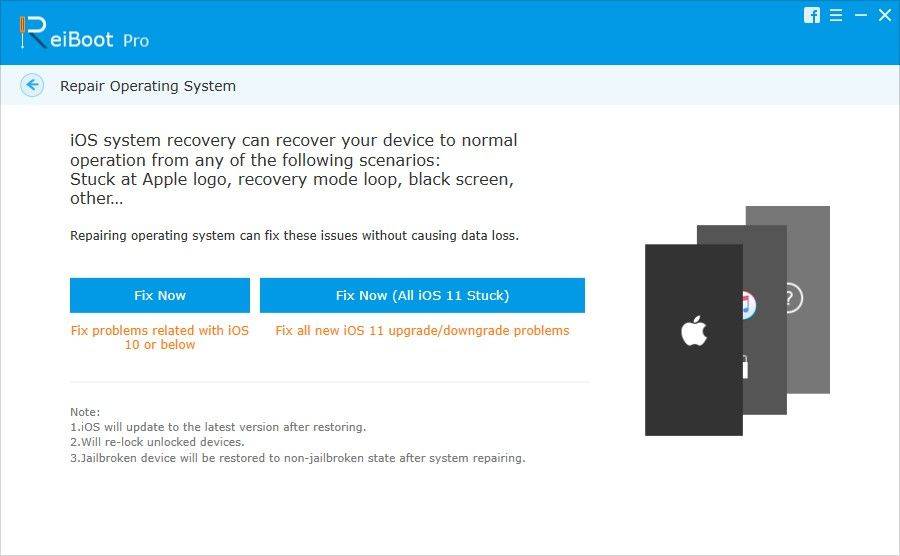 For more details and a free download of Tenorshare ReiBoot go to Tenorshare ReiBoot
Free Download
For Win 10/8.1/8/7/XP
Secure Download
Free Download
For macOS 10.13 and below
Secure Download
Related Articles
comments powered by