Upgraded to iOS 9.3/8 beta with a lot of expectations but then find many bugs and crashes along with iOS 8 beta? You could still return to iOS 7 since you are only with the beta iOS 8. The downgrading process is pretty simple. This post covers how to downgrade from iOS 9/8 to iOS 7.1.1 as well as some warnings.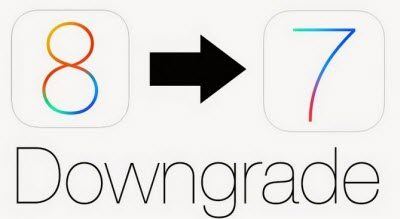 Important Note: In particular, the steps for downgrading iOS only work for iOS 8 beta. Once you've upgraded to iOS 8 which will be officially released this fall, there's no way to downgrade from iOS 8 to iOS 7.
Warnings: Watch Out for iPhone or iPad Data Loss
Before you start the downgrading, it's crucial for you to note that you will lose all your data from iOS 8 beta, as you cannot restore from an iOS 8 backup on iOS 7. If you have an iOS 7 iTunes or iCloud backup, you are still able to restore from that iOS 7 backup when you are back with iOS 7.1.1.
If you have no backup at all, you could consider transferring all important iPhone or iPad data (including contacts, text messages, call history, notes, photos, etc.) to computer with the help of iAny Transfer before downgrading.
What You Need to Prepare
1. Your iPhone or iPad running iOS 8 beta
2. iOS 8 beta or iOS 8
3. A PC or Mac running the most recent version of iTunes
Steps to Downgrade iPhone 6 and iPhone 6 Plus from iOS 8.0.1 to iOS 8 or from iOS 8 to iOS 7.1.2(Updated)
While iOS 8 brings several interesting features to iPhone and iPad, some users may simply not be thrilled by the new OS. Some users complain that iOS 8 slows iPhone, iPhone WhatsApp crash, iPhone photos lost after iOS update, etc. If this is the case, you can downgrade from iOS 8.0.1 to iOS 8 or from iOS 8 to iOS 7.1.2.
1)Download the iOS 8 or iOS 7.1. IPSW 2 file that corresponds to your device and save it to an easy-to-find place like your desktop.

iOS 8 IPSW
iPhone 6 Plus
iPhone 6

iOS 7.1.2 IPSW
The IPSW files download for all iOS devices can be found on OS X Daily.
2)While downloading the IPSW file, remember to turn off Find My iPhone.
3)Once the file has been downloaded, connect your iPhone to your computer and open iTunes. Select under the backup options "this computer," then hit "Back Up Now." This takes a full snapshot of your contacts, email, apps and settings, and stores it on your computer.
4)On iTunes in Windows, hold down the Shift key and click the Restore option. Next, select your iPhone's IPSW file and follow the prompts.
For OS X users, hold down Alt key and click the Restore option in iTunes. Next, select your iPhone's IPSW file and follow the prompts.
5)Once your iPhone has been restored to iOS 8, your iPhone will be wiped clean. All you have to do now is restore the backup from iTunes. Click "Restore backup," select the latest backup you just performed, and wait for the process to complete.
Steps to Downgrade from iOS 8 Beta to iOS 7.1.1
When all is ready, you could use the steps below to downgrade from iOS 8 beta back to iOS 7.
1) Turn off the iPhone or iPad running iOS 8 and put iPhone/iPad into recovery mode. Here's what you should do to put iPhone or iPad into recovery mode.

You might want to know DFU Mode VS Recovery Mode, Whats's the Difference?



Hold Home button and plug iPhone/iPad to your computer. Keep holding the Home button until you see a screen informing you to connect to iTunes.
iTunes should show you a popup saying that there is an iPhone or iPad that is in Recovery Mode and needs to be restored before you can use it. Click OK.



2) From the iTunes on your computer, click on "Restore iPhone/iPad".
3) Wait for a moment till iTunes detects the latest iOS, i.e. iOS 7.1.1. A popup will then appear asking if you're sure to restore the iPhone or iPad. Click on "Restore and Update".
4) iTunes will then download the most recent official firmware (iOS 7.1.1) and install it.
5) Your iPhone or iPad will then reboot and you should be back on iOS 7.1.1 again.
Now that you've downgraded to iOS 7.1.1, you need to wait patiently for iOS 8 which would be greater than the iOS 8 beta.
Free Download
For Win 10/8.1/8/7/XP
Secure Download
Free Download
For macOS 10.13 and below
Secure Download
Related Articles
comments powered by