Practical Guide: Fix Unable to Activate iPhone 14
by Anna Sherry Updated on 2022-09-06 / Update for iPhone 14
Every time a new iPhone is released, new users normally encounter one or two issues. It is the same with unable to activate iPhone 14.
Therefore, if you're struggling to activate your new iPhone 14, you have come to the right place. This post will explain various ways you can get this problem fixed.
Part 1: Reasons Why iPhone 14 Unable to Activate
iPhone unable to activate error on your device could be down to many factors. Before you give up on your iPhone 14, you might want to take look at some of the following probable causes:
Unstable internet connection.
Possible technical issues with mobile carrier.
SIM cards may be wrongly inserted.
Activation lock enabled.
iPhone may have been locked to the former user.
Activation server could be available at the time of activation.
Part 2: How to Fix Unable to Activate iPhone 14
Regardless of what could be responsible for your iPhone 14 unable to activate, there are several solutions you can leverage. This section of the post will cover all the possible solutions that can help you overcome this issue.
1. Force Restart iPhone 14
Force restarting iPhone 14 is one way you can overcome your iPhone 14 unable to activate. The force restart method described here will be for iPhone 14.
While this method may work for iPhone 13/12/11... as well, be aware that it may not work for some others. Do the following to force restart iPhone 14: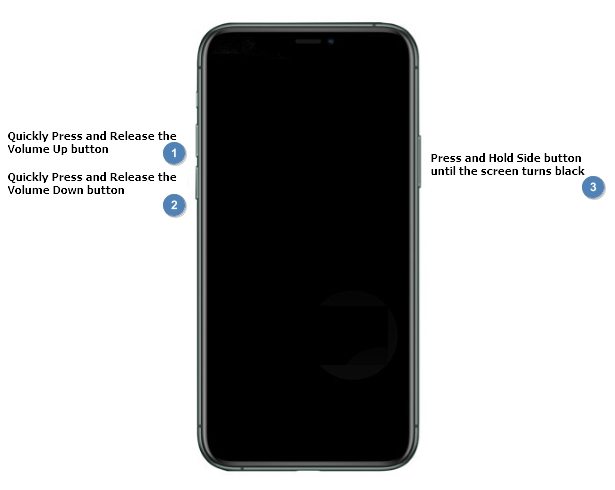 Press and release the volume (+) button (this should be done swiftly).
Press and release the volume (-) button (this should be done swiftly).
Long press the side button.
Let go of the button when you see the Apple logo.
Congratulations, you just force restarted your iPhone 14 successfully.
2. Remove and Reinsert Your SIM Card
While you may be attributing unable to activate iPhone an update is required, removing and re-inserting SIM card can help you fix the problem for good.
This solution may look too simple to most people, but it has worked many times. If you're willing to give it a try, then follow the steps below:
First locate the position of the SIM tray.
Insert a sharp object into the hole beside the tray to open it.
Do this carefully so you don't damage the tray.
If it still doesn't open, take it to an Apple Store or your carrier to have a look at it.
3. Switch a Network Connection
Before you bother yourself about how bypass unable to activate iPhone, switch the network connection to see if that will resolve the problem.
This is not exclusive to iPhones as many smartphone problems can be fixed by switching to another network and back.
First you need to force restart your iphone 14.

Then start setting up your iPhone 14 again. And When it ask you to choose a Wi-Fi network, choose a different network than the last one.
4. Wait a Few Minutes and Try Again
This one surely sounds like a no-brainer, but it may never occur to you because your mind may be pre-occupied with other things.
One of the possible reasons for unable to activate iPhone update required is because the activation server is offline. When that happens, you may get that error from your device.
So, it is always advised that you wait for some time(5-10 minutes) after trying to activate device for the first time. If the server was temporarily offline for some reason, Apple will put it back online in the shortest possible time. In that case, you don't have anything to fear.
5. Activate iPhone via iTunes
If you have explored the above fixes without getting the desired result, you can take your game a step further by using iTunes to activate iPhone 14.
This is also a reliable means to handle the iPhone unable to activate update required issue. And it is particularly okay if you have a PC close by. The following steps can help you activate iPhone 14 via iTunes:
Have the latest iTunes version downloaded and installed on your PC.
Switch off your iPhone 14. Use a USB to connect it to your PC.
Open iTunes on your PC. Switch on your iPhone.
iTunes will automatically detect your device. You will see the Activate Your iPhone screen at this point.
Input your passcode and Apple ID to commence the activation.

With the iPhone activated, you would be greeted with either of these options – 'Restore from backup' or 'Set as New'.
6. Put iPhone 14 into Recovery Mode and Set it Up Again
Here is how you can put your iPhone 14 in recovery mode and have it set up again.
Through The Normal Way (Time-Consuming)
Endeavor to update your Mac. Get the latest version of iTunes in case you prefer it.
If you're using macOS Catalina or later, open Finder. But, if you're using macOS Mojave or any earlier version or a PC, open iTunes.
Make sure your device is connected till recovery mode screen comes up.

For iPhone 8 upward:

Press and release the volume (+) button (this should be done swiftly)

Press and release the volume (-) button (this should be done swiftly)

Long press the side button till recovery mode screen comes up.

Look for your iPhone 14 on your PC or Mac. If you're asked to choose between Restore and Update, choose Update.

The PC will attempt to install the software again though your data will not be erased. Please wait patiently for the process to complete.
However, if the download process lasts over 15mins, with your device exiting recovery mode, wait for the download to complete. Repeat step 3 again.
You can set your iPhone 14 up when the Restore or Update process finishes.
Through ReiBoot (one click to enter recovery mode)
Accessing recovery mode for some users can be difficult, particularly for those with a faulty home button. ReiBoot is a tool that helps you access recovery mode with a single click.
Access recovery mode with ReiBoot through the following steps:
Download & install ReiBoot onto your Mac or PC. Launch ReiBoot and have your iPhone 14 connected to your PC.

As soon as ReiBoot discovers your iPhone 14, click on Enter Recovery Mode, and your device's recovery mode will be activated.

Access to Recovery Mode successful. This does not take long. On your smartphone, you will notice the Connect to iTunes or PC logo.

Then open iTunes and connect your iPhone to the computer. Repeat the step in the normal step to set up your iPhone again.
7. Repair iPhone 14 with ReiBoot [Quick & Safe]
If your iphone 14 still cannot be activated now, then it may be caused by a system failure. ReiBoot is a more convenient method for fixing unable to activate iPhone 14 errors in this situation. ReiBoot is a professional system repair tool.
Besides resolving iPhone unable to activate issues, there are other issues you can fix with this tool, and it doesn't take long. Take a look at its features;
Access and exit Recovery Mode with one click.
Fix over 150 iOS related issues various kinds.
Downgrade from higher version to lower iOS version without jailbreak.
Fix complex iTunes/iPhone errors with a few clicks.
Reset iPod touch/iPad/iPhone without Finder/iTunes.
Compatible with all iOS devices and versions.
Steps on how to repair iPhone 14 with ReiBoot [Quick & Safe]
Download ReiBoot and install it on your Mac or PC. Connect the iDevice to your PC or Mac. Once the software recognizes your iPhone 14, click on start to commence the process.

Click on Standard Repair.

Download the firmware package for your device.

With the firmware package available on your PC, click Start Standard Repair to get the job done.

This could take a while, so be patient. When the process is complete, your iPhone 14 will reboot itself, and your data will be safe.
Learn More about ReiBoot
8. Contact Carrier and Apple Support
If after doing everything in this post you still get the unable to activate iPhone update required error, contact your carrier and Apple Support.
The Bottom Line
The above fixes are great when you are unable to activate iPhone 14. However, ReiBoot is better because it is user-friendly and very effective. Plus, ReiBoot can help you resolve over 150 iOS related issues without any stress.