[Quick & Easy]How to Transfer Contacts from Android to iPhone 13
by Jenefey Aaron Updated on 2021-09-28 / Update for iPhone 13
How to transfer contacts from Android to iPhone 13? If you have bought a new iPhone 13 and want to transfer your Android contacts with one click, you have landed at the right article. Here we will explain to you how to transfer your contacts within a few seconds. Moving contacts can be a complicated task, but after following these tips, you will become an expert in it. Let's walk you through the easiest ways to transfer your contacts from Android to iPhone 13.
Part 1. How Do I Transfer Contacts from Android to iPhone 13 without SIM?
The first question is, do you have a SIM? No? Then how to move contacts from Android to iPhone without SIM? You can quickly move your contacts from one device to another by creating a VCF file. This method is straightforward and can be done anytime. Here is how you can do it.
Go to your Android device and click the Contacts app.
Click the three-line option on the left side and select Export.

You will be asked to choose the .vcf file location. Select it and click the "Save" option.

Now send this file via email and open it on your new iPhone.
Download it, and within a few seconds, your contacts will be transferred!
Sometimes this method won't work, and there can be many reasons for it. However, don't worry, we have some other techniques that you can try.
Way 1: Best App to Transfer Contacts from Android to iPhone 13
Here are some of the best 5 applications that both Android and iPhone users can try. Let's discuss the details about them.
#1. Move to iOS
The first app that we have on our list is Move to iOS. This application allows migrating everything, including contacts, message history, web bookmarks, calendars, and much more. It is supported on all Android devices and tablets.

Pros:
Easy to use
Migrates all your data
Safe to use
Cons:
Take time to migrate content
On some devices, it doesn't work properly
#2. InTouchApp
InTouchApp is ideal for transferring contacts in no time. They have also launched their extension for Chrome users so they can save their data efficiently. Furthermore, it is secure and has been downloaded by almost 1.5+ million users. If you want to move your contacts to iPhone, this app would be a perfect choice.
Pros:
User-friendly app
Strong database system
Famous among users
Cons: Need more features
#3. Smart Transfer
Smart Transfer is an amazing file-sharing application for Android users. They don't have any data limitations, which is a plus point. Within a few minutes, you can get all your contacts on a new device.
Pros:
Powerful application
Transfers videos, audio files, contacts, and much more
Backup your WhatsApp
Cons:
Connectivity issues
It doesn't work on Wi-Fi or hotspot properly
#4. Immediate Contact Transfer
It offers two ways of sending contacts; the first is sending via app to app, and the second is sending them as email attachments. What's more, you can send contacts by signup or using cloud accounts.
Pros:
It offers many ways of sending files
Secure to use
Ideal for all devices
Cons:
Contains adds
Issues with the settings
#5. SHAREit
SHAREit is a popular application that offers both online and offline sharing features. You can also share short videos and games without any issues. It is an easy-to-use application and is available for Windows, iOS, and Android devices.
Pros:
Watch movies and listen to music
The basic version is free
Transfers data in no time


Cons:
Contains ads
The paid version is expensive
These are some apps that you can use to transfer data. However, if you don't want to download third-party apps, below is another way that you can try.
Way 2: How to Transfer Contacts from Android to iPhone 13 Using Google Account
Here is another method that can help you transfer contacts from Android to iPhone 13. For this method, you must have a Google account. Let's see how it works.
Turn on your device, go to "Settings," choose "Accounts," and click the Google option. Don't forget to sync the contacts.
Now, open your iPhone and go to "Account Settings." Login to the account using the same email address that you have used for Android.

In the final step, open your Google account. Cross-check the sync contact option and make sure it is enabled. Finally, your contacts will be moved using it.
This process is good, but you won't be able to move all the contacts. Also, it is a bit complicated as compared to other methods.
Part 2. How to Transfer Contacts from Android to iPhone 13 with SIM
If you have a SIM and want to move the contacts, here are some steps that you can follow to do that.
Open your Contacts app and go to Settings.
Now choose the "Export to SIM Card" option. The process will start in a few seconds.
After that, remove the SIM card and insert it into your iPhone.
Go to iPhone Settings and click the "Import SIM Contacts" option.
Confirm the process and wait for a while until the SIM contacts are moved.
Extra Tip: Best Way to Transfer WhatsApp from Android to iPhone 13
If you have WhatsApp and want to transfer your contacts, here is another application that you can use. We are talking about iCareFone for WhatsApp Transfer. You can easily download it on your Android device or also use the desktop version. It helps you transfer media files, contacts, images, and much more.
1. iCareFone for WhatsApp Transfer App
You can use the iCareFone application on your Android device and can transfer the details easily. For this process, you don't need to use any PC. Furthermore, the application is easy to use and will transfer your WhatsApp contacts in no time.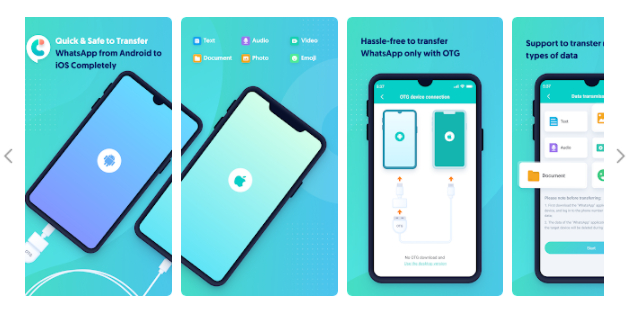 2. iCareFone for WhatsApp Transfer- Desktop Software
For this, make sure you have a PC and a suitable data cable. To use iCareFone for WhatsApp, follow the steps below.
Download the desktop version on your PC or Mac. Click the "Transfer" option.

Make sure to back up your WhatsApp data before you proceed. After that, click the "Continue" option.

Don't forget to verify your WhatsApp account. To do that, enter all the details, including WhatsApp number and country details. Once you are done, click the "verify" option.

After the verification is completed, you can now transfer the contacts to your iPhone. For that, log in to your WhatsApp on iPhone and click the restore option. Make sure Find My App is turned off.
Conclusion
These are the steps that you can use to transfer contacts from Android to iPhone. However, follow the steps correctly, and don't forget to backup your data before trying any of these methods.