How to Fix iPhone 13 Unable to Communicate with Apple Watch?
by Jenefey Aaron Updated on 2022-03-22 / Update for iPhone 13
Hey, I have bought a new iPhone 13, but unlocking with the Apple feature is not working. Is there any issue with my watch or phone? However, it was working fine with my Mac. So, what should I do to fix it?
Before trying this method, make sure that your iPhone 13 is working fine. And for that, first turn off unlock with the Apple Watch option and then enter your password directly to unlock your device. If your phone is unlocked, then the issue is something else. However, you don't have to worry anymore because, in this article, we will guide you on how to fix unable to communicate with Apple Watch.
Part 1: Why Can't I Unlock My iPhone 13 with Apple Watch?
So, we researched this problem and found out that Apple has already detected this problem and mentioned the reason on their official website. According to Apple, if you see "Unable to Communicate with Apple Watch", don't worry because this error will be fixed in an upcoming update by Apple. Until then, it is recommended to turn off the option and use your Passcode to unlock the device.
Part 2: How to Fix Unlock with Apple Watch Not Working?
If your iPhone 13 cannot communicate with Apple watch, here are possible ways that you can try to fix this problem. The good news is that this issue can be resolved easily, but you have to follow some steps. Let's discuss the methods one by one.
Firstly, you can check out a video guide here:
Way 1: Check If Your Wrist Detection is Enabled
To solve this problem, you first have to verify if the wrist detection is enabled or not. This is an important feature, and it should be enabled when you try to unlock iPhone 13 with your Apple Watch. This option was created to protect the watch from snatchers and thieves. Here is how you can enable it.
Open the Watch application on your iPhone.
Now, under the "My Watch" option, click the "Passcode" tab.

Scroll down a bit, and you will see the "Wrist Detection" option. If it is turned off, tap the option to turn it on.
In case this method didn't work for you, it means you haven't paired the Apple Watch properly. We have explained this in the section below.
Way 2: Unpair Apple Watch with Your iPhone, Try Re-pair Again
If you are wearing a mask and iPhone 13 is unable to communicate with the Apple watch, then unpairing it would be the quick fix. This process will reset the connection and also reinstate the data. However, you don't need to worry anymore because this process will not erase your information. Here is how you can unpair the Apple Watch and connect it again.
Open your Apple Watch application on your device.
Go to My Watch tap and click the "All Watches" option.
Click the "i" on the left side. You will be moved to the next page, where you have to click the "Unpair Apple Watch" option.

You will see a message, read it and click the "Unpair Apple Watch" option.
This is how you can easily unpair the Apple watch. Now, when you want to pair it, all you have to do is go to the Apple Watch application again and pair it.
Way 3: Reset Face ID on Your iPhone
The next method is resetting your Face ID. This method is effective when it comes to solving iPhone and Apple watch issues. However, make sure to follow the steps properly for the best results.
Go to the Settings of your iPhone.
Scroll down a bit and look for the Face ID & Passcode option.
Now, enter your current password and click the "Reset Face ID" option.
Now, click the "Set Up Face ID" option again, and it will be reset.
If you think this also didn't work for you. Don't worry; we have another simple method mentioned below.
Way 4: Disable Apple Watch Passcode and Enable Again
If you still can't unlock your iPhone 13 with Apple Watch, we recommend disabling Apple Watch Passcode and enabling it again. However, make sure to reboot your iPhone and Apple Watch before you enable the Passcode again. To disable it, follow the steps below.
Open the app on your device and look for the "My Watch" option.
Under "Sound & Haptics", you will see "Passcode."

Now, click the "Turn Passcode Off" option. However, you have to enter the Passcode on Apple Watch to complete the process.
Once the Passcode is turned off, wait for a while and again open your Apple Watch application. From there, turn on the Passcode and see if the issue is resolved or not.
Way 5: Turn off Unlock with Apple Watch
This method is effective, but there is not much information available regarding it. However, you can still try it and see if it works or not. The method is simple, and anyone can follow it. Let's see the steps.
Open Settings app on iPhone, navigate to Face ID & Passcode.

After that, you will be asked to put your iPhone's Passcode and then find "Unock with Appke Watch" to disable it.

Once you are done, restart your device and Apple watch. Hope this will fix your problem.
These were the possible ways that you can try if iPhone 13 is unable to communicate with Apple Watch. In case you need a reliable method, we recommend trying a third-party application. Check the details below to get an idea about it.
Way 6: Update Your iPhone to the Lateste Version
If your iPhone 13 is the version of iOS 15, then congratulations! Apple has fixed this issue and claimed that only if you updated to iOS 15.0.1 will be the ultimate fix now. Alternatively, you can use Tenorshare ReiBoot to update withou any data loss.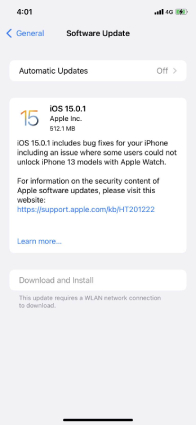 Part 3: How to Unlock iPhone 13 without Passcode?
Do you forget your password? There is no way to get your passcode back? Don't worry; we have the perfect solution for you. If you are locked out of the iPhone after entering the wrong password, we recommend using 4ukey. No matter what is your passcode, you can easily reset it using this program. It is compatible with the latest devices, such as iPhone 13 as well. Follow the steps below to use it.
Download and launch 4ukey on your computer and click the "Unlock Lock Screen Passcode" option.

Now, connect your iPhone with the PC and hit the "Start" option. In case your device is not connected, follow the instructions on the screen to get into recovery mode.

You will be asked to download the firmware package. Select the location where you want to download it and click the "Download" option. Make sure you have at least 7 GB of space available for the package.

Once the firmware package is downloaded, click the "Start to Remove" option. Wait for a while until the password is removed from the device. Make sure to create a backup before trying this method.
Conclusion
These were the ways that you can try if the Apple watch is unable to communicate with iPhone 13. If nothing is working for you, don't worry; you can download 4ukey, which is used to unlock 13 without a Passcode.