[SOLVED] iPhone 12 Stuck on MagSafe Charger Ring Animation
by Sophie Green Updated on 2020-11-16 / Update for iPhone 12
If you have purchased the latest iPhone 12 or iPhone 12 Pro, you might experience this issue where your phone just does not seem to charge. This iPhone 12 stuck on MagSafe charging ring animation prevents your iPhone from being charged and your phone remains stuck in this continuous loop forever.
If you are a victim of this issue and you have trouble charging your iPhone, you might want to find a fix and somehow get this issue resolved on your shiny new device. This guide offers some of the ways to fix this issue on your device.
Method 1. Disconnecting and Reconnecting Your MagSafe Charger
A basic way to potentially fix the charging issue on your iPhone 12 or 12 Pro is to unplug your MagSafe charger from your phone and then plug it back again.
This might sound like a very basic method but it is effective in many cases. Plus, there is no harm in giving it a try and you can do it in a matter of a few seconds.
Method 2. Force Restart to Unfreeze iPhone 12 from MagSafe Charging Ring Stuck
A bit more advanced method to fix it when your iPhone 12 stuck on MagSafe charging ring is to force reboot your device. What force rebooting basically does is it turns your iPhone off and then turns it back on. Your phone reboots even if the system does not allow it to do that.
The following is how you go about force restarting an iPhone 12.
Press the Volume Up key and let it go.

Press the Volume Down key and release it.
Press and hold down the Side button until your iPhone reboots.
Method 3. Remove Any Cases from Your iPhone 12/12 Pro
A possible reason why your iPhone 12 or 12 Pro will not charge is that you have an incompatible case being used with your device. You might be using a magnetic case that prevents the MagSafe charger from supplying power to your device.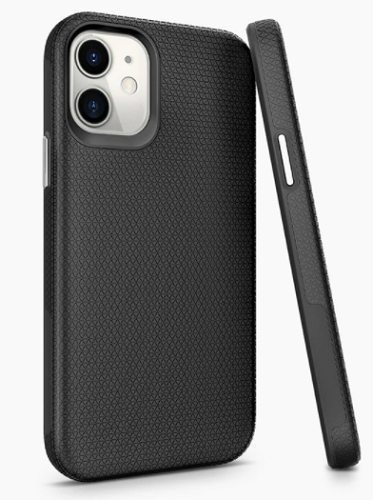 One way to deal with this issue is to remove the case from your iPhone 12 or 12 Pro and then see if your issue gets resolved. Most likely, your iPhone will start to charge once you have removed the case, and that puts an end on your problem.
Method 4. Use the MagSafe Compatible Apple USB-C Power Adapter
You should keep in mind that the charging animation you see on your device only works with the MagSafe compatible USB-C power adapter that has been manufactured by Apple. If you use something else to charge your device, you will likely experience the iPhone 12 stuck on displaying MagSafe charger issue on your phone.
Method 5. Repair iOS Glitches to Fix iPhone 12 Stuck on MagSafe Charger Ring
It is not only a hardware element that can cause your iPhone 12 not to charge. It might be that there is a glitch in the system of your iPhone and that is causing the phone not to get any power supply. Luckily, fixing software-related issues are easier than fixing hardware-related issues.
Thanks to Tenorshare ReiBoot, an iPhone fixing tool, you can now repair nearly all bugs and issues on your iPhone 12, 12 Pro, and other models of the device in no time. This software has fixes available for numerous iOS issues and all you need to do is click a few buttons to get your iPhone fixed. The following demonstrates how to fix it when your iPhone 12 will not charge.
Connect your iPhone to your computer using a USB cable. Download, install, and run the aforementioned tool on your computer.

Click Repair Operating System in the tool to fix your iPhone.

Hit Fix Now on the following screen.

Click Download and the tool will download the firmware for your phone.

It will start repairing your iPhone when the firmware is downloaded. The following appears on your screen when the iPhone is repaired.
If your iPhone 12 or 12 Pro was not charging because of a system issue, the above procedure should have fixed the issue on your phone.
Method 6. Update iPhone 12 to the Latest iOS 14.2
The iPhone 12 MagSafe charging problem could be also caused by an iOS 14 software glitch, then Apple might push an iOS update that you can install on your phone to get rid of the charging issue. You can check for an available iOS update as follows and install the update if it is already available.
Open the Settings app on your iPhone and tap General.

Tap Software Update and download and install the available updates.
Your charging issue should now be resolved.
Summary
MagSafe charging issue like iPhone 12 remains stuck displaying the MagSafe charger animation or iPhone 12 crashed after unplugging MagSafe, is a new one but there are ways to deal with it on your newer iPhone models. Once you have applied one of the above fixes, your iPhone will start charging like it should. If it is the software problems of iOS 14, repair the iOS using Tenorshare ReiBoot to get rid of all MagSafe charging issues.