How to Fix iPhone 12/11 Passcode Not Working When You Have't Backed Up
by Jenefey Aaron Updated on 2020-10-23 / Update for iPhone 11
One of the essential security measures in every iPhone is the iPhone passcode. It doesn't just serve as a safe keep for your phone; it also offers a protective coverage against prying eyes and helps to safeguard your data and information.
If you observe that your iPhone 12/11 passcode is not working or your iPhone 12/11 passcode not working after an update, then it could mean a problem or two for your device. This problem is usually common with iPhone users, especially those with the new models (iPhone 12/11/11 Pro(Max). Luckily there are ways you can solve this problem.
The Possible Reasons Of iPhone 12/11 Passcode Not Working
The reason why iPhone users have a passcode on their phones is to safeguard confidential information on the phone. Apple passcode not working iPhone 12/11 is one issue several iPhone users have come across repeatedly. In all of these scenarios, the iPhone device is completely locked, thus preventing the user from gaining access to the device. In most cases, it is unclear what causes the issue, but we've been able to narrow it down to some of these points below;
iOS Software glitch
Bugs of iOS system
Entering the wrong passcode repeatedly (more than 10 times)
Honestly, there are lots of reasons that may cause your iPhone passcode not to work. However, this guide is not centered on the cause of the problem but rather the solution. It doesn't really matter what causes your iPhone 12/11 passcode not working 2020; what is essential is how to fix the iPhone 12/11 passcode process.
Part 1: How To Solve iPhone 12/11 Password Suddenly Not Working Issue When You Don't Have Backup
What happens when you are faced with the problem of "My passcode is not working on my iPhone 12/11" means the device not accepts the passcode and you cannot use it to download apps or pay for something. The worse case is that you may be locked out of your device.
If you can use the iPhone 12/11, but don't have a backup on your device, use the following methods.
1. Fix Apple Passcode Not Working iPhone 12/11 without Data Loss
Tenorshare ReiBoot is a reliable and easy tool designed to help you fix your iPhone system without losing your data. It doesn't matter the nature of your passcode, Tenorshare ReiBoot can fix the passcode not working bug. It is one of the most reliable tools used in solving any kinds iPhone system issues.
Download the program on your PC or Mac, install and run the program

Connect your phone to computer. Locate the top menu on the dashboard of Tenorshare ReiBoot and choose Repair Operating System.

Next, tap on Fix Now. As soon as Tenorshare ReiBoot detects your iPhone, it will prompt you to download a firmware package.

After downloading firmware package, click on Repair Now, the software will start to fix the iPhone 12/11 passcode screen not working issue.
2. Force Restart iPhone 12/11
The following steps will show you how you can force restart your iPhone and fix your iPhone password issue with forcing restart your iPhone 12/11/X/8.
Press the Volume Up and Down buttons quickly. Now, press the power button till you see the Apple logo.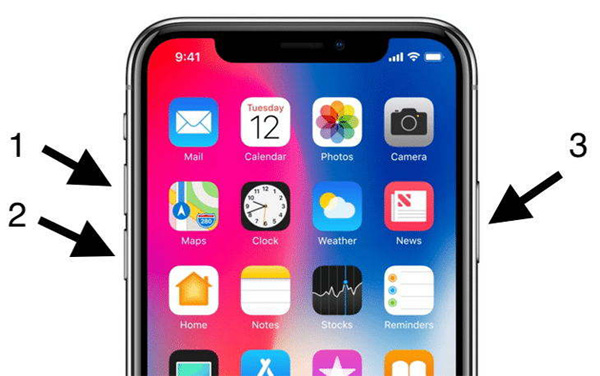 3. Reset Passcode When You Can Enter the Home Screen to Use your iPhone 12/11
You can always reset your passcode when you can enter the home screen of your device. Most people find out that turning off their device and turning it on can be a tremendous help. If you notice that your passcode is giving you persistent problems, just turn it off, and make do of your phone like that.
4. Reset All Settings If You Cannot Reset Passcode
If your cannot reset passcode, then you can try to reset all settings. This method also will not delete anything on your iPhone 12/11, but only the settings.
Go to Settings.
Tap on General and then Reset.

Click on Reset All Settings and enter your passcode.
Part 2: How To Fix iPhone 12/11 Passcode Stopped Working When Your Device is Locked
If the device is locked, you will see the display on your screen "iPhone is Disabled, try again in 1 minute". If you continue to input the wrong passcode, you will see the display on your screen, "iPhone is Disabled, try again in 5 minutes." Should the problem continue, you will have to wait for 15 minutes to try again. Should the problem persist, your phone will be disabled. In this case, you can try these methods.
1. Use iTunes to Solve iPhone 12/11 Disable Passcode Not Working
iTunes is another method of solving your iPhone 12/11 passcode not working issue. If your device is synced to iTunes, you can use it to reset your device to factory settings. This will help you remove your the passcode that not working.
Connect your iPhone to the PC it is synced with.
Open iTunes and ensure you backup your device.

When the backup is complete, click "Restore iPhone".
2. Use iCloud to Fix My iPhone 12/11 Passcode Stopped Working
iCloud is a tried and trusted way to solve your iPhone 12/11 passcode not working after update problem. Mind you, this solution is only available to users who have their "Find My iPhone" feature turned on on their device.
Open iCloud on your PC or another apple device.
Sign in to your Apple account using your Apple ID.

Click on "All Devices" and select your device. Scroll to "Erase iPhone" and click to remove your password and every other thing in your device.
3. Use 4uKey iPhone Passcode Unlocker (Highest Fix Rate)
This method is suitable for a specific set of people; iPhone users who don't turn on the "Find My iPhone" function on, or users who weren't successful with the iTunes restore method. Generally, people who haven't been successful with the previous methods can safely use this method without any glitch.
The 4uKey iOS passcode removal from Tenorshare is an easy tool that can help you remove the passcode from your iPhone 12/11 as well as previous models in a matter of minutes.
The following steps show you how you can use the program for your "My passcode is not working iPhone 12/11" problem.
Download the program on your PC and install. Run the Tenorshare 4uKey program and connect your iPhone. Once your device is connected, you can click "Unlock Lock Screen Passcode".

Click on Start and then the Download button to download the latest firmware package for your device.

After the download is complete, click "Start Unlock" The program immediately starts to Crack your old passcode.

As soon as the process is complete, you can set a new passcode and use your device.
Conclusion
"iPhone passcode not working" is one of the most common issues iPhone users face. There are lots of methods to solve the problem. Whereas some might lead to you losing all your data, others are quite flexible. Using the Tenorshare ReiBoot or 4uKey method remains one of the most reliable ways to fix your iPhone 12/11 passcode not working after update problems.