Top iPadOS 13.3/13.2.3/13.1.3/13 Problems and How to Fix Them
After the last year's release of the new iPad Pro, every iPad user were very concerned due to the fact that, the new iPad is excellent but the poorly designed iOS 12 is keeping it handicap. But this year Apple worked on it, listed to the concerns and made the new iPadOS 13 much better so that it can live up to user's expectations.
The new iPadOS is packed with features like "Slide over and split view", "new home screen", "text editing", "keyboard" and more. It seems great but as usual it is riddled with glitches which is also making the overall experience painful. Here we summerize the common the iPadOS 13.1/13 problems that have been reported and tips to fix these problems. These problems are updated according to Apple's update plan.
Ultimate Solution to fix Any iPadOS 13 Problems without Data Loss
It does not matter what kind of iPadOS problems you are facing, there is an ultimate solution available for it.
Yeas, such programs are available. The ultimate solution is actually, a very potent iOS system repair tool called Tenorshare ReiBoot. It is very effective against all type of iPadOS 13 bugs. If you've tried the common solutions without success, do not hesitate to give this software a try. Setup and the operation of the program is also very simple, let's a have look at the steps below;
First, you need to download and install ReiBoot on your computer or Mac and connect your iPad to it.

Launch the program and select "Repair Operating System" after the iPad is detected.

Image 1. Select "Repair Operating System" feature

In the following interface, click "Start Repair" in order to proceed.

Image 2. Fix iPad problems now

Now, you will see the firmware download screen. You need to click "Browse" in order to set a path for the firmware selected by you. After that click "Download" to proceed.

Image 3. Click "Download" button to download firmware package

After the firmware package is downloaded on your computer, click "Start repair" in order to fix iOS issues on your iPad.

Image 4. The program is repairing iPad issues
The repair procedure will take a significantly long period of time get completed. The progress will be visible on the program interface.
Related Read: How to Downgrade iPadOS to iOS 12
Problem 1: Touch Controls Stop Working on iPadOS
Numerous users have complained on iOS dedicated forums that the touch controls stop working on iPadOS immediately after they updated to iPadOS 13. This is a very concerning issue for the users, as the moment the touch control stops working, they won't be able to do anything with their iPads. But don't worry there are solutions available;
Quick Fixes:
1. Hard reset iPad.
2. Delete problematic Apps. Long press the faulty app's icon. Doing this will result in all icons shuddering. An "X" icon on the top left side will be seen on the faulty app as well as all apps icons. Click on the "X" icon of the faulty app. This will delete and remove the faulty app from your iPad.
3. Factory Restore iPad with iTunes in DFU Mode. To do this, you'll need to put iPad in recovery mode or DFU mode first, then iTunes will detect an iPad and offer Restore or Update option. Click Restore to restore it to factory settings.

Related Read:
Problem 2: iPad Keeps Rebooting after iPadOS 13 Update
Another very common issue with iPadOS is that iPad Keeps restarting After iPadOS 13 Update. The users have complained about this constant rebooting of the device after update on dedicated forums. This is a quite irritating issue but there are fixes available;
Quick Fixes:
1. Force restart iPad.
2. Delete the faulty apps.
3. Restore iPad in iTunes, but this will wipe out all data and settings in your iPad. If you don't want any data lose, try to use ReiBoot to repair iPad system without data loss.
Related Read:
Problem 3: iTunes Won't Show Playlist in iPad Pro after Updating to iPadOS 13.1
There are users in Apple discussions said after updating iPad to iPadOS 13.1, iTunes won't show the playlist in iPad Pro. This problem can also be found in iPhone with iOS 13. We are not sure whether this is a bug or a new feature as Apple will retire iTunes in macOS 10.15 which expects on October.
Quick Fixes:
1. Restart iPad to see whether iTunes detects your iPad playlist.
2. Wait for macOS 10.15 update.
Related Read:
Problem 4: iPad iCon Size Got Smaller after iOS 13.1 Update
Mnay people found that the icon size under iPadOS 13 got smaller. Is there any way to change this other than using Zoom feature? Yes! This is actually not a bug, just a new feature in iPadOS 13.
Quick Fix:
To adjust the icon size, please go to Settings app on iPad, find Display & Brightness, you'll find a new option HOME SCREEN LAYOUT. It offers More and Bigger choices.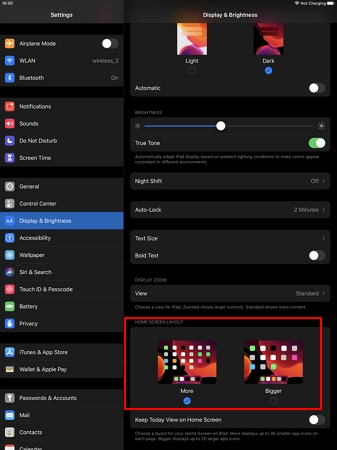 Problem 5: Memoji Stickers Not Available on Older iPads
Now, Apple introduced Memoji stickers in iPadOS 13 and iOS 13. However, you have to know that Memoji stickers for iPadOS needs an iPad with an A9 processor or above. Qualified iPads can use Memoji stickers in iMessage, Mail and other apps that supports stickers. That is to say, the iPad Air 2 and iPad Mini 4 have A8 and A8X CPUs and does NOT qualify for the Memoji stickers feature. So if you are having iPad Mini 4 for example, though you've upgraded to iPadOS 13, you will find no Memoji stickers pack on iPad Mini.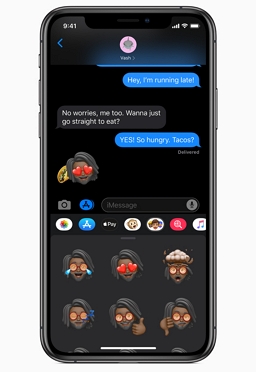 Problem 6: iPadOS 13.1 Music App Frozen
There is one reported bug that the Music app frozen on iPad Air while loading playlist covers. If you are having the similar problem like Music app keeps crashing iPad/iPad, here are some tips to resolve.
Quick Fixes:
1. Hard reset your iPad.
Force restart iPad with Face ID such as iPad 2018 Pro:
Press and quickly release the Volume Up button.
Press and quickly release the Volume Down button.
Press and hold the Top button until your iPad restarts.
Force restart an iPad with Home button such as iPad Air, you need to press and hold both the Home and Side (or Top) buttons for at least 10 seconds, untile you see the Apple logo.
2. Uninstall and reinstall the Music app.
3. Check the storage of your iPad.
4. Reset all settings. Open Settings app > General > Reset > Reset All Settings.
Final Fix:
If the above simple tips do not help, you can fix Music app crashing/won't open problem using ReiBoot. It will repair operating system on iPad to resolve any iPad stuck without data loss.
Related Read:
Problem 7: Notes Titles Reset After Update to iPadOS
If you also have the problem that all Notes title have been reset to "Nieuwe notitie" which is Dutch for new note, there are some tips for you to resolve.
Quick Fixes:
1. Force restart your iPad Pro if this problem occurs only after iOS 13 upgrade.
2. Turn off Notes in iCloud and turn on again. This may help to sync iCloud Notes to iPad and thus find back the Note title. You can go to Settings > Your Account > iCloud. Turn off Notes from the list and wait for a while to turn on it later.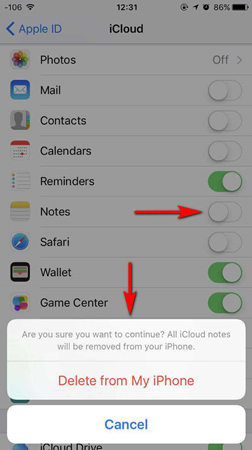 Final Fixes:
1. Repair iPad system using ReiBoot.
2. You can also try to use iPad data recovery software to recover Notes to see whether the title are there.
iPadOS Problem 8: iPad Won't Connect to Wi-Fi after iPadOS 13 Update
Several iPad Air 2 Users have reported that their iPad 2 won't connect to Wi-Fi after iPadOS 13.1 update. A guy said his iPad 2 can connect to a hotspot with no password, but if a network requries password, then it won't connect to internet.
Quick Fixes to iPad Air 2 Won't Connect to Internet After Update
1. Restart and force restart your iPad if it cannot connect to a WiFi.
2. Check your Wi-Fi router. Trying turning off your Wi-Fi router and then unplug it from the power source. Replug it back after a while.
3. Reset networt settings by going to Settings > General > Reset, tap Reset Network Settings.
4. Disable VPN if you are using a VPN.
Final Fixes:
1. Repair operating system with ReiBoot.
2. Downgrade from iPadOS 13.
Related read:
iPadOS Problem 9: iPadOS 13.1/13 Update Bricked iPad Air 2, iPad Pro, iPad Mini
Have you ever beening troubled by the problem that iOS 13.1 bricked your iPad and can't connect to iTunes? If so, try these tips to resovle iPad Air 2 bricked during iPadOS 13 update.
Quick Fixes to Fix Bricked iPad after update iPadOS 13.1:
1. Force restart your iPad. Force restart an iPad with Home button such as iPad Air, you need to press and hold both the Home and Side (or Top) buttons for at least 10 seconds, untile you see the Apple logo. To force restart an iPad with Face ID, you need to quickly press and release the Volume Up button, do the same with Volume Down button and then press and hold the Top button until your iPad restarts.
2.DFU restore iPad in iTunes. To do this, you'll need to put your iPad in DFU mode first, and then iTunes will recognize your iPad and requires you to restore or update it. Press the Restore button to install iOS 13 via iTunes.

Fix Fix to iPad Bricked after iPadOS Update:
The best way to unbrick iPad without restoring is using ReiBoot. It will download the latest iOS firmware package and install it to your iPad. After system repair, your iPad is installed with the latest iPadOS and the brick has been resolved. More importatntly, all data are kept intact.
iPadOS Problem 10. Favorites in the Files App Randomly Disappearing on iPad
This problem have been reported in iOS 12 as well. The folders that you've marked as Favorite in the Files app on your iPad are not showing as Favorite any more.
Quick Fixes:
1. if your files are stored in DropBox, please open the Files app and tap Locations > Edit and turn DropBox off. And then restart your iPad. After restart, turn DropBox back on in the Files app and check whether the proble is resolved.
Final Fix:
Repair iPad system to fix Files app favorite disappearing problem.
Related read:
iPadOS Problem 11: iPadOS 13.3 Slow – How Can I Speed Up My Old iPad
Recently, lots of users complained about iPad slow after updating iPadOS 13.3. Some apps on iPad don't start at once, and it need to load it 10 or more seconds. The problem largely appears in old iPad, but many users, with the newest iPad Pro, Air, are also tormented by iPad running slow. Normally, iPad runs slow due to a lot of factors like an app running too much cache or slow internet connection and more. So, follow the below to fix iPadOS 13.3 slow.
Quick Fixes:
1. Try to Quit Using iPad
2. Speed up iPad by Restart
3. Check Wi-Fi Router and iPad's Wi-Fi Connection
4. Switch off Background App Refresh
Final Fix:
It's highly recommend to use Tenorshare ReiBoot to resolve iPad slow. Check the above steps at the beginning of this essay.
Related read:
iPadOS Problem 12: iPadOS 13.4.1 Uable to Verify Update
"Every time I try to install iPadOS 13.4.1 I get an error message saying iPadOS 13.4.1 failed verification because you are no longer connected to the internet." Recently, lots of users complained about iPadOS 13.4.1 uable to verify update. It may be harassing because of this slow process and hanging the system. Don't be afraid this is not critical situations for you and your iPhone. Here we get some easy and quick fixes for you
Quick Fixes:
1. Free Up iPad Storage
2. Updating your device using another network
3. Reset network settings.
4. Update your iPad using Finder/iTunes
5. Delete the update file from your device.
Final Fix:
If the above simple tips do not help or you still stuck on Verifying Update, you can use Tenorshare ReiBoot to repair iOS. After the repair, you iPad will be automatically updated to the latest iPadOS.
Conclusion
You need to remember that, even if it is the iPadOS 13.1, it is supposed to be filled with problems and you need to be ready to face them. But looking for individual solutions for each iPadOS Update problems will be very difficult and not convenient. So, using a solution like Tenorshare ReiBoot will be very useful for you as it is an All-in-one solution for all iOS related issues.
Fix iPhone Stuck Issues without Data Loss