How to Recover Deleted iMessages on iPad
by Jenefey Aaron Updated on 2019-07-25 / Update for iPad
iMessage is well-known as the best service for instant messaging by Apple. iMessages can be texted very easily through Messages app present on iPad, iPhone, Macs, and iPod touch. Unlike traditional MMS/SMS, one is able to send photos, texts, audio messages, and videos for free using Internet data or Wi-Fi to various iOS devices. Nevertheless, accidentally deleted or lost iMessages anf dealing with "how to recover deleted text messages on ipad" is a common issue for every iPad user. Well the answers to the question how to recover deleted iMessages on iPad Air/Pro/Mini are discussed below.
Way 1: Try Finding Your Deleted iMessages on Other Devices
One solution to recover deleted messages on iPad is to try finding the deleted iMessages across other iOS as well as Mac devices. You may ask why; well the reason is that iMessages syncs with across other iOS as well as Mac devices―the devices on which iMessages was activated using the same iCloud Account or Apple ID. Therefore, in case you are using more than one devices, you will get iMessages on every device no doubt; e.g., if you accidently deleted few iMessages on your iPad, do not worry because you will get them on your iPhone or Mac. The concept goes vice versa too. This should probably solve your "how to recover deleted text messages on iPad mini" issue.
Way 2: Restore Deleted iMessages from iCloud or iTunes Backup
One more method to solve "can you recover deleted messages on an ipad" issue is to restore them. Apple just won't do the favors on you of saving your messages unless you do not back them up by yourself. In case you have taken a back up of your entire device recently using iCloud or iTunes, you can simply restore your any data using the backup; by the data we mean we also mean your deleted iMessages too. However, take a note that, with this method, not only your deleted iMessages will be back, but your iPad will also be restored to the backup date chosen. Well the data present on your device after the backup was taken will be lost. Follow below steps to recover deleted text messages iPad:
Step 1: Firstly, you have to go to General settings >> Reset >> Erase All Content and Settings.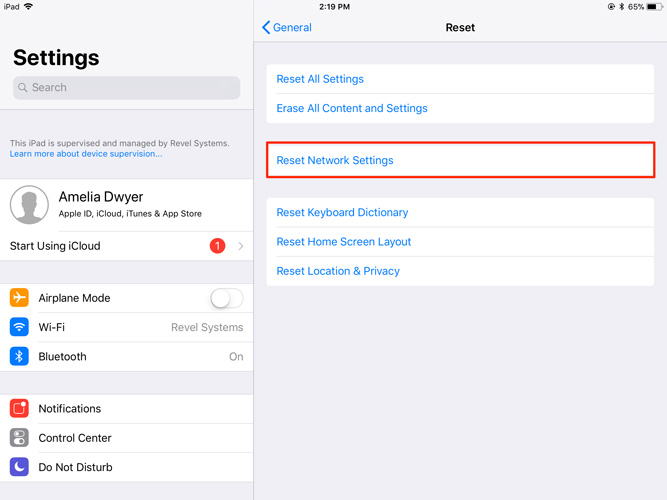 Step 2: You will be asked to provide your passcode. Now you have confirm that you wish to erase the entire device data by clicking on option Yes.
Step 3: Once all the data is erased, your iPad will be rebooted. You must be connected to Wi-Fi for further procedure. Your device will ask you how you wish to set up your iPad. Haven asked that, select from you wish to restore the device, iCloud or iTunes. In case of iTunes backup, connect your iPad to your PC and select option Restore from iTunes Backup and follow same for iCloud backup.
Step 4: You should agree to all the terms as well as conditions. Now, select a backup to restore. In case your backup is not visible to you, click on "Show All Backups". You iPad will be restored.
If you had backed up before deleting the iMessages, all of them will reappear on your iPad.
Way 3: Restore Deleted iMessages using Tenorshare UltData
The last solution to recover iPad messages is Tenorshare UltData. It is the best tool to recover all your deleted iMessages on iPad or any other iOS device. Along with iMessages, the tool can also recover other deleted data also and that too with simple steps and with ease. Follow below steps to solve the problem.
Step 1: Connect your iPad and your computer and run the Tenorshare UltData software on your Mac.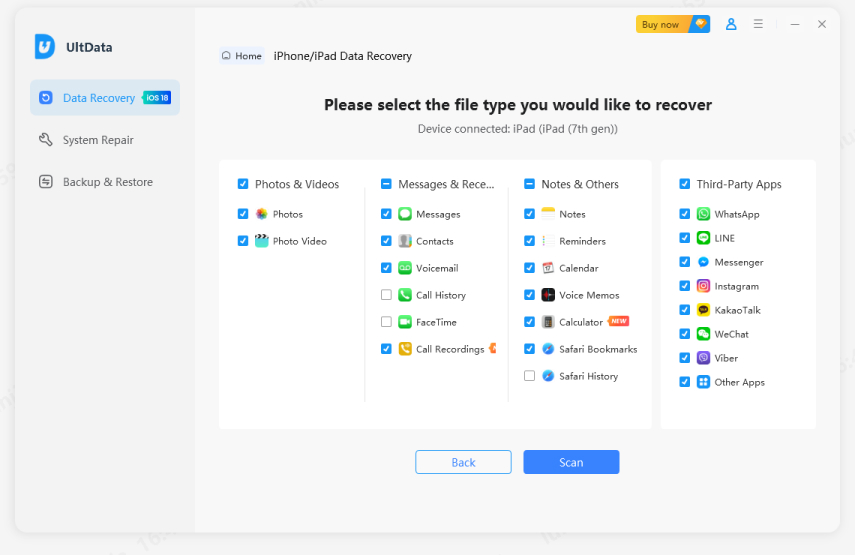 Step 2: Now tap on option "Start Scan" so as to scan your iPad's entire data. Once the scanning process is done, preview the data and find the deleted iMessages that you wish to recover.
Step 3: Choose the iMessages you want and tap on option "Recover". Your deleted iMessages will be recovered in no time.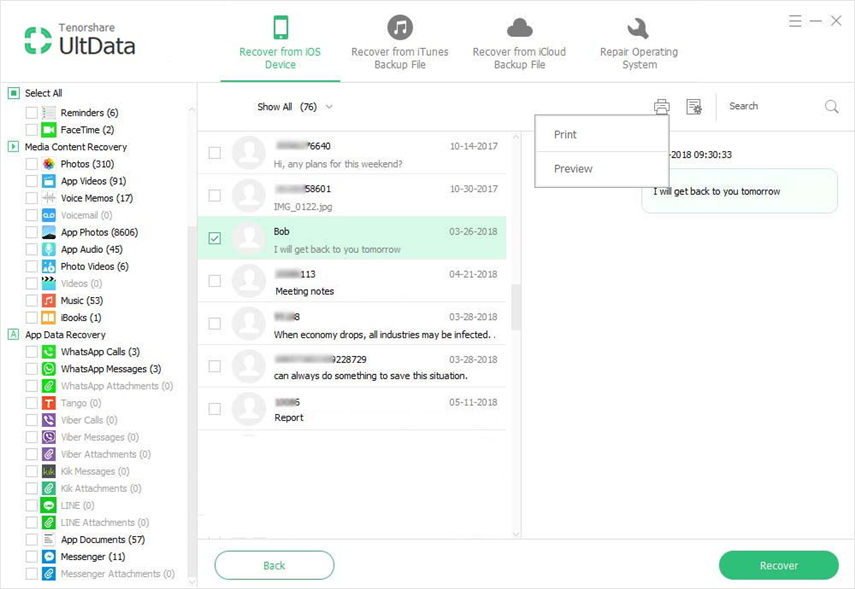 In the above article, we have discussed various solutions for "is there a way to recover deleted text messages on ipad" issue. We highly recommend Tenorshare UltData to recover iPad messages with ease. Hope one of the solutions worked for you. Let us know which one worked for you in below comments. Your comments are greatly welcomed.