iPad Unable to Check for Update? Follow These Steps to Fix It
by Sophie Green Updated on 2023-04-13 / Update for iPad
The problem comes when a popup on your device says, "iPad Unable to Check for Updates." This can be a big problem and can affect the performance of your devices badly. If you are also someone who is facing the same problem with their iPads and want some solution for it, then this article is for you. Here we have mentioned some easy solutions to help you fix the iPad unable to check for update problems.
Part 1: Why Is My iPad Unable to Check for Update
Your iPad is showing the message "iPad Unable to Check for Updates" for many reasons. Following are some of the most common reasons that can cause the glitch.
1. Weak Wi-Fi Signal:
The first and the most common reason for your iPad not to update and show errors is that you have weak Wi-Fi signals. If the internet connection is not stable, you won't be able to update your iPad, and it will show the "iPad Unable to Check for Updates" message.
2. Server Issues:
If your Apple servers are down and there is some maintenance and fixing with the system, you might also face difficulties updating your iPad.
3. Outdated Software:
If your iPad is outdated, which means it is an old version, then updating it will be impossible. The new updates will not be compatible with the old version of the iPad, and it will show the "iPad Unable to Check for Updates" notification.
Part 2: How to Fix iPad Unable to Check for Update
After learning the main reasons why the iPad Unable to Check for Updates notification pops on your screen, you should know the fixes. Instead of running to the stores to get it fixed, there are some solutions that you can do yourself and fix your iPad yourself. Let's have a look at these quick and straightforward solutions.
Way 1: Check Your Wi-Fi Connection
The first solution to help you with the iPad unable to check for updates is checking your internet connection. If you don't have a stable connection, then it will be best for you to ask your internet provider. Once you get the Wi-Fi working correctly, you can update your iPad smoothly.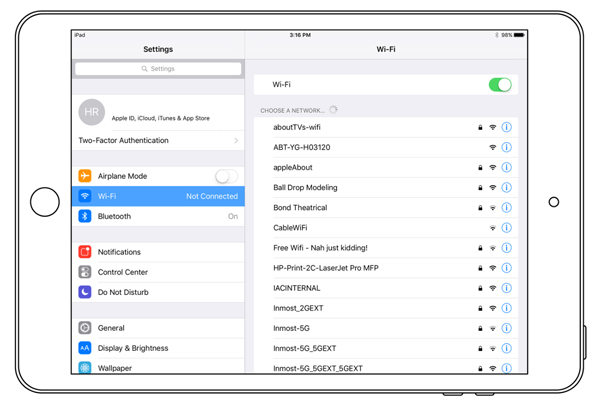 Way 2: Check Apple's Server Status
Sometimes there can be a problem with the Apple server system, and in such situations, if you try to update your iPad, the message "iPad Unable to Check for Updates" will show on your screen.
To solve this problem, visit the Apple System Status webpage https://www.apple.com/support/systemstatus/. Something is wrong if there is a yellow dot on the Apple server. In such situations, you need to wait for the server to resolve the problem, and then you can start the updating process on your iPad.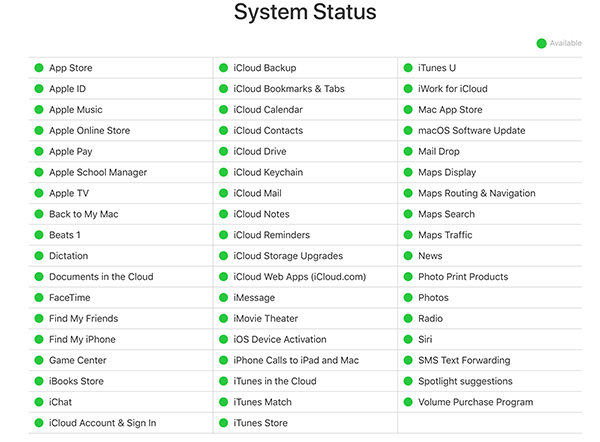 Way 3: One-Click Update Your iPad via Computer without Data Loss:
Another way to fix this "iPad Unable to Check Updates" is by using Tenorshare ReiBoot. This professional iOS system will help you automatically update your iPad. Below are the steps you can follow to use this software and remove the "iPad Unable to Check Updates" problem.
Download and install the Tenorshare ReiBoot application on your computer and connect your iPad to the computer through a lightning cable. When the device is recognized, you can click the "Start" button and continue the process.

Next, you need to click on the "Standard Repair" option so that the process of removing the bugs can start.

You need to download the Firmware Package to your computer. This will assist the Tenorshare ReiBoot.

4.Once the Firmware Package is downloaded on the computer, click "Start Standard Repair" to start the recovery process. This entire process can take a few minutes.

5.Once the process is completed, your iPad will be updated automatically without erasing any data.
Way 4: Update Your iPad via iTunes
You can use iTunes if you can't update your iPad automatically, and it shows the "iPad Unable to Check Updates" notification. This is a manual process through which you can update your iPad to the newest iOS version.
The drawback of this method is that if your data is not backed up, then there are chances that you will lose it. Therefore, when using the iTunes method to update your iPad, it will be best to back up your data using iCloud, so nothing gets erased. Here is how to update iPad via iTunes:
Make sure that you have the latest version of iTunes installed on your computer. You can download it from the Apple website.
Connect your iPad to your computer using a USB cable.
Open iTunes and select your iPad under the Devices section.
Click on the "Summary" tab. Click on the "Check for Update" button.
If an update is available, click on the "Download and Update" button.

Follow the on-screen instructions to complete the update process.
Way 5: Turn on the Automatic Updates Option
You can use the automatic updates option if your iPad is not updating. This will ensure that the iPad will be updated automatically whenever you have new updates or when the Apple server starts working. You need to set the time when you want to get the updates done and also make sure that your iPad has charging during that time.
Way 6: Reset All Settings
Sometimes there is a problem with the system of your iPad. Glitches and viruses can cause the "iPad Unable to Check for Update" option. Then the best thing you can do is reset all the settings. This will remove any unwanted system corruption and allow your iPad to update smoothly.
Open the "Settings" app on your iPad. Tap on "General" in the left-hand menu.
Scroll down to the bottom of the page and tap on "Reset."
Tap on "Reset All Settings." Enter your passcode if prompted.
Tap on "Reset All Settings" again to confirm.
Your iPad will restart and all settings will be reset to their default values.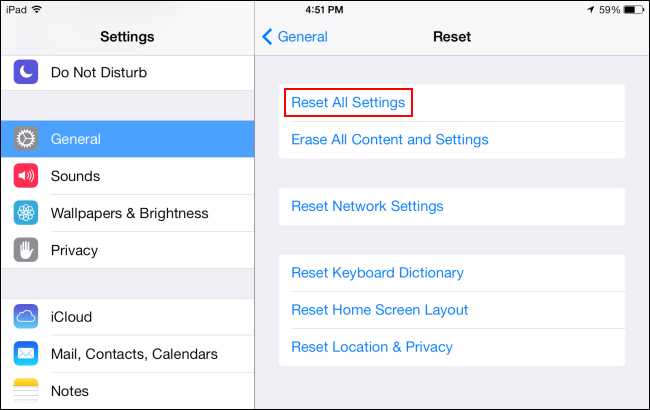 Way 7: Reset iPad Network Settings
As mentioned above, an unstable internet connection can also affect the updating of your iPad. To fix this problem, you can also try resetting the network settings. This will remove all the system's unwanted bugs and allow you to connect to your internet and update your iPad. Reset iPad network settings basically is the same way as reset your iPad all settings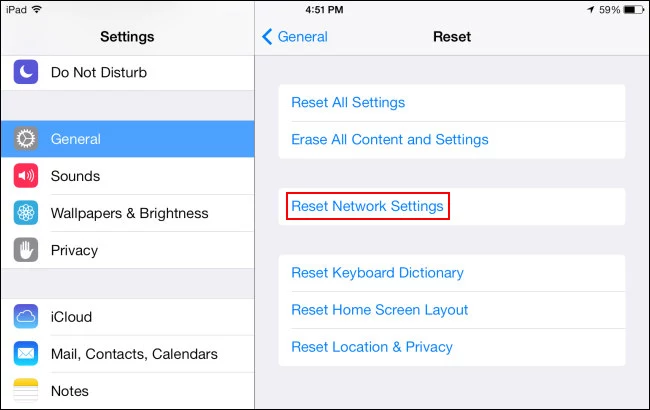 Way 8: Contact Apple Support
The last option you can go for solving the iPad unable to check for updates problem is contacting Apple support. They will provide easy fixes and tell you how to make it work at home. Sometimes you also need to take it to the Apple shop to get it fixed.
Bonus Tip: Why Can't My iPad Update to A Newer iOS
The latest update on the iPhone is iOS 16. iOS 16 has many unique features; however, there are problems that people need help with when it comes to updating their iPads. There can be many reasons when it comes to the issues in updating the iPad. One is that your iPad does not support the iOS 26 version.
Some of the common iPad devices that are compatible with iOS 16 are mentioned below.
iPad Air (5th, 4th and 3rd generation)
iPad Mini (6th and 5th generation)
iPad (5th, 6th, 7th, 8th, 9th,10th generation)
iPad Pro
If you have any of these devices, you can easily update the iPad to the newer versions of iOS.
Conclusion
"iPad Unable to Check for Updates" is a common issue that people are facing. If you take it to the nearest store to get it fixed, they can charge you a lot of money. Instead of going to the market, tackling it at home by yourself is best. We hope the methods mentioned above will help you resolve the problem. If none work, then go for Tenorshare ReiBoot software that will tackle this issue.
Fix iPhone Stuck and Update Issues without Data Loss