With more users taking iPhone as a portable camera, it becomes inevitable to send photos from iPhone to PC to clear out that space. So, here we are with some effective tips that can help you save storage space on your iPhone by sending photos straight to your computer. So, let's get started.
Method 1: How to Send Photos from iPhone to PC via Email
We use Email to send important texts, data and a lot of other things. Similarly, email can also be a great channel to transfer pictures from your iPhone to PC. Yes, you heard it right! You can use Emails to send few images to your own email address and then download these images on your PC anytime and anywhere.
But, there is a limitation to this method. This is not recommended for bulk transfers! If you have a few images to send, only then you can opt for this method. Here's how you can use it:
1. First, on your iPhone, open your Camera Roll.
2. Choose the images that you want send to your PC.
3. Locate and tap on the share icon.
4. Select the "Mail" option.



5. A new email window will open up with the selected images already attached. Now, enter your own email address and send the email.
Now, on your PC, simply open your email and download the images to your desired location.
Method 2: How to Get Photos from iPhone to PC with USB Connection
If you want to know the simplest method on how to send photos from iPhone to PC, use a USB cable. Yes, you can just use your USB cable to transfer and manage photos from iPhone to PC. Your device will act as a portable device and you can get access to your photos easily. Here's the whole process:
First and foremost, you will need the latest version of iTunes on your PC before the whole process. Now, connect your iPhone to your Windows PC with the help of the original lightning cable or USB.
For Windows 7/XP:
1. After connecting, your iPhone will get detected.
2. After detection, open "My Computer". You will see your iPhone as a portable device under the "Devices" section.
3. Now, simply, tap on it and again tap on "Internal Storage" option.
4. This will open a new window containing the "DCIM" folder. This folder will have all your iPhone photos.



For Windows 10/8.1/8:
Similarly, for Windows 10 and 8 users, the process is same but the execution is a bit different.
1. After, your PC detects your iPhone, simply open File Explorer.
2. Now from the list, select "This PC". You will see your iPhone under "This PC" list.
3. Tap on your iPhone and then tap on "Internal Storage".
4. You will have the "DCIM" folder.



You can copy and paste all your photos to your desired location on your PC now. And this is how to send pictures from iPhone to PC using just your USB cable.
Method 3: How to Download Photos from iPhone to PC by iCloud
How to sync photos from iPhone to PC with iCloud? We know the importance of this question among iPhone users! We are here to help you with the best relevant answer.
Thanks to Apple Cloud services, iCloud can not only store your data but can also sync photos while you are connected to Wi-Fi or cellular data. Keep in mind, iCloud only offers 5GB of free storage space and you will have to buy more storage to store more data. This is a let-down though! Anyhow, here's how to use iCloud to transfer photos and for this you will need to set up your iPhone as well as your PC for iCloud Photo Library:
Tips: You have to make sure you have a steady internet connection for successful completion.
1. On your iPhone, open "Settings" and scroll down.
2. Now, for iOS 11 devices, just select "Photos" and for iOS 10 and earlier, select "Photos & Camera".



3. Enable the" iCloud Photo Library" feature.
4. If it's a Windows PC, download and install iCloud for Windows and sign in with your Apple ID and password.



5. Now, tap on "Photos" and enable "iCloud Photo Library" option on your Windows PC.
You have successfully set up iCloud Photo Library on both the devices and whenever you are connected to Wi-Fi, all your iPhone images will sync to your PC.
You will find the synced photos, inside the "iCloud Photos" folder which can be found in File Explorer of Windows PC. Open the folder, and then again open the "Downloads" folder and simply download the required images when prompted.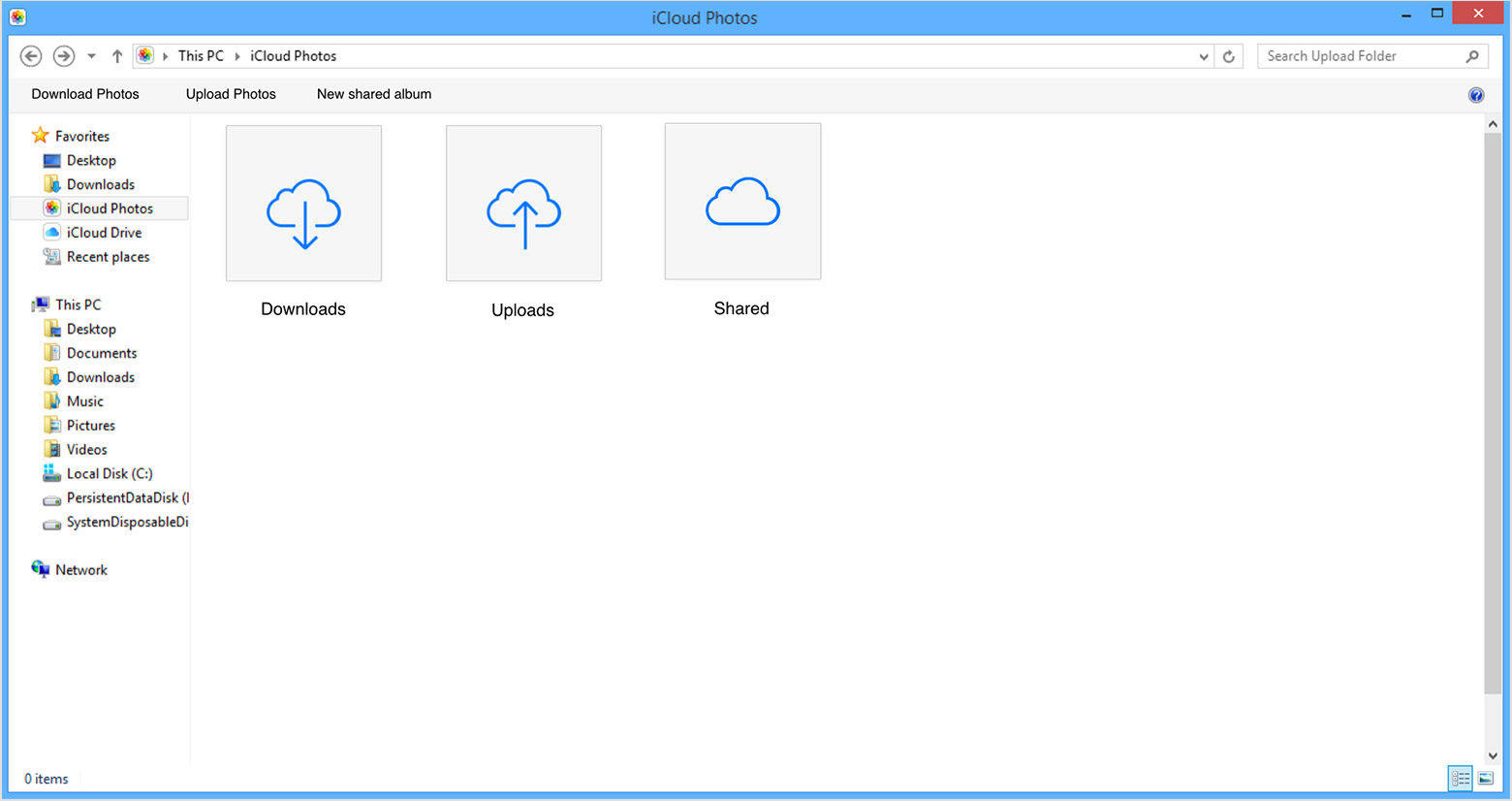 Now, you know what to do, if you are wondering "how do I transfer images from iPhone to PC using iCloud?"
Method 4: How to Send Photos from iPhone to PC without iTunes or iCloud
Similarly, if you are wondering "how do I download photos from iPhone to PC without iTunes?", we recommend that you just go for Tenorshare iCareFone. If you ask us, this is by far the best method to send images to your computer from your iPhone. It supports both Windows and Mac and covers you with these unique advantages and features:
Easy to use
No need for Wi-Fi or steady internet connection. So, no hassles of wireless transfers!
Unlike iTunes, every transferred photo and data will be fully readable and accessible.
Unlike iCloud, there is no space or storage limitation.
Selective and bulk transfers available.
Let's look at how to use Tenorshare iCareFone on your PC:
Free Download
For Win 10/8.1/8/7/XP
Secure Download
Free Download
For macOS 10.13 and below
Secure Download
1. First and foremost, download, and install Tenorshare iCareFone software on your computer from the official website.
2. Now, run the software and connect your iPhone to PC using a USB cable.

3. Simply, tap on "File Manager", and then tap on "Photos" option from the main interface.

4. After this, your photos will get displayed right on your computer screen in a chronological manner.

5. Now, you have to select the required pictures you need to transfer and just tap on the "Export" button.
All your selected photos will be sent to your computer in no time! And this is a great answer to a question "How to send photos from iPhone to pc without iTunes?"
Conclusion
So, here the top 4 methods to get your iPhone photos transferred to your PC. Follow these methods step by step and we assure you that all your photo transfer requirements will be solved for good! If you want best results, go for Tenorshare iCareFone with your eyes closed. You have already seen the advantages it has over other methods. Just go for it and it won't ever disappoint you!
If you find this article helpful, don't forget to share and comment below!!
Free Download
For Win 10/8.1/8/7/XP
Secure Download
Free Download
For macOS 10.13 and below
Secure Download
Related Articles
comments powered by