How to save photos from iPhone to PC or how to transfer iPhone images to computer is pretty much the hottest topic going on the internet. It is still trending now thanks to new devices being launched every single year by Apple. With new models, come new users who are confused on many features related to their own devices. If you are one of them and you are looking for a solution to this problem, you are just at the right place. We are going to narrate everything when it comes to transferring photos from your iPhone to PC here.
Part 1: How to Save Photos from iPhone to PC Wirelessly
If you are wondering "how do I import pictures from iPhone to PC", you can do it with the help of wireless technology. Yes, you can transfer photos wirelessly and there are many ways by which you can do it. But keep in mind all of these methods require a steady Internet or Wi-Fi connection to work properly. So make sure you get that sorted before trying any of these methods. Here are the ways:
Way 1: Save from iCloud Photo Library
iCloud is known to everybody. The famous Apple Cloud services not only give you a space to store all your images but it can also sync photos to your PC. Yes, iCloud has a feature that can sync photos when both your devices are connected to Wi-Fi or internet. And that is iCloud Photo Library! Here is a step by step walkthrough of the whole process:
1. First, on your Windows PC, download iCloud for Windows software.
2. Now, launch the software and sign in with your Apple ID and password.
3. Now, find "Photos" located beside "Options" and enable the "iCloud Photo Library".



4. Now, come over to your iPhone and open "Settings".
5. For iOS 11 devices, tap on your name > iCloud > "Photos" and for iOS 10 open "Photos and Camera".

6. Now, find and turn on "iCloud Photo Library" option.




Now, your photos will be synced automatically between your iPhone and PC whenever you are inside Wi-Fi.
Now, to get your photos, open the File Explorer on your PC and then navigate to "iCloud Photos". Now, open the "downloads" folder and just download the photos.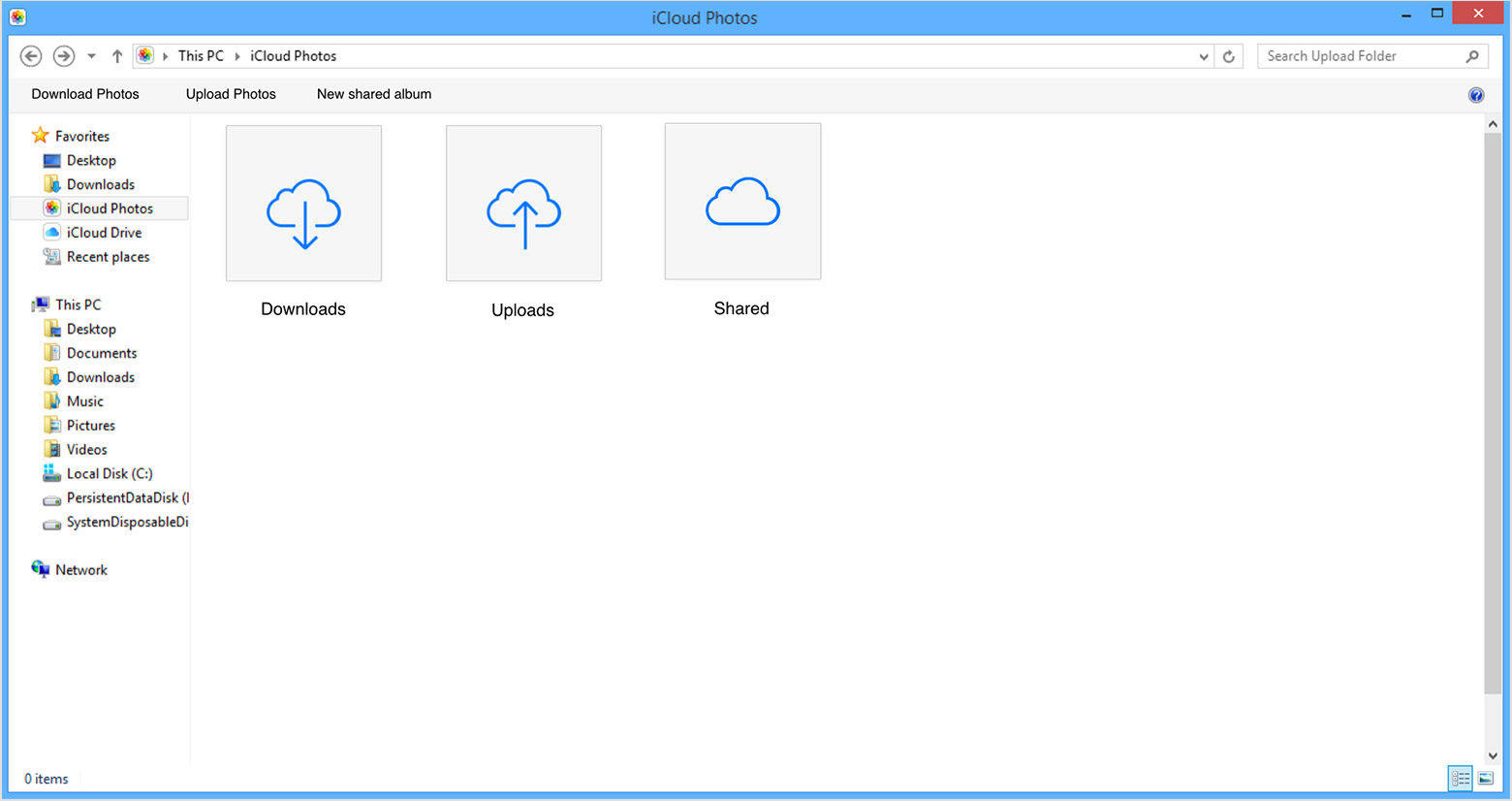 Way 2: Save from Google Photos
You can use Google Photos on your iPhone and download photos to your PC. It is a great app available for iOS as well as your PC. All the steps are detailed below.
1. First, download and install the Google Photos app from App Store.
2. Log in to your Google account now when prompted.
3. Now, simply enable the "Backup and sync" feature.



4. This will start backing up and syncing all your iPhone photos under Wi-Fi. Uploading of photos is automatic and it will back up all your photos to the photo library.
5. Now, go to your Windows PC and get hold of any browser and just open photos.google.com
6. As discussed earlier, there is no "Select All" option. But you can do it by selecting the 1st photo and tapping on "Shift" on your Keyboard and then simultaneously clicking on the last photo of the page. This will select all the photos in the middle and it will be ready for download.
7. Now, navigate to the upper right corner of the screen and tap on the three dots located there. And tap on "Download".



So, here's how to save pictures from iPhone to laptop using Google Photos.
Way 3: Save from Dropbox
Dropbox is basically a Cloud services app that supports all type of devices and you can share and sync anything between these devices. The main advantage of using this app is you can get access to your data from any device or machine that has Dropbox installed. Let's look at how it works and how to save pictures from iPhone to PC using Dropbox:
1. First and foremost, find and install the Dropbox app on your iPhone from the App Store.
2. Now, sign up with the required credentials.
3. After you login into Dropbox, just tap on "Settings" and then click on "Camera Upload".



4. Under the Camera Upload page, simply enable the "Camera Upload" feature with the help of the toggle switch. And if you want you can also enable the Background Uploading feature too. This will upload photos to your Dropbox folder in the background automatically.
Now, all your photos will be backed up and uploaded to your Camera Uploads folder under the Dropbox menu whenever you are under Internet or Wi-Fi connection.
1. Now, download and install the Dropbox software on your PC, or go to dropbox.com
2. Now, enter the login credentials of your Dropbox account.
3. Now, go to Menu and click on the Dropbox tab if you using a Windows PC.
4. Inside it, you will find the "Camera Uploads" folder which will contain all your photos synced earlier with your iPhone.



Part 2: How to Save Pictures from iPhone to PC with USB Cable
If you don't want to go for wireless photo transfer, or you don't have a steady Internet connection and you don't want to stress yourself into cloud storage limitation and related things, you can use just your USB cable to save pictures from iPhone to PC. Here are two ways listed below. Make sure you use your original USB cable for all these methods.
Way 1: Move Photos from iPhone to PC with Tenorshare iCareFone
The most straightforward way to get pictures off your iPhone to PC is using Tenorshare iCareFone. It is a specially designed transfer program that can transfer your iPhone photos to PC within clicks. It is supported by both Mac and Windows and being a very simple program, it only needs a USB cable to get it working. Here is why you should choose Tenorshare iCareFone:
Interactive interface and very easy to use.
Direct and fast transfer speeds.
Supports multiple and bulk photo transfer
No storage limitations
No need for Wi-Fi or cellular connection.
Readable photos after transfer unlike in iTunes.
Free Download
For Win 10/8.1/8/7/XP
Secure Download
Free Download
For macOS 10.13 and below
Secure Download
Here is how you can use Tenorshare iCareFone on your own:
1. First, download, install and run Tenorshare iCareFone on your PC.
2. Connect your iPhone via USB to your PC now.

3. Now, tap on "File Manager" on the main interface and tap on "Photos".

4. This will load all your iPhone photos on your computer screen automatically.
5. Select the desired images and tap on the "Export" button.
All the photos you selected will now be accessible on your PC right away.
Tenorshare iCareFone can also be used as a tool to fix iOS stuck issues, speed up and clean, backup and restore, and repair OS system,etc
Way 2: Save iPhone Photos with File Explorer
You can also use your USB cable to transfer photos from your iPhone straight to your PC with the help of Windows File Explorer. It is the most basic method to transfer photos or data. You will need to have iTunes pre-installed for this whole procedure. Follow the steps below to get it done:
1. First, connect your iPhone to your PC with the help of the USB cable.
2. Your device will now get detected by your PC.
3. After detection,

a) For Windows 7 PC, navigate to "My Computer". Under Devices section, you will be able to see your iPhone as a portable device. Click on it and you will get the "DCIM" folder.
b) For Windows 10/8/8.1 PC, open your File Explorer and navigate to "This PC" on the left side panel. Under "This PC, open "iPhone" and then tap on "Internal Storage". You will get the "DCIM" folder.




You will get all your iPhone images inside the DCIM folder. You can now copy and paste the photos to any location inside your PC.
Conclusion
Overall, this is how to save photos from iPhone to laptop. These above methods are all tried and tested and can help you with all your transferring needs. But if you want the best option, we will recommend Tenorshare iCareFone software. This is the simplest yet effective option to go for!
If you like this article, do share and comment below!!
Free Download
For Win 10/8.1/8/7/XP
Secure Download
Free Download
For macOS 10.13 and below
Secure Download
Related Articles
comments powered by