Yes, it is true that iPhone comes with a fixed and very limited memory and there is no way around to fix that. With time, your media, mainly your photos accumulates exponentially and creates a potent storage problem. But you can always store or clear your extra data whenever necessary. You can back up all your photos from your iPhone to your PC or Laptop easily. A few effective methods on how to save photos from iPhone to computer are detailed in this article. So, let's get started.
Part 1: Save Photos from iPhone to Computer with iCloud Photos Library
As an iPhone user, it is very important to register on iCloud. It not only provides 5GB cloud storage space to all its registered users but also provides various facilities, such as iCloud Photo Library, Photo Stream etc. If your storage is getting short and you are looking to transfer your photos and videos somewhere else like your PC then you will find that iCloud is one of the most viable options. How to save pictures from iPhone to computer using iCloud Photo Library is described below.
Enable iCloud Photo Library on iPhone
1. Go to "Settings" provide your name and go to "iCloud", tap on "Photos".
2. Turn on "iCloud Photo Library".



Enable iCloud Photo Library on Computer
For Windows:
If you want to use the facilities provided by iCloud Photo Library on Windows computer then first you have to download and install iCloud for Windows on your PC. The process is mentioned below.
1. Open iCloud for Windows after installing it.
2. Now, go to "Photos and click on "Options".
3. Select to enable "iCloud Photo Library".



Now, that you have finally turned on the Photo Library on your iPhone and computer and synced them together, the only thing remains is to find the synced photos on your computer. You can find it inside File Explorer and then inside "iCloud Photos". Open the "Downloads" folder and tap on download.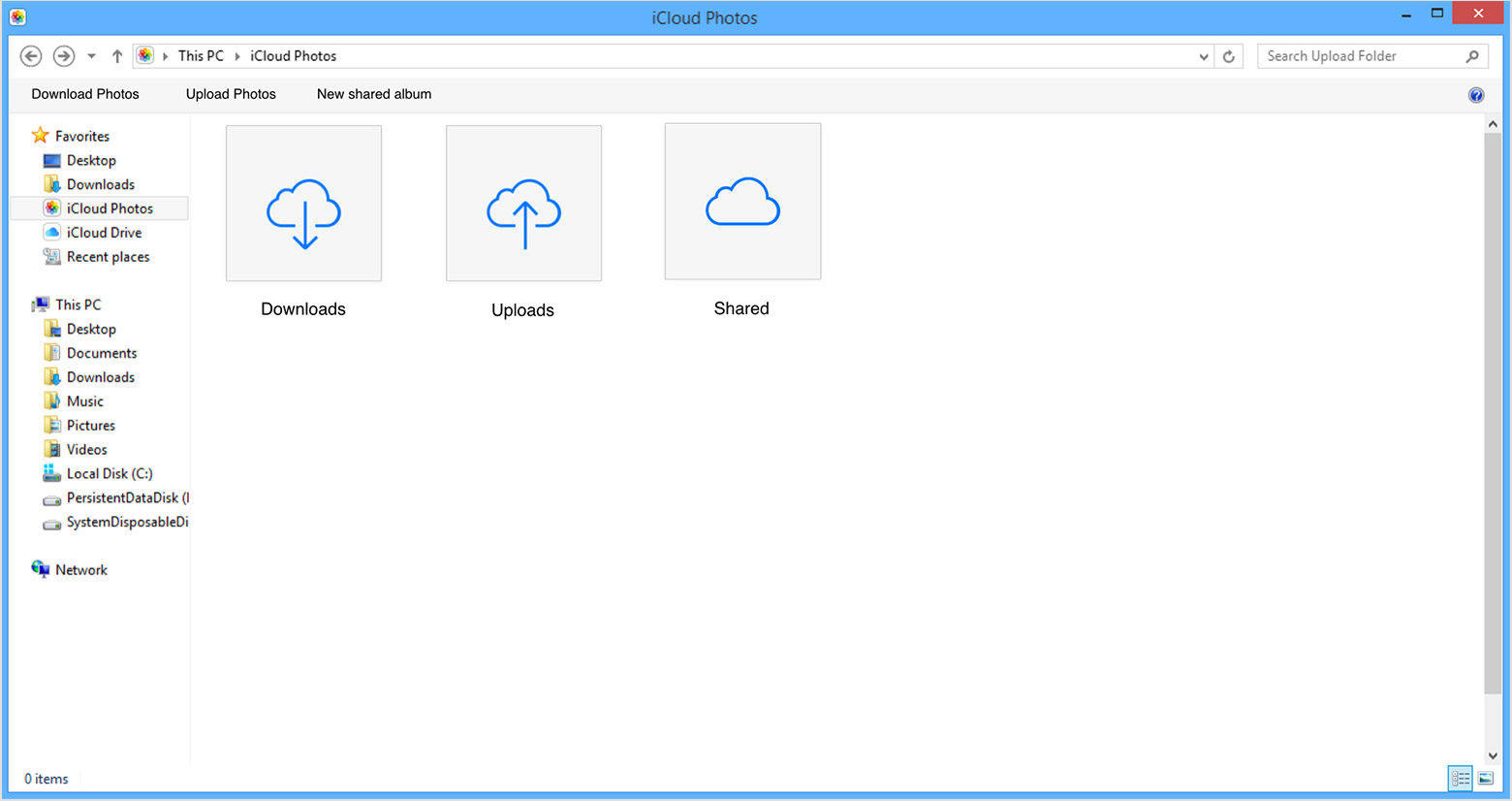 For Mac:
If you also want to use iCloud Photo Library on your Mac, then you have to find the Photo Library on the Mac and turn it on.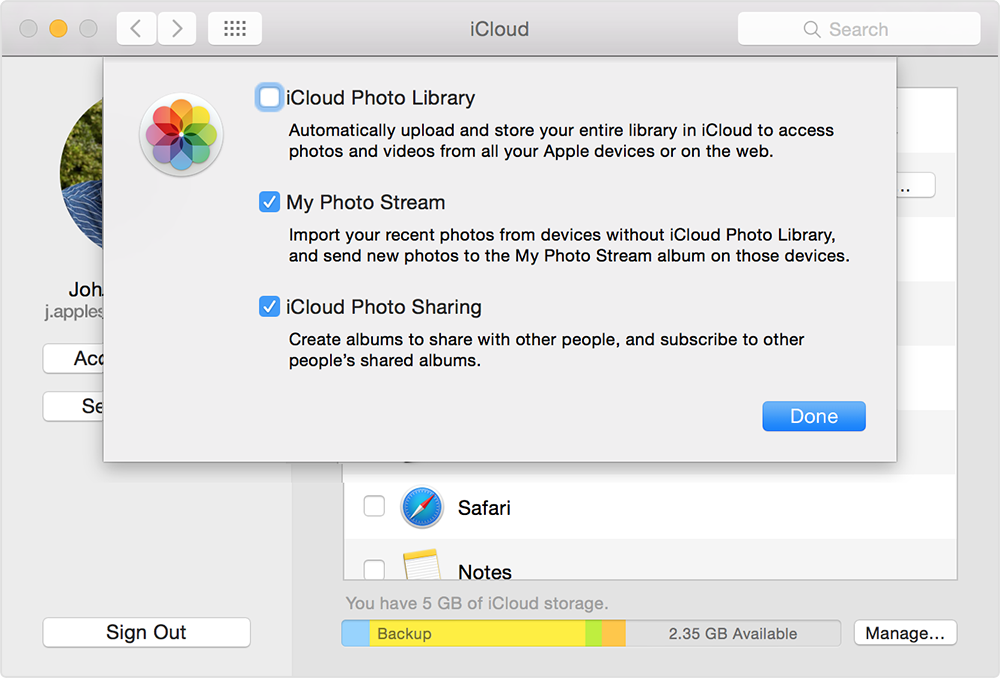 You will get all your iCloud photos inside the Photos App on your Mac.
Part 2: Save Pictures from iPhone to Computer with Google Photos
Storing your backup pictures at Google Photos is an excellent option. Why would you go through all the trouble to download photos on your PC when Google is providing unlimited cloud storage for your photos? But there is a catch! Unfortunately, each of your photos has to be below 16 megapixels to store unlimited images at Google Photos. Here's how to use it:
1. Download Google Photos on your iPhone and log-in.
2. For first-time users, the app will want to access the photos, tap OK.
3. Now, go to Settings and select "Back up and Sync".



4. All of your pictures are backed up and synced with Google Photos.
5. You can visit photos.google.com from your PC and you will see that they are sorted by date.



6. Tap on "Download" to get the photos now.
Part 3: Download Photos from iPhone to Computer with Dropbox
Dropbox is a very useful third-party app. It provides an easy access to your photos, videos, and data. If your iPhone is connected to any device with Dropbox, you can access all the data from your phone. Aside from iCloud, iTunes and Airdrop; only Dropbox provides unlimited access to your data from a connected device. But do keep in mind, as it is a wireless form of transfer, it needs a steady Wi-Fi or Internet connection to sync and back up your photos every time. So, here's how to use Dropbox to transfer pictures:
1. Download the Dropbox from App Store and install it on your iPhone.
2. Create an account and log-in.
3. Go to the Files and choose the destination. On the top, you will see three dots, tap on them and select Upload File.
4. Now, choose the photos you want to send to Dropbox then tap Upload.



5. On your computer you can download the Dropbox desktop app or visit the official website.
6. Login with the required credentials that you used earlier.
7. Find the uploaded pictures and download them straight to your PC.



Part 4: Get Photos from iPhone to Computer with Tenorshare iCareFone
If you want to know "how do I import pictures from iPhone to computer?" and that too most effectively, we highly recommend that you use Tenorshare iCareFone! It is a versatile program that offers a full File Manager with the help of which you can send an unlimited number of pictures from your iPhone to PC. Available for both Mac OS and Windows it can ease out your whole transferring process.
Very user-friendly interface
No Wi-Fi or internet connection needed.
Higher transfer speeds
Unlike Google Photos, no quality limitations on photos for transfer
Unlike iCloud or iTunes, there is no storage limitations and account login formalities.
Selective or bulk photo transfer.
To use Tenorshare iCareFone for saving photos from iPhone to computer, follow this guide:
Free Download
For Win 10/8.1/8/7/XP
Secure Download
Free Download
For macOS 10.13 and below
Secure Download
1. First, download, install and run Tenorshare iCareFone on your PC.
2. Plug in iPhone to your PC with USB cable.
3. Tap on "File Manager" from the interface.

4. Under "File Manager", find and select the "Photos" tab.

5. You can select the desired photos for transfer now using the list of pictures on your computer screen.

6. After selection, click "Export".
All the selected pictures will be exported straight to your computer now and by far this is the best way to get photos from iPhone to PC without iTunes.
Conclusion
So, here is a detailed guide to save photos from iPhone to computer easily and efficiently. All of these options are tested by us, and it works well with all devices. If you want the best you know what to choose. Just go for Tenorshare iCareFone. Don't miss this amazing software!
If you like this article, don't forget to share and comment below!!
Free Download
For Win 10/8.1/8/7/XP
Secure Download
Free Download
For macOS 10.13 and below
Secure Download
Related Articles
comments powered by