Want to transfer all your iPhone photos to your personal computer? Are you confused on how to get photos off from your iPhone and get it transferred to your computer? Want to save up that much-needed iPhone space by moving those photos and backing it up on your Mac or Windows PC? Don't worry, we have got you covered! In this article, we have come up with the detailed comprehensive solutions on how to move photos from iPhone to Computer irrespective of the operating system used. So, let's get started right away!!
Option 1: How to Move Photos from iPhone to Computer without iTunes or iCloud
If you are looking for an iTunes or iCloud alternative to get all photos from your iPhone to computer, I would highly recommend that you go for Tenorshare iCareFone. It is a straightforward solution when it comes to transferring photos from one device to another. Be it from anywhere such as the Photo Stream, Camera Roll, and other resources inside your iPhone, this software can fetch anything and everything in no time at all. It is undoubtedly my first choice while I transfer photos from iPhone to my PC and I would highly recommend this to you for all your photo transfer needs.

The advantage of Tenorshare iCareFone over other common methods are as follows:
Extremely easy to use thanks to its user-friendly interface and clear instructions.
Superior transfer speeds when compared to other feasible methods and less complicated working formula.
Well managed and categorized photos after transfer. Specific path or folders can be made.
No Internet data or Wi-Fi required for transferring data. You can get all your photos completely offline.
You can choose and transfer photos and other data selectively as well as in bulk, unlike other methods. No limitations on import and export of iPhone photos whatsoever!
Safe to use. No data loss or quality issues of transferred data. Photos will be readable after transfer unlike in iTunes.
Compatible with all iOS versions and products namely iOS 11/10/9/8, iPhone X/8/8+/7/7 Plus/6s/6s/6/5 and iPad Pro, Mac, Windows 10/8/8.1/7 etc.
Free Download
For Win 10/8.1/8/7/XP
Secure Download
Free Download
For macOS 10.13 and below
Secure Download
To use Tenorshare iCareFone to move photos from iPhone to Computer, follow the steps below:
First, download and install Tenorshare iCareFone on your PC. Both Mac and Windows versions are available.
Now, with the help of a USB cable, connect your iPhone to your PC. And launch the software.

You will see the main interface. Now, navigate to "File Manager" and tap on it.
Now, from the list just choose "Photos".

The software will fetch all the photos from your device and it will showcase them right in front of you for selection.

Now, select the pictures you want to move and just tap on "Export"
All your selected photos will be transferred to your PC now.

Apart from file management, this software also boasts other features as well such as OS repair, speed up and clean iOS systems, fixing iOS stuck issues, backup and restore etc….
Option 2: How to Wirelessly Transfer Photos from iPhone to Computer
How to move photos from iPhone to laptop wirelessly? This is a very common question. There are few ways by which you can opt for wireless photo transfers from your iPhone to a PC. It is different for both forms of operating systems. Though this is a good way to transfer photos, there are certain limitations like you will need to be online or under Wi-Fi connection for the entire session. But overall, if you have a steady internet connection, it is definitely a feasible answer on how to transfer photos from iPhone to computer without iTunes.
For Mac computers, use Airdrop:
Airdrop uses Wi-Fi to wirelessly add photos from your iPhone to Mac computers. It is only compatible with Mac OS X Yosemite/El Capitan/ macOS Sierra/macOS High Sierra.
First and foremost, you need to make sure that both your iPhone and Mac are connected to Wi-Fi or else it won't work.
Now, on your iPhone enable Airdrop and select "Everyone". Now open Airdrop.



Then open the Finder and launch Airdrop and also enable it to be discovered by everyone.



After connection, just go to Camera Roll and select the desired images you want to AirDrop to your Mac



Now, after selection, just tap on the Share button and save to Mac.



This will sync all your photos to your Mac computer. Your Wi-Fi affects the transfer speeds in this case. And also keep in mind to disable Airdrop after synching. Now you know how to Airdrop pictures from iPhone to Mac.
For Windows computers, use iCloud Photo Library:
In case, you are using a Windows PC, you can go for iCloud Photo Library feature moving pictures from iPhone to computer. It basically uses the help of Cloud services and syncs all your photos with your PC. So, in this case, as well, you will need a steady Wi-Fi connection. Here's how you can do it:
First on your Windows computer 10/8/8.1/7, download iCloud for Windows and install it. It comes with all the required instructions. Just follow the on-screen prompts and you will have a successful installation in no time.
Now, launch the software, and sign in to your iCloud by entering your Apple ID and password
Now, navigate to "Options", move to the right side and you will see the "Photos" option. Click it!



Turn on the iCloud Photos options and simply tap on "Done".
Now, on your iPhone X/8/7/7Plus/6/6Plus/SE etc, go to "Settings"
Now, under "Settings", navigate to "Photos" and turn on "iCloud Photo Library" feature with the help of the toggle switch.



Now, all the pictures will be uploaded to the iCloud Library on your Windows computer, when Wi-Fi is connected.
Navigate to iCloud Photos on Windows file explorer. Tap on the download folder and just click on download.



All the photos will be safely stored to the desired location/path you entered in the "iCloud Photos Options".
Option 3: How to Import Photos from iPhone to Computer with USB Connection
Alternatively, you can also go for wired transfer. When it comes to importing photos from iPhone to computer using a wired or USB connection, there are a few ways but all of them differs for OS versions. Here's how:
For Windows 10/8 PC, use Photos App:
The Photos App for Windows 10/8, can make photos available on your computer without using iTunes.
First, make sure you have the latest version of iTunes on your Windows computer. Launching iTunes is not needed in the whole process, it is just recommended by Apple.
Now, simply connect your iPhone to your Windows computer using the original USB cable.
Now, launch the Photos App on your computer and right-click inside the main interface to navigate app commands
Navigate to "Import" and simply choose the device. In this case, choose your iPhone from the device list.
Now, just select the photos you want to transfer and tap on "Import". Then transfer process will start.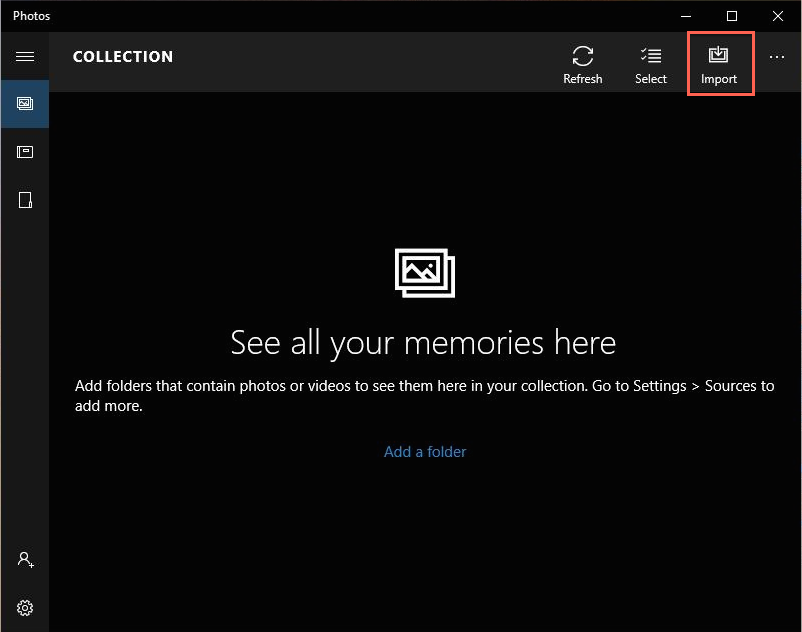 For Windows 7 PC, use Autoplay or Windows Explorer:
With the help of the Autoplay feature, you can backup photos from iPhone to computer with just a USB cable.
Similarly, as above, install iTunes on Windows 7 PC for a smoother experience.
Simply plug in your iPhone to Windows 7 PC with the help of the original lightning or USB cable.
The trick here is to open the camera on your iPhone.
Just as you open up your iPhone's camera, the AutoPlay prompt will come up automatically.



Just tap on "Import pictures and videos" option.
Now, simply choose the pictures and tap on "Import".
You will have all your iPhone pictures on your computer now.
For Mac PC, use Photos App:
To transfer photos using the Photos App on Mac PC, first, you need to have Mac OS X Yosemite 10.10.3 and above. The Photos App is a transfer tool that can also add up as a file manager as well. It can edit and share files between different iOS devices with ease. Here's how you can use it to import photos from iPhone to Mac:
First, plug in your iPhone to Mac PC and just wait for some time. The Photos app is designed to open up automatically when connected. If it doesn't open, just tap on the Photos icon.
Just tap on "Import" after selecting the required photos you want to transfer and that's it!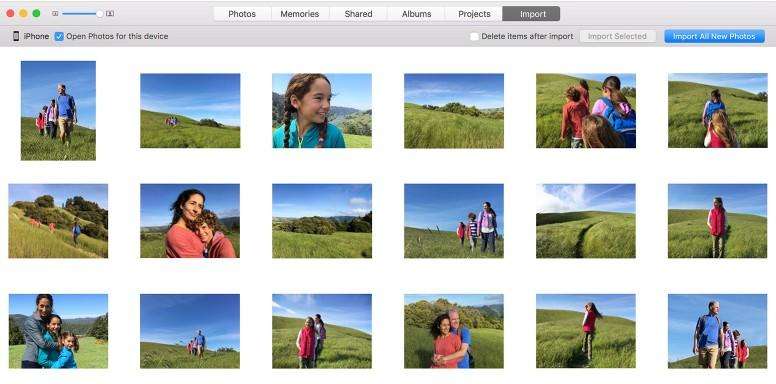 So, here are the top 3 options that you can try if you want to move photos from iPhone to computer, irrespective of the operating system you use. If you ask me, with such effective features on offer, I would recommend you Tenorshare iCareFone for moving your photos as it is clearly the winner here.

If you find this article helpful, do share and comment below!!
Related Articles
comments powered by