Are you a new iPhone user, stuck with low storage on your iPhone? Don't know how to get photos from iPhone to computer? Transferring your important images to your personal computer is a very important process as it can not only save storage space but also keeps your photos backed up for further use. Moreover, if you use a Windows PC or a Mac, there are different ways to import photos. So, how to do it? All these questions will be answered here on this detailed guide. So, let's get started.
Way 1: How to Get Pictures from iPhone to Computer with Transfer Tool
You can transfer photos between your iPhone and computer using a utility transfer tool like Tenorshare iCareFone. It is a versatile all-in-one software that basically acts as a file manager. It supports both Windows and Mac. Apart from managing photos, it can add, delete and export all type of files like music, videos, contacts, Calendars, chats, apps etc..Its main features in terms of managing files include:
1. Faster transfer speeds compared to other software and transfer methods.
2. No limitations or restrictions in terms of storage space, import and export.
3. Compatible with iOS 11/10/9 and every version of Windows and Mac devices.
4. Selective and bulk transfers possible.
5. No need for internet connection or Wi-Fi while transfer.
6. Readable photos after transfer, unlike iTunes backup files.
7. Manage up to 9 file types like photos, music, videos, contacts, etc.
Free Download
For Win 10/8.1/8/7/XP
Secure Download
Free Download
For macOS 10.13 and below
Secure Download
Here's how to use Tenorshare iCareFone the right way:
First, install and launch the Tenorshare iCareFone software on your computer and simply connect your iPhone using USB. This software can work on all Mac OS and Windows versions.
After the software detects your iPhone, navigate to "File Manager" and then to "Photos" from the main interface.

Your photos will be listed in front of you now in a chronological manner.
Select one or multiple or all photos that you want to send over to your computer and just tap on the "Export" button.
And that's it! It is that easy to upload your iPhone photos to your own computer using Tenorshare iCareFone. This is a clear answer to your question "How do I download pictures from my iPhone to my computer?" Don't miss this stellar iOS file transfer program!
Way 2: How to Get Photos off iPhone to Computer with USB Cable
Many people are concerned about storing their essential photos when it comes to iPhones/iPads. But the process is not that different if you compare it to Android devices. You just have to apply a few simple tricks when it comes to Apple devices. Here's how you can do it:
For Windows 10/8 PC:
So, if you are thinking of storing your photos to your Windows PC via a USB cable, then you should know that before you begin the process, you need to download and install iTunes.
Now, if you are done with installing iTunes, you can connect your Windows 10/8 PC and your iPhone with a USB cable. You can either use a 30-pin cable or a lightning cable, depending on which one you have available.
This particular process is completely dependent on Photos App. So, whenever you are connecting your PC with the iPhone, the Photos App is meant to launch automatically. Unfortunately, if it does not launch automatically, you have to do it manually.
After the Photo App panel opens, click the "Import" button on the top. Then select the photos you want to send and finally click on "Continue" which is located at the bottom.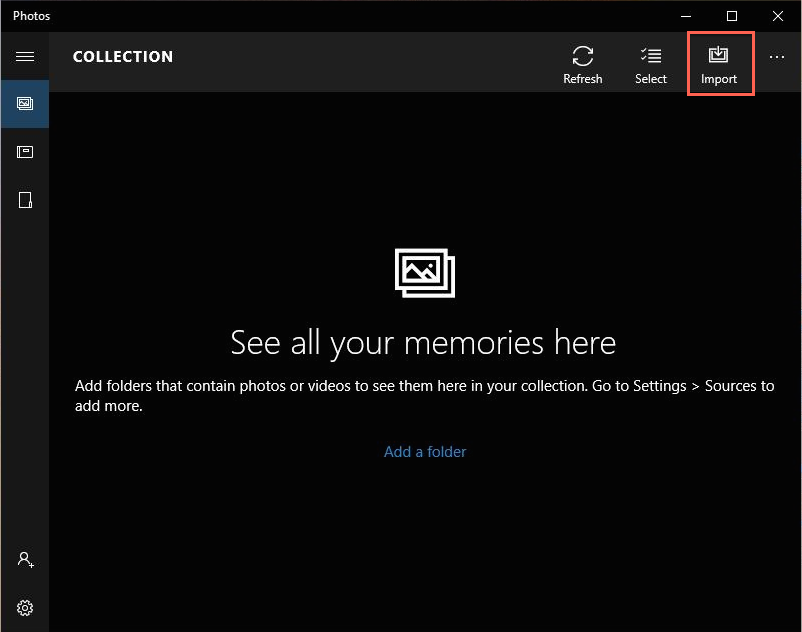 The process is complete. Now, a pop up will open up asking you to delete the photos after they are imported. You can check it or uncheck it, which is completely dependent on your opinion.
For Windows 7 PC:
If you are working on a Windows 7 PC, then the above process won't work. You have to use Autoplay feature of Windows to get your photos from the iPhone. Make sure you have the latest version of iTunes installed on your PC. Now, follow the steps below:
First, plug in your iPhone to the Windows 7 PC.
Now, open the Camera app on your iPhone.
This action will lead to an automatic pop up of the Autoplay box.
Now, just select "Import photos and videos" option from the dialog box.



Select the path for import and just tap on "Import".
You will have all your selected photos on your Windows 7 PC now.
For Mac:
If you own a Mac then you have to go through the following process:
As you are sending pictures to Mac, assuming that you already have iTunes installed, connect two of the devices with a USB cable.
The moment you are connected, the Photos App should be launched, if it does not you have to manually start it with the launch pad.
There is an "Import" button located on the top of the Photos App panel, you need to click on it.



Now, select the pictures you want to send.
After the process is completed you can select the Last Import option to see the last imported images.
This is how to get pictures off iphone to computer just using your USB cable provided by Apple.
Way 3: How to Backup and Sync Photos from iPhone to Computer
If you are an iPhone user then you have already subscribed for iCloud. It is a property of Apple and provides you with 5 GB of storage space where you can easily back up and save your pictures, videos, and other data. You can also buy more storage space but that would set you back a few dollars. iCloud also keeps your phone up to date and synced with other iOS devices. Now the question is, how to use iCloud for Windows as well as for Mac to sync photos from iphone to computer. Follow the guide below:
For Windows:
Download and install iCloud for Windows on your PC from the website.
Now, just sign-in with your Apple ID and you will be able to use any services provided by iCloud.
Now, just click on "Options" beside "Photos".



Find and enable "iCloud Photo Library".
Now, come over to your iPhone:
First of all, make sure that your phone is running the latest version of the iOS, if you are not sure, then go to "Settings" and tap Update.
Now, go to "Settings", then to "Your name" and enter "iCloud".
Now, inside "iCloud", find and tap on "Photos".> Your name > "iCloud" > "Photos".



Enable "iCloud Photo Library".



Now all your iPhone photos will automatically sync with your Windows computer, while only on Wi-Fi.
On your computer, find "iCloud Photos" inside Windows Explorer and click on "Download" to get your photos.



Now, you know how to download photos from iPhone to computer with ease.
For Mac:
If you using a Mac computer, you have to set up some things. Follow the steps below:
On your iPhone, again start with turning on "iCloud Photo Library".



Now, go over to your Mac, and open "System Preferences".



Navigate to "iCloud" and go to "Photos".
Tap on "Options" and enable the option "iCloud Photos Library".
Now, whenever your iOS device is inside Wi-Fi- connectivity, iCloud Photos Library will sync images from iPhone to Mac automatically. So, if you are thinking how to transfer photos from iPhone to computer without iTunes, now you know the answer.
Way 4: How to Upload Photos from iPhone to Computer with Email or Social App
Even though there are several techniques where you can easily download your pictures on your PC but still if you are having trouble, you can easily send them to your PC via Email.Here is what you need to do.
Create a new email account if you don't have already.
Then go to your Camera Roll and select the photos you wish to mail.
Now under Share option, choose the option "Mail".



Just type your own email address on the newly opened mail window and send the mail.
Now, open your mail and download the photos to your personal computer. It is that easy!
iPhone may be one of the most advanced gadgets in the world but when it comes to importing data from iPhone to a Windows PC, the process can be really frustrating. So, here is a list of effective ways that can help in getting pictures from iPhone to computer, both Mac and Windows. We would recommend Tenorshare iCareFone among all these methods, as it is the best and also the fastest way to get all your photos off your iPhone to computer. Do share this article and comment below!
Free Download
For Win 10/8.1/8/7/XP
Secure Download
Free Download
For macOS 10.13 and below
Secure Download
Related Articles
comments powered by