Top 8 Free Apps to Download Music on iPhone/iPad/iPod
We all love to listen music though our taste might be different from one another. Generally, we download the songs in our smartphone to listen it whenever or wherever we want. It is easy to download the music in Android phone but when it comes for iPhone, we don't know the process to download the songs. There are plenty of apps which helps us to listen the music online and even let us to save the songs in library so that we don't need to search the songs again and again. But actually, there is an easy way to download music on iPhone. Read the article to know to process on how to download free music on iPhone.
Part 1: How to Download and Manage Music on iDevices without iTunes
There are large number of users who are not really fond of using any music app to download the songs and save it on their device neither they want to use iTunes. It's not a big deal if the users are looking for awesome alternative of iTunes which can manage music as well as download it effortlessly. The best app that can be used instead of iTunes is Tenorshare iCareFone. This app has intuitive interface and it is really easy to operate. We can easily manage all the music and other different data in a simpler manner. Apart from this, we can even manage photos, contacts, videos and many more. iCareFone is compatible with latest iOS 12 as well as iPhone XS/XS Max/XR. Here is the step-by-step guide to transfer iTunes media to iDevice:
Step 1 Download and install iCareFone on your computer or Mac. Connect your iDevice to computer with USB cable.
Note: Note: If you see "Trust This Computer" message on the screen, simply unlock the device and press the passcode to connect the device with app.
Step 2 Click on "Transfer iTunes Media to Device" from the main interface of the app.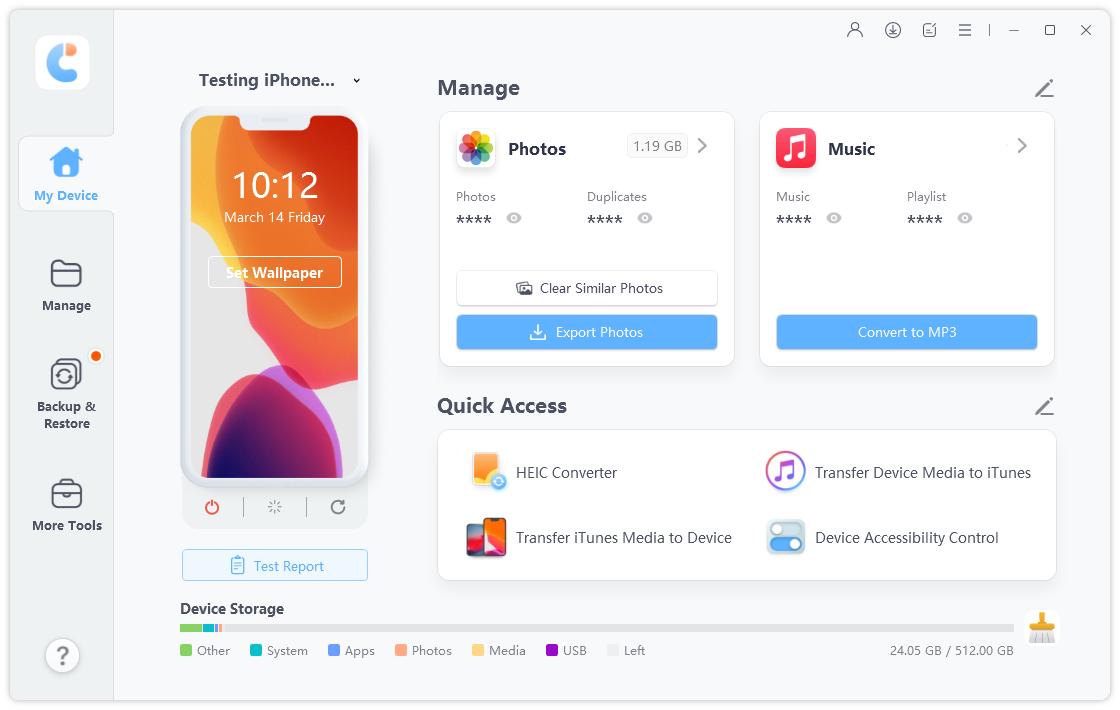 Step 3 Select the media that you want to transfer to device then click "Transfer".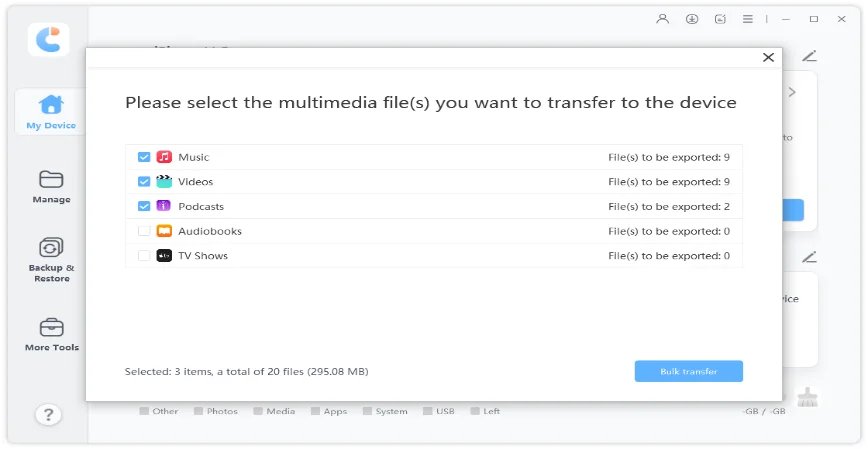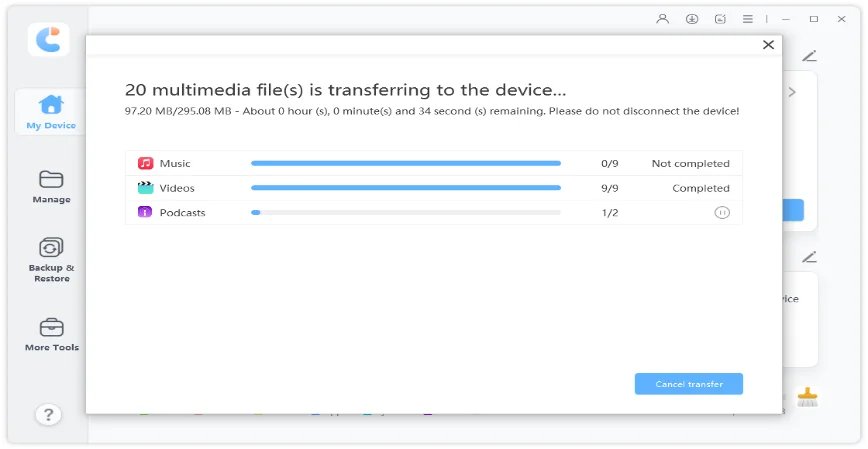 When the process completed. the selected media will be transferred to your iDevice.
Part 2: Top 8 Free Apps to Download Music on iPhone/iPod/iPad
There are plenty of apps available in the market which can help us to get the music with an ease. I have also used some awesome apps that has helped me to download free music to my phone without any long and hectic process. Some of the apps are mentioned below.
2.1 Spotify
Spotify is one of the popular apps that help to stream music online without any interruption. We can find millions of songs here whether it be old one or the latest hits. All we need to do is, click on play button to stream anywhere and anytime. We won't even get any ads in this app which is really good for music lover and it is easy to download the songs and listen offline. This app provides several radio stations for the user who want to listen radio apart from only listening songs. Spotify is compatible with iOS 8.2 and other latest version available in the iDevice.
2.2 MixDownloader
MixDownloader is another amazing app that let us listen music anywhere and anytime. Here we get several features that makes our music experience lot more amazing. We can search any songs and mark it as favorite as well as download the songs with one tap. The interface is really simple and easy with category format to make it easier for the user to locate the desired songs. We even get a feature named as "Most Viewed" which shows us the songs that has been played maximum number of times latterly.
2.3 MixDownloader
Pandora is one of the powerful music platforms where musician can connect with their fans and let them listen to the music which they are fond of. This app helps to bridge gap between artist and their fans. Apart from this, we can mark the songs as well as radio channel as favorite. Pandora is compatible with iOS 8.0 and other latest version. This app is also known as social music streaming app as we can share the songs with our friends and even listen it. Saving the songs and listening it offline is another good feature that we get in this app.
2.4 SoundCloud
SoundCloud is one of the easy ways to know how to download music on iPhone. Even though we might not be able to get original versions of music/songs, we will get dozens and dozens of covers as well as remix songs. Here we will get a community of SoundCloud, where we can see the trending songs, most listen songs and many more. This app consists of more than 120 million sound tracks and other remixed tracks uploaded by the users. Some of the features are: share tracks with friends, create playlists and download songs to listen offline. It is compatible with iOS 9.0 and above.
2.5 Apple Music
Apple Music is the default app by Apple for its user to stream the music with an ease. More than 30 million users have already used this app as it contains over 50 million songs. It is really easy to download the songs and keep to play offline. Apple Music offers wide range of features whether it be seeing the popular track with global chart, quickly search latest tracks of the artist or share tracks with your friends. This app also has its own radio station and is compatible with iOS 8.2 or up.
2.6 Google Play Music
Google Play Music is a music app provided by Google for iOS users. This app allows us to enjoy more than 40 million tracks without any ads. We can use this app as free music app but if we want to access some awesome features then we need to subscribe it. Google Play Music provides several platform and wide range of category from where we can choose number of songs and save it for offline listening. The best part about this app is that we can share songs on social media as well as listen the radio channels. It is compatible with iOS 8.2 and above.
2.7 TIDAL
TIDAL is free music download app that is somehow similar to Spotify. It has more than 56 million tracks and 225,000 videos that we can access anytime, anywhere. We can share the tracks with friends and even download the track to listen offline. The amazing part of this app is that, we can save albums as well as playlists for offline purpose. It also allows us to transfer all the playlist to the app from any streaming platform and directly from files. Some other features include: radio station, artist bios, create playlist and many more. It is compatible with iOS 10.3 or later.
2.8 Napster
Napster is another download music free online app that has more than 30 million songs with many attractive features for the users. We can easily create playlists just with swipes which is powered by GIPHY. It is easy to share music using this app and even recommends the songs to the member with similar taste. This app is ads free and tracks can be downloaded to listen offline anytime. We can even create personalized radio with favorite tracks. Some of the other features are: AirPlay & Chromecast, KIDS Mode, AUTO Mode and many more.
Conclusion
In this article we have seen top 8 free apps to download music on iDevice. But if you don't want to use music app to download, then iCareFone would be the best choice for you to transfer music or other media file from iTunes Media to iDevice.
Transfer Media Files to iDevice wihtout iTunes
Do not need to download a music app
Do not need to download media files into iDevices
Selectively transfer media files from PC/Mac to iDevices