Getting stuck with a low storage warning on your iPhone is a very common issue. This mainly occurs due to the fact that, iPhones are not expandable in terms of memory. And with ever-rising file sizes due to quality optimizations, it is inevitable. And the culprit here most of the times are images, especially the HEIC format coming with iOS 11. So, it's good to know how to copy photos from iPhone to PC. This will also act as a back up as well. In this article, we are here to help you with this in details. So let's get started.
Way 1: How to Copy Photos from iPhone to PC using iTunes
If you are using an iPhone then you know the importance of an app like iTunes. The app has various functions, including the option of photo and video sharing with your other Apple devices. iTunes is available for all iPhone X /8 /7 /7 Plus /6 /6S /5 /5S /SE etc, and for all versions of Mac and Windows as well. Here details how to use iTunes to sync your photos.
1. First, you have to download and install the updated version of iTunes from the official website and open it.
2. Now, connect your Windows PC and iPhone with a USB cable.

3. After the connection is established, which will take a few seconds; a portable device icon will appear on the iTunes panel. Enter the portable device.

4. Now you have to find Back Up Now button on Summary page and confirm the choice by clicking on "Done" button.
Or if you have enabled iTunes WLAN sync, the pictures will be automatically uploaded and backed up when your iPhone is connected to Wi-Fi.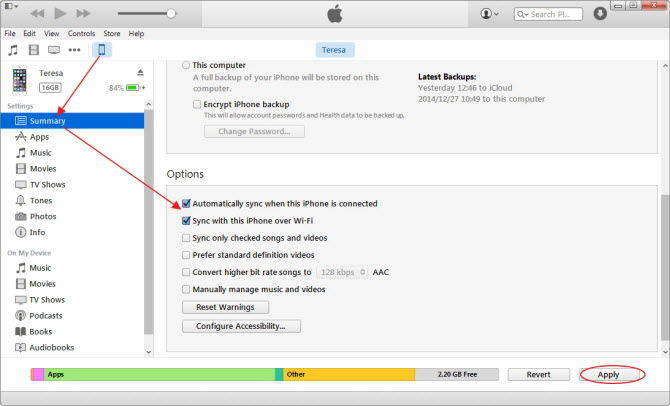 If you follow the instructions properly you will have no problem syncing your iPhone with your Windows PC but you should know that the files you are getting after syncing through iTunes are backup files. You can select or transfer them but they are not readable; that means that you can download the pictures but you won't be able to see them. This is how to copy photos from iPhone to PC using iTunes.
Way 2: How to Copy Pictures from iPhone to PC using iCloud
Transferring photos via iCloud is one of the safest options out there. If you have already installed the software then it will be easy for you, if not then you have to visit the iCloud.com to get help. The biggest disadvantage of iCloud, however , is that you will get only 5GB free space and have to pay to get more storage. Follow the instructions below to get a clear idea of how to copy pictures from iPhone to PC using iCloud.

Sync without iCloud Software:

So, if you do not have iCloud software access, do not worry you just have to go to the iCloud website to download the pictures…
1. First, open a browser on your Windows PC and go to iCloud.com.
2. Enter the website with your designated Apple ID and password.
3. Now, go to the "Photos" option on the website.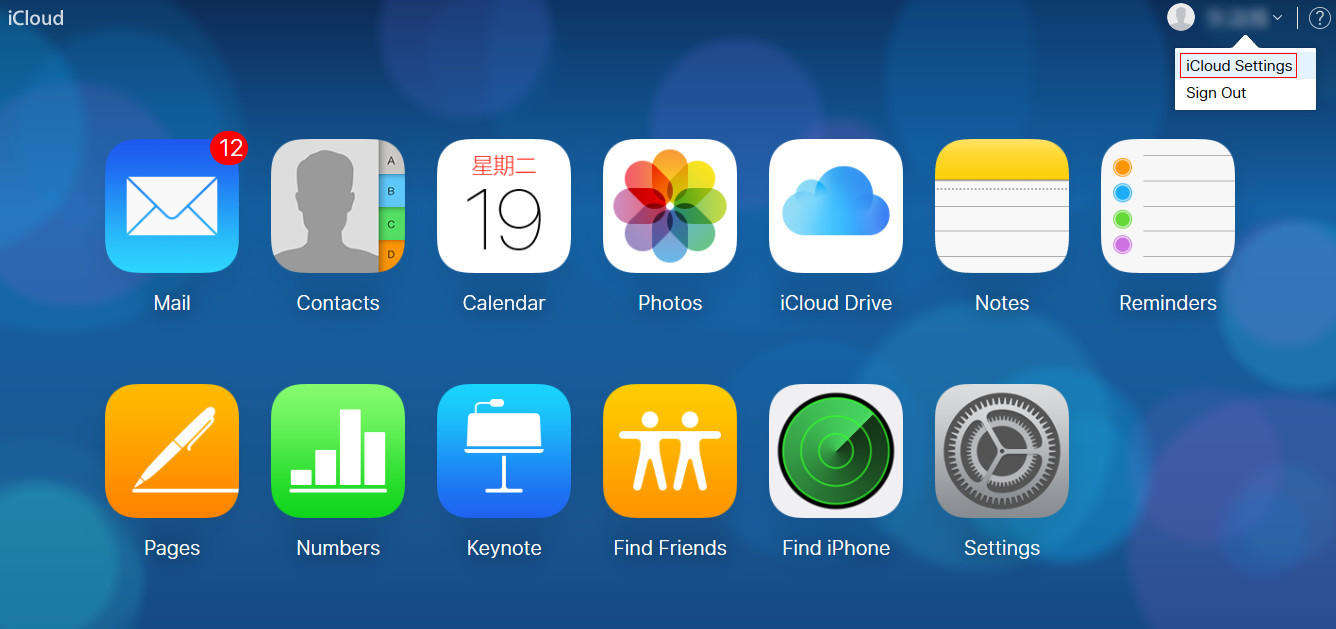 4. Now, select the photos of your choosing.
5. After selecting, click on the download option on the top to get the photos downloaded on your computer.
Sync using iCloud Software:

If you have already downloaded and installed iCloud on your computer, you need to sign in with your Apple ID. After that follow the instructions below…
1. Open iCloud for Windows on your PC and then go to "Photos".
2. Select iCloud Photo Library and then click Apply.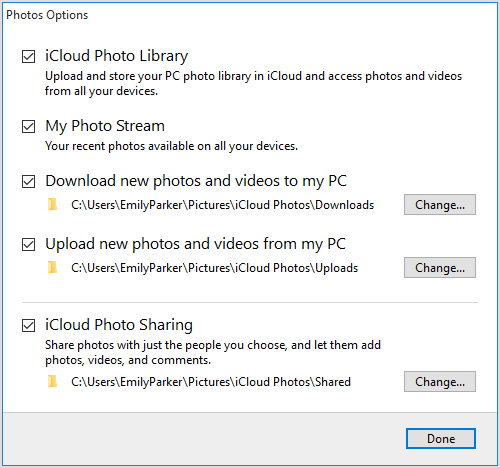 3. Now, you need to turn on iCloud Photo Library on your iPhone.
4. Open Settings on your iPhone and go to iCloud.
5. Now, tap "Photos" and enable iCloud Photo Library option.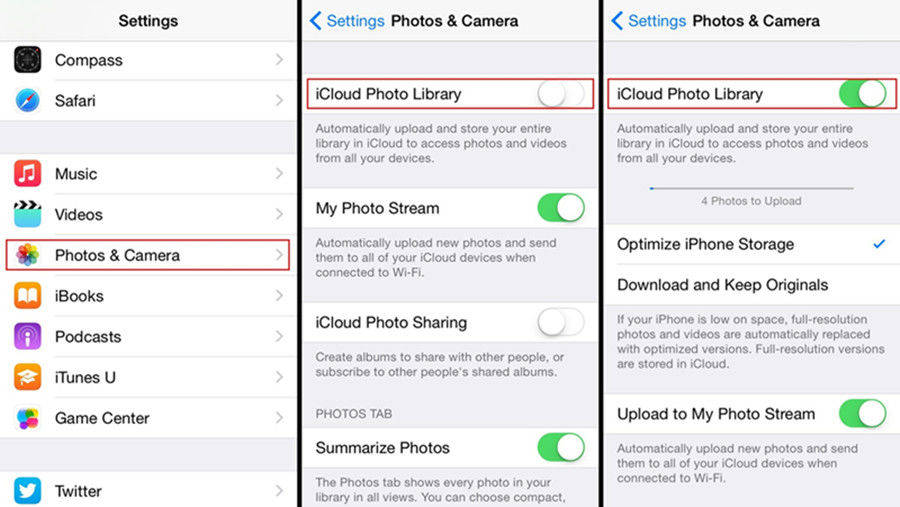 Now, you have iCloud Photo Library on both of the devices and the photos will be synced to your PC automatically.

You can download specific pictures by going to the "iCloud Photos" from the Windows File Explorer. Select the pictures you need from the "downloads" folder and tap on download.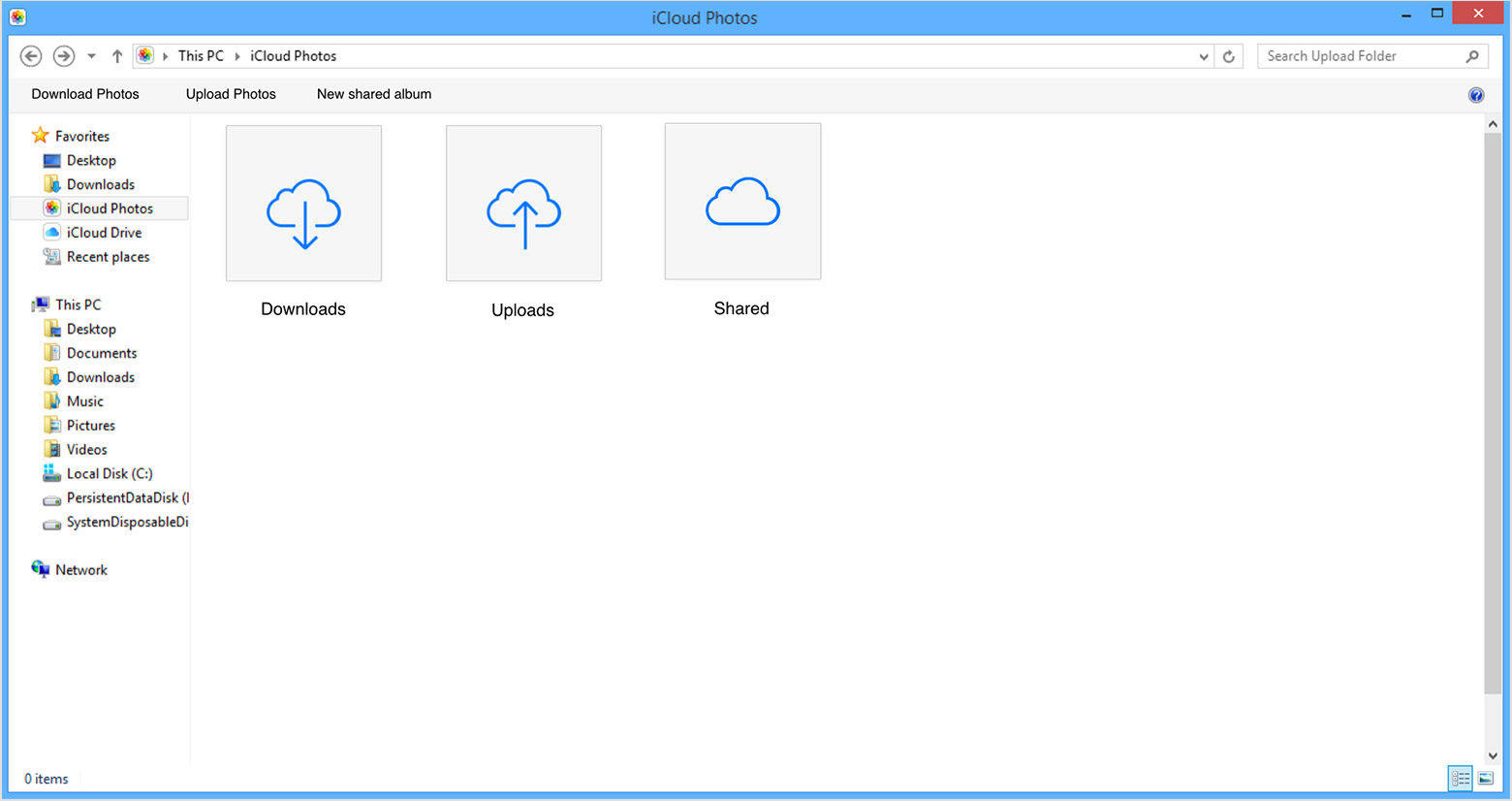 Way 3: How to Copy All Photos from iPhone to PC using USB Connection
Transferring photos from iPhone to your Windows PC through a USB connection is one the most efficient old-school methods. This is a well-known method among the Android users but when it comes to iPhone users they simply think that it is a very complicated and time-consuming process. Actually, this is not true at all, with iTunes installed on your PC, users can have easy access to iPhone photos.  Here is what you need to do.

Using AutoPlay on Windows7/XP:

Downloading pictures from iPhone to a Windows 7/XP PC with the help of AutoPlay is the viable method among all. Just get a good USB cable and you are all set to download pictures.
1. Connect your iPhone to your Windows PC. AutoPlay will appear on the screen although it will take a few seconds.
2. After you see the AutoPlay pop-up box, click on the "Import pictures and videos" option.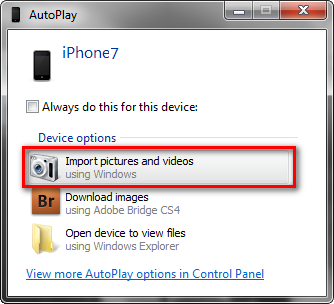 3. After clicking, a new window will open, where you can see the destination folder for your imported pictures.
4. Copy the photos you want to save to your PC.
During this process you may face some problems; something like the AutoPlay is not popping up. In that case, you need to reconnect your phone or you can try after installing the latest USB driver on your PC.
Using Photos App on Windows 8/10 PC:

Similar to the Photos App on Mac, there is also a Photo App on Windows 8/10. This app will also help you transfer pictures from iPhone to your PC. Try to follow the procedure below to get it done easily…
1. Firstly, connect your iPhone with your PC through a USB cable.
2. The computer will recognize your phone start the Photos app on your PC.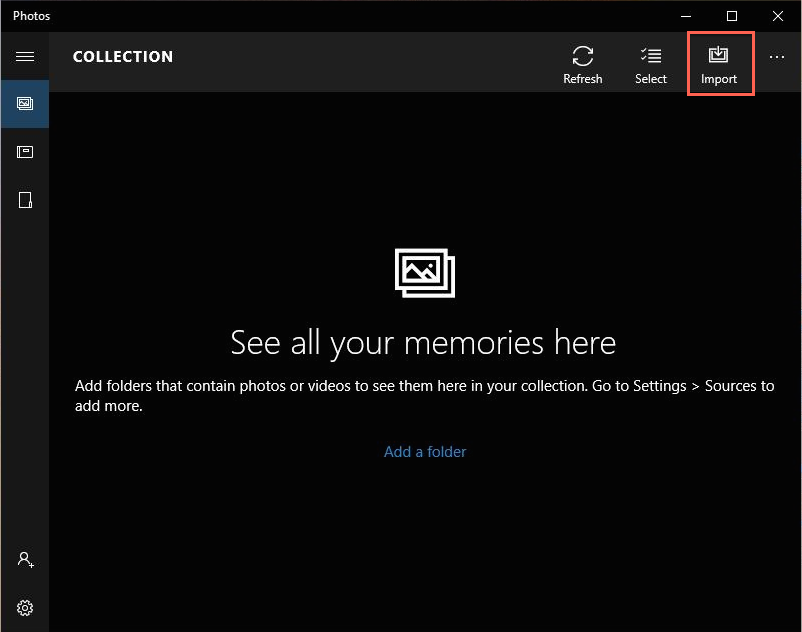 3. A new panel will open and there will be an "Import" button on the top, click on it.
4. Now, select the photos you want to send then click on "Continue" below.
The selected photos will be imported to your PC.
Way 4: How to Copy Photos from iPhone to PC using Third-party Data Transfer Tool
Tenorshare iCareFone is one of the best transfer programs specially designed for users who want to migrate photos or data easily between iPhone and PC. This stellar program can help manage all your iPhone photos efficiently, and that too better and faster than iTunes. Furthermore, you can import only desired photos without quantity and size limitation.
Free Download
For Win 10/8.1/8/7/XP
Secure Download
Free Download
For macOS 10.13 and below
Secure Download
Here's how to use Tenorshare iCareFone:
1. Download the software from the official website. Both Mac and Windows versions are there.
2. Now run the software and connect your iPhone to PC. Hit on "Trust" if prompted "Trust this computer?"
3. Now, choose the "Files Manager" function from the main interface.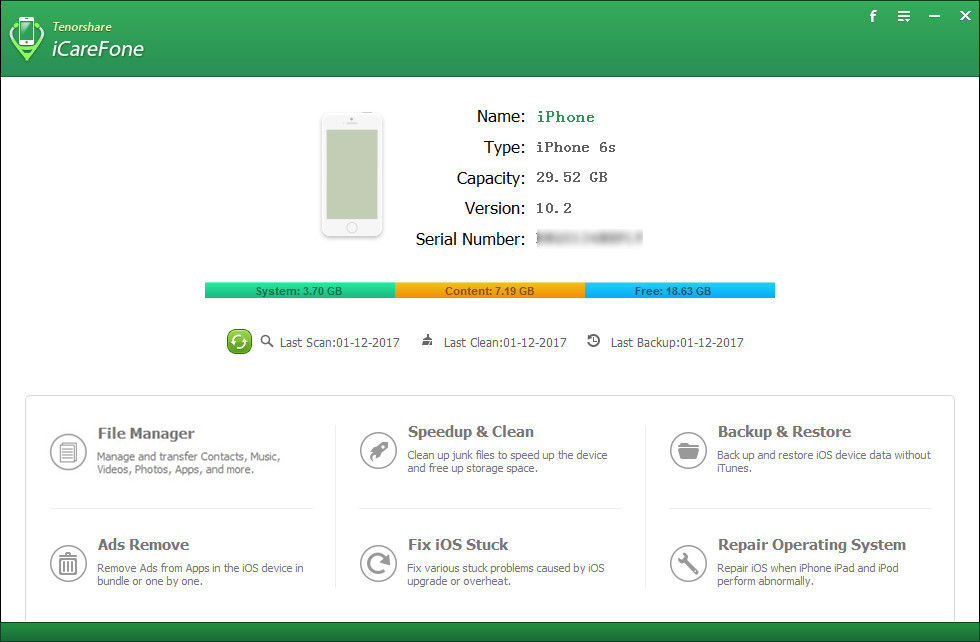 4. Select "Photos" from the list of file types.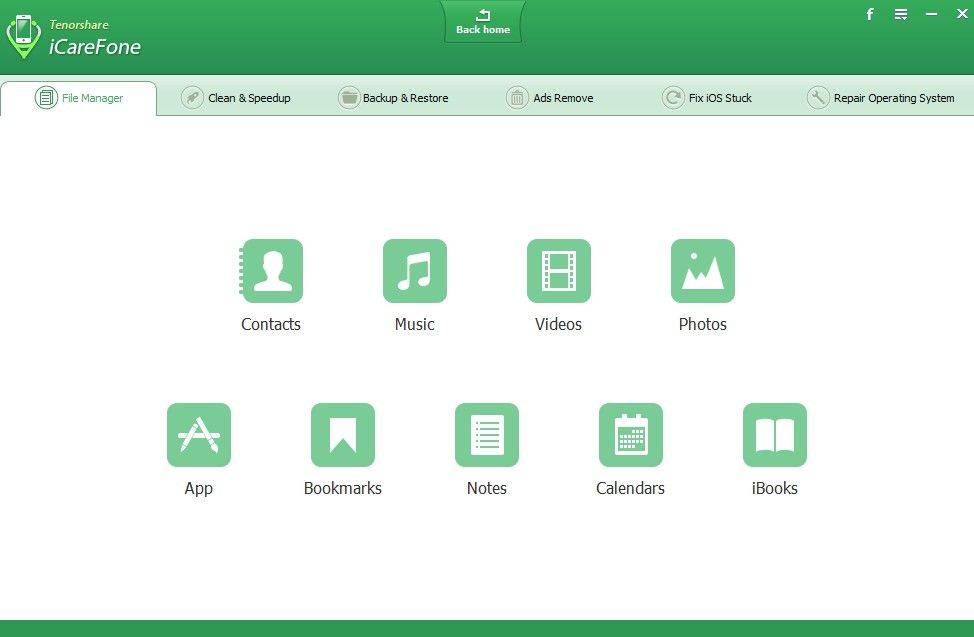 5. Your iPhone photos will be chronologically sorted now .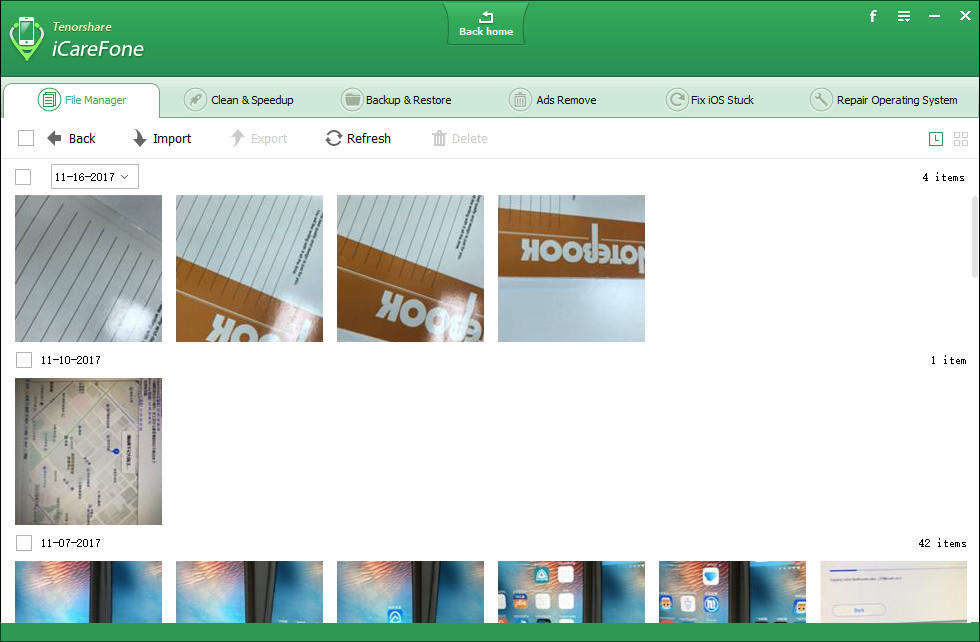 6. Select the photos you want to migrate carefully and tap on "Export".
By default, the photos will be downloaded inside a folder on your PC. You can freely change the destination folder as well, whenever necessary.

With the aforementioned 4 effective ways, all your iPhone photos can be downloaded to your computer easily. If you want to copy photos from iPhone to PC using the best method listed here, just go for Tenorshare iCareFone. It will be the smoothest and the most effective option without any doubt. Download the software now and experience it yourself!

If you like this article, do share and comment!
Free Download
For Win 10/8.1/8/7/XP
Secure Download
Free Download
For macOS 10.13 and below
Secure Download
Related Articles
comments powered by