iPhone is considered as one of the smartest gadgets of our generation. Apple launches a new model every year with several advancements and powerful cameras but the storage space still stays limited. Although iCloud provides free cloud storage but that is not enough. So, the customer goes for the simplest option by transferring their data to their laptops, especially those photos taking up a large size of memory.  So, a few simple methods on how to copy photos from iPhone to laptop are mentioned below for your references.
Way 1: Easiest Way to Copy Photos from iPhone to PC and Mac
Tenorshare iCareFone is the easiest way to copy photos from iPhone to laptop without compromising in quality. It is a professional tool that can send any types of pictures from your camera, Photo Stream, albums, WhatsApp images and many other sources, to your computer.
Compatible with Mac and Windows.
No Wi-Fi needed.
Selective and bulk transfers photos.
No import and export limitations like quantity and size.
Fully readable files after transfer.
Free Download
For Win 10/8.1/8/7/XP
Secure Download
Free Download
For macOS 10.13 and below
Secure Download
Here's how to use Tenorshare iCareFone for exporting photos:
1. Download and install Tenorshare iCareFone on your computer.
2. Now, run the software and connect both iPhone and computer using USB cable.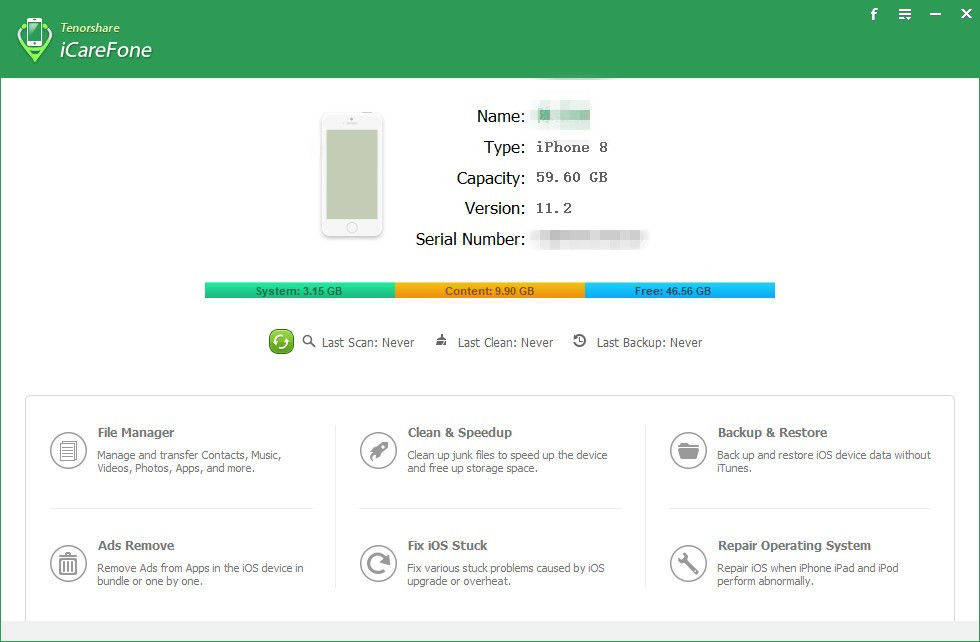 3. Find "File Manager", from the menu and then tap on "Photos".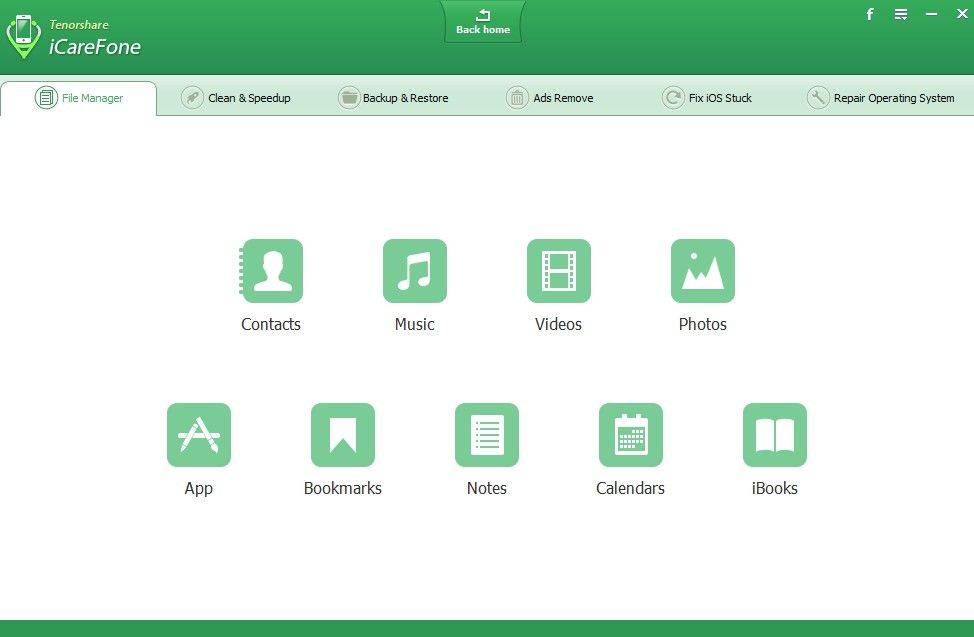 4. Now, select the photos and just tap on "Export".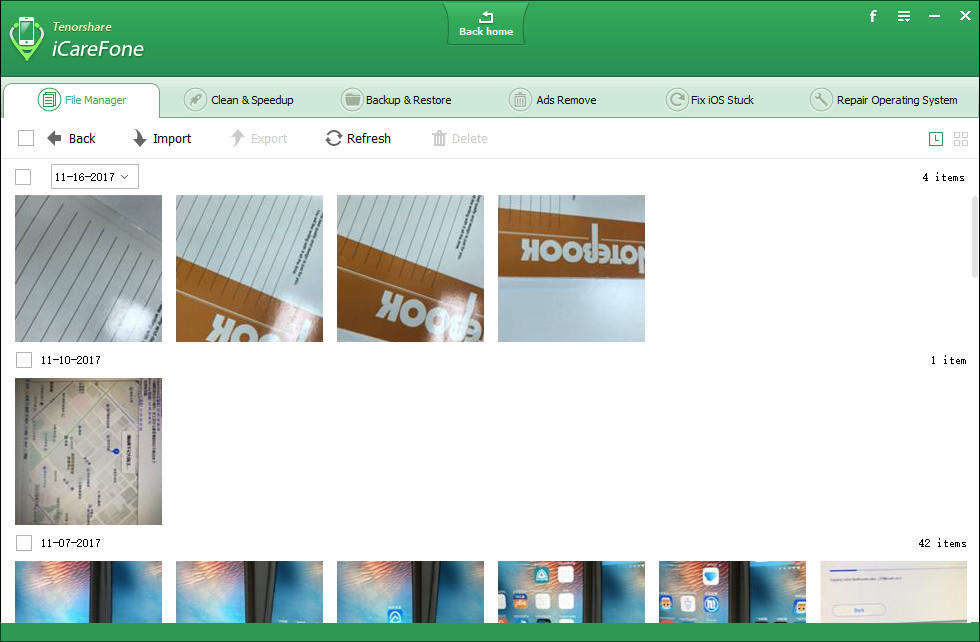 You will get your selected photos on your computer now.
Way 2: Copy Photos from iPhone to Laptop with Email
There are various ways to perform a photo transfer from iPhone to laptop but sometimes we totally forget the most basic option, and that is by sending them through Email. Sending the photos by email is a very easy option available to everybody. The only thing you have to do is to select the pictures and type the address. The full description is mentioned below…
1. If you don't have one, then set up a new email account.
2. Now, tap on a album and select the photos you want to send and tap on Share.
3. After selecting, choose the "Mail" option from the list.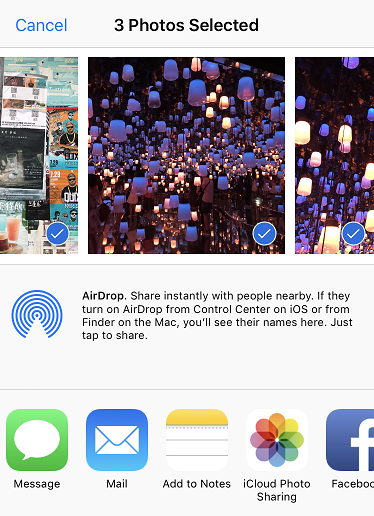 4. Select them carefully and type the email address, where you want to send and then tap Send.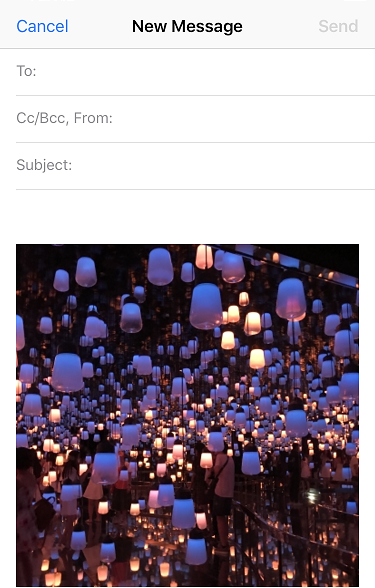 5. You can add a message if you want to.
Unfortunately, this email option is viable for only limited number of photos. If you wish to send large quantities of photos, like a whole album containing over 500 photos then you have to look for other possible ways to send them.
Way 3: Sync iPhone Photos to Laptop with iTunes
If you own an Apple device and want to use all of the classic services provided by the company, you need to register to iTunes or iCloud app. These apps are available for all versions of iPhone like 6/6S/7/7Plus/8 and even the latest iPhone X. These apps are actually helping you to exploit the full potential of an iPhone. We will mainly talk about iTunes and how it is one specific service that will help you to sync your iPhone to your Laptop.

There are two ways by which you can sync iPhone photos to Laptop and they are described below.
1. While going through this process, the very first thing you must do is to download and install the most recent version of iTunes on your Laptop.
2. Connect your iPhone and Laptop with an USB cable.
3. It will take a few moments to establish the connection.
4. Then if you open iTunes on your Laptop, you will see that a portable device icon has appeared there.
5. Enter the portable device and look for Back Up Now button.
6. Click Done when you are finished.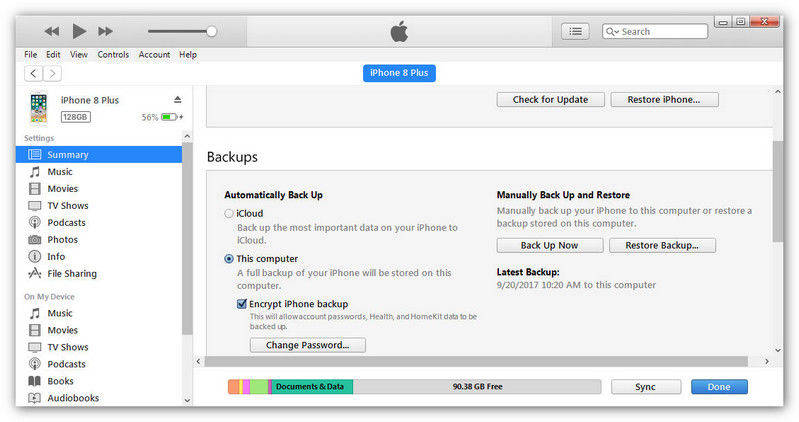 To save troubles next time, you can also enable "Sync this device over Wi-Fi" option and your iPhone will automatically sync with iTunes when in same network.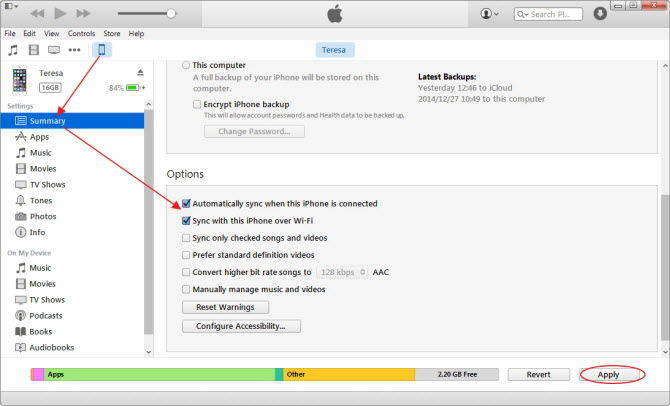 Now, if you follow the instructions properly, syncing your devices through iTunes will be very easy but you should know that the files stored on your Laptop through iTunes are only backup files, you can move or send them but they are not readable.
Way 4: Download iCloud Photos to Laptop from iPhone
iCloud app will provide great support and help you to stay connected with other iDevices. Fortunately when you register on iCloud, the company will provide with 5GB storage space for your additional data. Unfortunately if you need more than you will have to pay!

One of the most important parts of iCloud is "iCloud Photo Library", which is even available for Windows. This will help you to send all of your photos and videos to your laptop. The method to apply the process is mentioned below.
1. Turn on iCloud Photo Library on iPhone and your laptop
On iPhone: If you are using iOS 11 and above on your iPhone then you have to go to the "Settings", tap on your name to go to "iCloud". Then you have to go to "Photos" and turn on the "iCloud Photo Library", but if you are using iOS version 10.3 and earlier,  then just go to "iCloud" from "Settings" and then go to "Photos" to turn it on.



On Windows laptop: Go to "Photos" and click on Options. Select "iCloud Photo Library" from the options and then click "Apply".
 On MacBook:  go to "System Preferences" and find "iCloud", enter it.  Now, go to "Photos" and select "iCloud Photo Library".



2. Access iCloud photos on your laotop
After that, iCloud will automatically upload and store your photos on all devices. To access iCloud photos on your laptop, follow below procedure.
For Windows users: open your "File Explorer" and find "iCloud Photos" under "Favorites". Open it and click on the Downloads folder. . Simply download the photos and will get all your pictures on your computer right away.



For Mac users: Launch Photos app and your photos will be display. Or you can sign into iCloud.com to view all synced photos from iPhone.
Way 5: Copy Pictures from iPhone to Laptop with USB Cable
Copying pictures from your iPhone to your laptop with an USB cable is also available and above all you do not have to depend on any apps, just get an USB cable and start copying photos directly from your phone. USB cable works on both Windows and iOS, and the method is just a bit different which is elaborated below.
Windows Laptop with File Explorer
Transferring photos from iPhone to a Windows Laptop is easy, especially with an USB cable and iTunes preinstalled. The process is mentioned below.
1. Press Win +E button to open File Explorer on your laptop.
2. Find your iPhone and double click on Internal Storage then open DCIM folder.
3. Photos, screenshots and videos on your iPhone will be displayed by time order. Select your desired pictures and copy to another folder.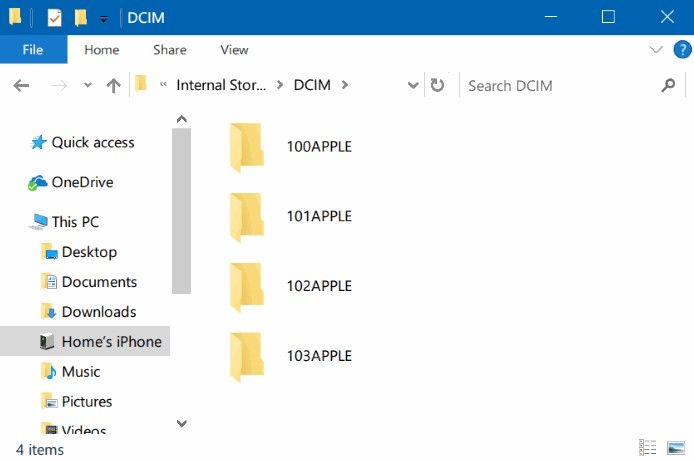 Mac with Photos App
If you are using a Mac Laptop then you know about the Photo App. The method is very easy and mentioned below…
1. Make sure that you have the latest version of iTunes on your Mac.
2. Now, connect your iPhone with the Mac through an USB cable.
3. Mac will take a few moments to read the device then the Photo App will be launched.
4. The Photo App panel will appear with all of the photos and videos on your iPhone. Select the ones you want to download and then click on the Import button on the top right corner.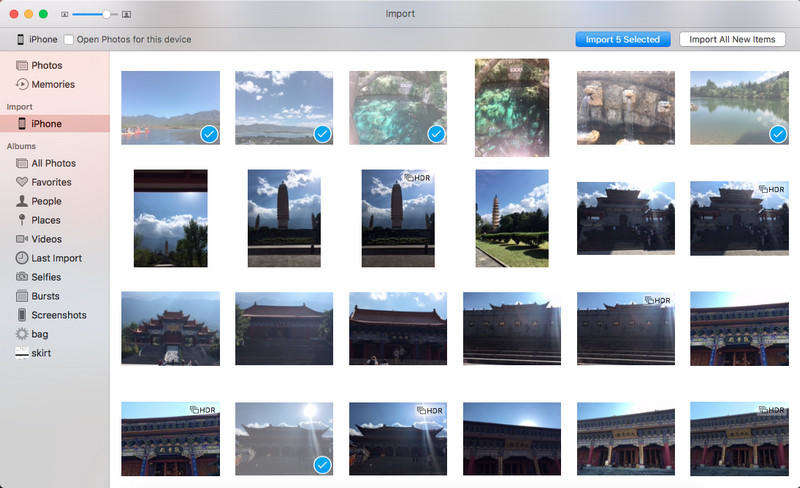 5. Your work is done, you can disconnect the device.
So, here are the 5 best ways on how to copy pictures from iphone to laptop. These methods covers everything you need to know about iOS photo transfer. Follow the steps carefully and you can do it on your own easily. Use Tenorshare iCareFone to make the whole process smooth and headache free. Highly recommended! If you like this article, do share and comment!!
Free Download
For Win 10/8.1/8/7/XP
Secure Download
Free Download
For macOS 10.13 and below
Secure Download
Related Articles
comments powered by