Backing up photos by syncing devices seems more like a trend nowadays. Apple offers official iTunes and iCloud backup services. Except for that, there are actually approaches to get the iPhone photo transferring job done. Here we will discuss some effective methods on how to copy photos from iPhone to computer. You can make you own choice after reading this article. Let's get started.
Part 1: How to Copy Photos from iPhone to Windows 10/8/7 PC
iPhone provides a very limited amount of space for your pictures and videos, this is the one and only reason customers are looking for secondary options. Although iCloud provides 5GB cloud space for all the registered users, still that is too small of a space to store all of your data. So, the next best option is to backup on your PC.  Below are 2 ways for your reference.
Way 1: Copy Photos from iPhone to Computer with File Explorer
File Explorer is the most basic way to transfer pictures. You are not using a third-party app or software; rather it is an inbuilt function on your Windows PC. Although the method to transfer files using File Explorer varies slightly between different versions of Windows, it's almost the same. Before we follow these steps, please make sure that you have installed latest version of iTunes.
1. Connect your iPhone to your Windows PC and wait a few moments so that your computer recognizes your phone.
2. Press Win+E button to open File Explorer.
3. Go to "This PC" and you will see your iPhone is visible as an external device.
4. Enter it and go to the "Internal Storage", there you will find "DCIM".
5. All the images and videos from your iPhone will be found the separate folder. Find and select your desired photos for transferring.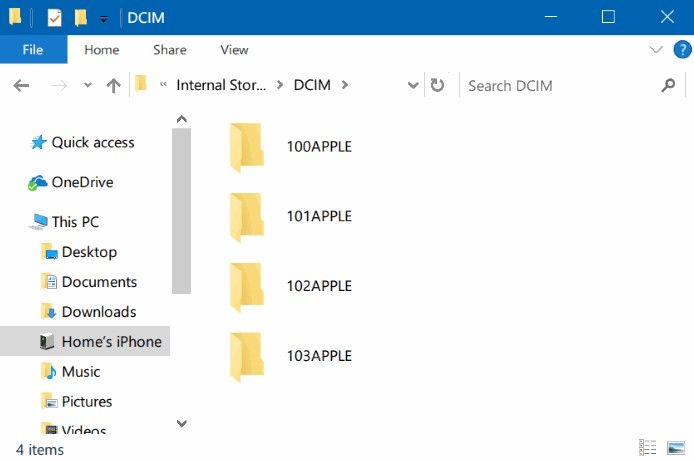 Way 2: Download Photos from iPhone to Computer via iCloud
Though iCloud only offers 5 GB free storage space after registration. Users can choose to buy more space in order to backup and sync photos on all devices with iCloud Photo Library enabled.
To turn on iCloud Photo Library on your iPhone X/8/7/7Plus/6/6S/5/5S/SE, go to Settings, then to iCloud > Photos and toggle the option on.  After that, follow below steps to continue.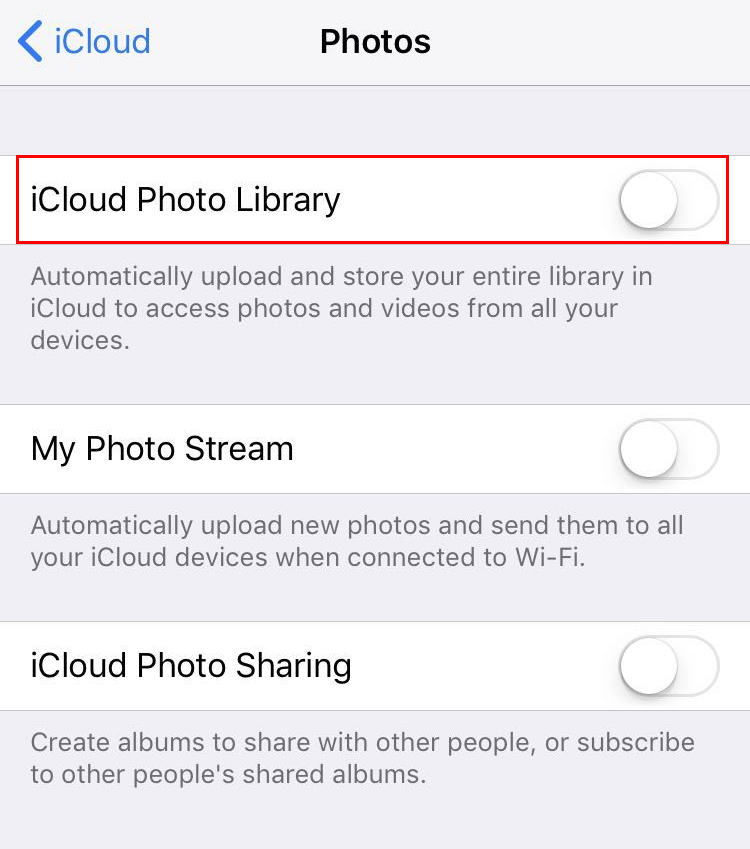 Without iCloud software installed:
Even if you didn't install iCloud, you still have a choice to visit iCloud website to transfer your pictures from iPhone to your PC. This method can work on any computer.
1. Go to iCloud.com from your PC.
2 On the website, you will be asked for your Apple ID and password, provide it and enter.
3. Now, on the website itself, there will be an option called "Photos", enter and select the photos you want to send.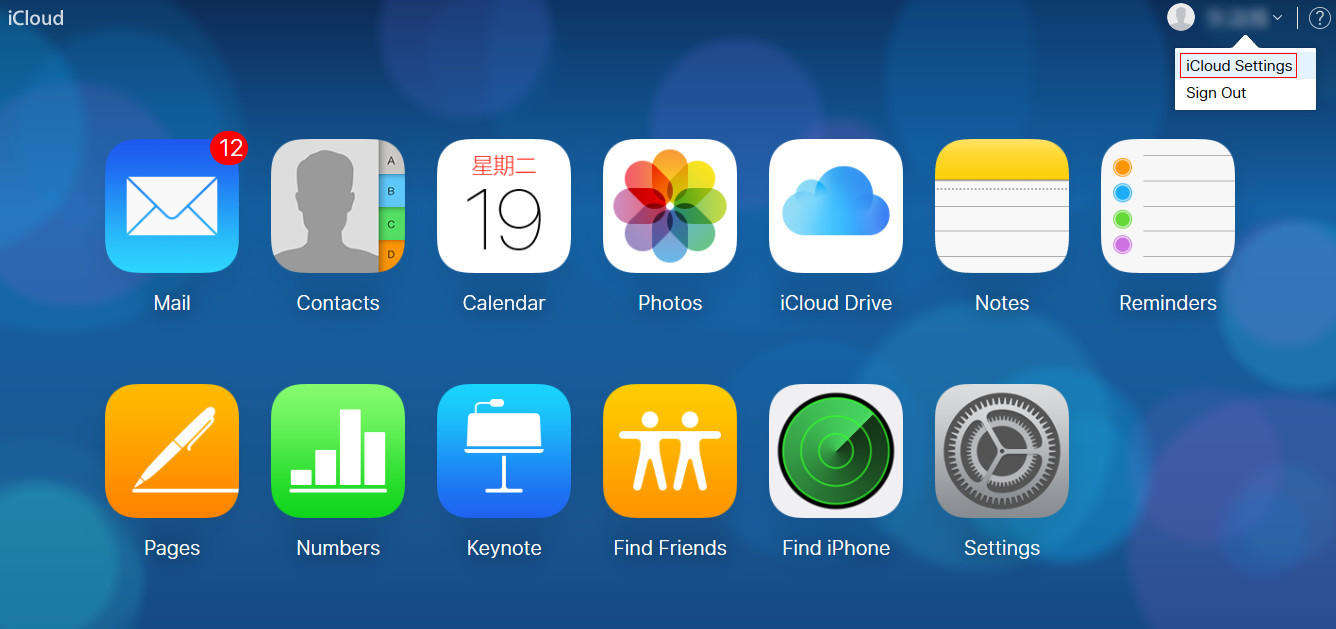 4. After the selection process is complete click on the download option to get the photos on your computer. You will get the images on your browser's download path.
With iCloud installed:
Now, if you have already installed the iCloud app on your PC, you do not have to go through all the trouble. You just have to sign-in with your Apple ID and the rest is mentioned below…
1. Run iCloud for Windows app on your PC and go to the "Photos".
2. Now, select the "iCloud Photo Library" option and click "Apply".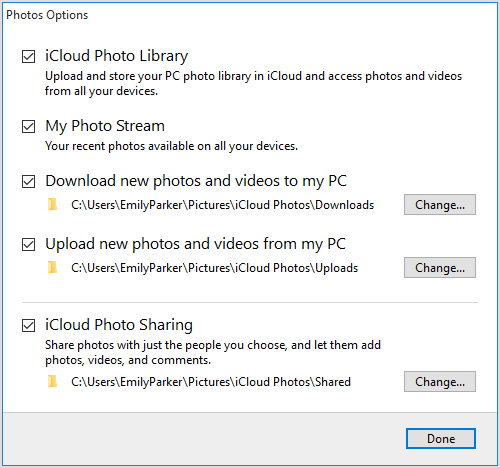 3. All of the pictures will be upload to iCloud automatically when you are connected to Wi-Fi.
4. Go to the "File Explorer" and look for the "iCloud Photos". The synced photos can be downloaded there.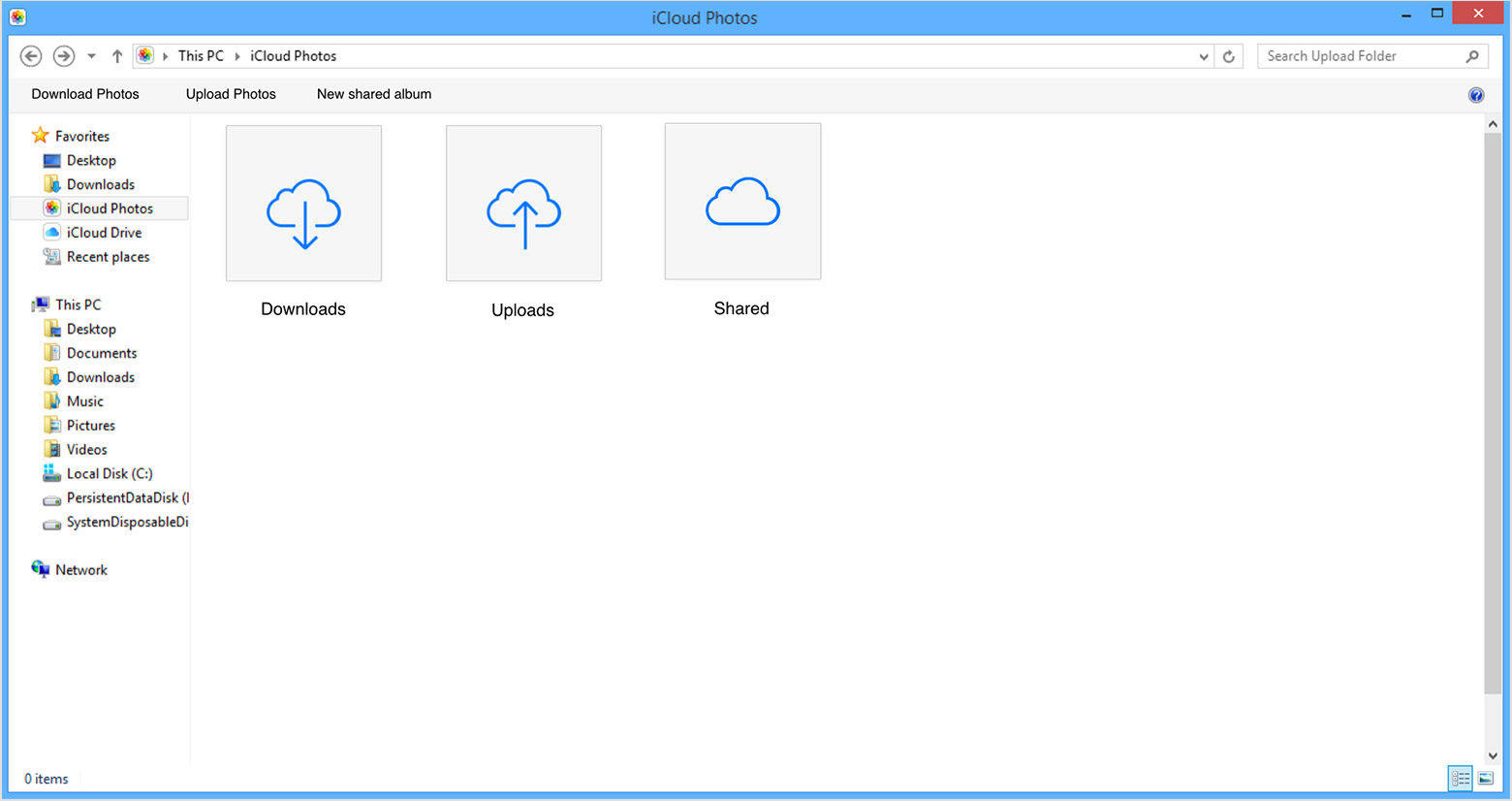 Following the proper procedure mentioned above, you will find it very helpful to copy photos from iPhone to computer.
Part 2: How to Copy Photos from iPhone to Mac Computer
Copying photos from iPhone to Mac is a fairly easy task but still, some users struggle with it. Actually there are various ways you can perform this simple task, a few of them are mentioned below.
Way 1: Copy Pictures from iPhone to Computer by Airdrop
Aside from photo sharing through iTunes or iCloud, Airdrop is the viable method to copy photos from your iPhone to Mac. To run Airdrop, you must use iOS 10 later and Mac OS X Yosemite later devices.
1. First connect your iPhone and Mac to the same Wi-Fi network.
2. Now, enable Airdrop on your iPhone and select "Everyone" from the discovery settings.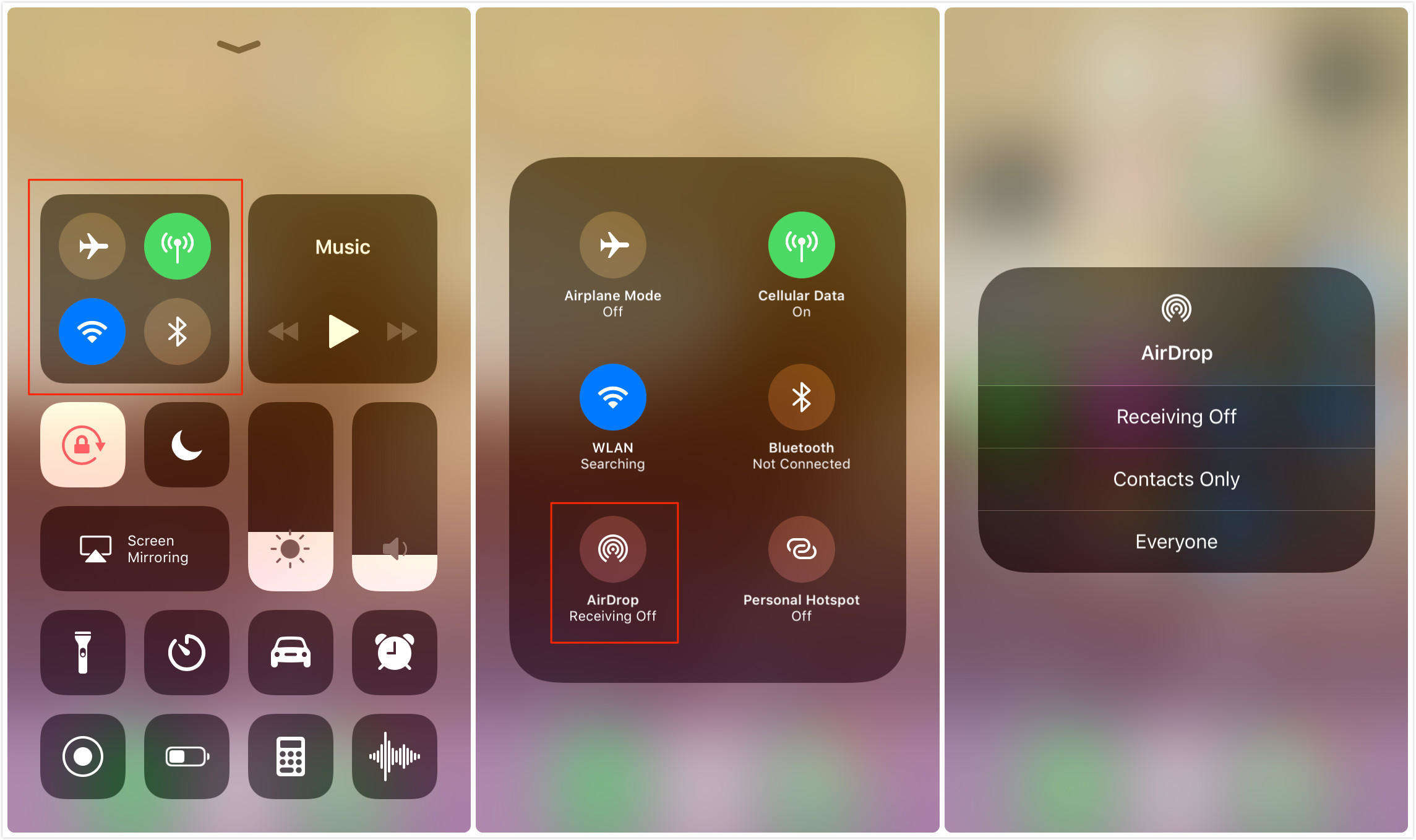 3. Run the Photos App on your iPhone and a panel will open containing all the photos.
4. Select the pictures you need to send and tap on the Share icon on the top. Among the options you will find Airdrop.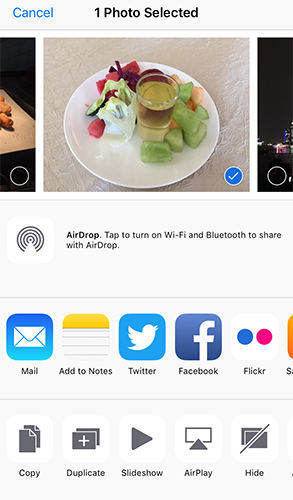 5. On your Mac, also enable Airdrop and allow everyone to find the device.
6. Click Save button when you see the notification.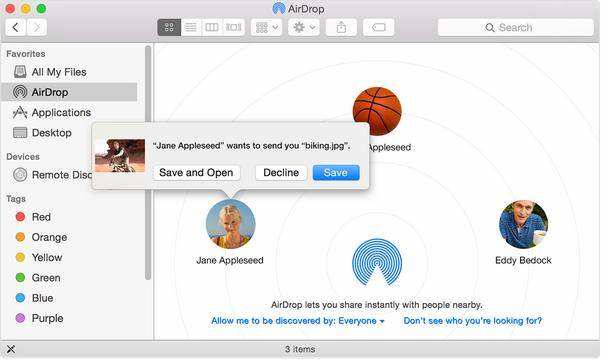 Airdrop looks very similar to Bluetooth sharing, just faster and more efficient. Also you can view and use the pictures as soon as you get them.
Way 2: Get Photos from iPhone to Computer with Photos App
If you are using a Mac, the most basic method to transfer pictures from your iPhone to your Mac is the Photos App. It is an easy way because you do not have to use any other software to extract those photos. Photos App is launched the moment you connect the device to Mac. And you can select the photos you want to download and click on the Import button on the top right.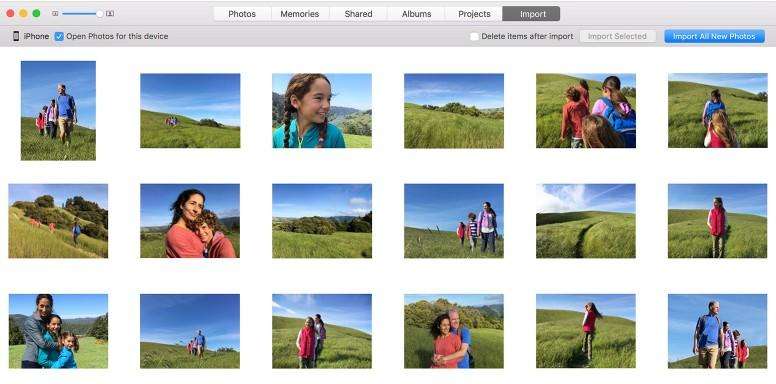 Photos will be saved, and you will be able to disconnect the cable.
Part 3: Easiest Way to Transfer Photos from iPhone to Computer (Win/Mac)
Tenorshare iCareFone is the best method out here when it comes to copying photos from iPhone to computer. It is also the easiest method because of the fact that it has a very simple user interface and anyone can use it. Just connect your phone to the software, and it will do its job efficiently. We highly recommend this software for all your photo and data transferring needs.
Here are the advantages of Tenorshare iCareFone when compared to the above methods:
Easy to use interface.
Superior transfer speeds.
No Wi-Fi needed to transfer data.
No storage limitation that is found mainly iCloud and third-part Cloud services app.
Selective and bulk transfers possible.
Readable files after transfer unlike in iTunes.
Compatible with both Windows and Mac.
Here is a step by step guide on how to how to copy photos from iPhone to Windows 10/8/7/XP and Mac using Tenorshare iCareFone:
1. Open Tenorshare iCareFone after downloading and installing on your PC. Now, connect your iPhone via USB and wait for detection.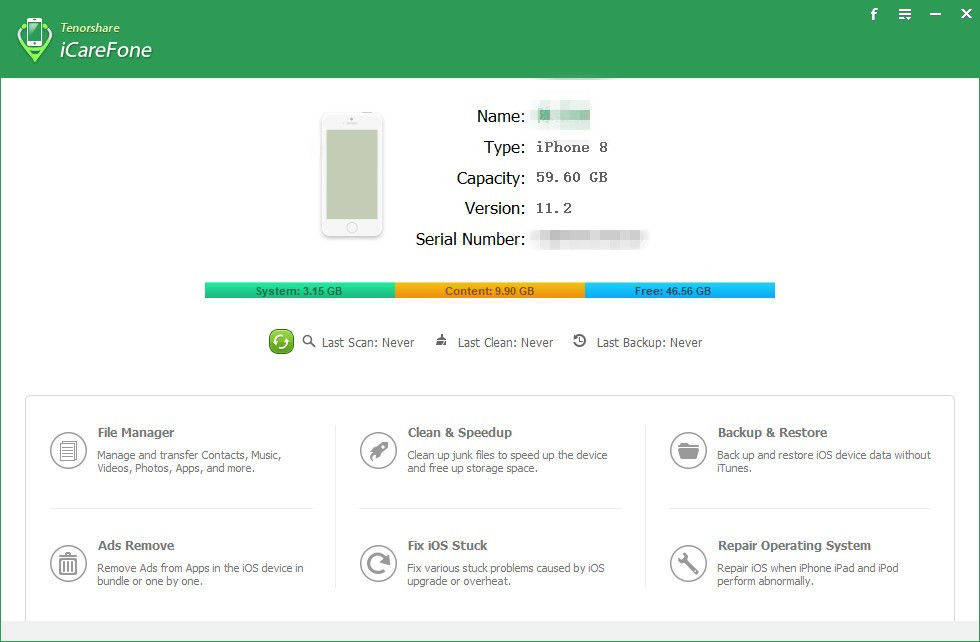 2. After detection, select "File Manager", then "Photos" from the main interface.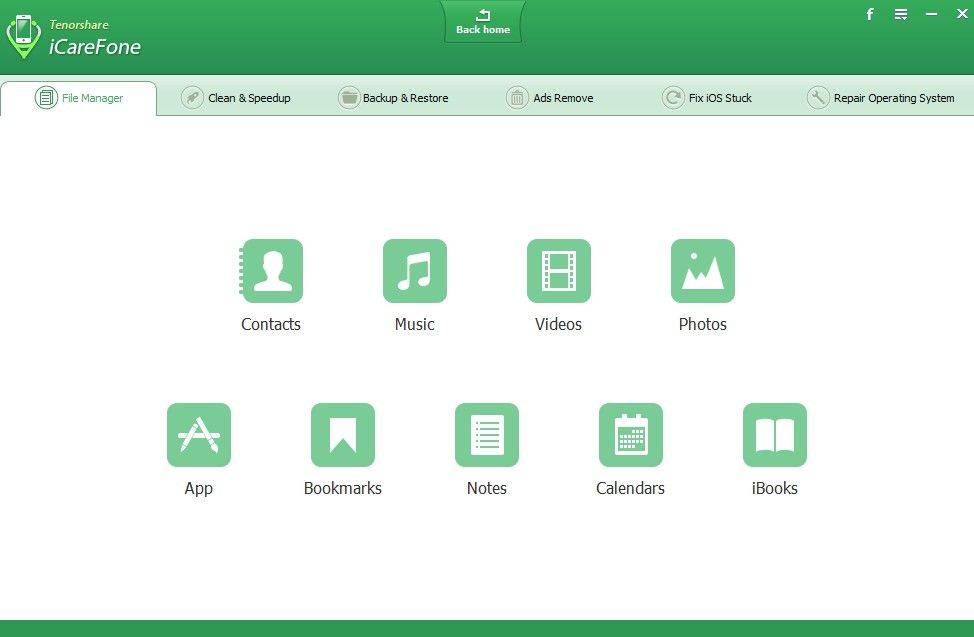 3. Choose the images for migrating from the list and simply tap on "Export".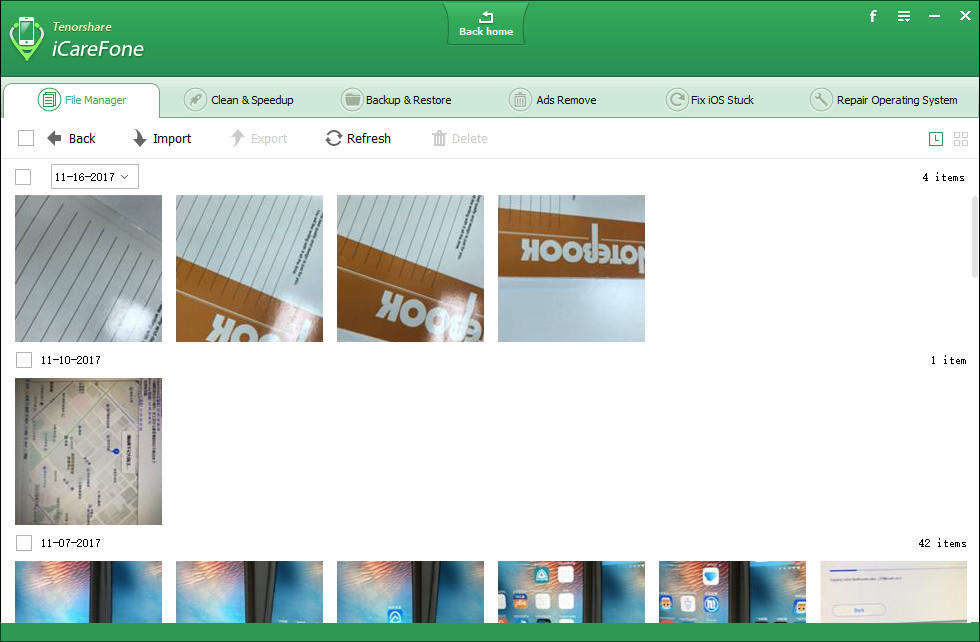 That's all you need to copy pictures from iPhone to computer using this software.
So, here is our take on the whole iPhone data transfer system. All of these methods are described in details so that you can get help while using each and every one of them. If you ask us about our unbiased opinion on how to copy pictures from iPhone to computer, go for Tenorshare iCareFone. The advantages it enjoys over the other methods and the features it offers, simply makes it the winner here.
Free Download
For Win 10/8.1/8/7/XP
Secure Download
Free Download
For macOS 10.13 and below
Secure Download
Related Articles
comments powered by