You may take a lot of photos on your iPhone but backing them up so that you can look back at them from time to time is important. You can save and manage these important images from your iPhone to PC to free up space on your iPhone as well. So, in this article, we cover both of these ideas in details and we have come up with the best solutions on how to backup photos from iPhone to computer. So let's get started.
Option 1: How to Sync Photos from iPhone to PC using iTunes
There is no doubt that iTunes is an essential app for any Apple user. iTunes gives you the opportunity to add, delete, sync, share and overall manage all your data with other Apple devices. You can also store data, especially on your iTunes account. When it comes to managing photos, here's how to backup photos on iPhone to computer using iTunes.
1. First, make sure you have installed updated version of iTunes on your PC.
2. Now, simply connect your iPhone to your PC using a USB cable. Do make sure to have a smoother experience, connect both your iPhone and PC.
3. After connecting, a device icon will appear on top of the iTunes panel.
4. Tap on the device icon and go to Summary.
5. Click on Back Up Now and then hit Done button.



Now, your photos will be synced and well backed up on your PC. But keep in mind, photos transferred using iTunes are not readable.
Option 2: How to Backup Pictures from iPhone to PC using iCloud
Transferring photos via iCloud is one of the safest options out there. If you have Similar to iTunes, iCloud has been a boon for iPhone users. Being a Cloud service, it can do a lot of things and helps in the overall user experience of iOS devices. iPhone users are very much aware of the fact that iCloud can store photos easily. It gives 5 GB of free storage space and you can buy more storage space when needed. And with iCloud Photo Library enabled on all your devices, you can easily backup photos from iPhone to your PC.
1. First, go to the official website and download iCloud for Windows on your PC.
2. Install the software by following the on-screen instructions prompted by the wizard.
3. Now, launch the software and log in with your Apple ID credentials.
4. Now, go to "iCloud", then to "Photos" and simply turn on "iCloud Photo Library" option by checking on the box.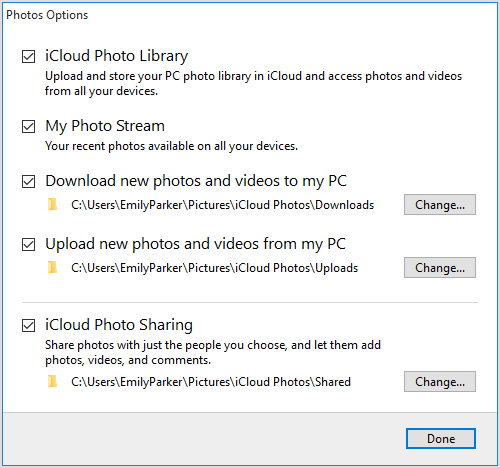 Now, come over to your iPhone X/8/7/7Plus/6/6S/5/5S/SE etc. and follow the steps below:
1. Open "Settings", and then move on to "iCloud".
2. Under "iCloud", find and tap on "Photos" for iOS 11 users. For iOS 10 and earlier, you will find "Photos & Camera".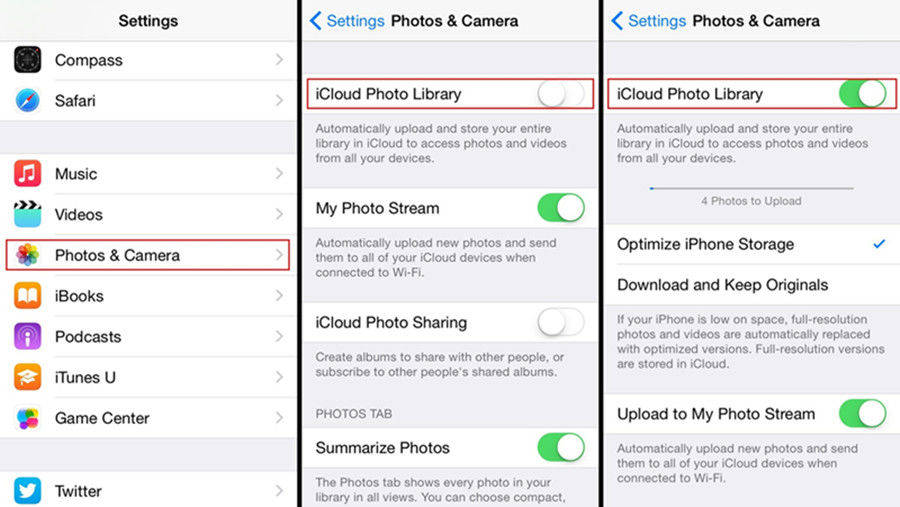 3. Now, enable "iCloud Photo Library" from your iPhone.
Setting up is complete and you will now have all your iPhone photos synced to your PC. This process will start only when you are connected to Wi-Fi or a steady internet connection. You can open File Explorer and find your photos inside the "Downloads" folder under "iCloud Photos".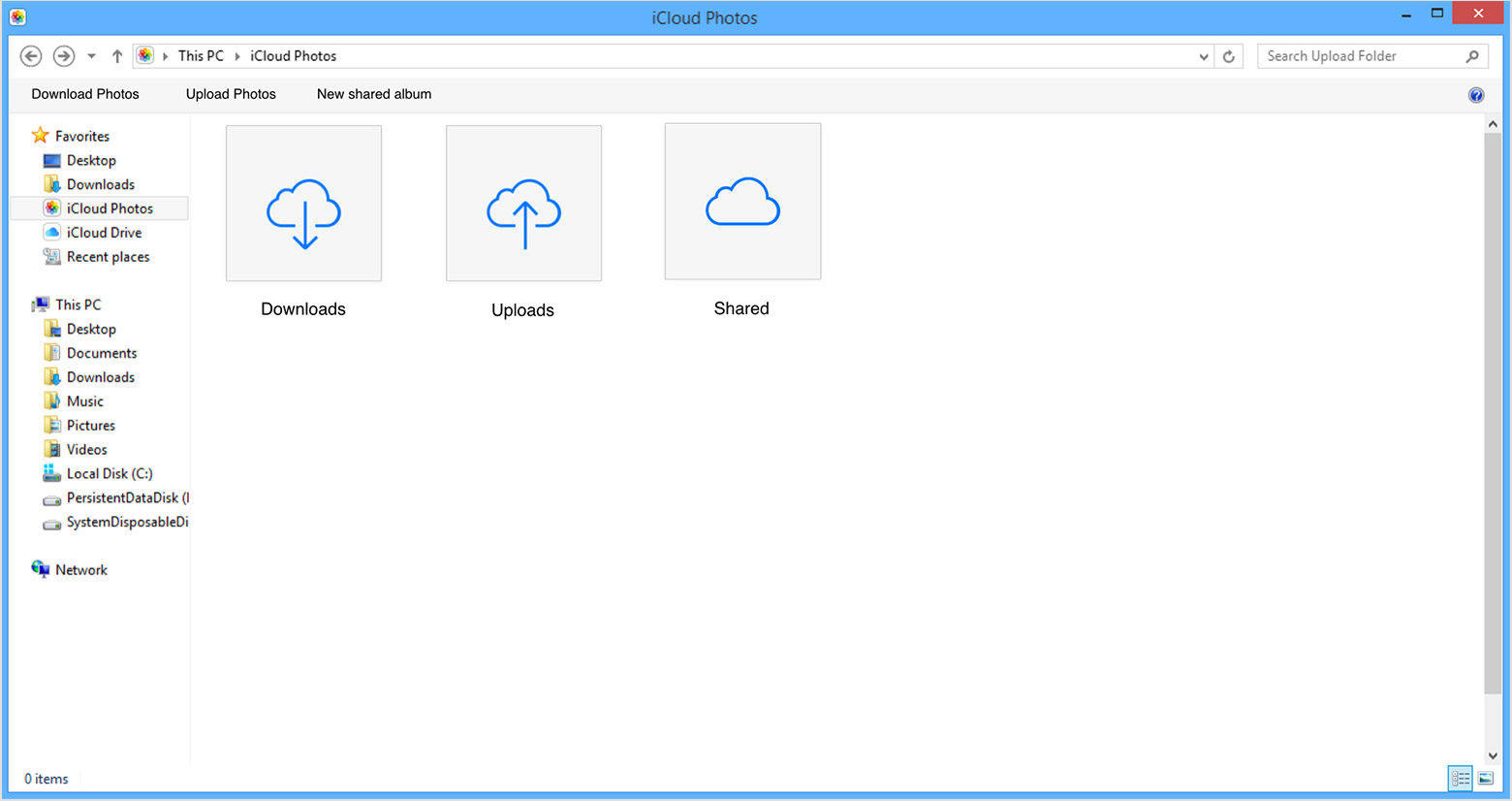 Option 3: How to Backup Photos on iPhone to Computer using Cloud Service
Apart from iCloud, there are many potent third-party apps out there namely the famous Google Photos, Dropbox etc. Each of them comes with its unique features and capabilities and all of them are obviously wireless means of photo or data transfer options. And that means a steady internet connection is a must! Here, we will talk about Dropbox. It is a Cloud service app that is compatible with all devices be it a phone or a computer. It just needs to be installed on any device and it will be ready to use then and there. It gives you 2GB of free storage space and you will have to buy more storage when needed. Here's how to use Dropbox to transfer photos from iPhone to laptop:
1. First, download and open the Dropbox app from your iPhone and do the necessary log-in formalities.
2. Now, find the folder from which you want to upload photos. You can select any folder.
3. Tap on the three dots and then click the Upload button.
4. Now, you can navigate to any album on your iPhone and select the photos you want to upload.
5. After selection, click on Upload.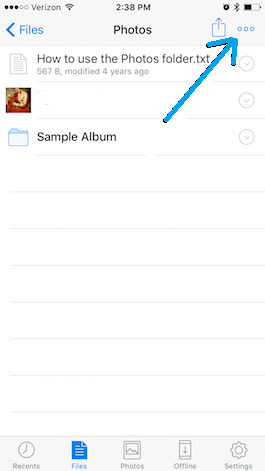 6. Now, similarly, download and install the Dropbox desktop software or open Drpbox.com on your PC.
7. Login with the credentials of your Dropbox account and find the photos uploaded. Right click to download to your computer easily.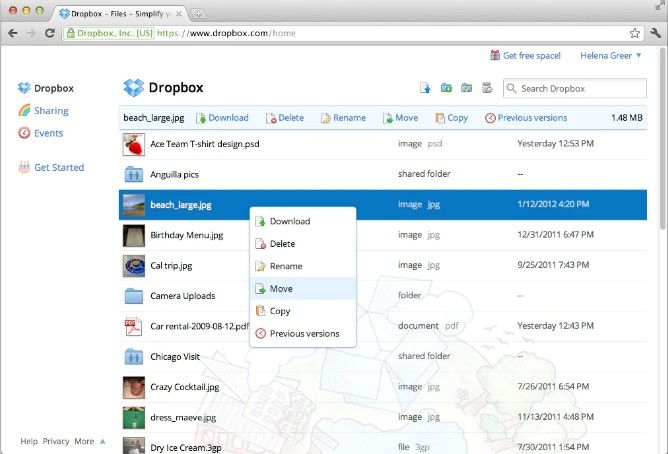 Option 4: How to Backup Photos from iPhone to Computer using Tenorshare iCareFone
As a professional data transfer program, there is no doubt that Tenorshare iCareFone is the best. It supports both saving and downloading of all the kinds of photos, which are not only in your Camera Roll, but also in albums, Photo Library, and other sources. You can selectively choose or use bulk transfer to send all your photos to computer within seconds. It supports all the versions of Windows and Mac and is also compatible with all iPhone devices. So, apart from Windows, you can also use this to import photos from iPhone to Mac easily!
Tenorshare iCareFone basically uses the File Manager feature to take care of all photo transfer needs. Here's how to backup pictures from iPhone to PC using iCareFone's File Manager feature:
1. Download the software on your PC. Install and launch the program (Both Mac and Windows version available).
2. Connect your iPhone to the PC with a USB or lightning cable.
3. Let the software detect your device and you will be greeted with the main interface now.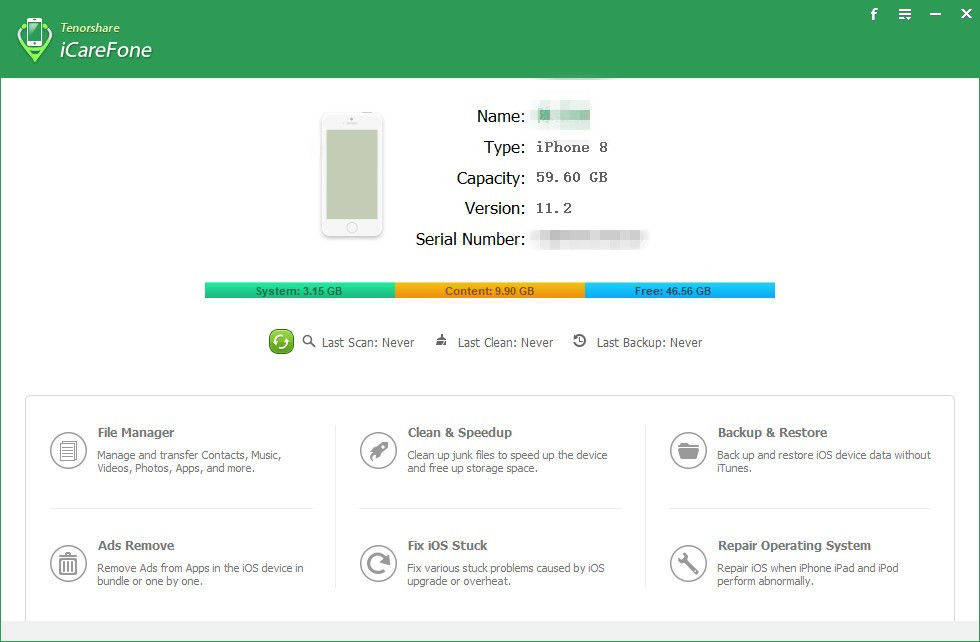 4. Now, find and select the "File Manager" option. Then navigate to the "Photos" icon.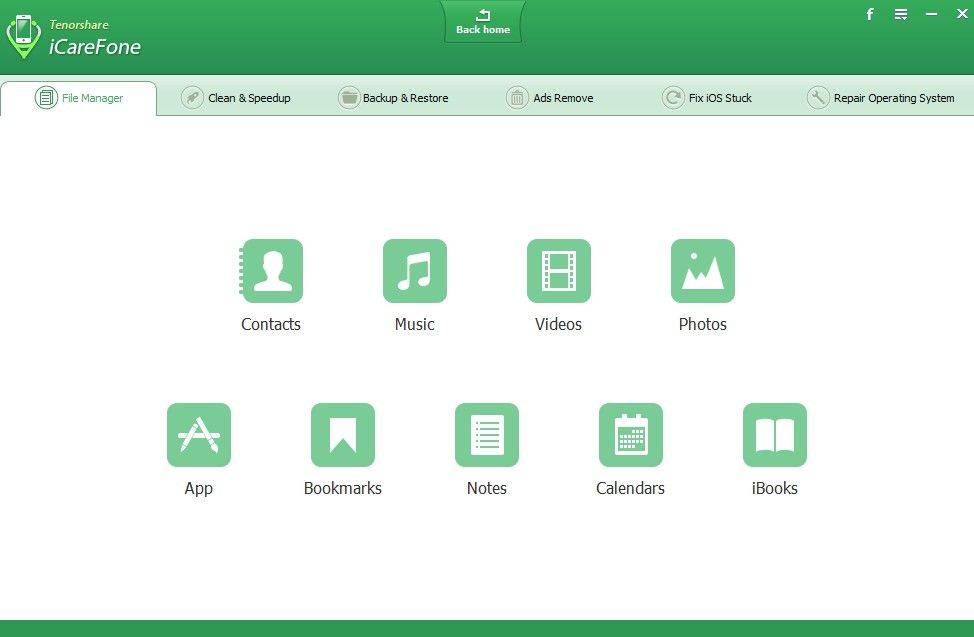 5. You will now see your iPhone images on your computer screen now.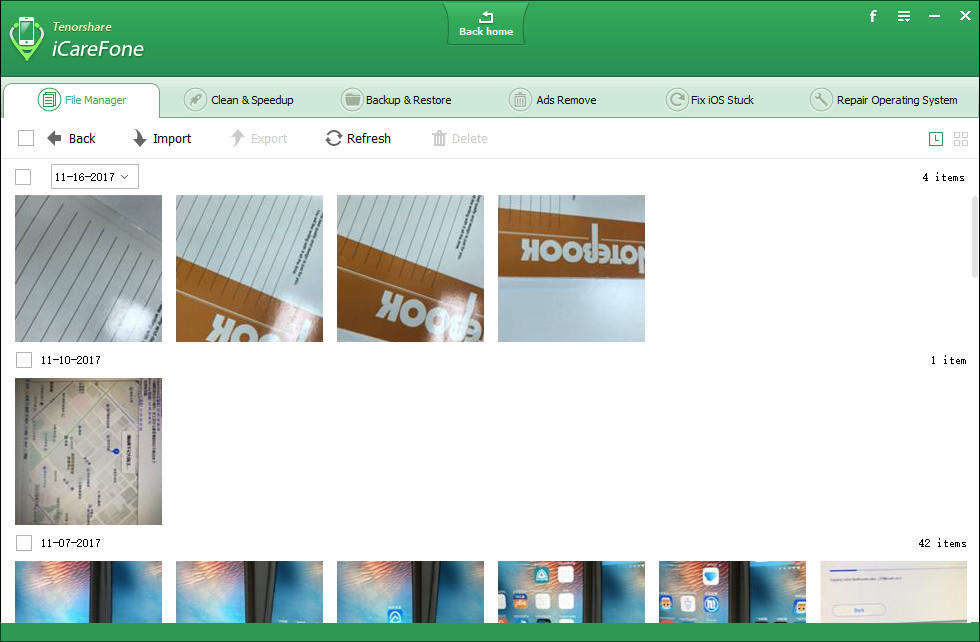 6. Choose the images you want to back up and click "Export".
All your selected pictures will now be backed up to your computer now!
Apart from the "File Manager" feature, Tenorshare iCareFone also boasts a "Backup and Restore" feature allowing to backup images acquired from apps like WhatsApp, Kik, Viber and more. Taking good advantage of File Manager and Backup & Restore feature, you won't ever have to think about losing photos anymore.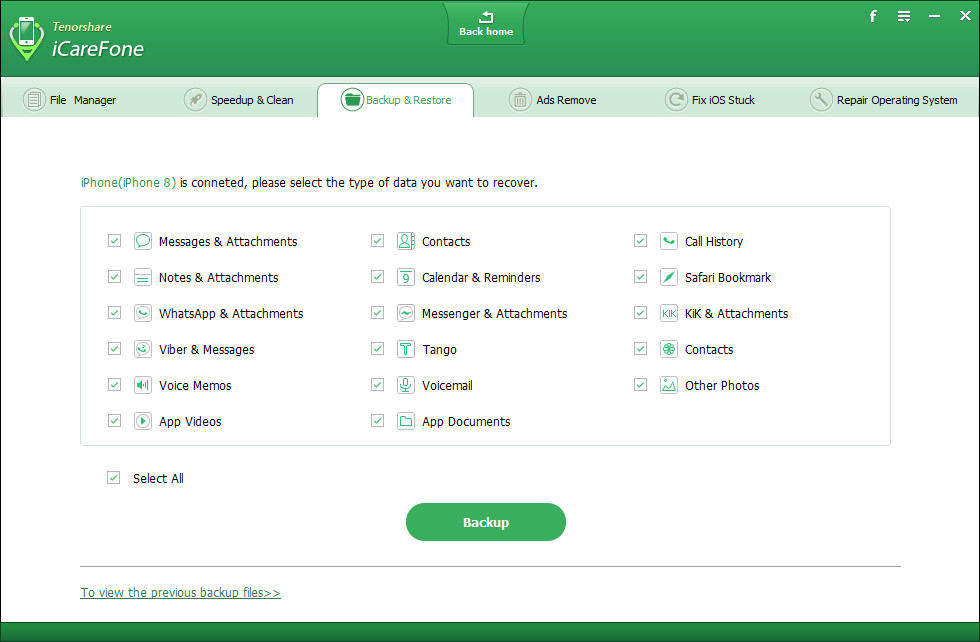 Overall, these are the 4 best solutions on how to backup photos and videos from iPhone to PC. These options can save up space and can also back up your photos for further use. Among these options, Tenorshare iCareFone is the clear winner here. With a full-fledged File Manager, Backup and Restore and a support for a lot of useful features, it is the best option that you can go for right now. Try it for sure!
Free Download
For Win 10/8.1/8/7/XP
Secure Download
Free Download
For macOS 10.13 and below
Secure Download
Related Articles
comments powered by