With iOS 8, Apple finally introduced the all new Family Sharing to share purchased content, photos, locations and calendars from their individual accounts, making your family's digital life more convenient and colorful. For beginners of iOS 8, this is a good place to learn how to set up and use Family Sharing.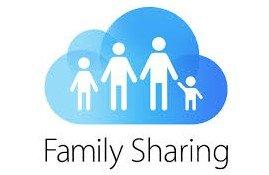 How to Enable and Set Up Family Sharing in iOS 8 Devices
1. Go to Settings > iCloud app on your iPhone or iPad running iOS 8/9/10.
2. Choose Set Up Family Sharing... from the menu
3. Tap on Get Started > Continue.
4. Sign into the Apple ID that you regularly use for iTunes and App Store purchases.
5. Agree to the terms and conditions in order to continue.
6. Tap Continue to confirm your payment method that's on file. You are agreeing to pay for all purchases made in your Family Sharing group.
7. Choose whether or not you'd like to share your location with your Family Sharing group.
8. Tap on Add Family Member... in order to start adding people. Then you can type the name of people to add and tap on them when they come up in order to select them.
Finally you may be asked to verify the credit card information you have on file, which signifies that you've successfully set up your Family Sharing group.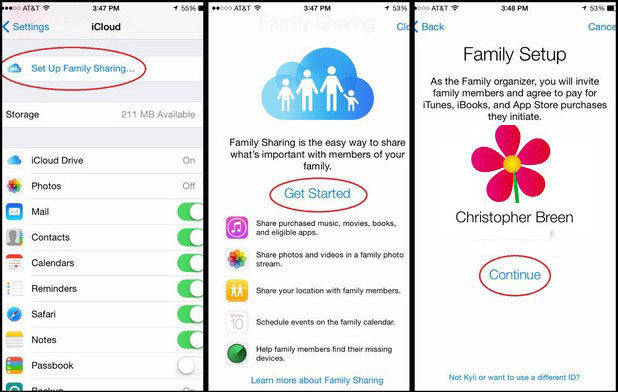 How to Share Photos, iBooks, Calendar, Location with Family Sharing
Family Sharing offers an easier way to share photos, iTunes, iBooks, App Store purchases, Calendars, Reminders and Location among your family group.
1. Share Photos
On Photos app, you'll see a new stream called "Family." From this place photos, videos can be shared across family members. You can also set up notifications to let you know when others add content.
TIPS
: To ensure your privacy and data security, you could backup all photos (including iCloud photos and iTunes photos) to local computer with
iPhone Data Recovery
tool.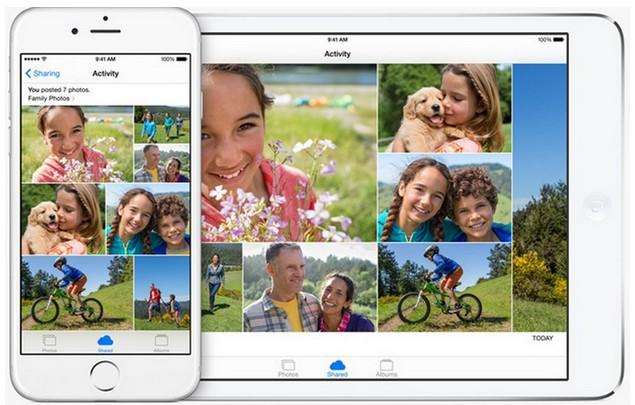 2. Share iTunes, iBooks and App Store purchases
Once you've set up Family Sharing, everyone can access each others' apps, music, movies, TV shows and books. You can sign into your iTunes account and visit the "Purchased" pages in the iTunes store, iBook store or App Store and download these contents to your own device. Simply choose the family member whose content you want, and download.
3. Share Calendars and Reminders
From Calendar app, you'll notice that a new "Family" calendar appears. Everyone has access to this calendar and can easily add, remove or modify events. You can also set up notifications to remind everyone about certain events.
4. Share Location
Provided you are a member of the Family Sharing, your device will automatically share its location with everyone in the group. To hide your location, go to Settings > iCloud > Share My Location and disable it.
5. Set Parental Control
Parents could have control over kids with Family Sharing. When family organizer creates an Apple ID for a child under 13, so that he/she could use Family Sharing, "Ask to Buy" feature will be activated by default. This provides much convenience if you like to pay for family purchase with a single credit card, as the child must ask for permission before making iTunes, iBooks and App Store purchases.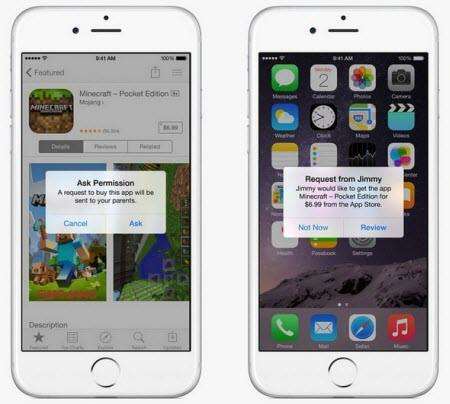 Besides Family Sharing, iOS 10/9/8 offers you new choices for keyboards. The post Top 6 Things to Know about iOS 8 Keyboards gives you some detailed info.
Free Download
For Win 10/8.1/8/7/XP
Secure Download
Free Download
For macOS 10.13 and below
Secure Download
Related Articles
comments powered by