Just like the above problem from Apple's forum, is after updating to iOS 8, a lot of iPhone users are surprised to find out that the Camera Roll are not longer there and falsely believe that there photos are lost. In fact your photos are still on your iPhone. This post will explain where the Camera Roll went as well as how to find photos in iOS 10/9/8.

Where did Camera Roll Go?
Yes, Camera Roll, the album that earlier showed you a grid of all photos taken from your phone, has been removed from iOS 8, but the photos inside the album are still there. In replacement of Camera Roll, which used to be at the top of Albums list, is Recently Added.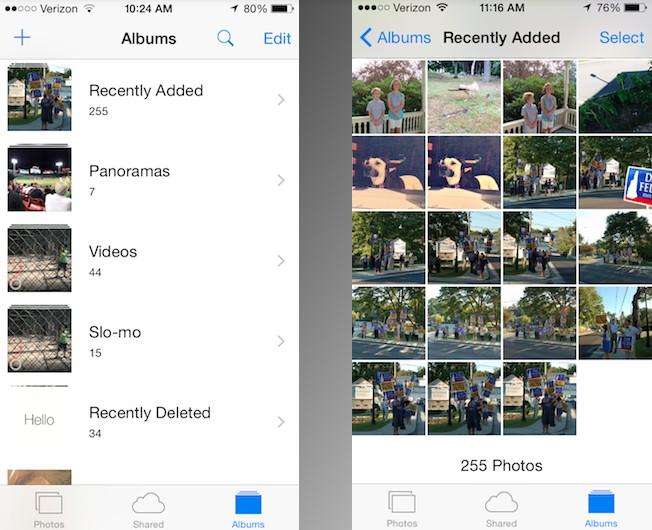 In Recently Added you will find the photos you've taken in the last 30 days on your iPhone, as well as photos from any of your iOS devices with My Photo Stream turned on.
How to Find Photos in iOS 8.2/8.1/8 if They Do Disappear
Even if you do delete important photos or lost them after iOS 8 update (for instance, iPhone stuck in red iTunes logo and all photos are gone), you can still find them back with data recovery tools like iPhone Data Recovery. It will find the photos stored on your iPhone, iTunes backup and iCloud backup if you upgrade into iOS 8/9/10.
Free download this tool from Tenorshare's official website or with the download button below and here's how I managed to recover lost iPhone photos.
Free Download
For Win 10/8.1/8/7/XP
Secure Download
Free Download
For macOS 10.13 and below
Secure Download
When the photos are recovered, you can then manually add them to iPhone. As a newly update, iOS 8 has a lot of problems, if you find iPhone runs slow after iOS 8 update, click the links to get quick and easy solutions.
Free Download
For Win 10/8.1/8/7/XP
Secure Download
Free Download
For macOS 10.13 and below
Secure Download
Related Articles
comments powered by