Just as eye-catching as iPhone 7 and iPhone 7 Plus in September, so is the iOS 8 keyboards. Why? Cuz they help to enlarge choices of keyboards for iOS users especially those who pursue a quicker typing speed or a better typing experience. But before you running off to replace Apple's built-in keyboard, here're 3 things you must know.
What's new in iOS 8's default keyboard?
First of all, it's worthwhile for you to take a look at the changes of iOS 8's tock keyboard. Though it looks almost the same as the previous versions, Apple does make some improvements such as QuickType, which learns your typing habit and offers word predictions. And the more you use it, the more it tunes the suggestions.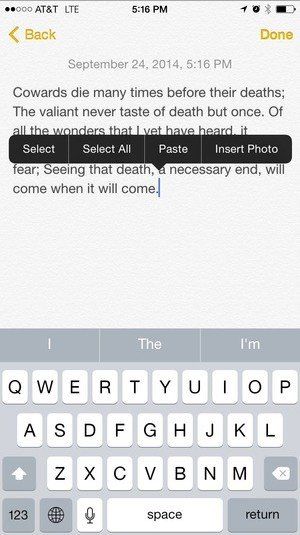 In addition to that, if being used in landscape mode on iPhone or iPod, it can offer some new useful editing keys for moving the cursor, an undo key and a key for quick access to Emoji characters.
What's iOS 8 keyboards?
iOS 8 keyboards refer to those keyboards that can work on any device running iOS 8 but not iOS9 and iOS 10, which includes the iPhone 6 and iPhone 6 Plus, iPhone 5S, iPhone 5C, iPhone 5, iPhone 4S, iPad 2 and newer and the iPod Touch 5.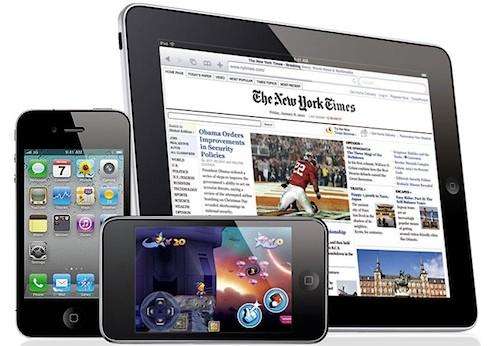 Available alternative iOS 8keyboards
Now there're quite a few iOS 8 alternative keyboards available on CNET, and here I'd like to provide a comparison among the most welcome 5 iOS 8 alternative keyboards.
| | | | | | |
| --- | --- | --- | --- | --- | --- |
| | Swype | SwiftKey | Flesky | TouchPal | Minuum |
| Swipe entry | | | | | |
| Color theme | | | | | |
| Emoji support | | | | | |
| Available now | | | | | |
| Price | $0.99 | Free | $0.99 | Free | $1.99 |
How to add an iOS 8 Keyboard
Once you decide to give the alternative iOS 8 keyboard a shot, the first thing you need to do is download it to your iOS devices. Then just follow the tutorial below to replace the built-in keyboard with the new one.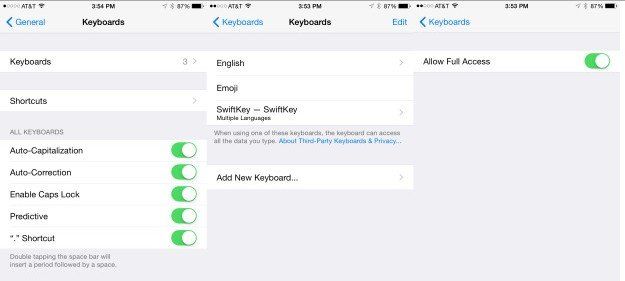 Go to Settings >> General >> Keyboard >> Keyboards >> Add New Keyboard >> tap on the name of the keyboard. And this is all you need to add a new iOS 8 keyboard.
Tips: For some keyboards you need to tap on the keyboard name and toggle it on to Allow Full Access, which lets the keyboard send data to servers to unlock feature.
Key setting to make iOS 8 keyboards works better
After above settings to make your desired iOS 8 keyboard as your preferred keyboard, you may feel frustrated that the default Apple keyboard would continuously appear. In that case, you'd better click Edit where your list of keyboards appears in Settings and move your preferred keyboard to the top of the list.
Then you would find your preferred iOS 8 keyboard appears 95% of the time. But you must note that each time you enter password, Apple keyboard still pops up.
Sticking with Apple default keyboard vs. going the alternative iOS 8 keyboards
First of all, you must realize that no matter you choose to stick with Apple default keyboard or take the alternative one for a change, none of them can function properly unless you enable a setting called "Allow Full Access".
As a result, it seems that security and privacy concerns are at the center of what your final decision is. Namely, it's up to you to decide how much information you are willing to share with third-parties.
Tips: If you have an iOS devices connected to company email or other company-owned resources, you should considering your company's IT department to see if they any policies governing the use of these third-party keyboards.
After taking all these into consideration, you can make your own decision right now!
Free Download
For Win 10/8.1/8/7/XP
Secure Download
Free Download
For macOS 10.13 and below
Secure Download
Related Articles
comments powered by