Apple has made the Notes app a lot more useful on iOS 9 by integrating it with several other stock apps, including Photos, Mail, Maps and Safari. In addition to traditional note-taking, users can now create checklists, draw sketches and insert photos, videos, links, maps, Pages documents and other attachments into notes.
Now, let's take a look at these cool new features and get how to use Notes app new features on iOS 9.
Sketching
When you open a new Note on your iOS 9 iPhone, iPad, iPod, you'll see a new plus symbol in the lower right of the text. Tap that, and then the squiggly line to see the various options for drawing on your device with a finger or capacitive stylus. You can use the fine-tip marker, the thick and translucent highlighter marker, or the pencil tool to draw out whatever you like. There's even a ruler that takes advantage of iOS multi-touch technology to let you draw straight lines, and an eraser to clean up any mistakes. There are 24 different colors to choose from, as well, with several shades of gray included.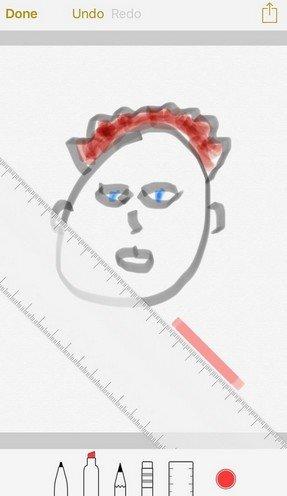 Then, you are provided to draw out the dimensions of your kitchen space right in Notes and have it with you at the store, or share it with the person headed to Home Depot to look at appliances. Even you can draw a funny picture and send it to your buddies via iMessage, or write a love note to your sweetie. Sketching in Notes makes it all possible, and will save all on your iOS 9 devices for later access.
Checklists
In the Notes app, checklists are selected lines of text and tapping on the checkmark button above the keyboard. Each list item will then have a circular bullet next to that can be marked as completed, which is convenient for grocery lists, wish lists, to-do lists and so forth.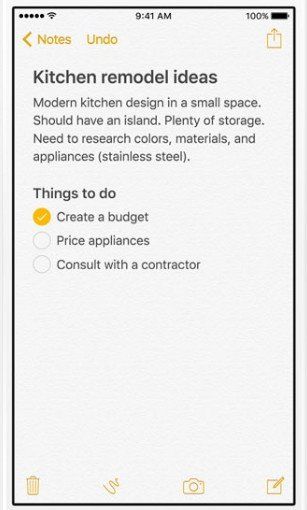 Apple has also added formatting options in Notes for adjusting the size and weight of text, including Heading, Body, Checklist, Bulleted List and Dashed Line. Anyone that has ever used text formatting in Pages, Microsoft Word or virtually any other word processing program should be familiar with this feature.
All you need to do to create a checklist in Notes is to start a new Note or open a previous one, then hit that plus symbol in the lower right corner. Next, tap on the little checkmark in a circle icon and type (or dictate) the first item on your list. Hit return on the keyboard to continue making a list with the little checkbox next to it. If you want to take a list item out of the checklist format, simply place your cursor somewhere on the line and tap that little check in a circle icon again.
Attach Maps, Links, and More from Other Apps
One of the amazing new features in iOS 9 Notes app is to insert photos, videos, links, maps, Pages documents and other attachments directly into the Notes app by pulling up the iOS share sheet from other apps such as Photos, Mail, Maps and Safari.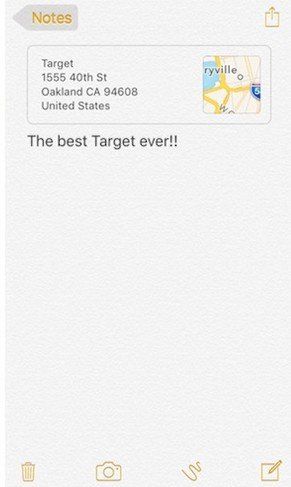 You can attach a map, web link, Pages document, and more to a note, but you've got to pop into the appropriate app to do it. If, for example, you want to attach a link, go to the related page in Safari and touch the Share icon along the bottom to bring up the share sheet. From there, tap the Notes icon and you'll be prompted to choose which note you'd like to put the link into. Easy-peasy. And if you forget which note you stuck something to, you can quickly find any attachment in the Attachments Browser. To use it, enter a folder and tap the small four-square icon in the lower-left corner.
Add Photos
Do you need a visual reminder to go along with your text? Now it can be implemented in Notes app on iOS 9. You can take a photo from within the Notes app, or select a preexisting image, and attach it to your note. Just pull up the row of new options and tap the camera icon to start the process.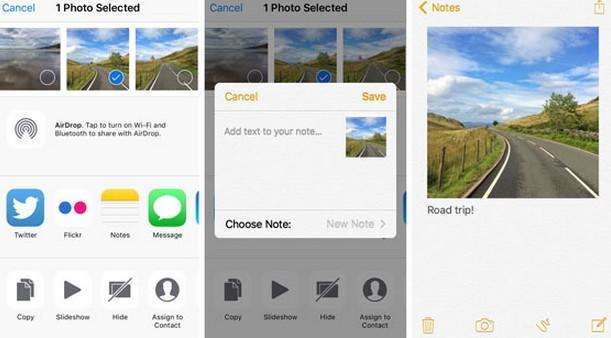 Siri Can Help
Finally, don't forget that Siri can help you quickly find a specific note, even if you can't remember its title or which folder it's in. Just ask her to "Find my grocery list note," "Find my note about Oreos," "Show me all the notes I wrote this week," etc. She'll helpfully pull up all the files that fit your description.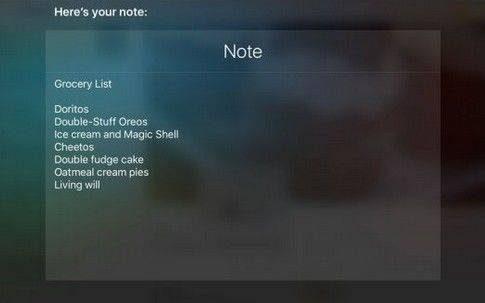 That's it! Those above are the amazing iOS 9 Notes app new features. If you have encountered problems during/after iOS 9 upgrade, you're free to refer for help in this article---Top 15 iOS 9 Upgrade Problems and How to Solve Them. Have a try and experience those interesting functions on iOS 9 now!
Free Download
For Win 10/8.1/8/7/XP
Secure Download
Free Download
For macOS 10.13 and below
Secure Download
Related Articles
comments powered by