iOS 15 Hide My Email? Get to know the Newest Tips
by Anna Sherry Updated on 2021-09-02 / Update for iOS 15
Apple is committed to protecting the privacy of its users, no matter in the older iOS 14/13/12 or in the introduction of iOS 15. There are some new privacy features in iOS 15 such as private relay and hide my email apple. In this article, we will focus on iOS 15 Hide My Email.
Part 1: What is Hide My Email in iOS 15
Maybe some users have noticed "Hide My Email for Sign in with Apple" in iOS 14. What's the difference between them? Hide my Email Sign in with Apple ID only available when an app or website asks for your email address to create an account, but Apple Hide My Email in iOS 15 can help you create a unique and random Email whenever you want. And you can apply this email address not only for app and website account registration but also for personal use.
Hide My Email is the new privacy feature in iOS 15 paid iCloud plans " iCloud Plus". Hide My Email in iOS 15 aims to keep spam out of your inbox. It can generate as many email addresses for you as you want, so when you have to give out your email address but are afraid of a privacy breach, you can share the email account created by Hide My Email. You can also use this email address to send emails to others in Mail app.
How do you receive messages from those email addresses? Those random email addresses will automatically forward messages they received to a primary email address. Apple can't see the message content in those emails addresses, all it does is just forwarding messages. You also can deactivate or delete any email addresses created by Hide My Email at any time, after which you'll not receive their forwarding messages anymore. It's a perfect solution on how hide email on Facebook, twitter or any other apps and website.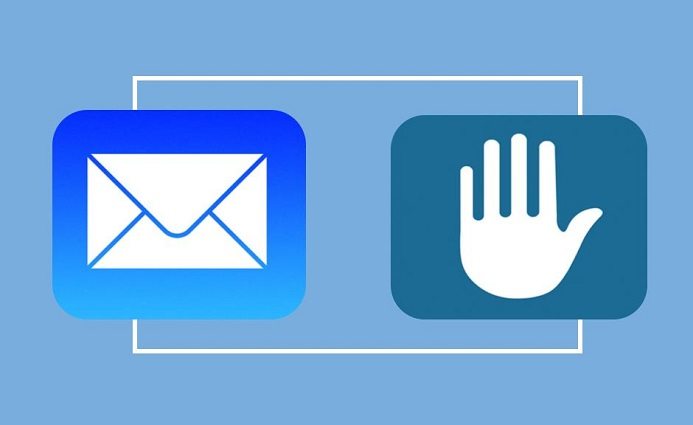 Part 2: How to Use Hide My Email in iOS 15
In this part we will show you how to enable and use hide my email address and how to manage those email addresses. You can try this new feature in "iCloud+" by following the steps listed below.
2.1 How to Enable Hide My Email Address
First, you need to understand that if you want to use Hide My Email, you must pay for "iCloud+", and ensure you're using the iOS 15. Now learn how to hide your email address according to the following steps:
Go to settings and tap your Apple account name.
Then find iCloud and open it.

Now you'll see the Hide My Email option under Private Relay, tap on it. Then Tap Create New Address.

Choose Continue and now you can add a label to help you better remember what this address is used for.

Then tap next and done. Now you can use this random address.
With this address, you can know how to hide your email address when sending an email in outlook.
2.2 How to Change Hide My Email Forwarding Addresses in iOS 15
After you create a hide my email address, the address will forward all the messages to a primary account and you can check the messages in that primary account. You can also change this Primary email address if you own several icloud accounts.
Go to settings, tap Apple account, and open iCloud.
Open Hide My Email and scroll down to find "Forward to".

Now change the email address and tap Done. Now all the messages will forward to the primary email address you've just set.
When you read this, you'll have no doubt about how to hide my email address in Gmail. In the next part, you'll know how to find hidden emails on iPhone and how to disable them.
2.3 How to Disable or Delete Hide My Email Addresses
If there are times when one of your Hide My Email Addresses is spread around to many ads agencies, you can immediately deactivate and delete the email address. After that, you'll not receive any message forwarded from it.
Go to settings and tap your Apple account profile. Open iCloud.
Tap Hide My Email.
Now you can see all your Hide My Email Account Here. You can see which app or website it has been used for.

Choose the one that you don't want to receive its forwarding message, and tap Deactivate Email Address. Now you'll not receive its forwarding messages.

You can even delete or reactivate this address in Inactivate Addresses (below Activate Email Addresses list).
Extra Tip: Emails and Messages Lost After Updating to iOS 15? Use Tenorshare UltData to Recover
Apple releases new operating system every year, and no one can promise that iOS 15 will be flawless. We noticed that there are many problems that occurred while updating to the latest iOS 15 version, one of which is the data loss. If you're in that situation, then use Tenorshare UltData to recover your lost data.
UltData is a data recovery master that can recover more than 35 file types from iOS devices, iTunes Backup and iCloud. It can also help you recover social apps' data such as WhatsApp, Line, Viber and WeChat. Take only several steps, and you'll retrieve your lost data!
Download and launch UltData. Choose Recover data from iOS Devices.

Then connect your iPhone to computer with digital cable and after your phone is detected. UltData will scan your iOS data.

Now you can see all your iOS Data here. You can preview them before recovering. Then select the files you want to retrieve and click Recover to PC.

After a while, your data will be recovered to PC.
Conclusion
We are excited about iOS 15 new features and we can see that Apple is constantly improving its operating system for the users in considering. We just introduced a small change in iOS 15, actually there are still many privacy features in iOS 15 wait for your exploring and we will also provide you as many guides as we can to help you better use iOS 15.