[Hot] How to Customize iOS 15 Widgets on iPhone/iPad
by Anna Sherry Updated on 2021-08-23 / Update for iOS 14
The latest version of Apple's mobile Operating System, iOS 15 has been launched, and this time the iOS is equipped with widgets. Several new widget options have been added, and you will also be able to choose among 3 different widget sizes.
But some of the users are really struggling with new widget ideas and customizations options. So, in order to have a clear understanding of iOS widgets, we recommend checking out the following video first.
Quick Look: How to Customize Widgets on iPhone/iPad with iOS 15
The Home screen widgets are nothing new on iOS devices, but on iOS 15, Apple has introduced several new widgets that have opened a lot of options for the users.
So, if you are looking for new ideas to use widgets on iPhone home screen, you can check out the details and steps below to learn new ways of Widget customization of iPhones and iPads with iOS 15.
#Look 1. How to Add/Remove iOS Widgets on Home Screen
The iOS 15 widgets are easy to add. The steps are very simple, and you can also remove them when you don't feel the need for them.
Tap and hold the blank area of the iPhone screen until all the app icon starts jiggling. Tap any of the app icons and choose 'Edit Home Screen'.

Tap on the '+' button at the top, and you will see all the apps that are currently offering widgets.

Tap on the app that you want to get a widget for, then swipe left or right to choose the size of the widget.

Then, tap on 'Add Widget'
Once the widgets are available on the Home screen, you will be able to move it around easily. Tap 'Done' when you are finished adding widgets. Adding iPad widgets is also similar.
#Look 2. How to Use The Smart Stack
The Smart Stack is a feature designed to save space on your screen. But without compromising its functionality. If you place the Widgets side by side, that will take a ridiculous amount of space. So, Smart Stack offers a way to stack Widgets on top of each other.
So, using only space for one Widget, you will get to use multiple Widgets.
Open your iPhone and swipe left to open App Library.
Now, scroll down and locate the app you want to add to your Home Screen. Once the app is located, tap and hold its icon.

A new options menu will open. Tap on 'Add to Home Screen+'.
The app will be added to your Home Screen. After that, you can enter the Home Screen Editing Mode and move the app to any desired location.
#Look 3. How to Setup and Edit Your Home Screen
You need to tap and hold the blank space of your iPhone screen. All the app icons will start to jiggle. Now, tap on any icon and select the 'Edit Home Screen'.
Now, you will be able to make changes to your Home screen.
iOS 15 Home Screen Ideas: Which Style Do You Like Best
1. Minimalist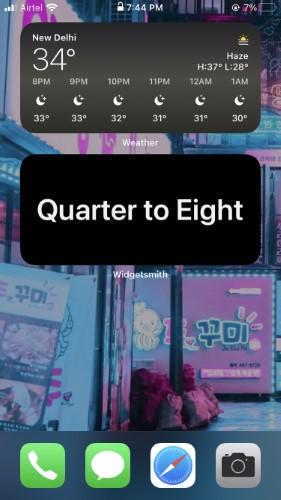 2. Smart Stack and Favourite Icons
3. Alternate Corners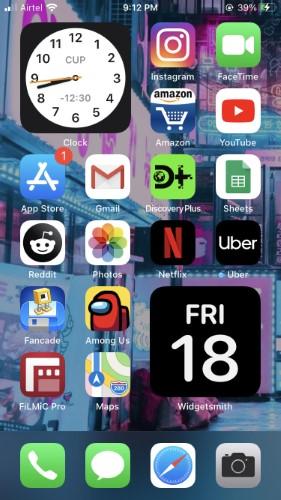 4. All Widget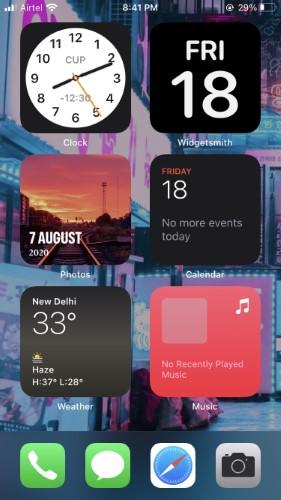 5. Widget and Icons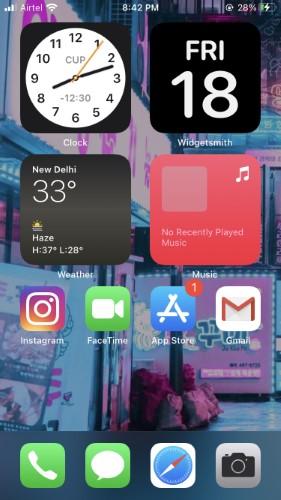 6. Different Home Screen Ideas by iOS Users Found on the Internet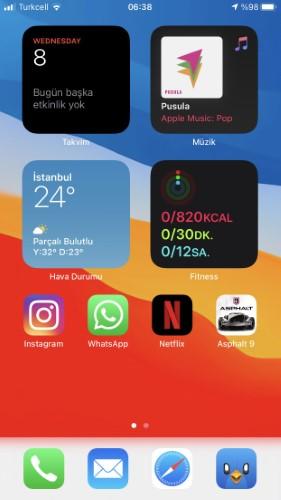 If you want to explore more iOS 15 home screen ideas, just search on the internet or social media, people on Twitter or Reddit share different ideas about it.
Bug Fixed: How to Fix Stuck on iPhone Widget Screen
Getting stuck on the iPhone widget screen or widgets not working is a possibility. So, let's not take any chances and be prepared to get out of the iPhone widget screen if you ever got stuck in there.
To relieve your iPhone, you have to use an effective system recovery tool to repair the iOS and make the device working again. But there are only a handful of tools capable of pulling off the task successfully with ease. So, we recommend using Tenorshare ReiBoot for this task. This is an efficient tool, and operation is also very simple.
Complete the installation of ReiBoot on a computer.

Connect the stuck iPhone to the computer and launch ReiBoot. Select the 'Repair Operating System' option on the interface.

In the following window, click on the 'Fix Now' and initiate the repair process.

Now, download the firmware required for the repair. Click on 'Browse' and choose a path and then click 'Download' to get the firmware.

Once the firmware is completely downloaded, click on the 'Repair Now' button below and unstuck the iOS.
Click on the 'Done' button to close the window. This is the easiest and the most effective way to fix an iPhone that is stuck on the Widget screen.
Summary
Hopefully, you got to see the new iPhone Widgets. They are amazing, and Apple added quite a few options. We have shown you the best iPhone Home Screen ideas with the help of Widgets. You can use these or make something of your own. Last but not least, if you have somehow got stuck on the Widget screen, then use Tenorshare ReiBoot to get is unstuck by recovering the iOS. Besides, if you forget the lock screen passcode, here's an 100% working method to help you, just click it.