Tips to Improve iOS 13/14/15 Battery Life on iPhone/iPad
by Jenefey Aaron Updated on 2021-12-16 / Update for iOS 10
Have you find the battery seems never enough for using a whole day after a long time of getting your iPhone. Maybe it would be better for iPhone 7/7 Plus, but if you are using a lower model or have use iPhone for a long time, is there any way to extend battery life without replacing it? Here we conclude 10 tips to improve iOS 10/11/13/14/15 battery life of iPhone and iPad. And it's will be even beneficial if you have just update to iOS 11/13/14/15.
Before we start, you can first check which applications on your iOS device occupy the most of battery usage, Go to Settings >> Battery, and you can view the detail under battery menu.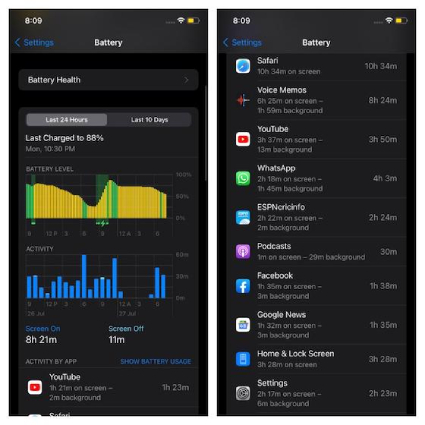 The Best 10 iOS Battery Life Tips for iOS 10.3.3/11/12/13/14/15
1. Turn down the Screen Brightness of iOS Device
100% of the brightness will make battery lose fast than 50% of the brightness. Turn down the screen brightness to 25%~50% will be beneficial for extend the battery life. Go to, Settings >> Display & Brightness, to adjust brightness. If you find an appropriate brightness you can turn off "Auto-Brightness", and choose the best one by yourself.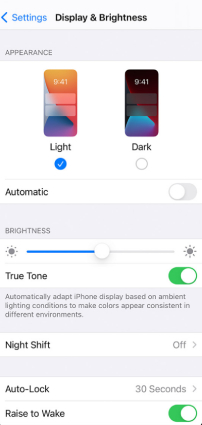 2. Turn off Background App Refresh
Go to Settings >> General >> Background App Refresh, you can turn off the entire background application refresh that you don't need to worry those applications steal your battery.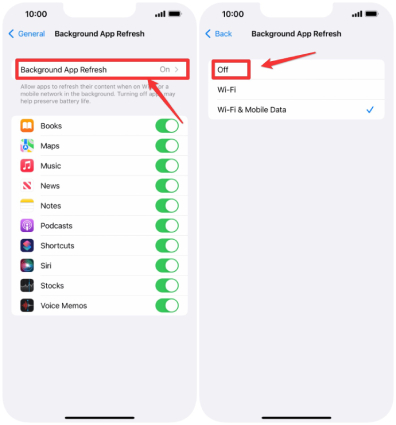 3. Turn off Notification
If you open too many apps, the overmuch notification not only will cause battery drain, but also influence the iPhone battery lifespan. Turn off the useless notification, only keep some necessary ones. You can also by this way to block pop-ups.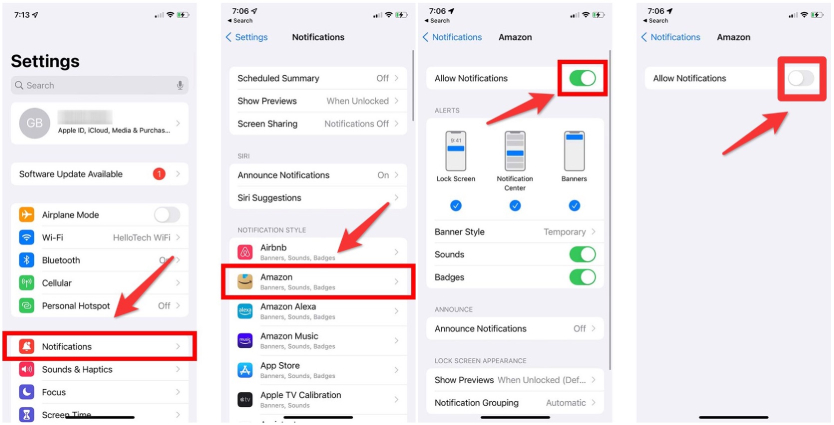 4. Change Email Push to Fetch
If you set to push Email, you may receive many Emails every day, and it would use lot of the battery. Once you change it to "Fetch", you then can manually set the interval to receive Emails. It would keep iPhone battery life good, if you choose a proper interval. Go to, Settings >> Email >> Account >> Fetch New Data to set.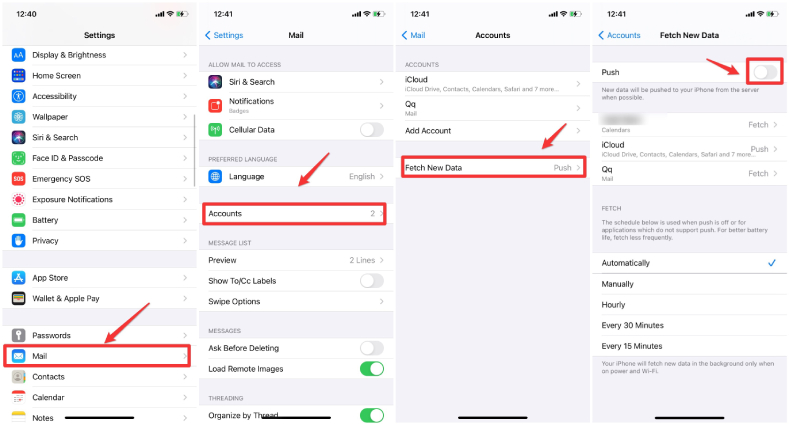 5. Connect Wi-Fi Instead of Mobile Data
Then signal strength will influence the battery of your iPhone, when under a bad signal environment, its battery consumption will be more than your iPhone itself. If you have lots of apps need to use network, you'd better connect Wi-Fi, or you iPhone will keep search then network signal.
6. Turn off Automatic Downloads
Turn off automatic downloads can reduce the workload of iPhone thus can save the energy of the battery. You can allow it to download under Wi-Fi circumstance. Tap Settings >> App Store, and toggle off the Automatic Download feature.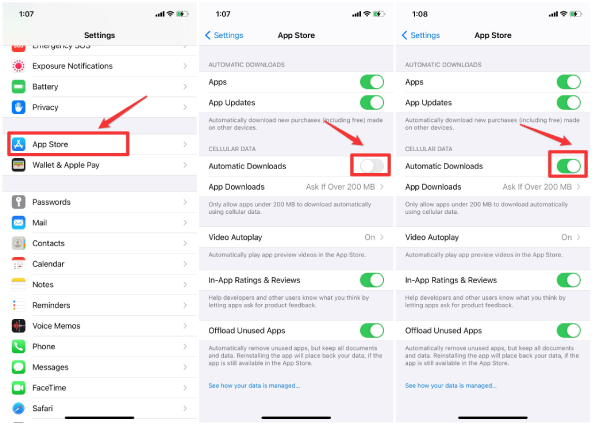 7. Adjust Auto-Lock Time
When you stop using your iPhone/iPad/iPod touch, it would auto-lock in certain time. To reduce the interval will help a lot for maximum iPhone battery lifespan. We suggest you to set it 30 seconds, or you can set it between 30 seconds and 5 minutes. iPhone now is almost equipped with touch ID which provide the fastest approach to unlock your iOS device, thus choose a short interval won't influence much. Go to, Settings >> Display & Brightness >> Auto-Lock, to adjust.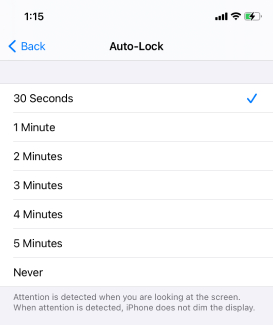 8. Turn off Location Service
Turn off location service after stop using Apple Maps and Google Maps. If you have not close it timely, it will keep working in the background, it will no doubt use the battery energy of your iPhone. Go to, Settings >> Privacy >> Location Service, and you can easily turn it off.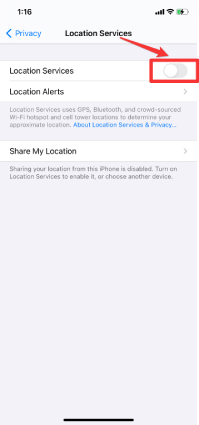 9. Stop Siri Suggestion and Spotlight Search
Spotlight search is a function to search apps, contacts and other content, you can turn it off if you need to use it. Tap Settings >> General >> Spotlight Search. And you can also turn off Siri, Handoff and Carplay .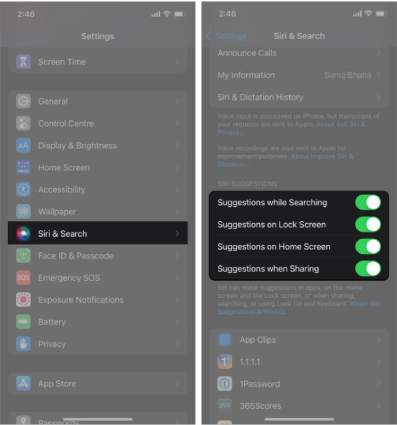 10. Turn on Low Power Mode in Low Power
Since iOS 9 released, this low power mode appeared. Turn on this feature under low power environment, and your iOS device help to maximize the power. Although it would stop some functions like Email fetch, automatic downloads, but it is absolutely benefit for extend iOS 10/10.3.3/11 battery life. Find it by tapping Settings >> Battery.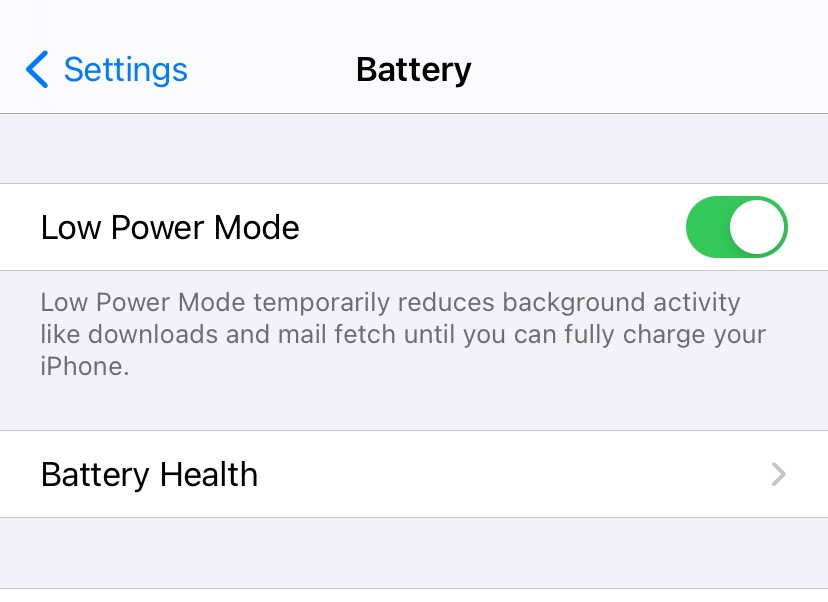 These 10 tips can help to maximize iPhone battery lifespan, no matter you are using iPhone 7/7 Plus or iPhone 6s/6/SE/5S/5, you can really benefit from this article. Choose some to manage your battery usage and extend the lifespan and using time of your iPhone/iPad/iPod touch battery.
Besides, you can also get some help from Tenorshare iCareFone, a powerful iOS manager which can help you optimize your iPhone, iPad and iPod touch. Better know your iOS device and better enjoy your iOS device.