Best Ways to Bypass iCloud Activation Lock
iCloud is one of the best and convenient cloud storage service. This service let the user to store all types of content whether it be music, photos, videos, document and many more. User can even share the data to other user directly with the help of iCloud and even they can track their phone easily. But some of the users are locked out of the device due to iCloud activation lock which means they need to enter the Apple ID and Password that was associated with the iPhone. In this article we will briefly discuss the best way to bypass iCloud activation lock.
Part 1: What is the iCloud Activation Lock?
There are so many iDevice users who are facing this issue of iCloud activation lock and couldn't bypass it. They are not even aware how does this happen and what is the cause behind this issue. Basically, activation lock is the feature that is enabled automatically when Find My iPhone is turned on. This feature helps you to prevent unauthorized access to your device in case you lost it or it got stolen. iCloud activation lock appears on the screen when you try to turn off Find My iPhone, wipe your device or restore your device.
Part 2: How to Bypass Activation Lock
Many of the users may not be aware of the fact that they can bypass activation lock. There are several methods which can help you for activation lock removal. All you need to do is go through the methods shown below and choose the best methods that is easy and convenient for you.
2.1 Remotely Remove iCloud Activation Lock on iPhone
If you have purchased a second hand iPhone and found that it is locked with iCloud account then you can contact the previous user and say them to follow the given steps for iCloud activation lock removal. The steps are easy, just follow accordingly to make it work.
1. Open your computer and visit www.iCloud.com website.
2. Enter your Apple ID and Password to sing-in the account.
3. Now click on "Find iPhone" and then tap on "All Devices" that you can see on the top of the screen.
4. Select the device that you want to remove from the iCloud account and then click on "Erase iPhone"
5. Soon your iPhone will be completely erased and then you can click on "Remove from Account" which will remotely remove iCloud activation lock on iPhone.
2.2 Bypass iCloud Activation on iPhone using DNS Method
The next way for activation lock bypass on iPhone is using DNS method. It is a simple and easy way that can help you to enter into the iPhone without any problem but this method may not work for all the device of different location. Once the device is activated, most of the features can be used.
1. First you need to restart you iPhone and then choose the country as well as language.
2. Next go to Wi-Fi settings >> Tap on "i" icon next to your Wi-Fi network.
3. Tap on the DNS settings and erase the number.
4. Now enter the new number according to your region and save it.

USA/North America: 104.154.51.7
Europe: 104.155.28.90
Asia: 104.155.220.58
Other areas: 78.109.17.60

5. Go "Back" and connect to your Wi-Fi network. Also tap on "Activation help". (You should be able to see a messages saying connection to the server is successful).
6. Go to Menu option which you can see on the top right corner of the screen.
7. Finally you will be inside the iPhone and can use various application.
2.3 Remove iCloud Activation Online
You can even easily remove iCloud activation lock online. There are several website which offers you the service to remove your iCloud lock just by charging some amount. You will also need to provide some information like your iPhone IMEI number, model number, network to which your iPhone is locked to and some more info to make sure that the iPhone belongs to you.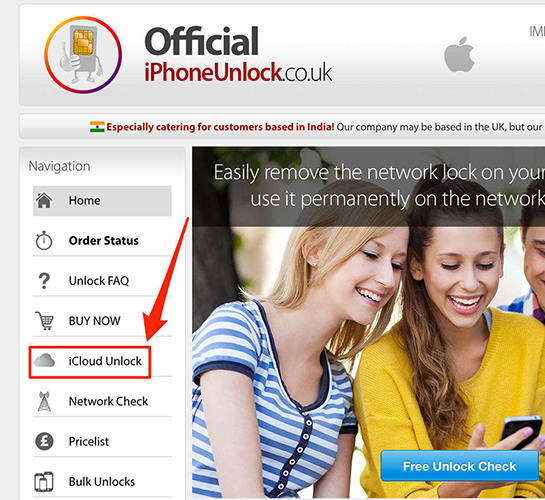 2.4 Bypass iCloud Activation Lock Tool
The best way to bypass iCloud Activation lock is using tool that can easily bypass the iCloud lock. There are plenty of tools available in the market due to which users are confused which tool is the best and reliable. We have found one amazing tool which complete you task in no time and the tool is iCloudin. This tool is compatible with all iOS device that means you don't need to worry if you own any model of iPhone and iPad. Just visit the website and follow the onscreen process to bypass iCloud activation lock.

2.5 Ask the Previous Owner for Help
One of the simple and easy way for iCloud activation lock removal service is asking for the Apple ID and password that is connected to the iPhone with the previous owner. In most of the case it has found that when a person buys a second hand iPhone, the previous owner forgets to remove the account and turn off Find My iPhone from the device due to which the new owner need to face the problem. So, it is better to ask the previous owner for help and if it is possible they can come and remove the lock.
Conclusion
So, these are the possible ways to bypass iCloud activation lock. Hopefully, you have learned the meaning of iCloud activation lock and the methods to bypass it. But one thing you should always remember is to backup all your data and other content of your device. You never know when you are going to need those data and the best way to backup data is by using Tenorshare iCareFone which is a free backup software that doesn't have any limitation. Give it a try.