How to Unlock iCloud Locked iPhone
Getting locked out of your iPhone is one thing and being locked with iCloud is a completely different scenario altogether. Forgetting the Apple ID's password for your iPhone would put you in lot of inconvenience. So, if you are suffering from the same situation and you need to get into it, but you don't know how to unlock the iCloud locked iPhone, we have got your back! You don't have to worry about the complexity of the unlocking processes, as we have featured some of the quickest methods for unlocking your iPhone.
Keep reading to know more!
What is iCloud Locked iPhone Mean?
Before delving deeper into how to unlock iCloud locked iPhone 6 or other iPhone models, let's educate ourselves with what iCloud locked iPhone actually means!
Registering your iPhone with an Apple ID is one of the important parts of setting it up. Every phone comes with a unique IMEI and each user has to create and register with an Apple ID to access Apple services at its best. This Apple ID is also your iCloud account and through this only you enable the 'Find My iPhone' feature on your iPhone. Once the details have been entered to your Apple account, the iPhone becomes an iCloud locked device as your account details are stored on Apple server. Because they are lined to your iPhone, the entire information becomes iCloud locked now. In case you forgot the account credentials (email and password) used while registering the iPhone, you will get stuck there.
The following part of this article showcases how to unlock iCloud locked iPhone 6 and other iPhone models.
Ways to Unlock iCloud Locked iPhone
There are numerous tools to show you how to unlock an iCloud locked iPhone. In this part of the article, we have picked two applications to help your through.
1. Official iPhone Unlock for iCloud Locked iPhone
Official iPhone Unlock is among one of the most popular service providers that helps you unlock an iCloud locked iPhone. Their services are quick and they respond within 3 to 4 days at max. The customer service team at their end is pretty efficient in responding to customer enquiries and queries. The best part is if the iPhone couldn't be unlocked, they would refund you the money.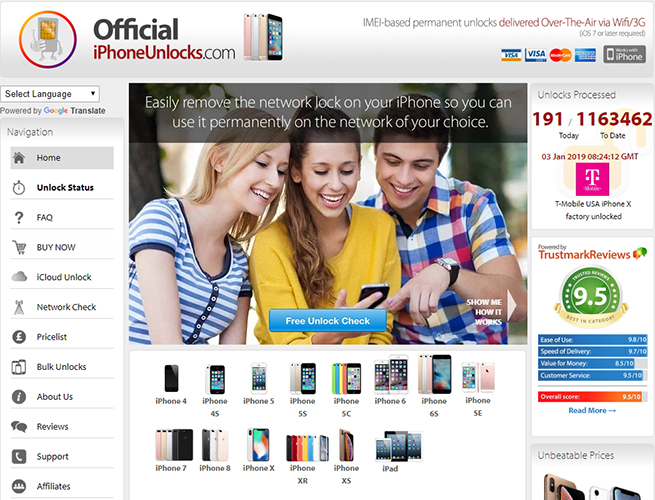 2. iPhoneIMEI to Unlock iCloud Locked iPhone
The second service provider in this matter is iPhoneIMEI, which offers genuine, guaranteed and legit services in iCloud account unlocking. Their services are delivered over the air, so you don't have to wait for long. It takes only one to two days for accomplishing the unlocking task. The money back guarantee ensures that your iPhone gets unlocked or you get the money refunded. Apart from that, they ensure that your iPhone is whitelisted keeping the iPhone's IMEI safe from being locked in the future. For iCloud locked devices, iPhoneIMEI is usually the goo to choice among other service providers.

Further Reading: How to Unlock iPhone Locked Screen without iTunes
No matter how reliable they might sound or how successful their past record is. When it comes to physically handing over your device to someone apart from authorized Apple Stores, there is a fear of mishaps. To tick that off, we would recommend you Tenorshare 4uKey for unlocking iCloud locked iPhone 6/other models.
This tool can take care of a disabled iPhone, pass lock keys and passcodes and much more. When you are looking for a safe and reliable way for bypassing lock code on any iOS device, Tenorshare 4uKey seems the most viable option. All iOS versions are supported by this application over all iOS device models. Whether you have a FaceID, Touch ID, or a 4 to 6 digit digital passcode, it can bypass all of them swiftly. Moreover, you can run it both on a Mac and Windows computer, so that you are flexible to unlock your iPhone.
Let's understand how to unlock iCloud locked iPhone screen through the help of Tenorshare 4uKey:
Step 1 First of all, you need to install Tenorshare 4uKey on your computer. Get a USB cable approved by Apple and connect your iPhone to the computer. Click on the 'Start' button once the connection has been established.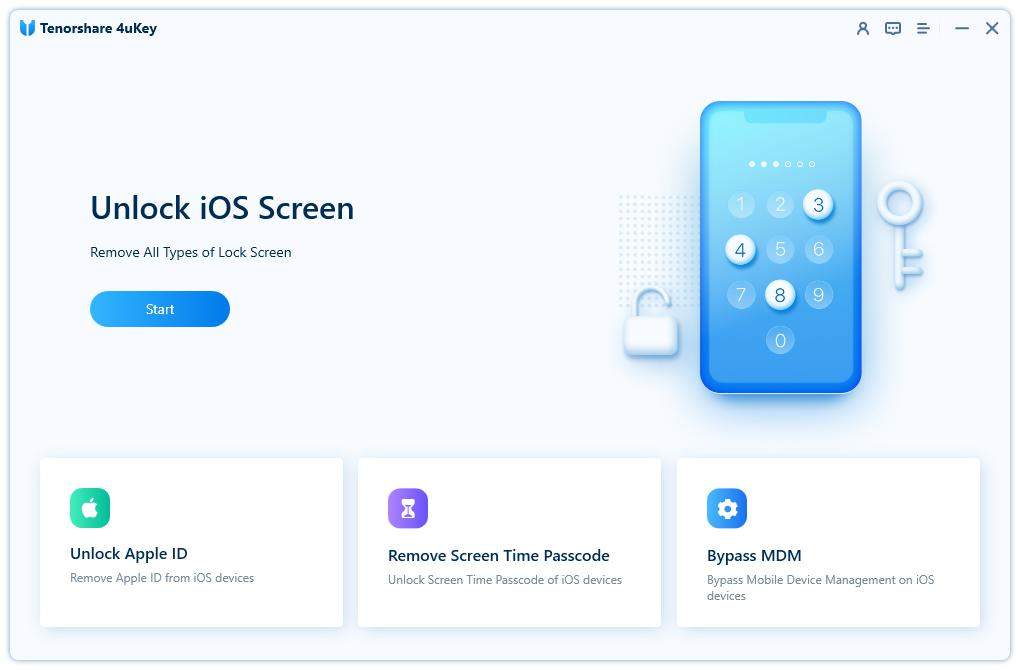 Step 2 Now, tap on the 'Download' button. You got to wait a bit to let the iOS firmware being downloaded on your iPhone.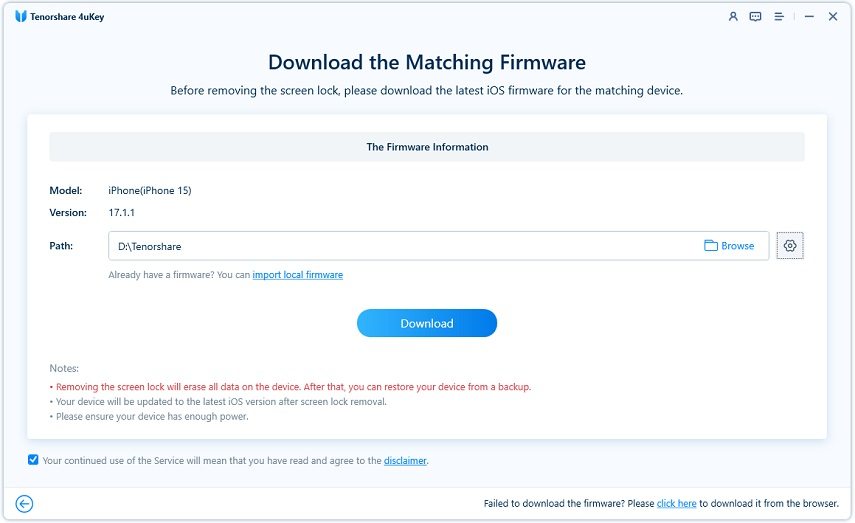 Step 3 Once the download is over, press the 'Start Unlock' button and then the password gets removed.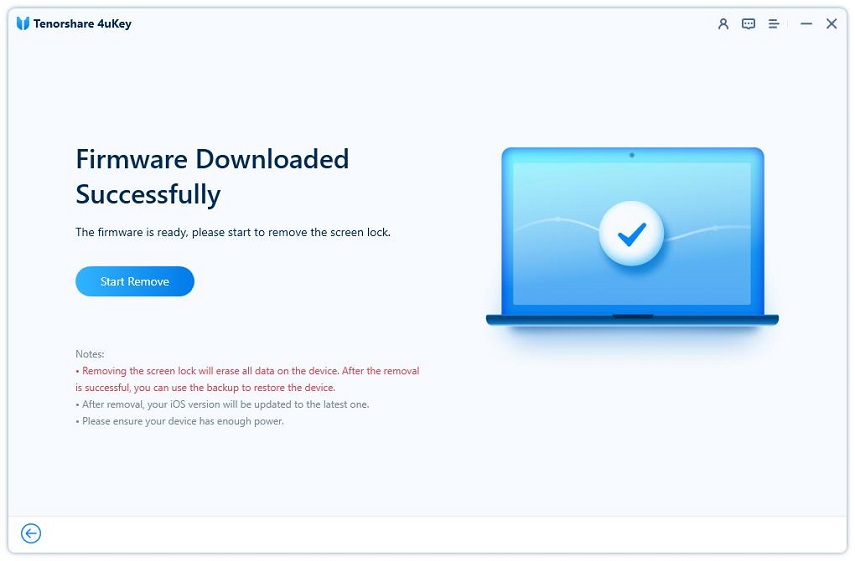 Step 4 Now, you have to reset the iPhone as well as the passcodes and restore it using iTunes or iCloud backup.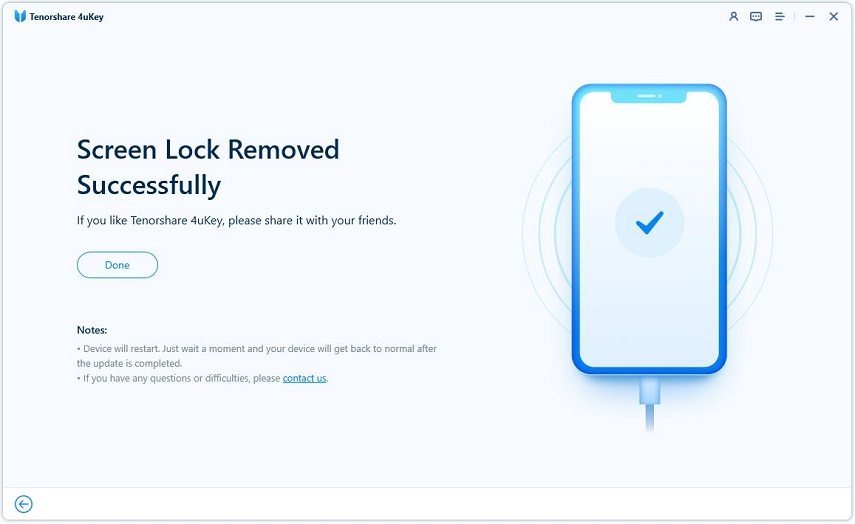 Conclusion
We made you aware about how to unlock the iCloud locked iPhone in different ways. However, among the three aforementioned ways, using Tenorshare 4uKey seems to be the most convenient. Being a feature-rich and reliable tool, one can get a smooth experience while working with it. Hope you enjoyed reading this post and got your doubts cleared.