How to Download Photos from iCloud to PC
by Anna Sherry Updated on 2019-07-25 / Update for iCloud
Let's say you have a photo on iCloud, and you want to download that photo to your PC. It sounds simple, right? Yes, but it is not as simple as you can expect. Luckily for you, we will show you a step by step guide how to download photos from iCloud to PC. It is one of the most common questions regarding using iCloud and iCloud Photo Library. We have the best and single most direct method for you to download iCloud photos to PC, since that is what you are looking for. No matter whether you want to download a single photo, or download all photos from iCloud to PC, you can do it with this method.
Part 1: How to Download Photos from iCloud to PC Via iCloud Photos
New photos and videos you add to the iCloud Photo Library will automatically download to your Windows PC. If you want to download a collection by year, follow these steps:
1. Install and setup the iCloud sync software on your Windows PC. Download iCloud for Windows from Apple by clicking on this link (https://support.apple.com/en-ca/HT204283). After you've installed the application, login with your Apple ID.
2. Go to the File Explorer, and locate and choose "iCloud Photos". Choose the option "Download photos and videos" in the file explorer navigation bar.
3. You can select photos you want to download by date of pictures taken. Select the date or years of pictures you want to download photos of. If you like to get all pictures, choose all years.
4. iCloud will download all of your photos to a default directory, which is \Pictures\iCloud Pictures\Downloads\. Go to the directory to see your photos.
If you want to customize the location of your download folders, choose to use My Photo Stream and iCloud Photo Sharing. When you turn on the iCloud Photo Library on your PC, my Photo Stream is turned off automatically. You can turn on My Photo Stream back on when you want to send new photos to your devices that do not have or use iCloud Photo Library.
Part 2: How to Download All Pictures from iCloud Backup to PC with UltData
UltData is one of those alternative applications you can use to download photos from iCloud to PC. One of the biggest advantages of UltData vs. iCloud is that you can preview files before downloading. And you can choose which photos you want to download, another option that is not available when you try to download photos using iCloud Photo Library. Before you start, you need to ensure that your data is backed up to iCloud, and your computer is connected to the Internet.
Step 1 - Select Recovery Mode
Start the application, and switch to "Recover from iCloud backup file". Sign into your iCloud account, using one of the two options: log in using Apple ID account.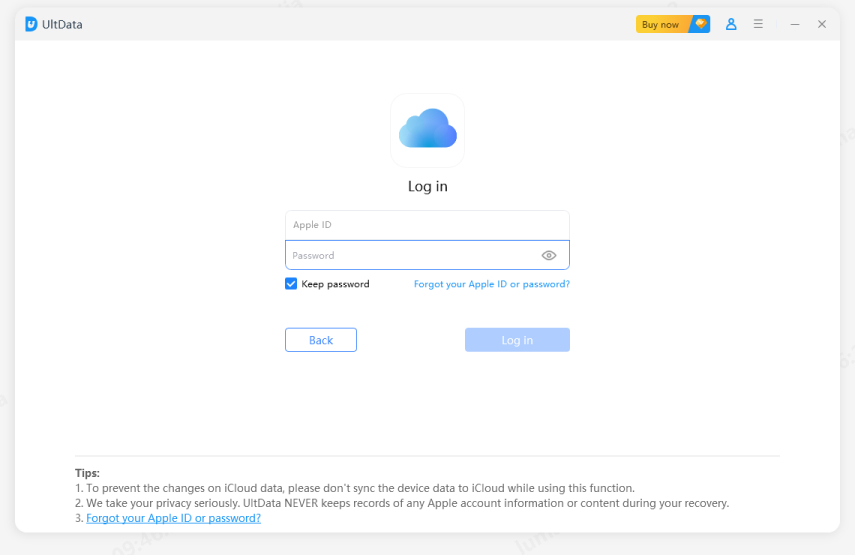 Step 2 – Choose specific iCloud backup
SOnce you are logged into your iCloud account, all of the backups that are associated with your Apple ID will be listed. Check the details of each backup file, including name, date, version, and size. After that, choose the backup you want to use to download photos (the one that contains the data you need). Click on "Next".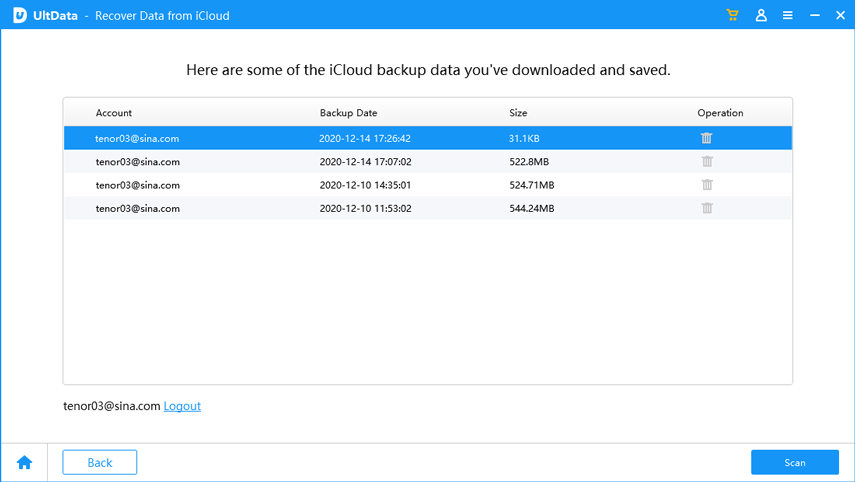 Step 3 - Select the photos you want to download
At this step, you will be asked to select file types you want to download. Options include photos and videos, message and call log, memos and others. Since we are downloading photos, click the first one. Click on "Next" to start the downloading process.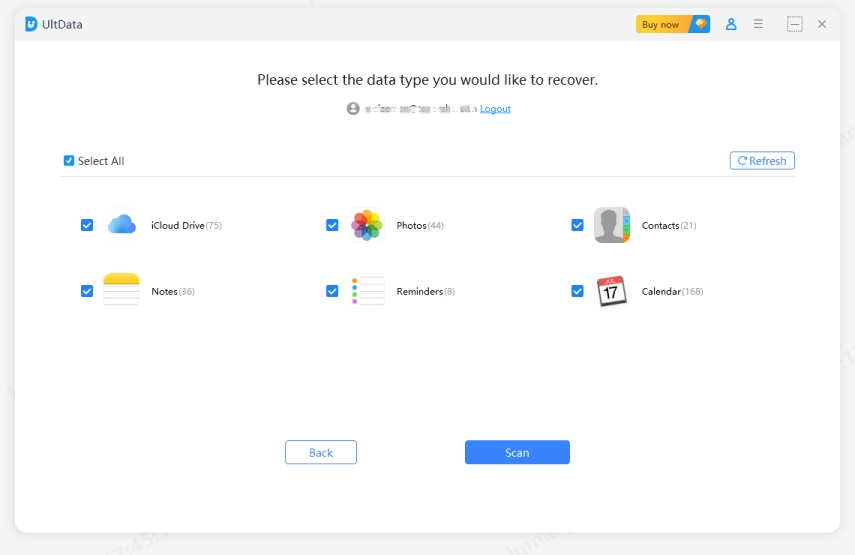 Step 4 - Download the Files
Depending on the size of the photos, and your internet speed, the download process can take between seconds and minutes. Once the downloading process finishes, the application will automatically scan data from these file types, and you can preview the items.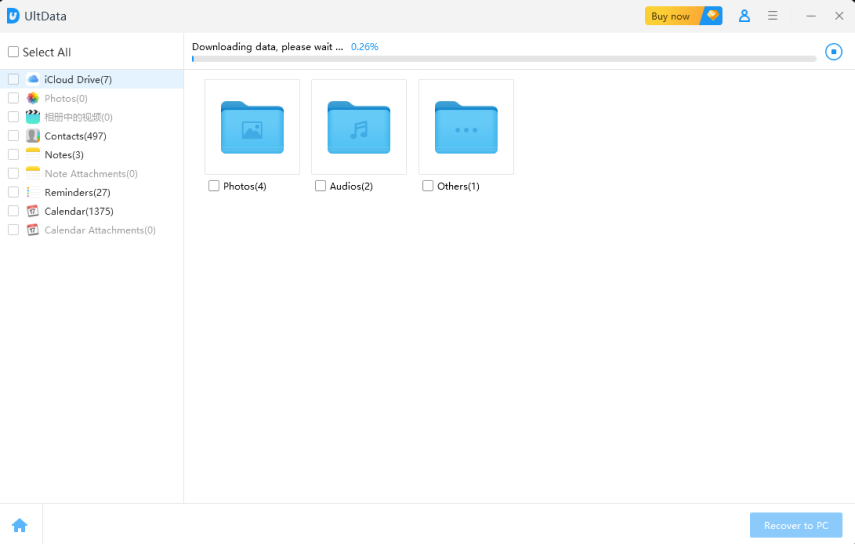 Step 5 – Preview Photos
This step is the crucial difference between iCloud Photo Library and UltData. The former does not allow you to preview pictures before downloading. UltData, on the other hand, allows you to preview the photos on iCloud that you want to download. Click on a category on the left, and expand the detailed items. Results contain existing and deleted info from your backup. You can choose to "show only deleted", "show all", or "show existing".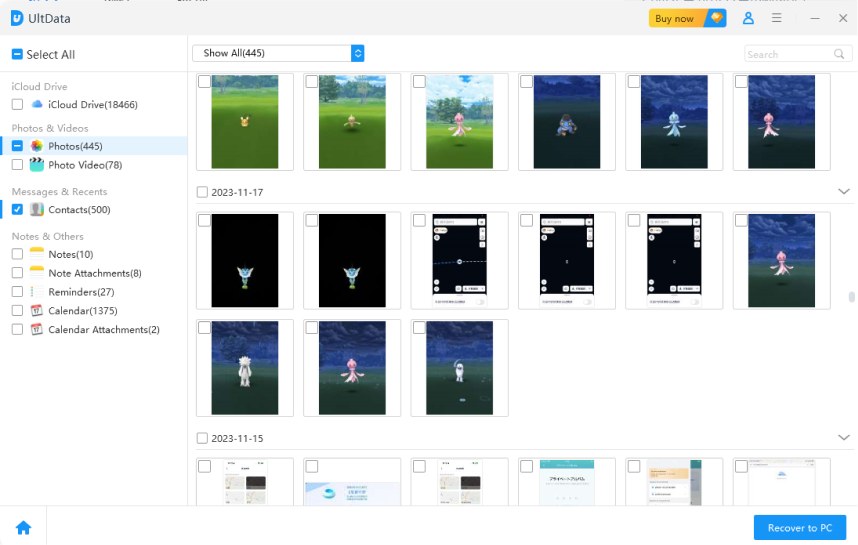 Step 6 – Recover the photos from iCloud
Pick up all of the items you want to restore to your PC and click on Recover button. You can select only desired items, another difference with iCloud. If you remember, iCloud downloads all photos, and you cannot exclude certain from the process. You can even click on Output Setting, a button located in the top right corner to select the formats for different files.
Why Look for an iCloud Alternative to Backup your Photos?
The iCloud storage cost cannot compare to Google Photos App, for example, which lets you save an endless number of photos, and offers 15GB of free storage space.
You cannot exclude certain photos from syncing. Some photos you just prefer to stay offline, whether it is because of personal or professional reasons. However, the problem is iCloud photo library is all-or-nothing application.
iCloud is tied to Photos for iOS and Photos for Mac. Therefore, it has flaws tied to those applications. For example, Photos for Mac does not support external image editors like Photoshop.
So we suggest you try a free backup software without storage space limitation - iCareFone. It's not just a free backup tool, but also can import, export, delete, add or even de-duplicate multiple files in one click, learn more kindly please click here.