Tenorshare Tenorshare iCareFone (iPhone Care Pro), the reputable iPhone system tune up software, is an all-in-one toolkit for iOS devices, including iPhone SE/6s (Plus)/6 (Plus)/5s/5/4s, iPad Air 2/mini 3/Air and iPod touch.
Six functions are equipped in Tenorshare iCareFone, they are "Speedup & Clean", "Files Manager", "Backup & Restore", "Ads Remove", "Fix iOS Stuck", and "Repair Operating System". Followings are the detailed guide to this magical iOS optimizer.
Note: iTunes should be installed in your Mac beforehand.
How to Use Tenorshare iCareFone for Mac (iPhone Care Pro for Mac) to Optimize iPhone/iPad/ iPod
From the very beginning, you need to download and install it to your Mac, then launch it and connect your iPhone/iPad/iPod touch to Mac to get detected. If "Trust this Computer" message pops up in your iOS device, please click Trust option. The main interface of Tenorshare iCareFone as follows.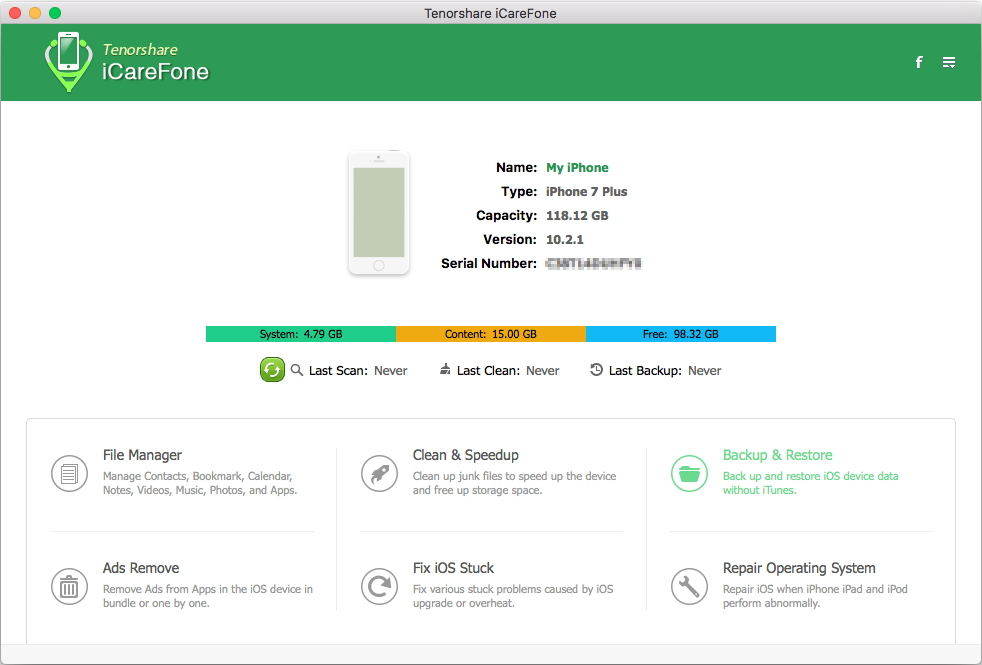 Function 1. Fix iOS Stuck
This function aims to fix various kinds of iOS stuck issues like iPhone/iPad stuck on Apple logo, app crash, endless reboot loop, recovery mode stuck, DFU mode, etc. With this program, you can easily and safely enter/exit Recovery mode and DFU mode without any data loss.
Put iPhone/iPad/iPod into Recovery Mode
In some cases when iPhone gets stuck in a continuous restart loop at the time installing an iOS update, or your device is no longer recognized in iTunes after an update or restore did not complete, you need to put iOS Device into Recovery Mode. Tenorshare iCareFone makes it easy to enter recovery mode.
Step 1. After launching Tenorshare iCareFone for Mac, you need to connect your iPhone, iPad or iPod to Mac via USB cable. Then select "Fix iOS Stuck".
Step 2. Click "Enter Recovery Mode". After that, you will see iTunes logo on your iDevice, which means you have entered Recovery mode successfully.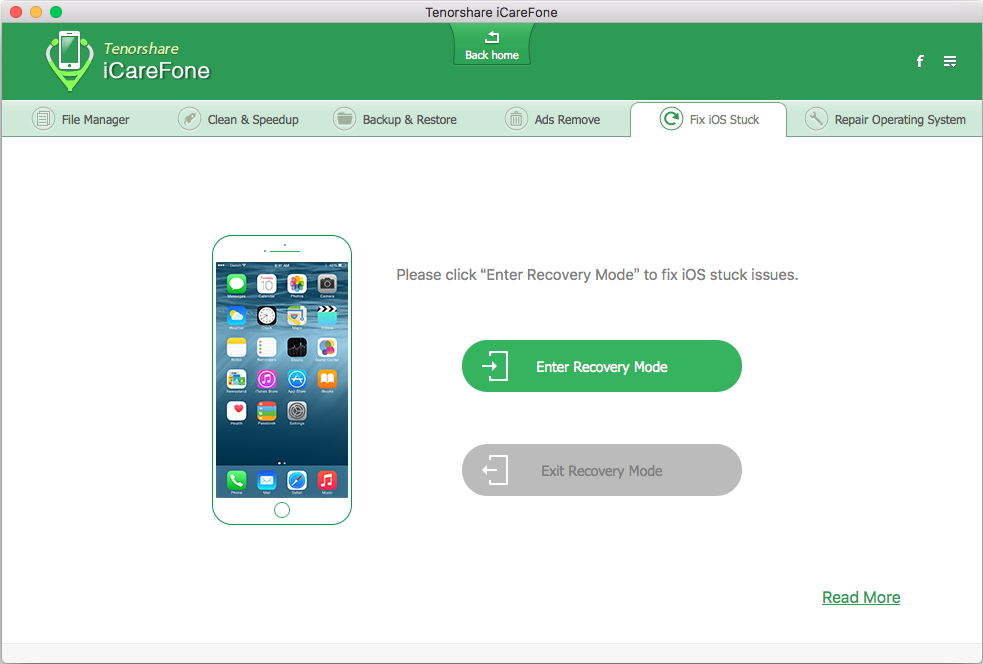 Tips: If your device acts abnormally such as black screen, boot loop, etc., and Tenorshare iCareFone cannot detect it even you already connect it to computer with USB cable, please manually put it into recovery mode.
Get iPhone/iPad/iPod Out of Recovery Mode
iPhone/iPad/iPod gets stuck in recovery mode and can't exit? Tenorshare iCareFone for Mac helps you exit recovery mode with one click.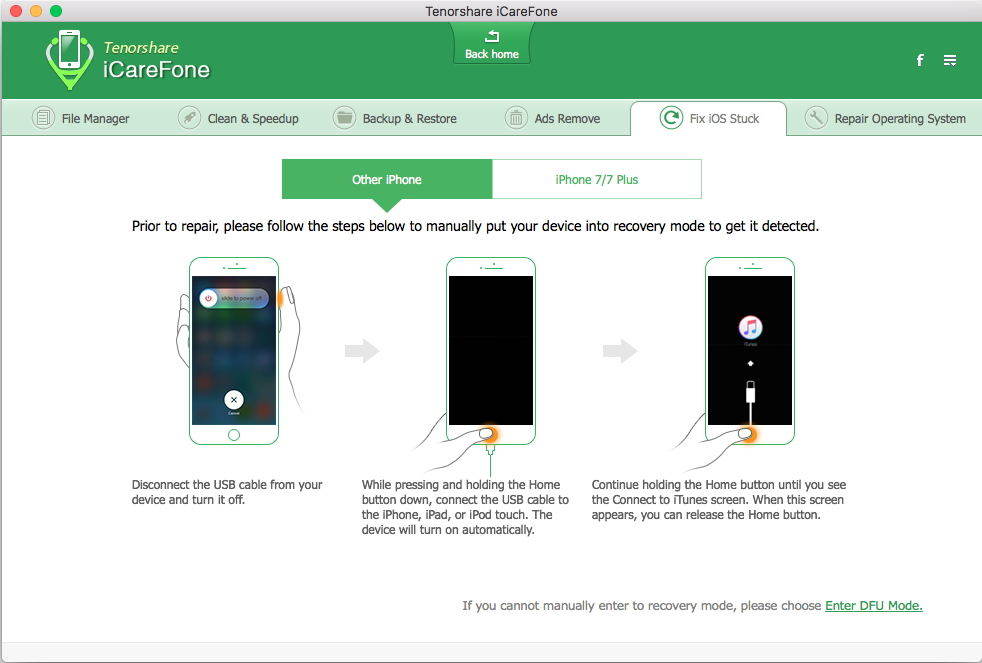 Step 1. Launch Tenorshare iCareFone for Mac and connect your iOS device with your Mac. Then select "Fix iOS Stuck" feature.
Step 2. Click "Exit Recovery Mode", and then your device will boot up normally.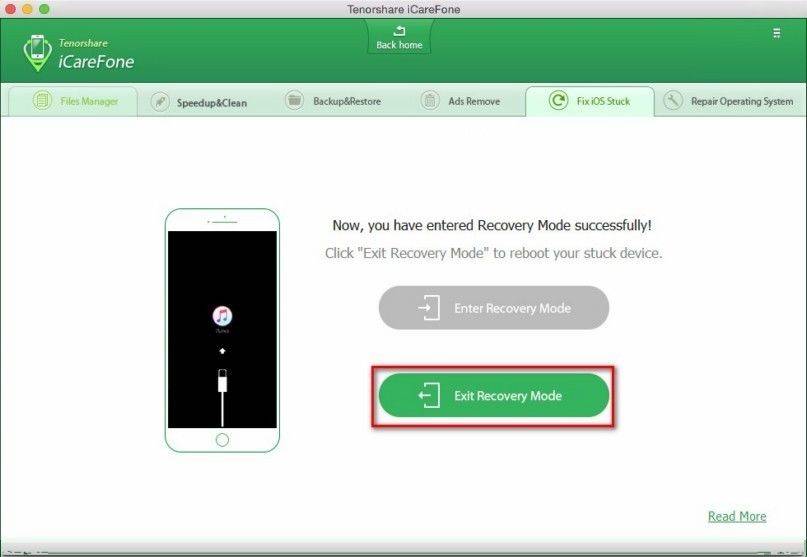 Enter/Exit DFU Mode
In some cases your iPhone/iPad cannot be detected by Tenorshare iCareFone even if you connect to computer with USB cable. Usually this is because your iPhone has something wrong and cannot work as normal. In this case, try to put it into DFU mode first, and then exit DFU mode to forcibly reboot it.
Steps to Put iOS device into DFU Mode
When the device is not detected by Tenorshare iCareFone, you can firstly try to manually put it into recovery mode to get it detected. If this still does not help, please click Enter DFU Mode to get the steps to enter DFU mode.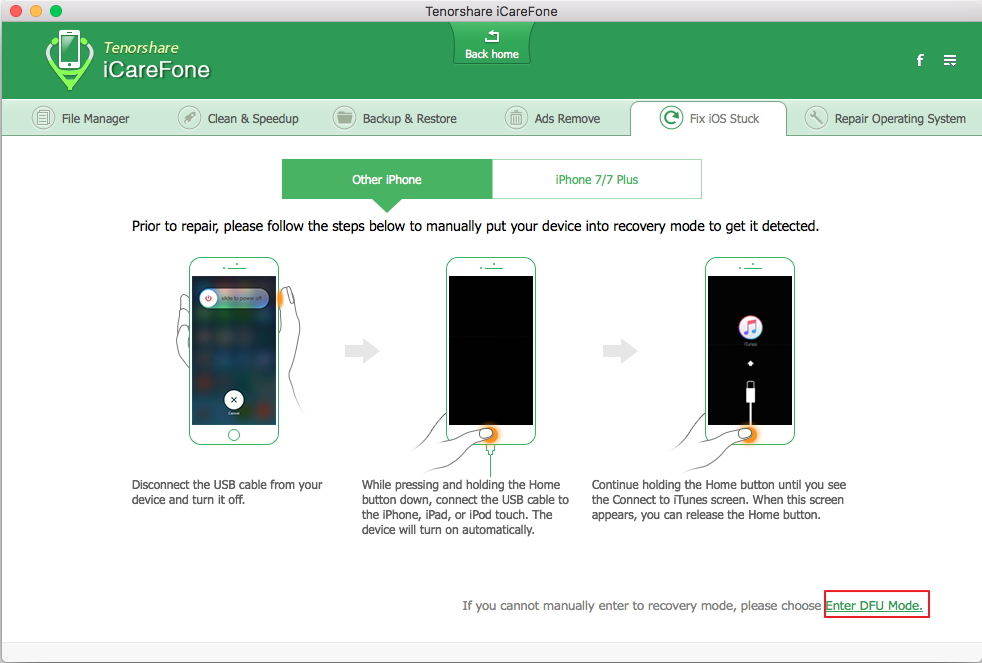 Follow the three steps as Tenorshare iCareFone shows to put your device into DFU mode.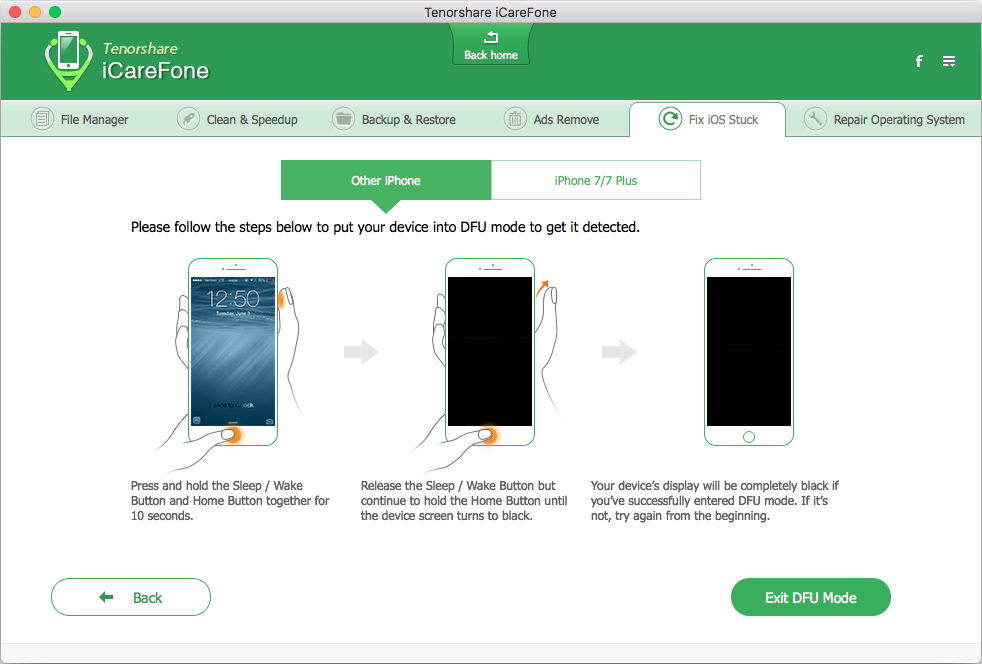 Steps to Exit DFU Mode
Click Exit DFU Mode when you have entered your iOS device into DFU mode successfully.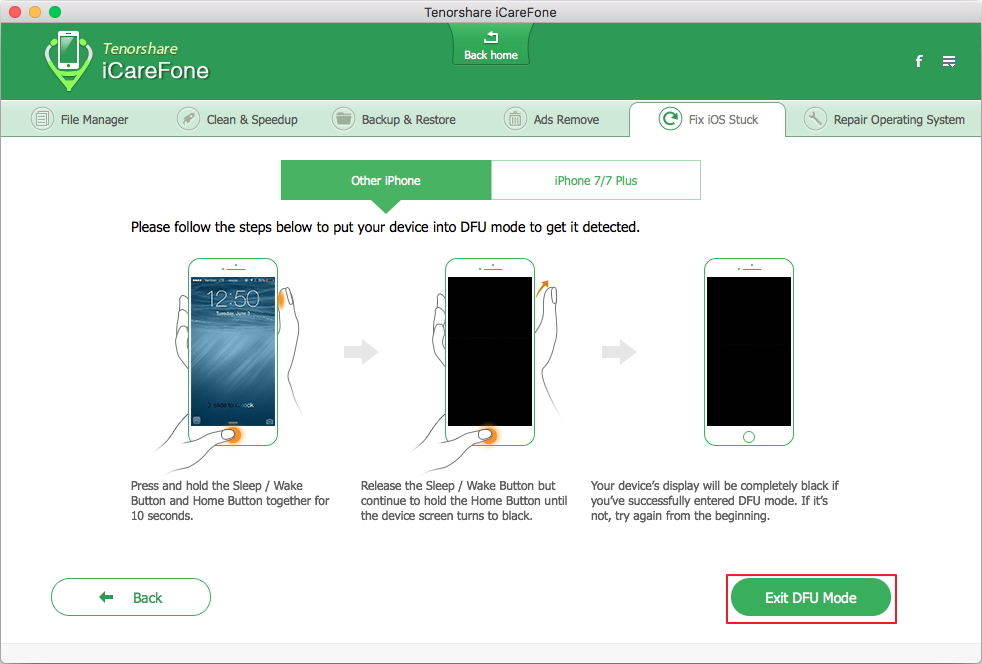 Follow the steps to exit iPhone/iPad/iPod touch out of DFU mode.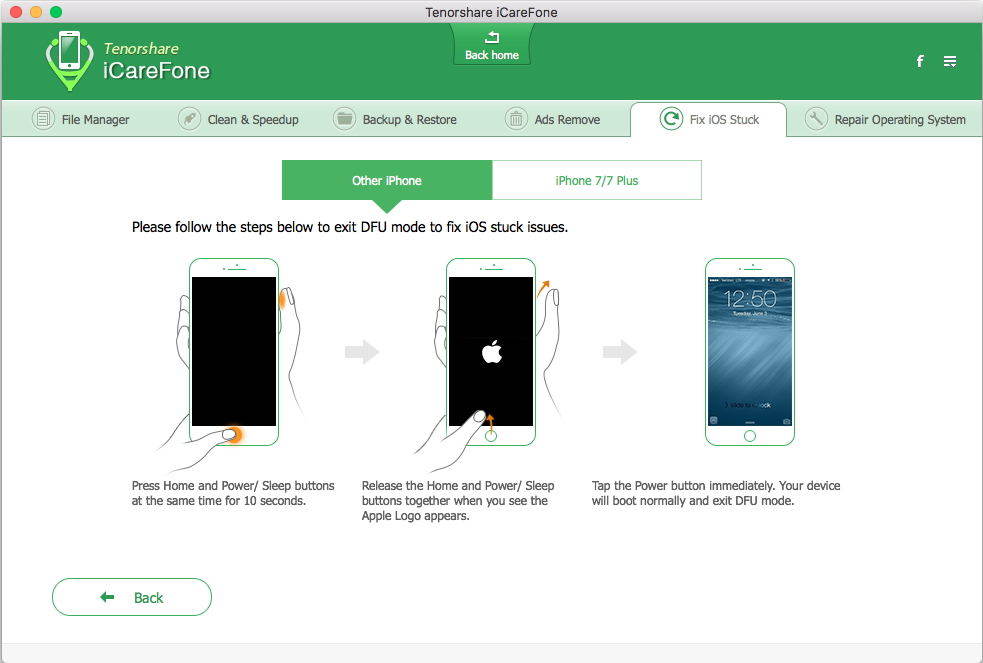 That is it. Most of the common iOS stuck issues can be fixed thought entering and exiting DFU mode.
Function 2. Repair Operating System
Tenorshare iCareFone for Mac also provides an ultimate solution to fix iOS problems like iOS crashes, severe iOS damage and all other operating system stuck issues that can't be fixed with Recovery Mode.
Step1. Connect Your iOS Device and Select "Repair Operating System".
Connect your iOS device (iPhone/iPad/iPod touch) to your Mac with a USB cable. Launch Tenorshare iCareFone on your Mac computer and turn to the section "Repair Operating System" in the main interface.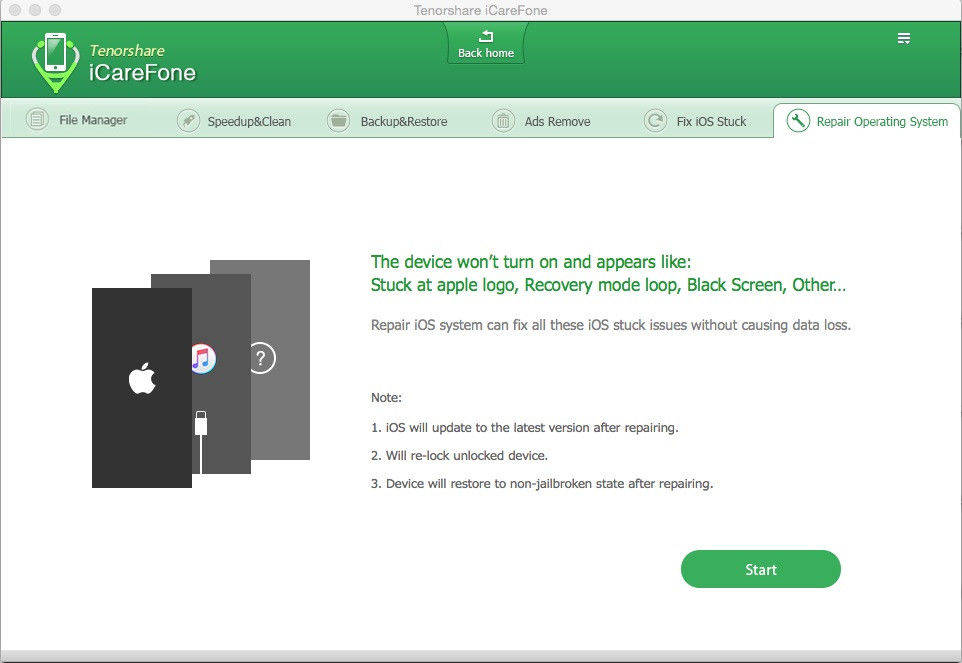 If your device cannot be detected by Tenorshare iCareFone, the software will automatically remind you to put it into recovery mode manually in three steps. Or you should put your iDevice into DFU mode to get it detected by our software.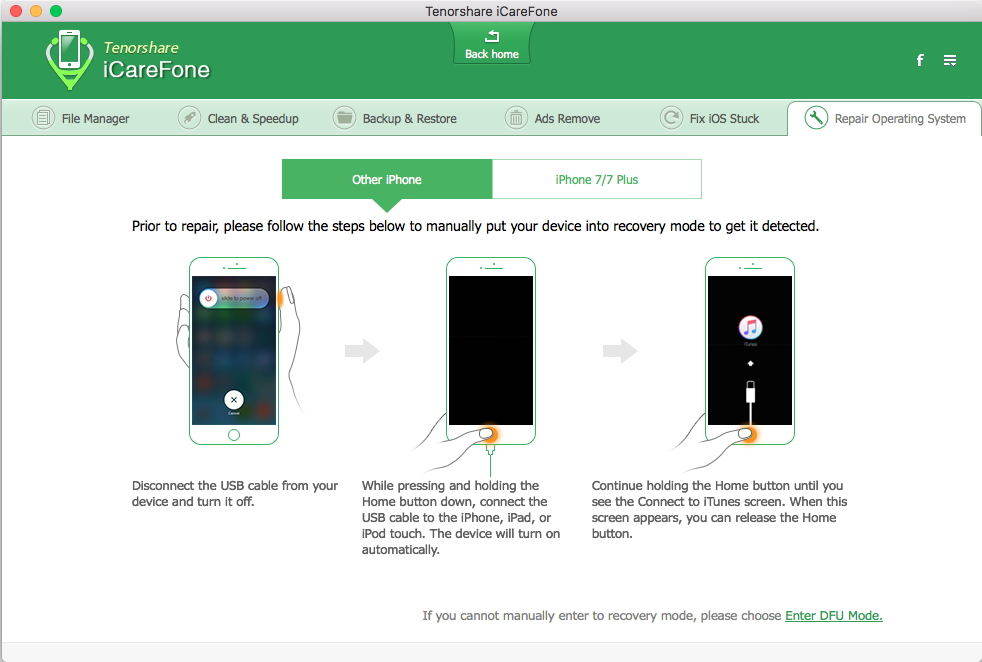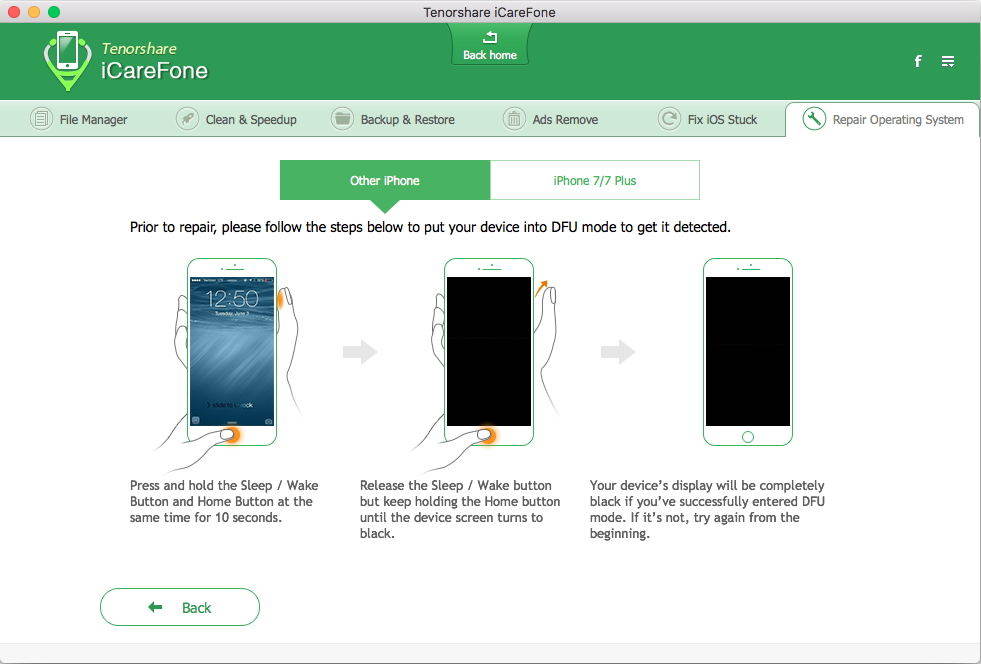 If your iOS system is functioning properly (easily detected by the Tenorshare iCareFone), and you just want to optimize it for better experience, Click "Start" to continue.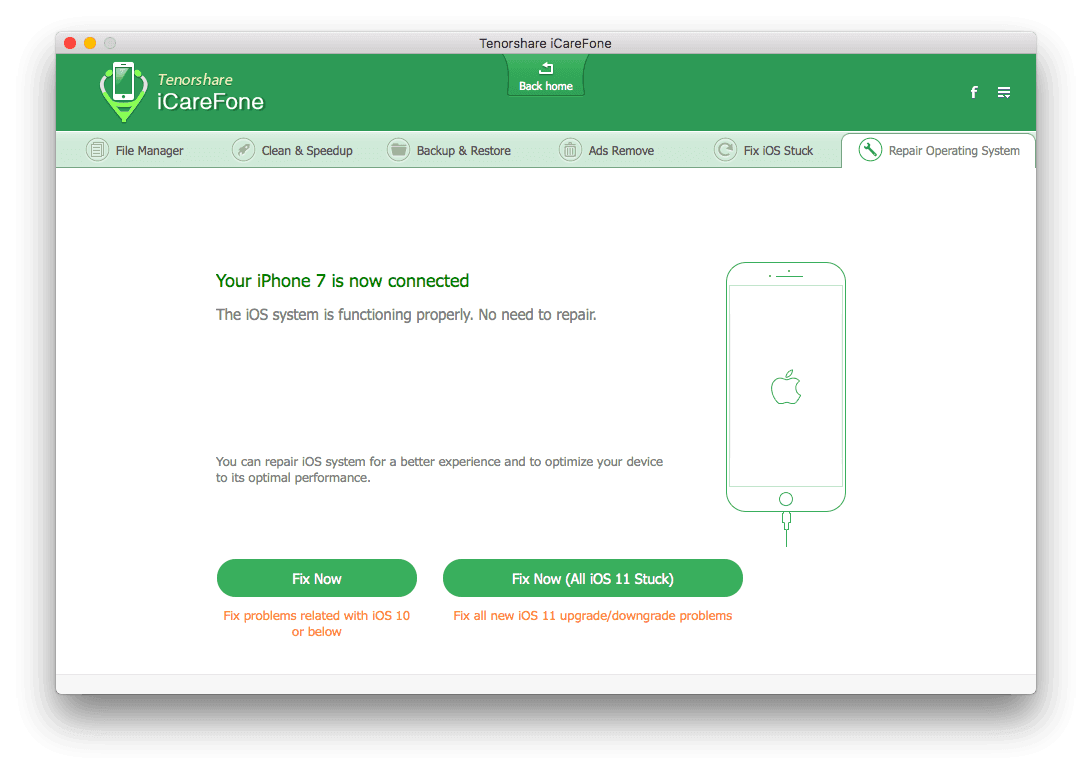 Step2. Download Firmware Online or Import Firmware Package Manually
Once your iDevice is successfully detected, you will be asked to download firmware to repair your system, from which you can download the firmware package online or import it manually.
Download Firmware Package Online:
Choose a path to save the firmware, and then click "Download" to download the Firmware Package online (about ten minutes), and then the software would check the firmware for you in compatibility.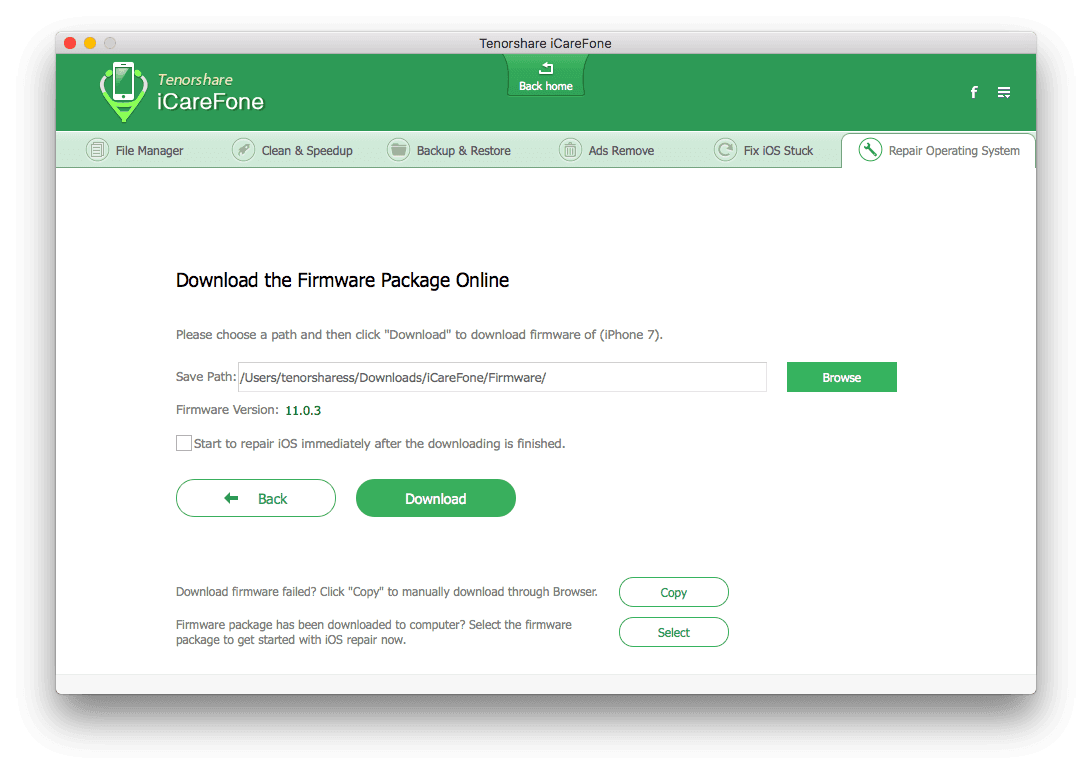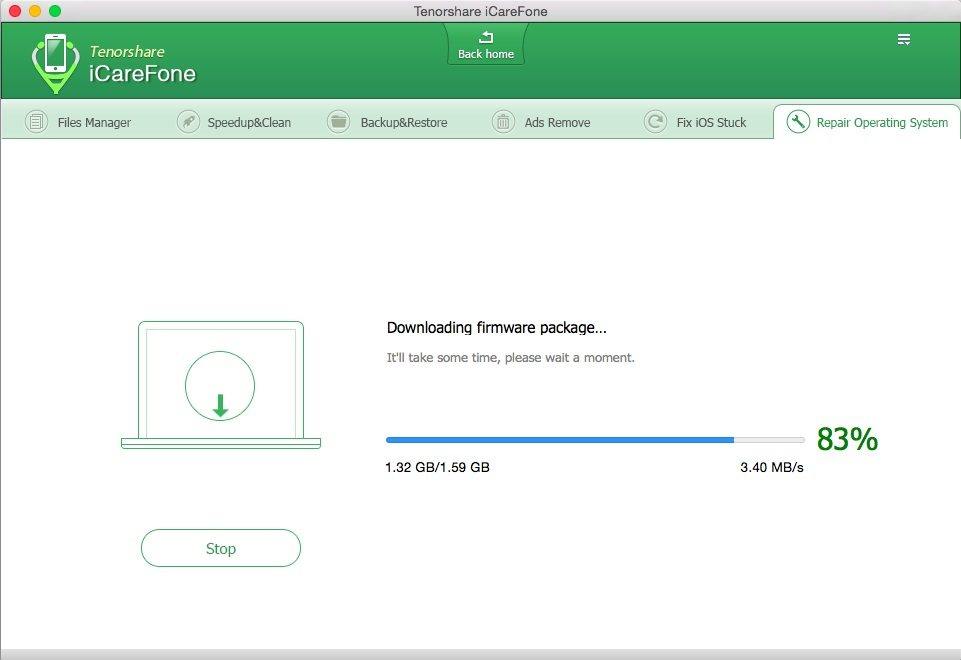 Tips: 1.You can tick "Start to repair iOS immediately after the downloading finished." to start the system repairing immediately once the firmware is downloaded.
2.If the download process failed, please turn to "Copy" underneath to manually download through Brower.
Import Firmware Package Manually:
If you have downloaded the firmware package in your Mac, then select the one to repair your iOS by choosing "Select" in the lower part of the interface.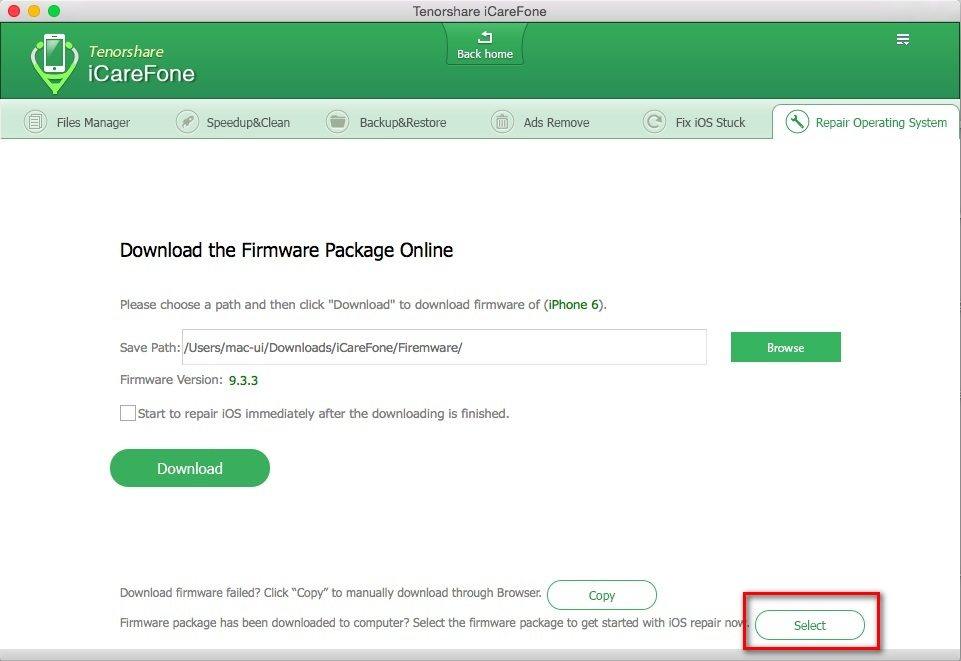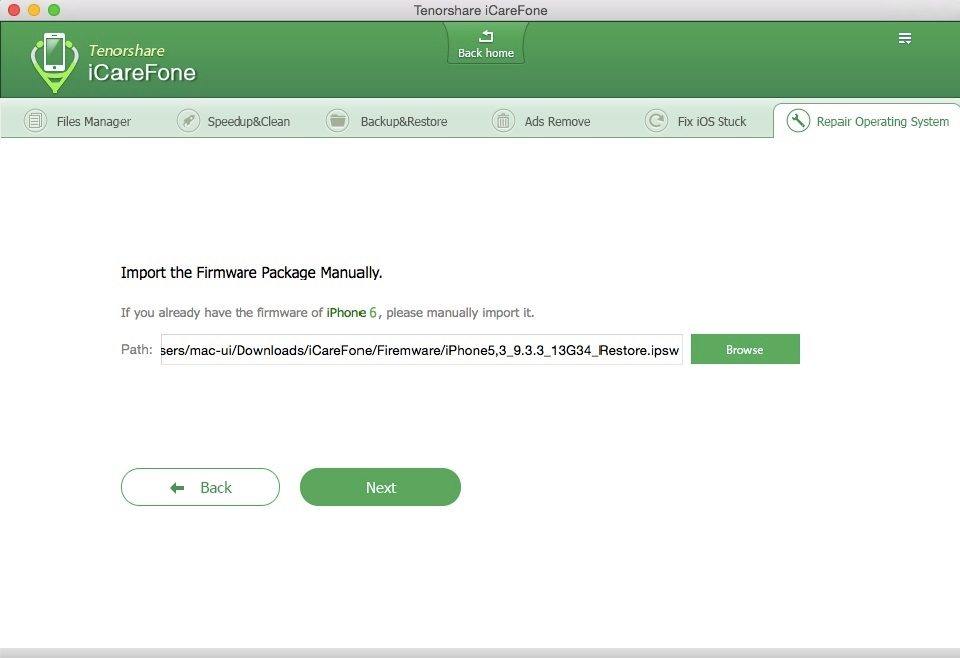 Step3. Start System Repair
Then it is time to select repair mode, which contains Standard Repair (Recommended) and Deep Repair. The Standard Repair would repair iOS without any data loss, while the Deep Repair would repair your system thoroughly but bring your iPhone back to factory setting. Click "Start" to proceed when you have selected a repair mode.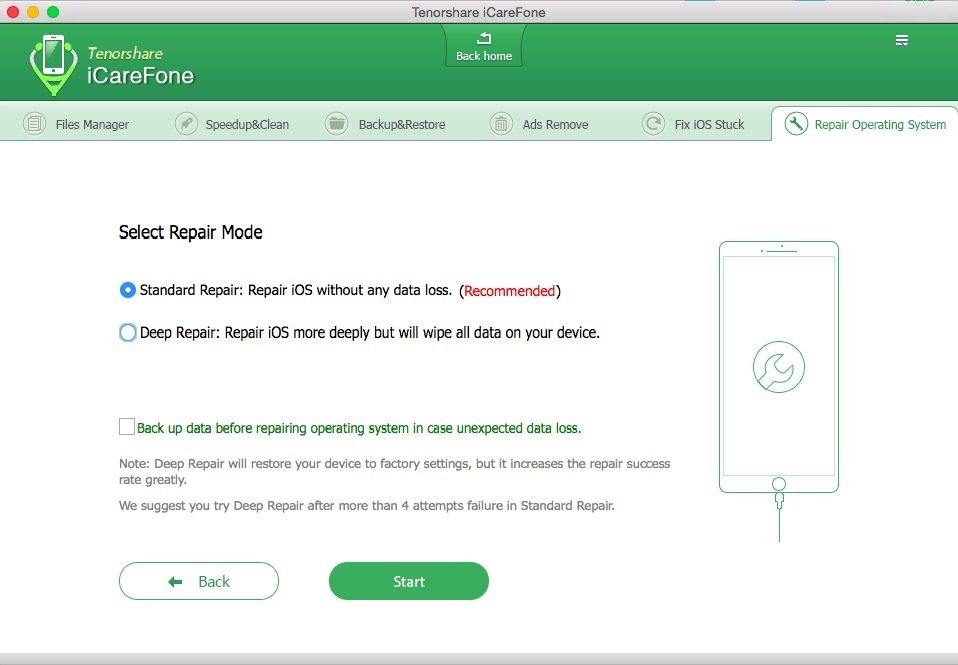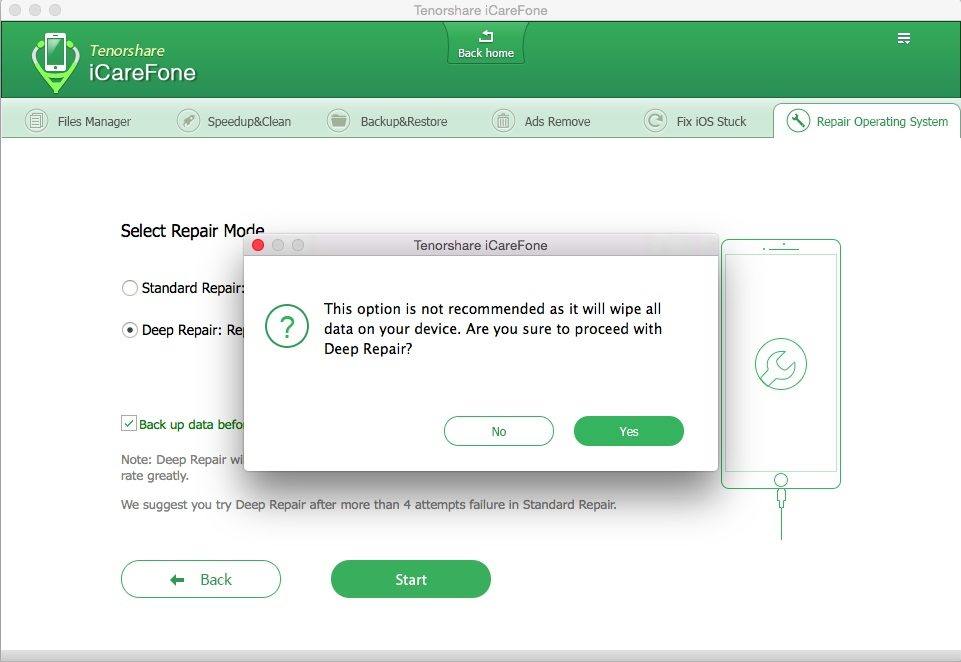 Tips: 1. If you have clicked "Start to repair iOS immediately after the downloading is finished" in Step2, the system would repair iOS system for you without pause.
2. You can tick "Back up data before repairing operating system in case unexpected data loss", to secure your information.
Step4. Repair Operating System Successfully.
Your iPhone is under repair now, during which you should keep your device being connected to avoid any stuck, also no operation is allowed.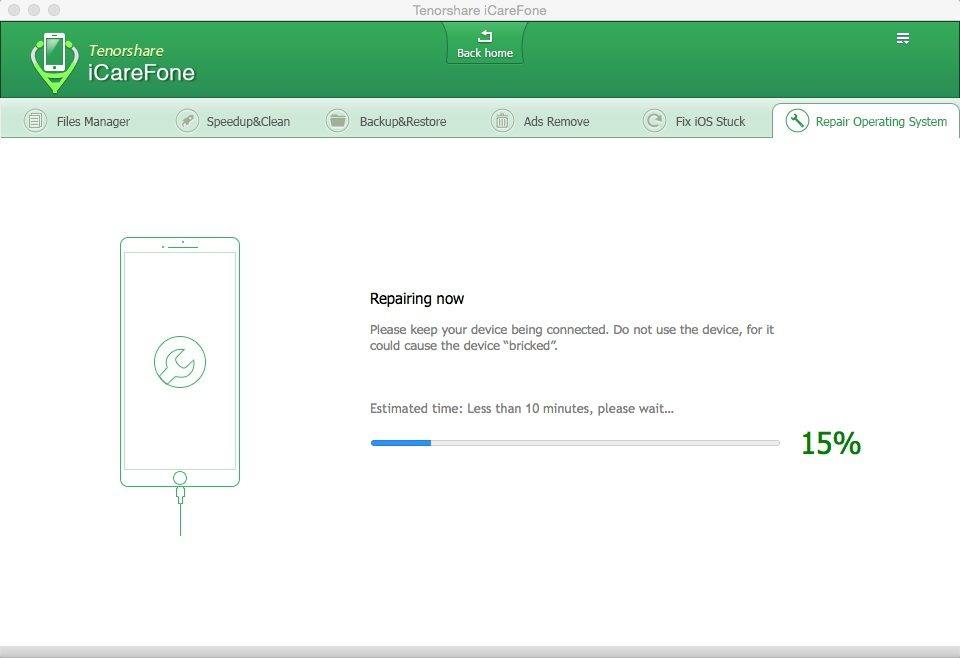 Now the repair to your operating system is done successfully. If it still does not work properly, please import firmware package again and get into Standard Repair for at least 3 times. If it still does not help, you can turn to Deep Repair.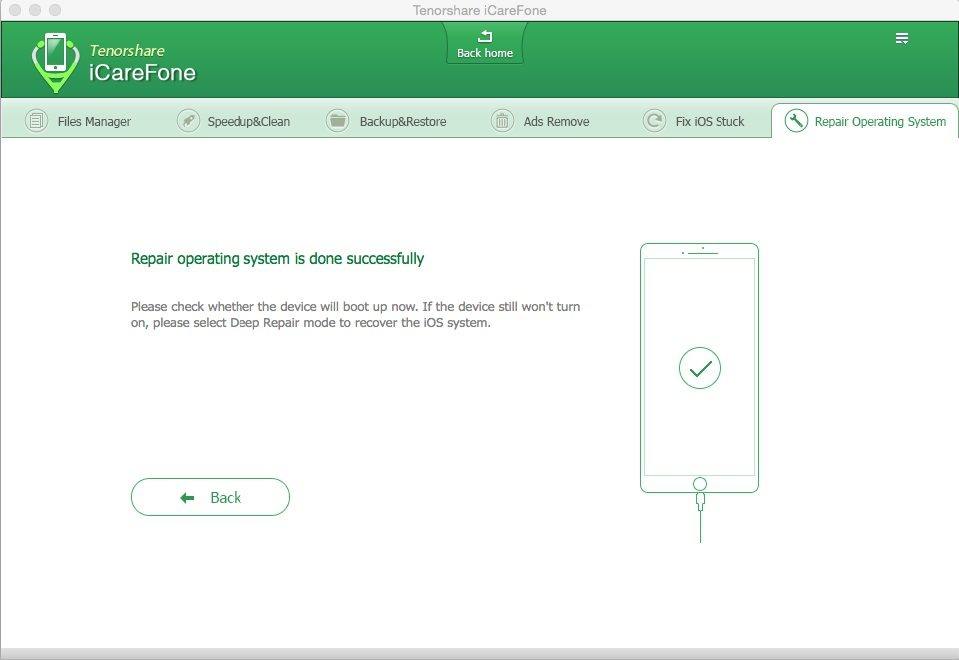 Function 3. Clean and Speed up Your iPhone, iPad and iPod
The most charming function of this software is that it can clean and speed up iPhone, iPad and iPod so that these devices perform excellently and get more free space.
Step1. Choose "Speedup & Clean" function on the main interface to get in, and click "Quick Scan" to start a check up for your iDevice.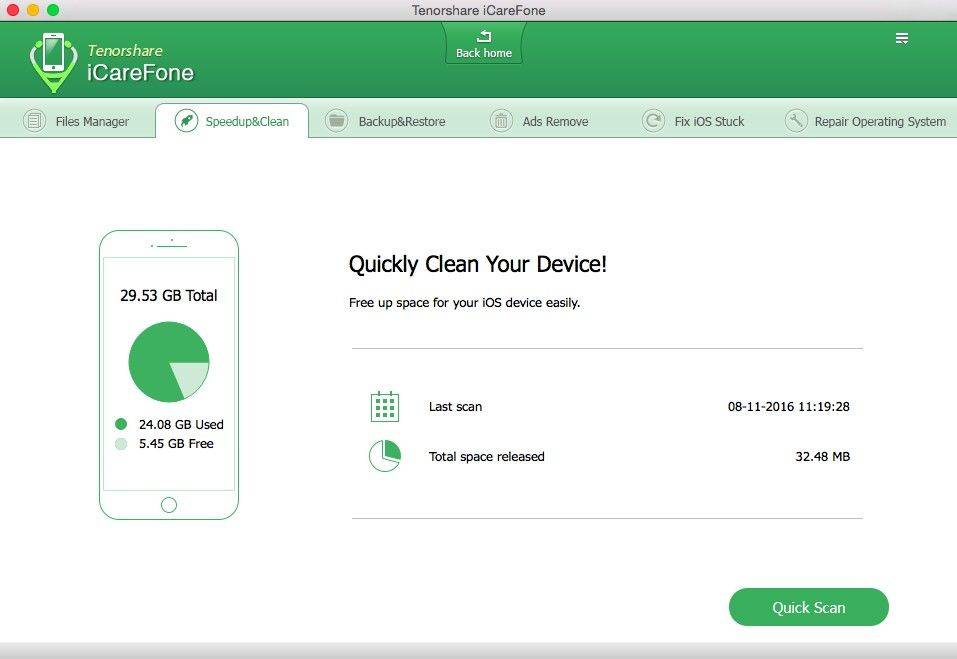 Step2. After scanning, you can see the space to be reclaimed, including the overall space and also the space to be cleaned from Junk Files, Temporary Files, Photos, Large Files and Apps.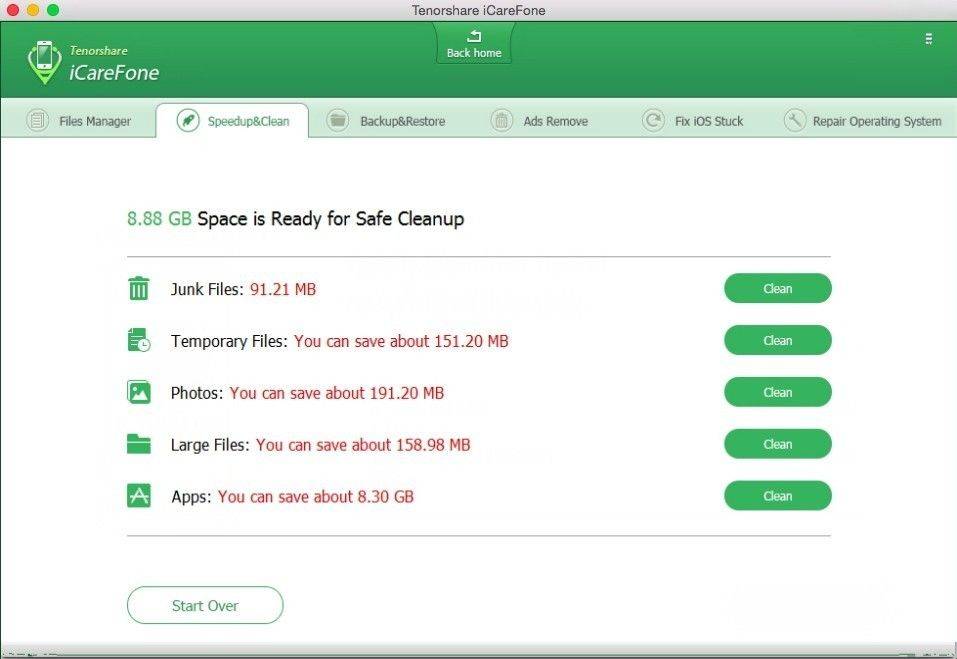 Part1. Remove Junk Files
Tenorshare iCareFone is able to clean up to 30 kinds of junk files in your iOS, such as cookies, cashes, crash logs and residual files. To erase Junk Files, click "Clean" on the right of the item "Junk Files", then Tenorshare iCareFone would clean up the space for you.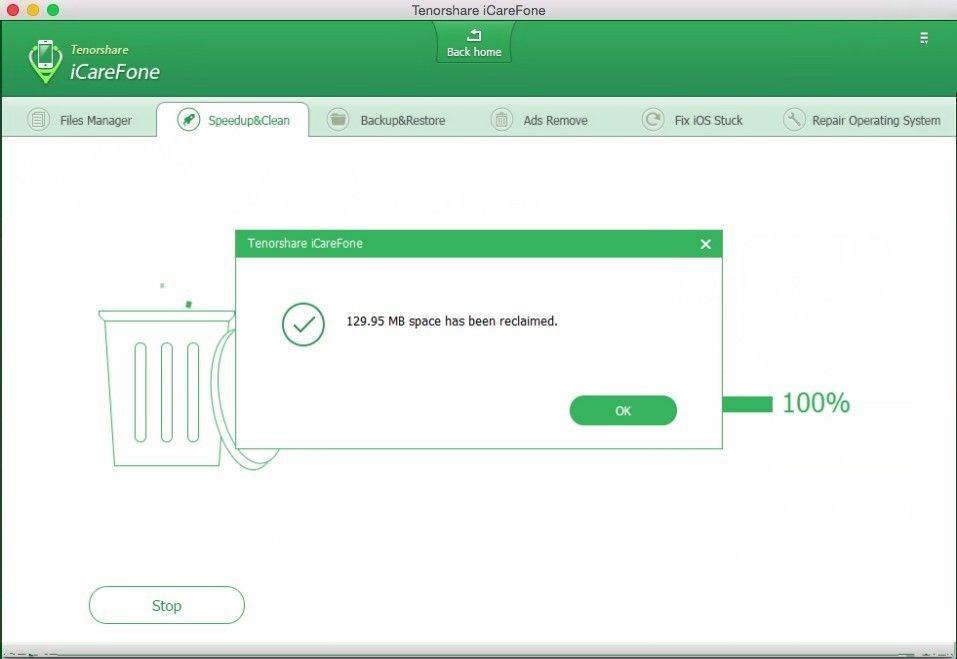 Part2. Remove Temporary Files
No worry to your overloaded temp files! Tenorshare iCareFone offers you one-click to free them up. When you enter the page in Step 2 above, click the "Clean" next to "Temporary Files" and you can remove temp files easily.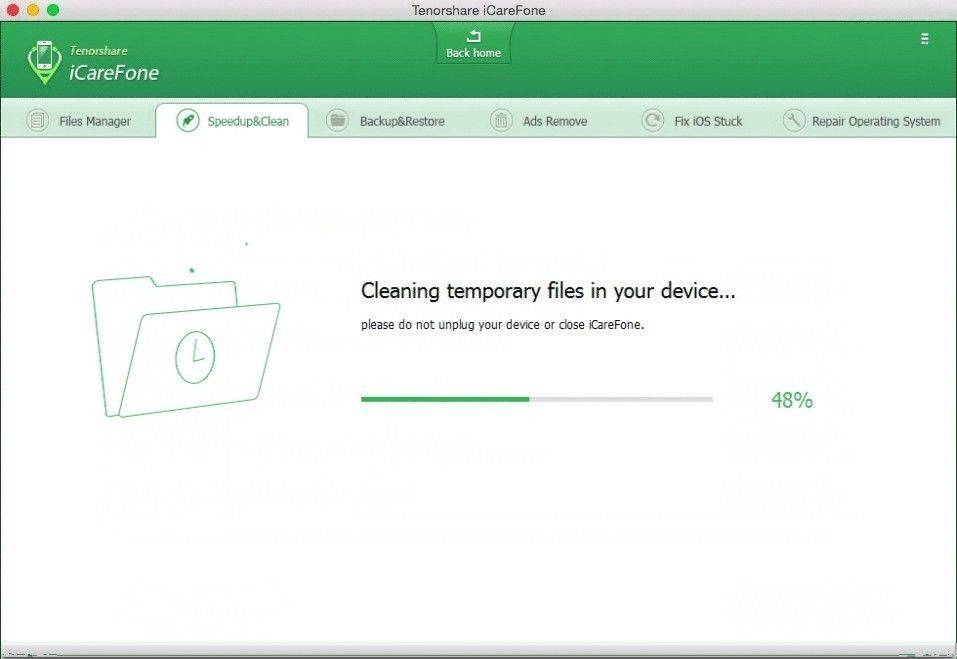 Part3. Backup and Compress Photos Without Quality Loss
For Photos, click "Clean" to get in the "Photos" category and there is a distinct feature designed for iOS users that you can Compress or Delete photo files to release the storage. The lossless compress would free up about 75% of your camera's photo storage without any harm to pictures, while photo deletion would free up your storage space too. Before Compression and Deletion to your photos, Tenorshare iCareFone would backup your photo files for you at the same time.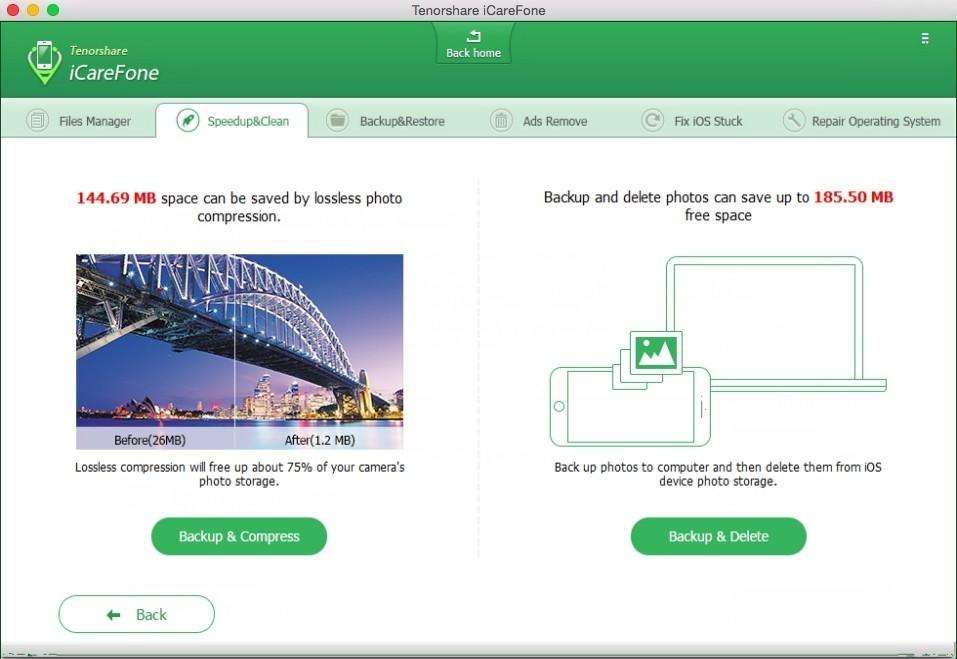 About Backup & Compress
It would firstly backup your original photos in your iDevice to a specified folder on computer, and then compress it for you without any data loss. It can significantly reduce image size and thus free up more storage.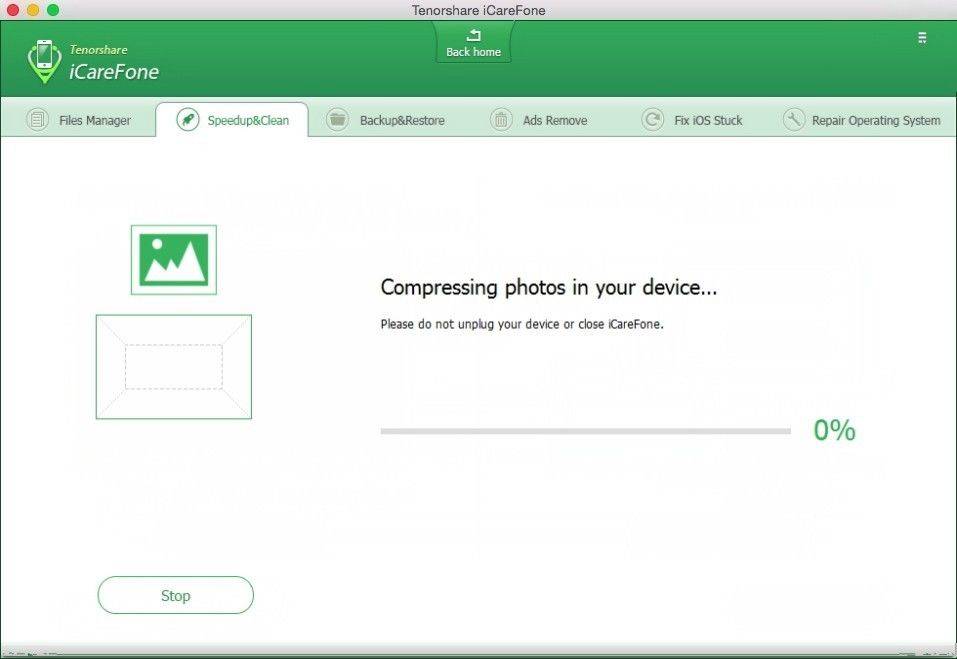 The time you finish the compression, you can check out the overall space released. To look for the original photos, go for "Open Backup Folder".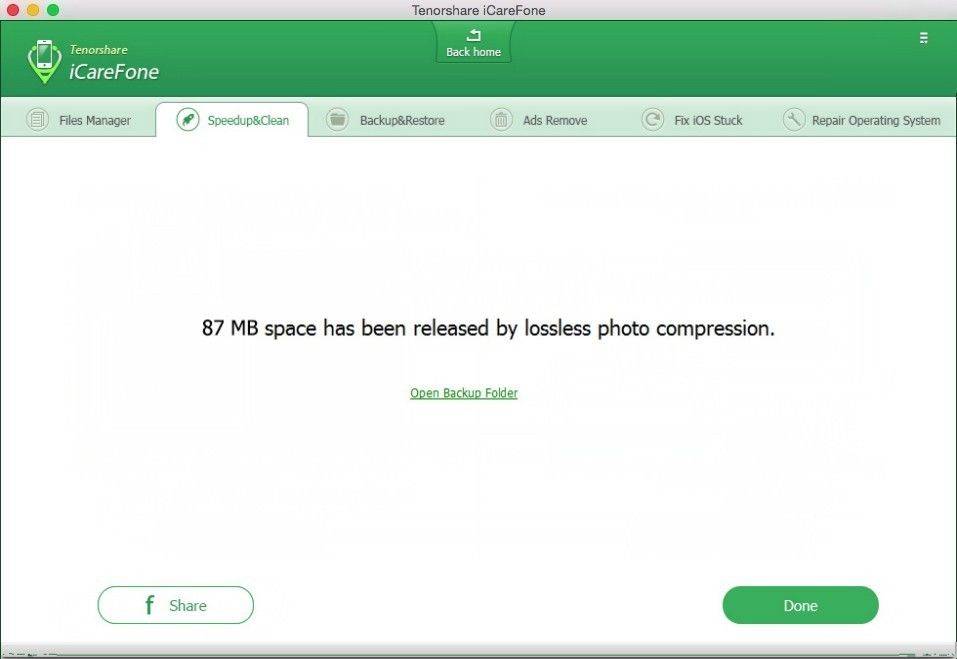 About Backup & Delete
This utility would allow you to specify the unwanted photos, back them up to local computer and get it deleted to release storage.
Click "Backup & Delete", then pick up the photos to back up in the pop-up windows, click "Start" button to proceed.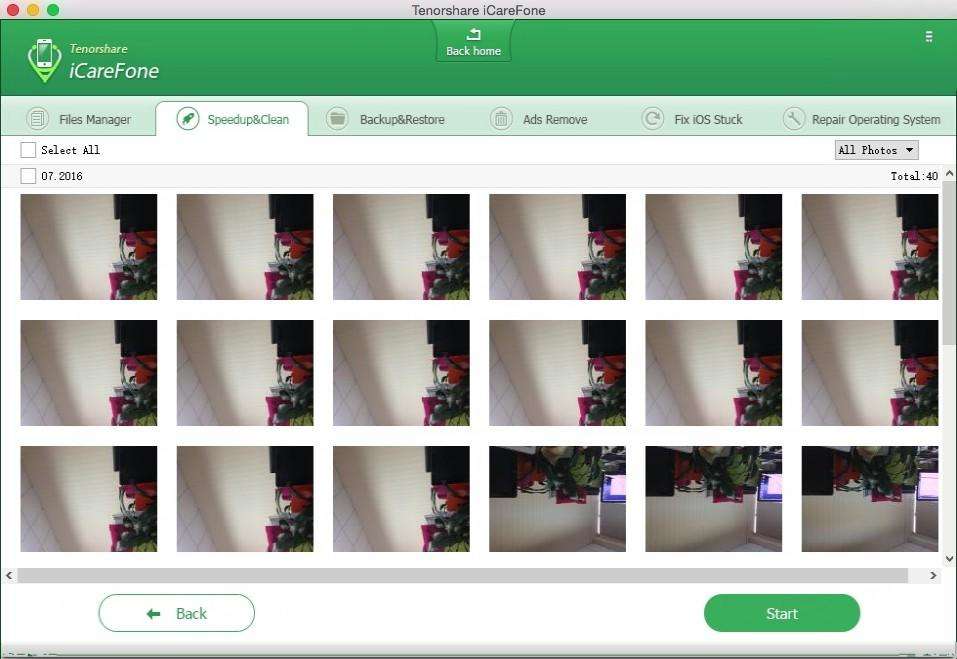 Confirm your choice before the process starts.

Once the confirmation done, Tenorshare iCareFone would start to delete the selected photos.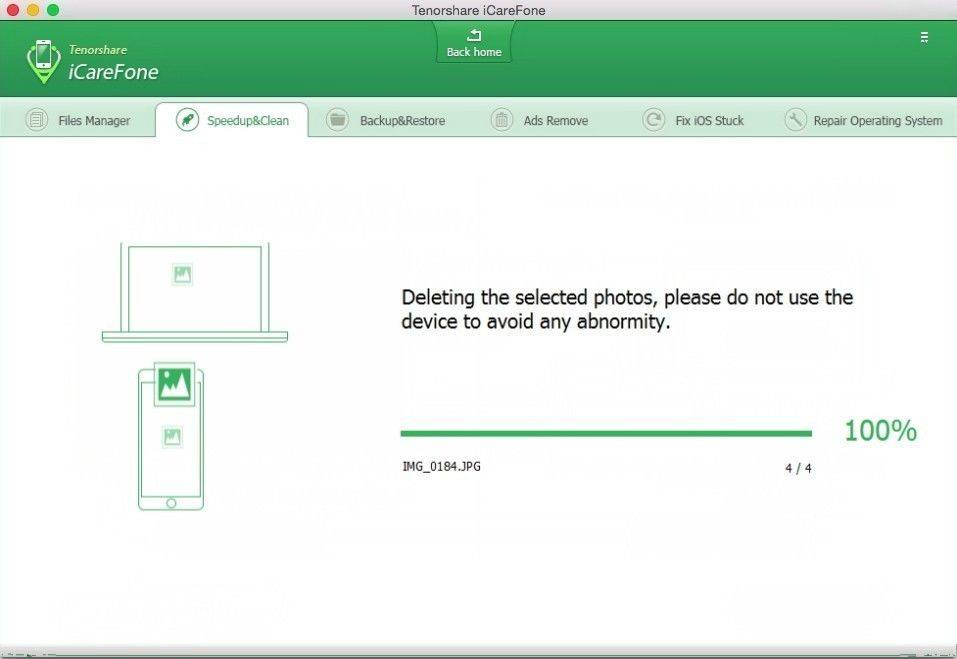 At the time the process gets over, you can check the total space released. Furthermore, if you delete photos you want to save in mistake, just click "Open Backup Folder" to recover.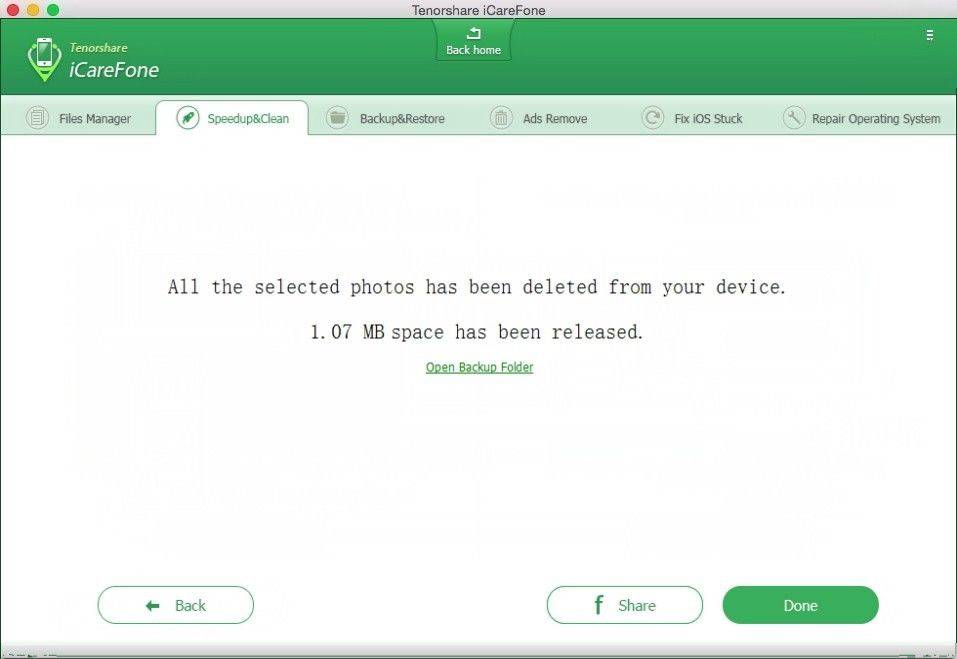 Part4. Find and Delete Large Files on iPhone, iPad and iPod touch
As you enter the interface of function "Speedup & Clean", Click Clean button in Large Files, and Tenorshare iCareFone lists big files that are eating up most of your device's storage. Most of these file are videos and audio files.
Pick up these big files and click "Backup & Delete". This will back up these files to local computer and then remove them from your device. Thus you will get more available space for other data.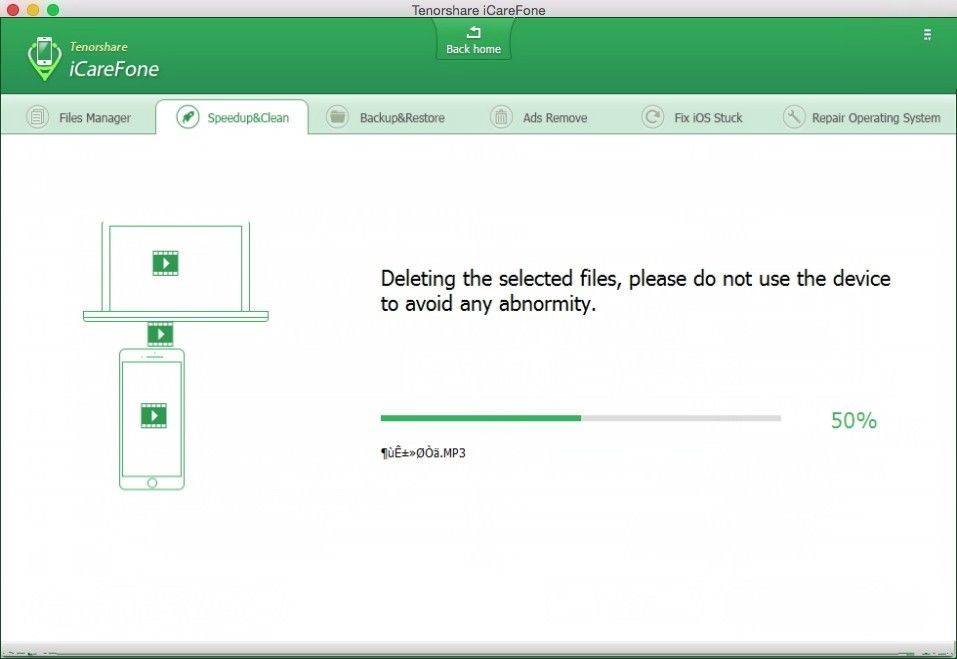 After this process, your device will free up large amount of storage. But if you need these large files next time, just click "Open Backup Folder".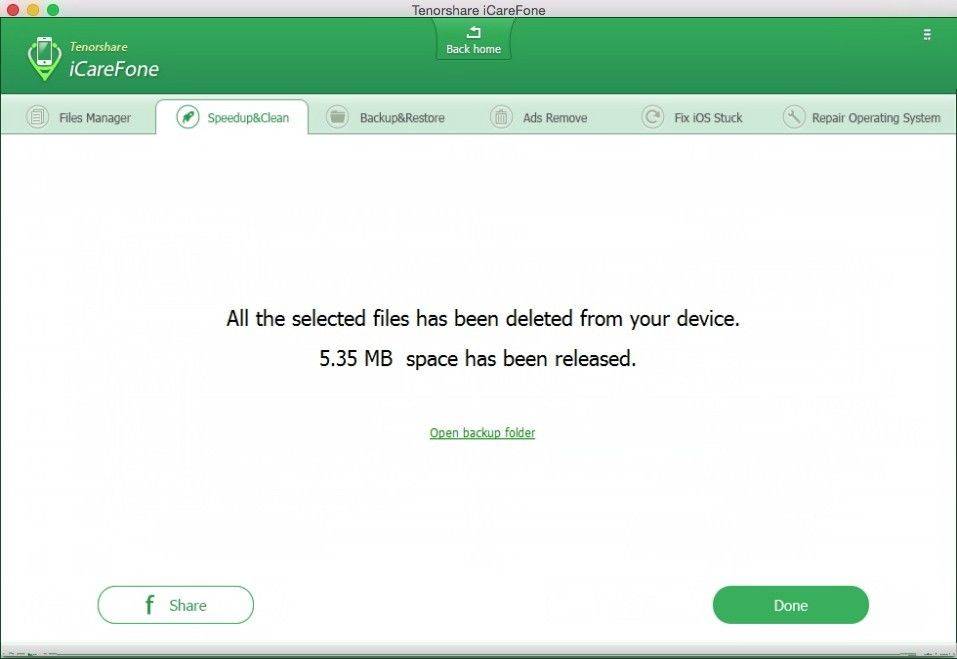 Part5. Delete Unwanted Apps on iOS Device
For Apps, when you click "Clean" right alongside this section, the list of apps would display and you can select one or all of them to uninstall by clicking "Uninstall".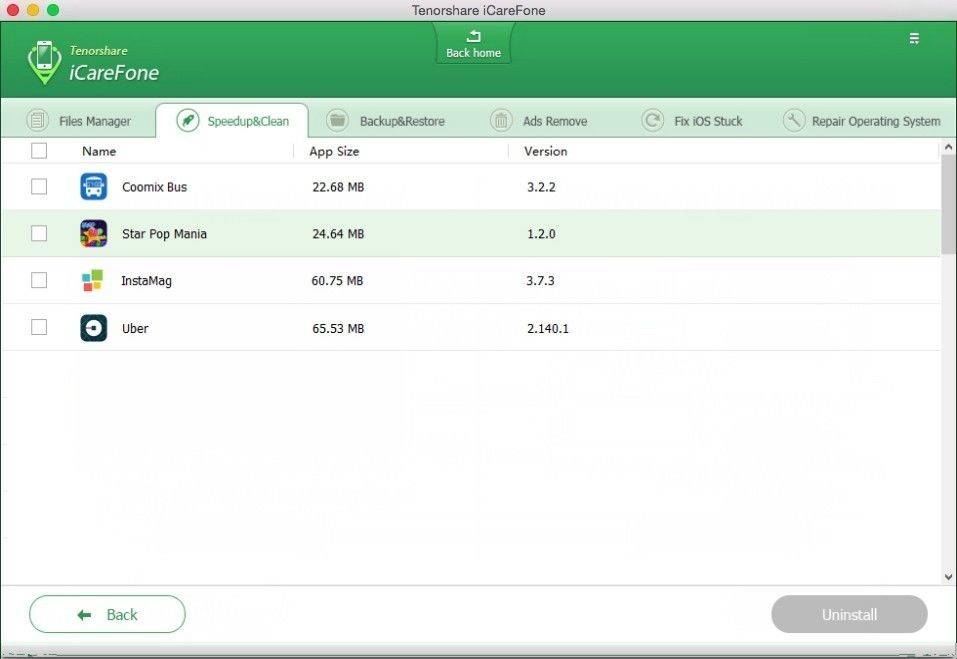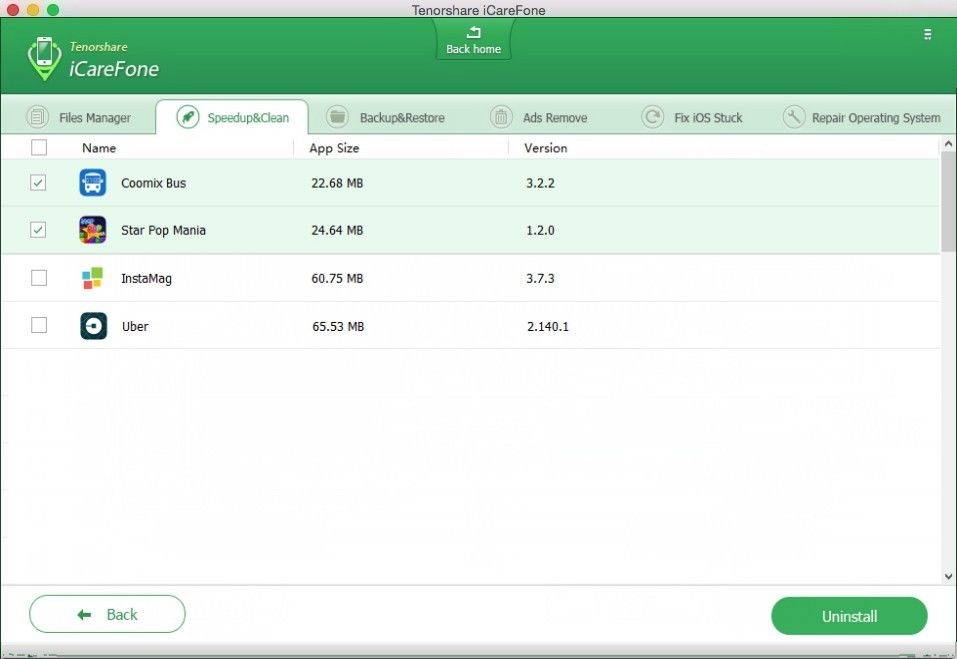 Then wait for the process to end, you can check the total space released.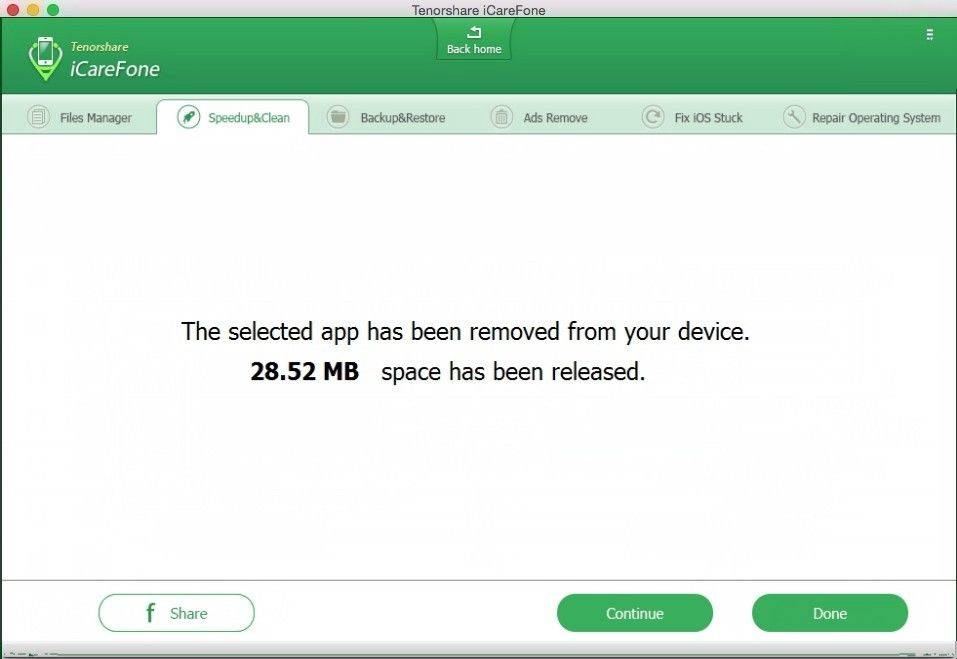 Function 4. File Manager
This all-in-one software can also play the role of file manager. It supports to manage (add, delete, merge duplicates, export) 9 files, namely, Contact, Notes, Calendars, App, Music, Videos, Bookmarks, Photos and iBooks.
Step1. Go to "File Manager" function, and click on the file you want to manage.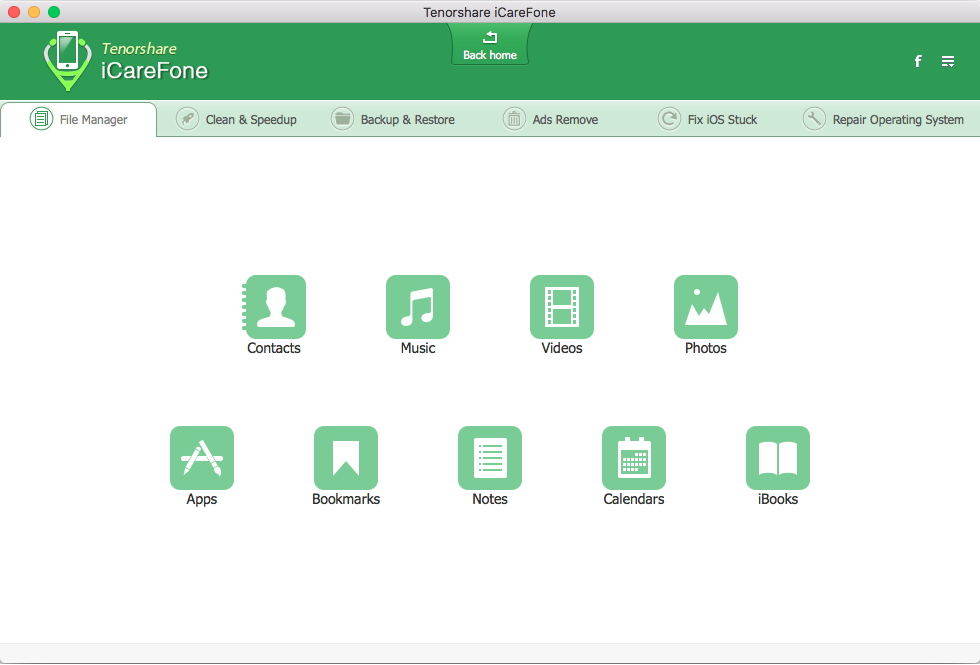 Step2. You can freely add/delete/merge duplicates/view/export any items you want.
1). Add files to iPhone, iPad, iPod.
Click "Add" to add/edit contacts, notes, bookmarks etc.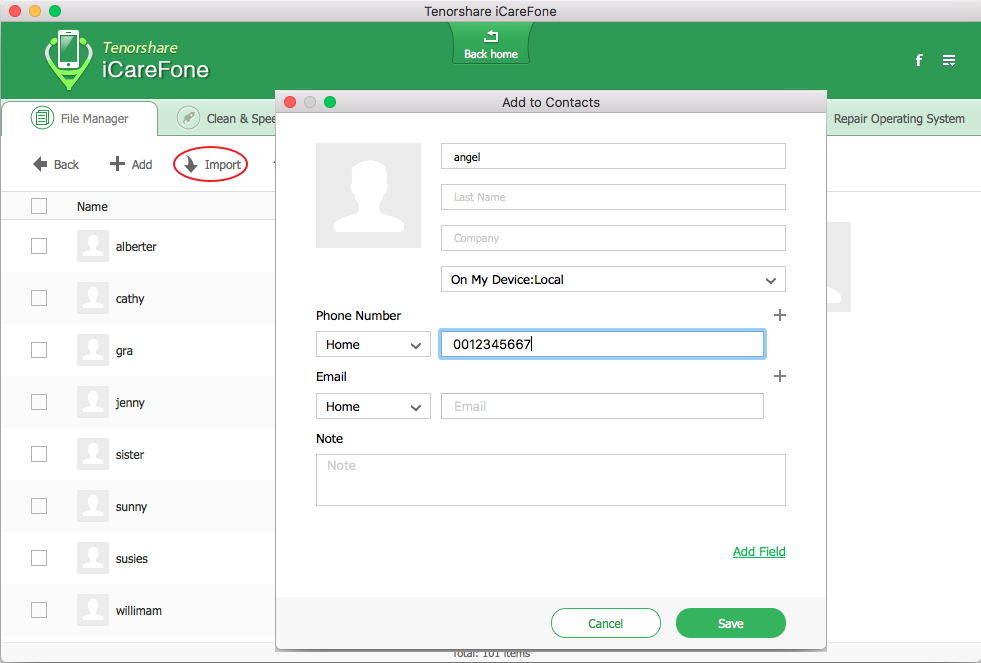 2). Delete files
Tick the items you'd like to remove and click "Delete" on the menu. Don't forget to refresh the list after deleting.
3). Export files to Mac
To export files from iPhone, iPad, iPod to Mac, you just need to tick the targeted items and then click on "Export" on the menu. You can export to different formats. Choose one you like to save and then specify a location to store the exported items.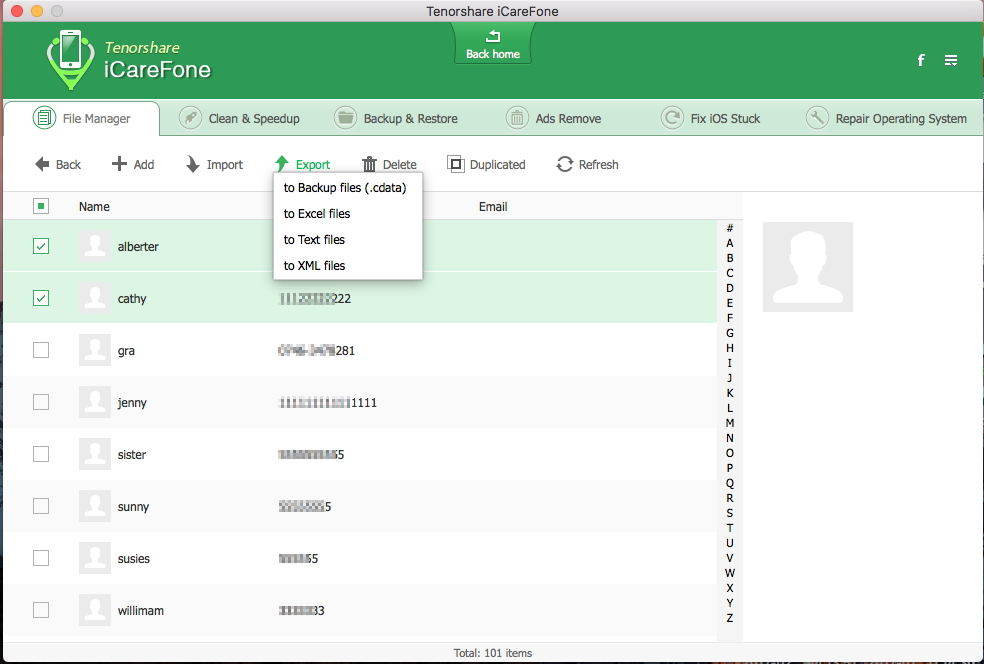 4). Remove or merge duplicated items (for contacts only)
For Contact files, you can click on "Duplicated" and the program will detect all the duplicates on your iDevice.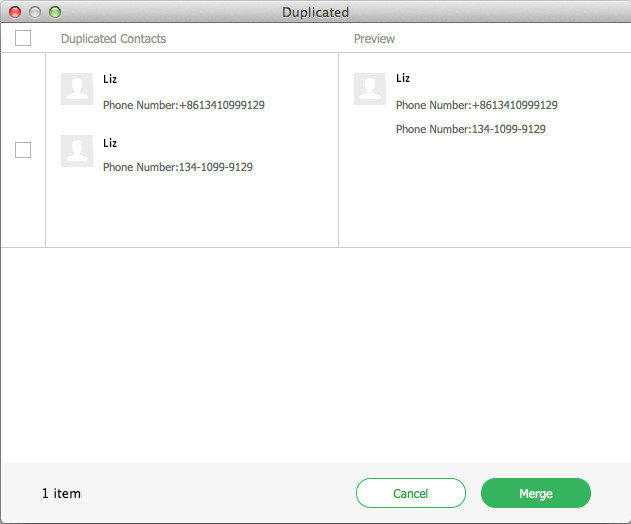 Function 5. Backup & Restore
This software also allows you to selectively backup and restore your iPhone, iPad or iPod.
Part1. Back up iPhone, iPad, iPod
Connect your iOS devices with your Mac and choose whatever you want to back up, then click "Back Up" button.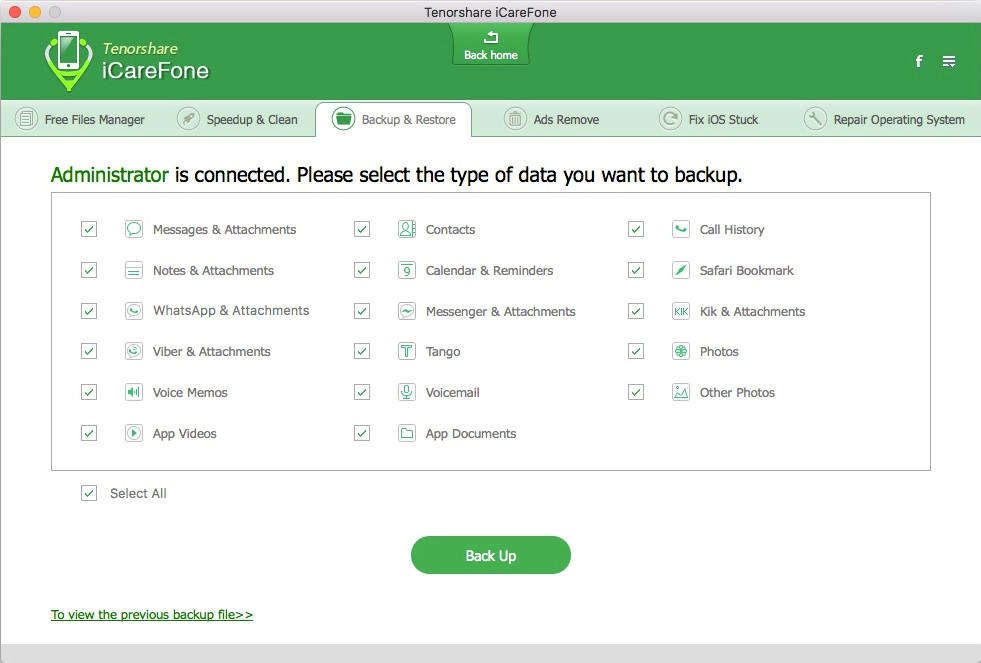 Preview backup files you have chosen, and click "Export to PC". Select a path you prefer for saving the backup files.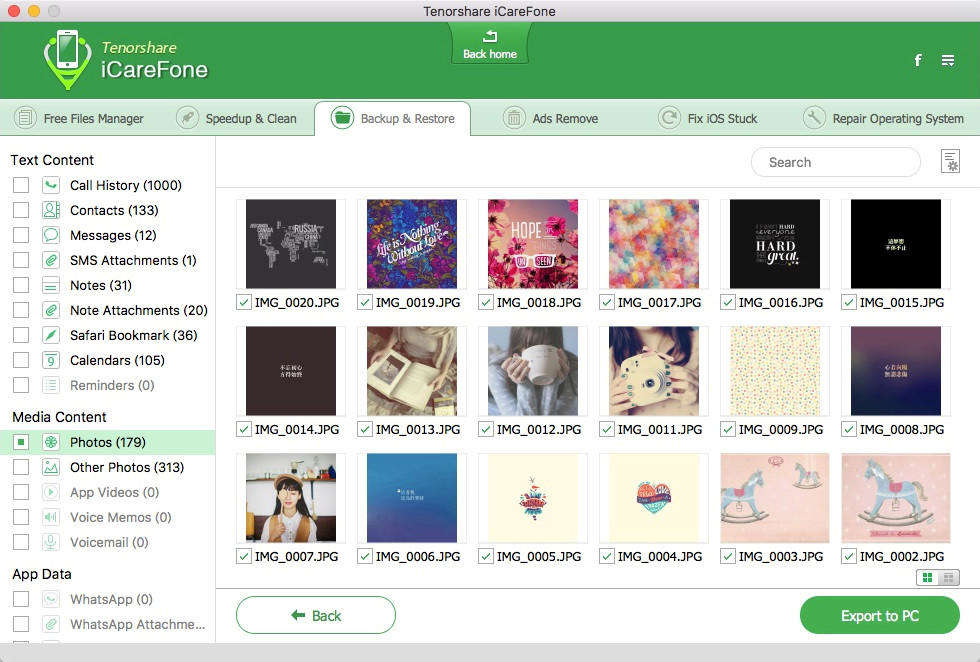 Part2. Restore iPhone, iPad, iPod from backup
Connect your devices with Mac and choose "Backup & Restore". You then will see the link at the bottom of the screen "To view the previous backup file>>", click it.
Check the backup file you need and click on restore button to restore your iOS devices.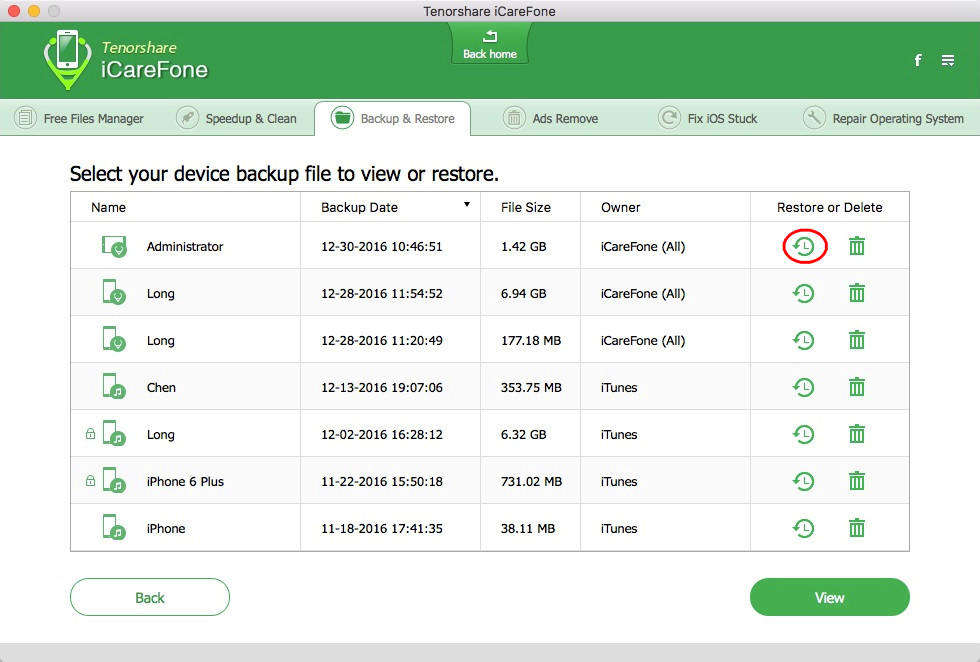 A blue restore progress bar will appear, when it restore successfully, this software will give you a reminder.

Function 6: Remove in-app Ads
To block all apps and Safari ads on iPhone, iPad or iPod touch, go to Ads Remove section in Tenorshare iCareFone, where you should see a prompt to download a free ad blocker in Apple Store.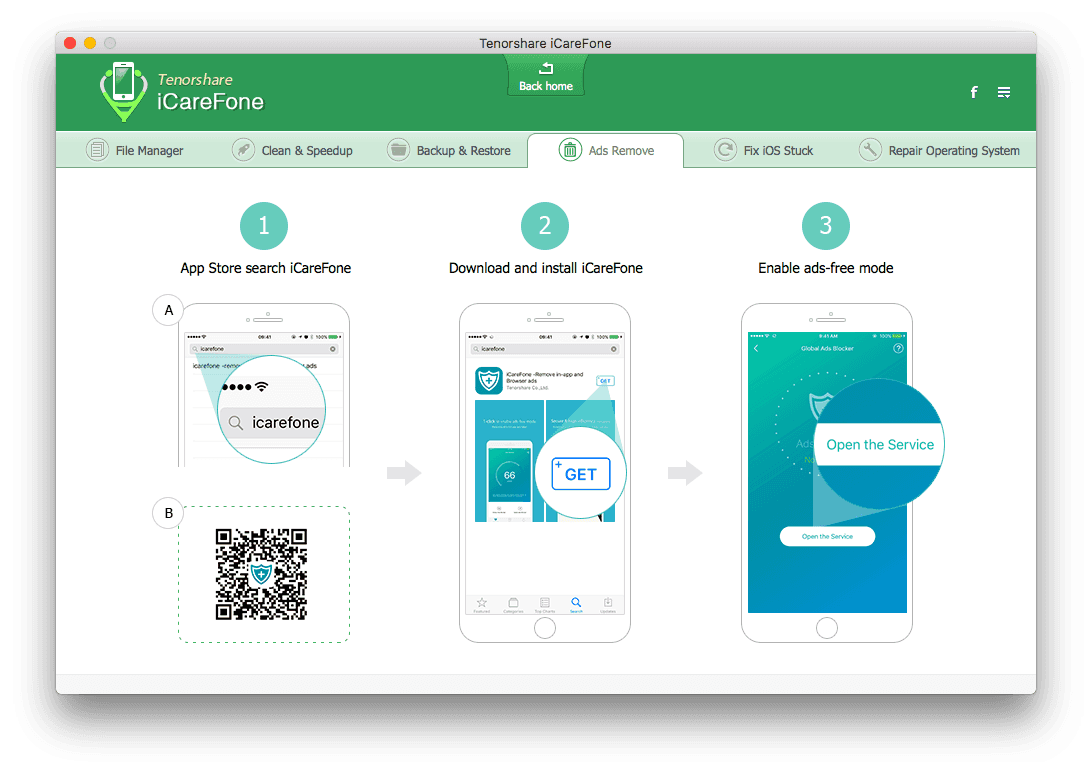 After you download and install this application, follow the steps to create an ad-free environment on your iOS device.
Step 1: Launch Tenorshare iCareFone on your iPhone and tap Global Ads Blocker, which will add local VPN configuration after your permission. This is essential to filter and remove games ads, popup ads, banner ads, full screen ads on your installed apps.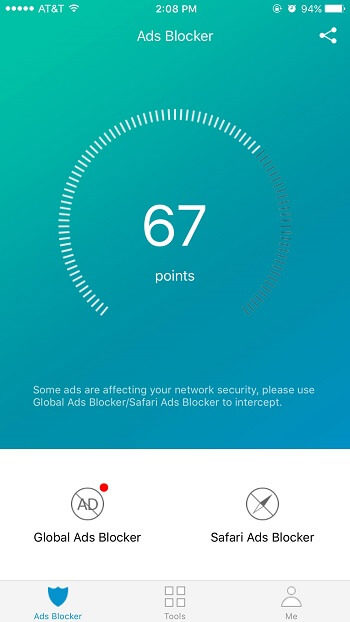 Step 2: If you don't want to get bothered by Google ads and unsecured third-party plugins, you should turn on Safari Ads Blocker feature at the same time. Feel free to decide Safari ad-blocking settings.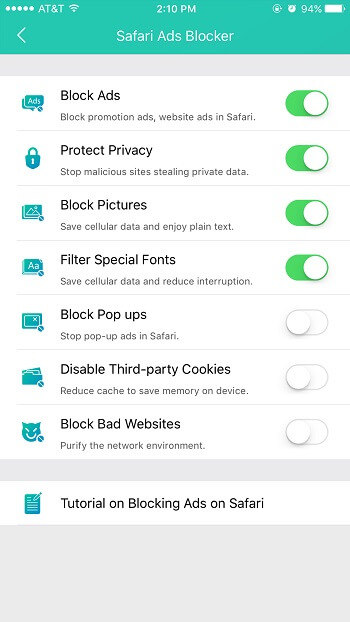 Step 3: Go to Settings > Safari > Content Blocker and pick up Tenorshare iCareFone. Now enjoy your device without any annoying ads.