Best Tool to Fix iTunes Backup Corrupt when Restore Data
by Jenefey Aaron Updated on 2020-04-27 / Update for Fix iTunes
iTunes comes as a blessing for most iOS device users since they get the privilege to backup and restore their device safely and without any trust issues. However, usually people encounter with some issues while working with iTunes. And today's article will focus on one of those issues. Imagine you were trying to restore the backup via iTunes. But for no reason, you couldn't do it because of an error that says 'iTunes could not restore iPhone because the backup was corrupt'! Isn't this strange getting such an obstacle out of nowhere? Well! If you're annoyed by this, stop getting more! This is what we will explore about in this post as we were talking a few seconds ago. Let's understand how you can fix this iTunes backup corrupt issue with the help of an effective solution.
1. The Best solution to Fix iTunes Corrupted Backup when Backup and Restore
When in doubt at the moment of iTunes saying iPhone backup corrupt, you can blindly rely on Tenorshare TunesCare. It acts as a savior when you experience such issue. It has the power to resolve any sort of iTunes sync problems or iTunes errors in one go without performing any complex steps. When you have a professional tool that can take care of various problems as well as enhance the performance of iTunes, you can't ask for more. Let's get to know how you can use this tool to fix iTunes corrupted or backup corrupted problem.
Fix iTunes Sync Problems and Get Rid of iTunes Errors
Solve iTunes Sync Problems & Fix All iTunes Errors
Boost iTunes to Best Performance
Fix iTunes cannot Recognize New iPhone 11/11 Pro/XS/XS Max/XR
Pefectly Solve All iTunes Connection Issues on iOS 13 Devices
Fully Compatible with iTunes 12.9
First of all, get the software downloaded in your PC and then install it. Run the program later and from the main interface, choose 'Fix All iTunes Issues'.

Pic1.- Select Fix All iTunes Issues

Hit on 'Repair iTunes' as the next step. This button is really helpful since it takes responsibility of enhancing the iTunes performance when everything is fine with iTunes and well yes, it does what you came for i.e. fixes iTunes problem and make it normal as before.

Pic2.- Click Repair iTunes

Wait for a while now and notice the status of the repairing on the computer screen. Within a few minutes, the problem will be resolved and you'll be able to run iTunes as normal.

Pic3.- Repairing iTunes problems
2. Other Common Ways to Fix 'iTunes could not restore the iPhone'
2.1 Check the Cable Connection
One of the common ways includes examining your lightening cable. Make sure the connection between the PC and the device through the cable is appropriate. Change the port if it's damaged or the cable if it's not original or damaged too for better experience.
2.2 Ensure Sufficient Space
Ensure that your device is having enough space for carrying out the process. To do this, go to 'Settings' > 'General' > 'iPhone Storage' and check the space now to ensure that the process can be done smoothly or not.
2.3 Update iTunes
Another fix would if the above didn't help you is getting the iTunes updated. When you're running the older iTunes version, probability of getting issues like corrupt iTunes backup increases. Hence, follow the steps below.
For Mac, launch iTunes and click 'iTunes' menu tab. Hit 'Check for Updates' and you'll be notified if there's any update available or not. Proceed accordingly.

Pic.- Check for iTunes update Mac

On Windows, open iTunes and click 'Help' followed by 'Check for Updates'. Follow the prompts if update is available.

Pic.- Check for iTunes update Win
3. Methods to Fix 'iTunes could not back up iPhone'
3.1 Delete Corrupted or Incompatible iTunes Backup via iTunes
In this section we are going to understand how to delete the incompatible corrupted iTunes Backup via iTunes application on both Windows and Mac computers. Here's what you need to do for this.
On Mac:
Launch the iTunes application and tap the iTunes menu tab at the top.

Select 'Preferences' from the drop down menu and choose the 'Devices' tab from the appearing window.

Pic1.- iTunes Preferences on Mac

Now, opt for the incompatible/corrupted iTunes backup that has been creating the mess and hit on the 'Delete Backup' button.

Pic2.- Delete Backup file on Mac
On Windows:
Launch the iTunes app over your Windows PC and hit the 'Edit' menu button at the top.
Now, choose the 'Preferences' option from the appearing menu and get into the 'Devices' tab.

Next, you need to select the preferred backup file and then hit on 'Delete Backup' button.

Pic.- Delete Backup file
3.2 Deleting Corrupted or Incompatible iTunes Backup By Locating It
Here we are going to tell you the exact location of your iPhone backups over your computer (be it Mac or Windows) made via iTunes. Browse the below mentioned location over your computer and then delete the incompatible or corrupted iTunes Backup that is troubling you.
On Mac: ~/Library/ApplicationSupport/MobileSync/Backup

Pic1.- Backup location on Mac

On Windows XP:

C:\Documents and Settings\<your username>\Application Data\Apple Computer\MobileSync\Backup

On Windows Vista, 7, 8 or 10: users\username\AppData\Roaming\Apple Computer\MobileSync\Backup

Pic2.- Backup location on Windows
Bonus tip: iTunes Backup Alternative
After learning about fixing the iTunes backup corrupt issue, if situations are still the same and you could not proceed with the restoring process, how about getting introduced with the most powerful and advantageous iTunes alternative? Sounds good? Then enjoy this tip. We would recommend you Tenorshare iCareFone which is another creation by Tenorshare team to help the users in maintaining backup and restoring of iOS devices. This tool can be considered as the most impactful as it purely makes backup/restore operations easier than ever and acts as complete iOS managing tool. For its safety and better performance, one can undoubtedly use iCareFone as iTunes alternative.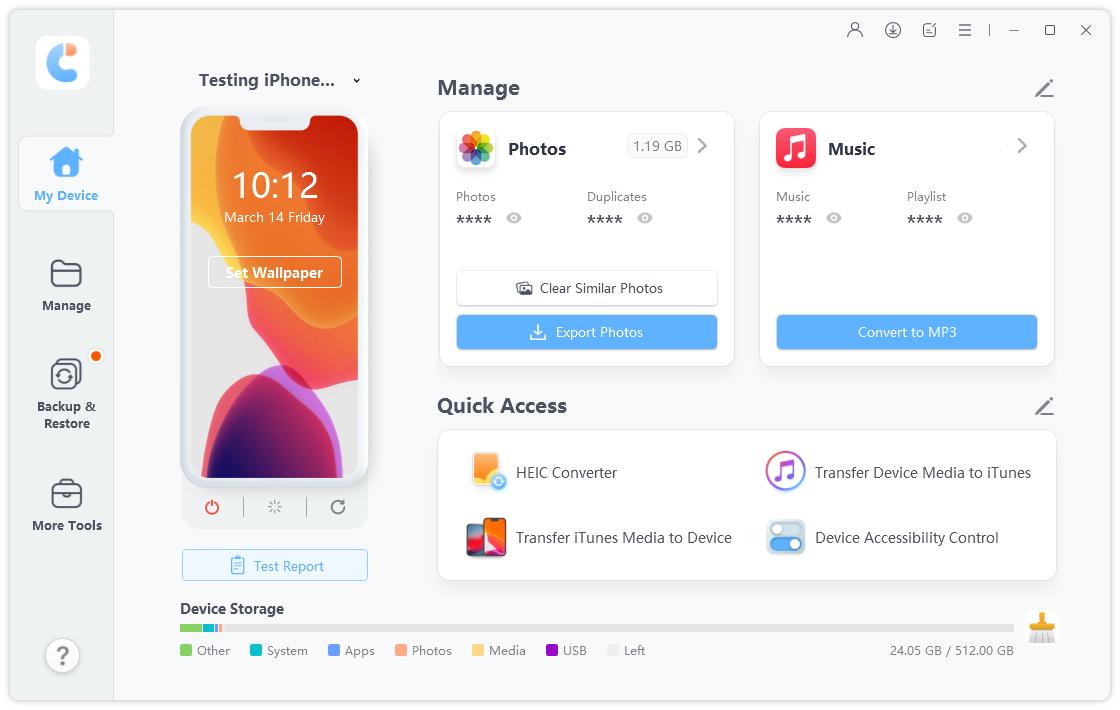 Final Words
We gave you a sound knowledge on what to do when iTunes backup gets corrupt. We are now sure that you won't feel helpless anymore when such situation appears to you. However, we would recommend you to use Tenorshare TunesCare as it works with more safety when compared to others. Also, there's no risk of any data loss as well as you get benefit of making your iTunes better than earlier. We also shared a valuable alternative to iTunes so next time you can use it for backup/restore options. Concluding the topic here with a hope that you got everything right and now are able to execute the functions on your own! Thanks for reading!