Feel restless that you have to keep looking down from you Mac and pick up your iOS devices to reply to received iMessages? iMessage sync feature can help you do it all on your Mac. But the negative side is that this feature doesn't always work the way it should, like, some iMessages you sent from iPhone 7/7 Plus/6s/6s Plus/6/6 Plus/5s did not show up on Mac from time to time. If you are experiencing the iMessage not sending on Mac Air/Pro, the fix is straight forward, below is what you can try.
1. Check Apple ID and Email Address on Both iPhone and Mac
The very first thing you have to do to fix iMessage not syncing between Mac and iPhone/iPad is to check whether the Apple ID and Email address have been correctly set up or activated. If not, follow the step below to properly set it up
Note: Please make sure all your devices are using the same Apple ID.
On iOS devices

On your iOS devices, open Settings and tap on Messages





Next, hit Send & Receive on the Messages screen





Then make sure that you've checked your phone number under " You can be reached by iMessage at" and it has a check mark

Also, take a look at all the Emails that your use for messages, including your Apple ID Email.




On Mac:

On Mac, open the Messages App on your Mac.

Next, hit the Messages tab at the very top menu bar and select Preferences in the drop-down menu.





On the next screen, click on the Accounts tab and tap iMessage account.

Then you will see your Apple ID. Make sure that the Email appearing under section " You can be reached for Messages At" has been checked and it is the same Email Address that is also active for iMessages on your iPhone.





Under " Start New Concrsations From", select the same info as you did on iPhone.
2. Turn Off iMessage & Turn It Back On
If the Email address and phone number are all set correctly on both iOS device and Mac, but the issue still exists, here's a quick fix you can perform to sort of reset iMessage and knock it back into proper position.
On your iPhone, tap Settings > Messages. On the Messages screen, turn off iMessages on iPhone by moving the toggle to OFF. After a while, toggle the button to ON to enable iMessages.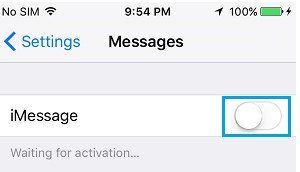 On the Mac, go to Messages > Preferences… > Accounts. Make sure iMessage is choosen on the left column, then hit Sign Out. Once signed out, wait a few seconds then sign back in.

This should fix your problem! You shouldn't have any more problems with iMessages on Mac are not updating. If the issue still remains on, there is probably something wrong with your device if you have just updated to the latest iOS 11 Public beta version, then we suggest you can try to use Tenorshare ReiBoot to one click put your device into Recovery mode and reboot it so that fix various iOS issues for totally free.
Free Download
For Win 10/8.1/8/7/XP
Secure Download
Free Download
For macOS 10.13 and below
Secure Download
Related Articles
comments powered by