Most of the Apple users were excited about the launch of the new iOS version. But the issues were highlighted more than the new features of the new update. And one of the issues which was in the air for quite some time was: iPhone keeps restarting with iOS 11. Well, Apple fans were seeking for the solutions, and to their call, we are up here with some of the patches that can fix this issue. Let us have a look at them.
Why does iPhone/iPad Keep Restarting?
Well, there can be numerous answers for your question. The reason can be as simply as a faulty app or as complicated as a software bug. However, in any case, you need to get out of the problem. But before going to any solution, you should be aware of the reason why exactly your iPhone/iPad is behaving abnormally. Check the following few things to know why is your iPhone/iPad keeps restarting:
Hardware failure
Any software bug, for example, iOS 11.1.2 date bug
Apart from technical issues, other things can also create problems such as:
Cold weather
Fishy and fake apps in your iPhone
Solution 1: Hard Reset Your iPhone/iPad
Sometimes, by performing a hard reset simply takes away the bug. So if something is bothering your iPhone/iPad and making it restart over and again, you can hard reset your device to make it work normal. Follow below steps to perform a hard reset and solve iPhone keeps on restarting issue.
If you own iPhone X/8/8 Plus, swiftly press the volume up button and then the volume down button, simultaneously press the side button until you see the Apple logo displayed on the screen.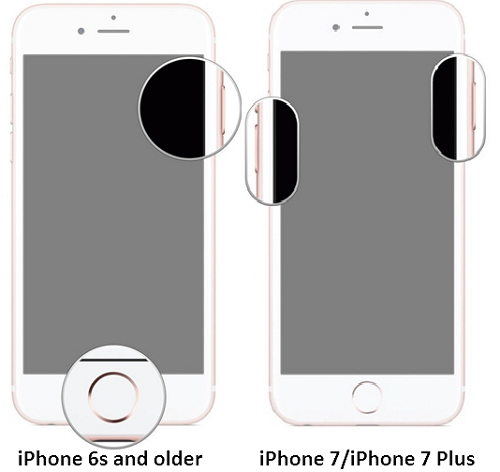 If you own iPhone 7/7 Plus, press and hold the Sleep/Wake button along with the volume down button. Release once the Apple logo is displayed on the screen. For earlier iPhone models, they are Home and Power button.
Solution 2: Check for Faulty Apps and Remove them
Sometimes, the issue is not with your iPhone or iPad but with the apps in your device which are responsible for the abnormal behavior and so iPhone keeps shutting off. It may happen that few of the apps are faulty and having bugs. This will result in a strangely behaving device, that is, iPhone turns off by itself or frequently restarting of iPhone/iPad. So simply find such apps and delete them from your phone. Follow below steps to find the faulty app remove it:
Step 1: Go to Settings > Privacy > Analytics > Analytics Data. Scroll down the list to find any apps appeared.
Step 2: If you can find one app there, go back to Home screen and long press the faulty app icon that you wish to remove until the app icon wiggles.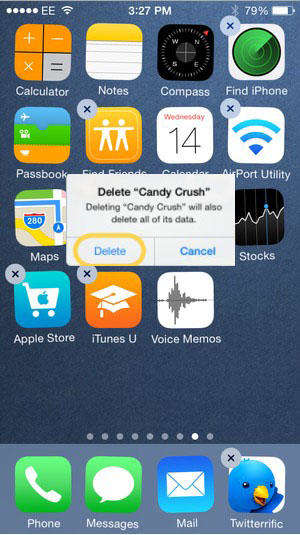 Step 3: Now you can see "X" symbol at the top left corner of the app icon. Click on the "X" symbol and tap on "Delete" when asked.
Solution 3: Update the iOS to the Latest Version
If your iPhone keeps trying to reboot, then probably it is something related to the software and not hardware. And here, when we say software, we point to the operating system. There might be some glitches in the operating system that may lead your device to abruptly shut down. Hence, if you have not updated your device to the latest version of iOS, this is the right time. New iOS update might have some patches or fixes for iphone keeps restarting itself issue. Here is the step-by-step guide as to how can update your device to the latest iOS version and solve iPhone crashed keeps trying to reboot issue.
Step 1: Head to the Settings and then go to General. Click on the "Software Update" option.
Step 2: If you have the latest iOS version, then a message will be shown stating the version number of the iOS and "Your software is up to date" message. If you do not have the latest version, download it. The installation process will begin automatically.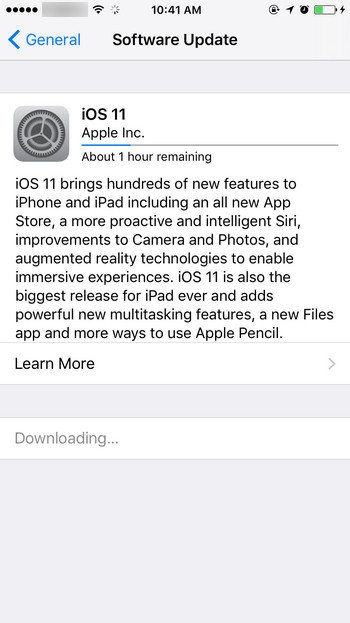 Solution 4: Use Tenorshare ReiBoot to Solve the Issue
Basically, Tenorshare ReiBoot is a software that offers solution with just a single click by exiting as well as entering into the recovery mode. Follow below steps:
Step 1: Download and run the software. Link you device using a USB cable. And click on the "Enter Recovery Mode".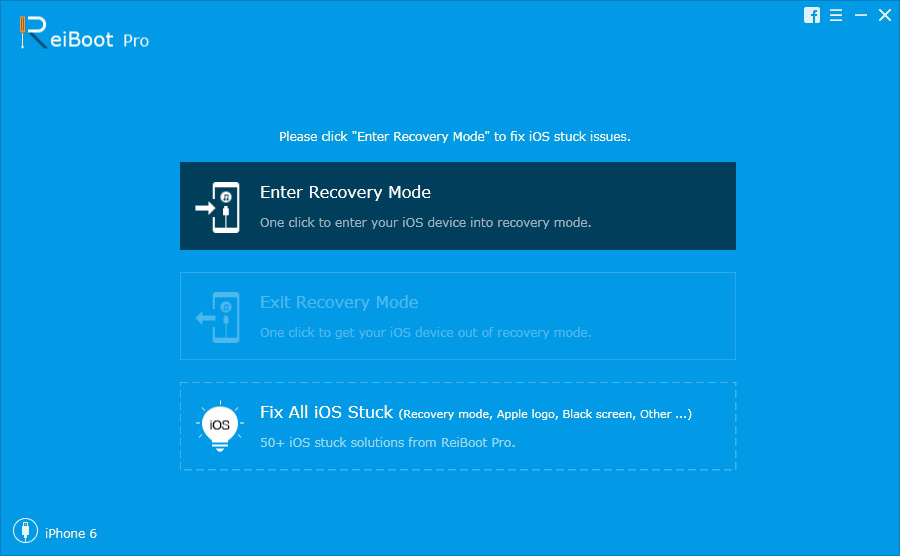 Step 2: Click on "Exit Recovery Mode" option. This will restart your device.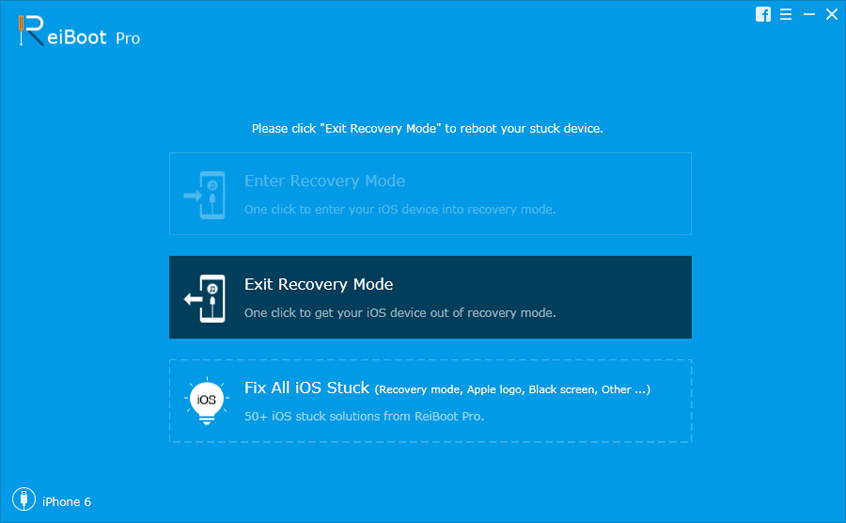 Hopefully, the iPhone keeps restarting after update issue should be solved now. But if your problem is not solved here, then you will net to upgrade the software to pro version, which will definitely yield you success. With the pro version, you can fix various issues such as abrupt restarting of iPhone/iPad, touch screen not working, Sleep/Wake or Home button not working, iOS device not working work normally and many more such issues.
Below is a step-by-step guide to solve the iPhone keeps restarting iOS 11.
Step 1: Download and launch the Tenorshare ReiBoot software on your PC. Once you have downloaded the device, connect your device using a USB cable.
Step 2: As soon as your device is detected, click on "Fix All iOS Stuck" option to recover iOS system by downloading the newest firmware package.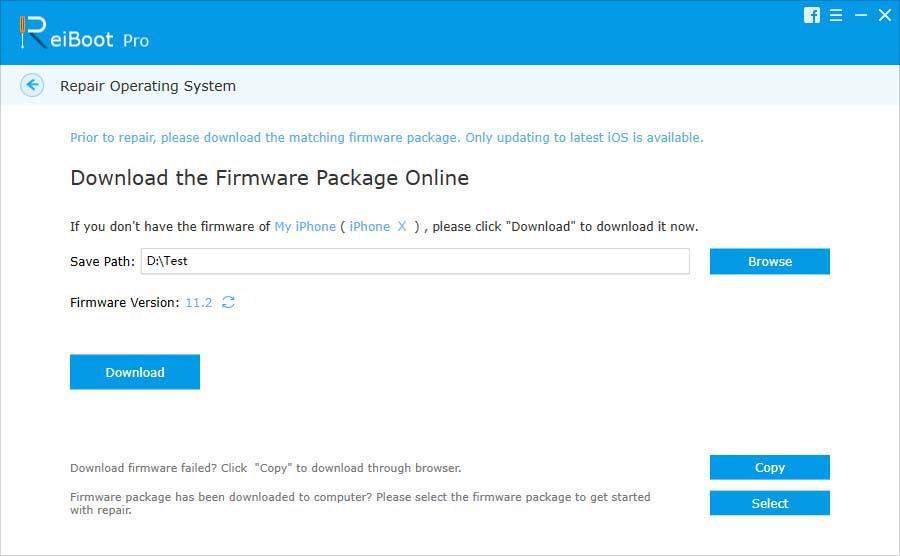 Step 3: Once the package is successfully downloaded, tap on "Start Repair" option to start recovery of the system. As soon as the process is completed, you will see the below message.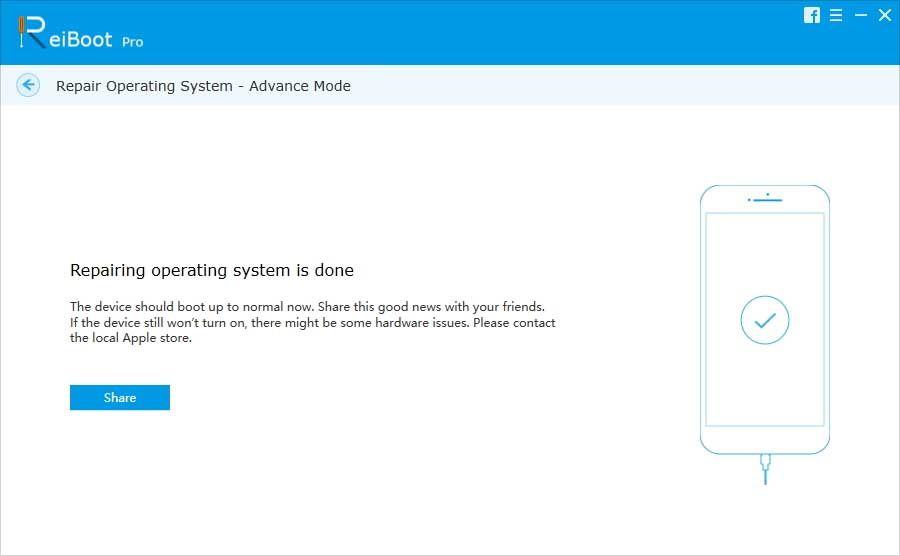 Well, your iPhone abruptly turns off problem is now solved. You can now use your iPhone or iPad without any dilemma of abruptly restarting the device.
Summary
Long story short, we had a look on the best 5 solutions to solve iPhone keeps restarting after restore issue. If your problem is solved, then give us your valuable feedback. You can to this by commenting below. Also, do not forget to comment any different method (if you have any) that can help us solve the problem.
Free Download
For Win 10/8.1/8/7/XP
Secure Download
Free Download
For macOS 10.13 and below
Secure Download
Related Articles
comments powered by