Windows is a popular operating system and takes a huge market share of the operating system cake. Unknown to many, is a great built-in tool that allows you to back up data-Windows File History. This article explains how to use Windows 10 file history and a detailed explanation of what it is.
What is File History on Windows 10/8.1?
Windows file history is a feature in Windows 10 and 8.1 that allows automatic data backup after initial set up. It backs up your data securely and stores it in your location of choice after every hour. Wondering how Windows file history works? The system checks for changes made to select files in libraries, favourites, desktop, and contacts folder among others and copies them to a file location after creating a history of the changes made in the folders mentioned above. Microsoft developed Windows file history to ensure data is easily protected in a simple straight-forward way to backup, find, preview and select which files to restore and easily set up the same. It addresses the needs of PC users who work from different locations and need a great back up tool.
How to use Windows 10/8.1 File History to Back up Your Data?
Wondering how to use Windows file history backup feature? Follow the procedure below to set up and use Windows file history.
Step 1: Access File History by typing the same in Cortana Search bar located on the left side of your screen.
(On Windows 8.1 click the Start button type "file history" in the search bar.)
Step 2: Click "File History" from the results.
(Alternatively click the Start menu > Update & Security > Back up)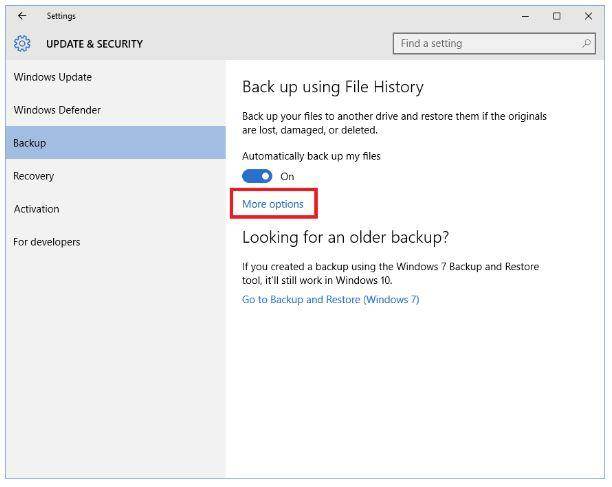 Step 3: Under "Back up using File History" select "Add a drive" and select the drive in which you want to back up your data preferably an external hard drive or USB stick.
Step 4: Toggle on the "Automatically back up my files" option. This ensures that your data is automatically backed up on your drive when you select it.
Step 5: Configure how Windows file history works by clicking "More options".
Step 6: Select time intervals in which you would want your data to be backed up. The default is one hour. Proceed by selecting what time backups can be deleted. Windows keeps the backed up files forever but change it to create space on your drive.
Step 7: Since Windows backs up files from Music, Desktop, Pictures, Videos, Downloads and Music folders, you need to add more folders on other locations on your computer.
Step 8: To exclude folder click the "Exclude folders option" and choose which folders to exclude.
Windows file history is a great way to back up and restore your files as shown in the steps explained above. In case you cannot restore data using Windows file history, Tenorshare Any Data Recovery is a great alternative. It helps you recover files lost as a result of virus attacks, permanently deleted files, and unreadable hard drives and from partition errors.
Free Download
For Win 10/8.1/8/7/XP
Secure Download
Free Download
For macOS 10.13 and below
Secure Download
Related Articles
comments powered by