Top 10 Ways to Fix USB Device Not Recognized
by Anna Sherry Updated on 2021-06-11 / Update for Data Recovery
"USB device not recognized (Code 43). I bought this laptop, a Lenovo Z50-70, in January and I found out some months ago that a USB port is not working and every time I plug in anything it gives me this error. In the Device Manager if I open the properties for the "Unknown USB device" under the device status it says "Windows has stopped this device because it has reported problems. (Code 43). A request for the USB device descriptor failed."
One of the errors that you can likely face on your Windows computer is the flash drive not recognize issue on your system. It is a common issue amongst Windows users and it occurs when your computer is unable to recognize the USB device that you connected to one of the ports. If this has happened to you, you would know it prevents you from accessing your USB device on your computer.
So how do you go about fixing the issue and making your system recognize your device? Well, there are several ways available that should help you fix the issue and let you access your USB device on your computer. The following guide is all about how you can fix the USB device not recognized issue on your Windows system using various ways.
Let's check out all the possible fixes for the issue:
Part 1. How to Fix USB Device Not Recognized?
1. Restart Computer and Plug the USB Again
One of the easiest fix you can apply to any issue on your Windows computer is to reboot your computer and reinsert the device. The same goes for your USB device as well. In this method, what you need to do is reboot your computer using the standard reboot method. Then, unplug your USB device from your computer and plug it back in.
Reboot your computer and you should find that your system has successfully recognized your device.
2. Try Another USB Port
This is one of the causes of the issue that often gets neglected. It could be that the port you are trying to use on your system is not working and has got issues in it. If that is the case, your system will not be able to detect your device and it will keep throwing the USB not recognized error on your screen.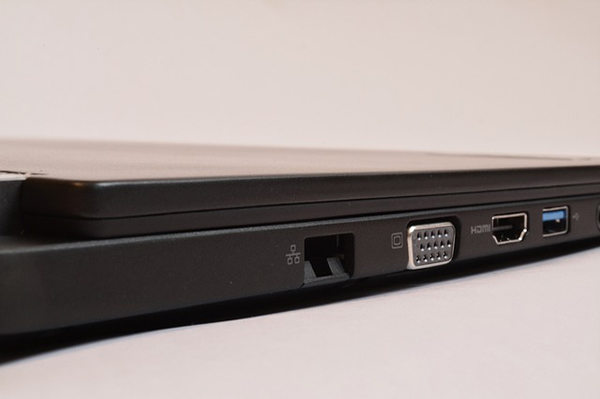 Therefore, it is advised that you try using other USB ports available on your computer. If the port was the issue, changing it would resolve the issue for you.
3. Remove Computer Power Supply
While this method does not directly fix the issue, it is advised that you remove the power supply from your computer and then give the supply back to it after a few minutes. It will give enough time for your computer to shut everything down completely and then reboot everything from scratch.
4. Change the Power Management Setting for the USB Root Hub
The power management settings on your computer could be interfering with your USB devices and making the following changes to your settings will likely fix the issue for you.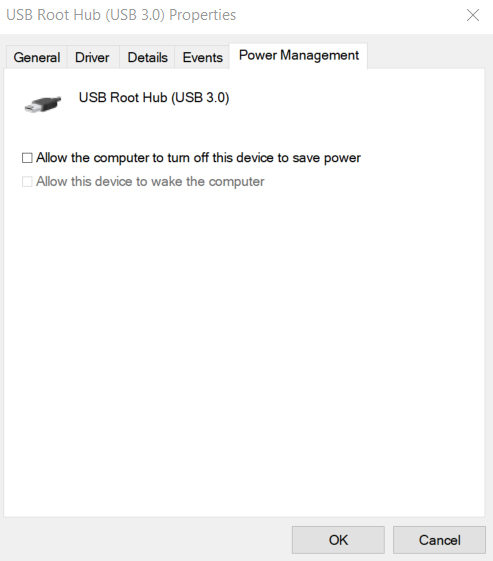 Launch Start Menu on your computer and head to Control Panel > Hardware and Sound > Device Manager > Universal Serial Bus.. Find and double-click on the entry that says USB Root Hub to open properties. Head to the tab that says Power Managementand disable the Allow this computer to turn off this device to save power option. Click on OK to save changes.
5. Scan for Hardware Changes in Device Manager
There could have been some changes in your computer's hardware and running a hardware change scan will help you to identity changes and correctly implement them on your computer. The following is how you do it.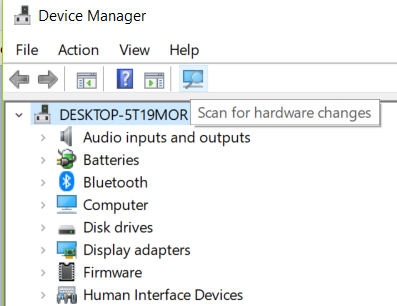 Press Windows + R and type in devmgmt.msc and hit Enter. When the Device Manager launches, click on the icon at the top that says Scan for hardware changes.
The above should likely resolve your USB device not recognized Windows 10 issue.
6. Update the USB Port Driver
If an update is available for the drivers of your USB ports, you are highly recommended to install all the available updates to fix any existing USB issues on your computer. The following is how you can do it.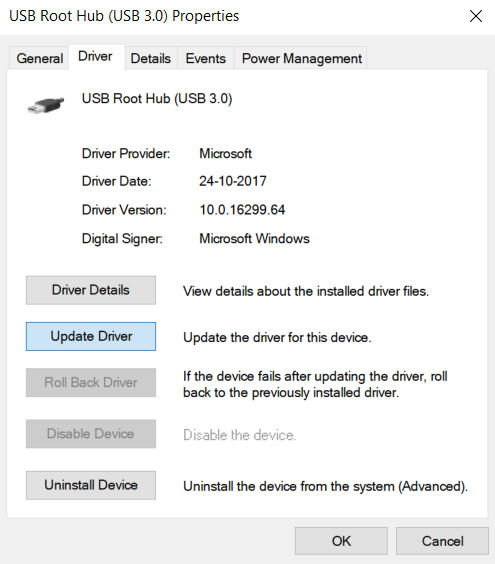 Launch Device Manager by entering devmgmt.msc in the Run dialog box. Look for any USB entry that says Unknown device, right-click on the entry, select Properties, open Driver, and click on the Update Driver button.
It will update the drivers for your USB device, if an update is available.
7. Fix USB Not Recognize with Windows USB Troubleshooter
If you have still not been able to fix the issue yet, you may want to use the Microsoft's official Windows USB Troubleshooter that will help you fix any kind of USB issues on your computer.
All you need to do is head over to the download page, download and run the tool, and let the tool fix the issues for you.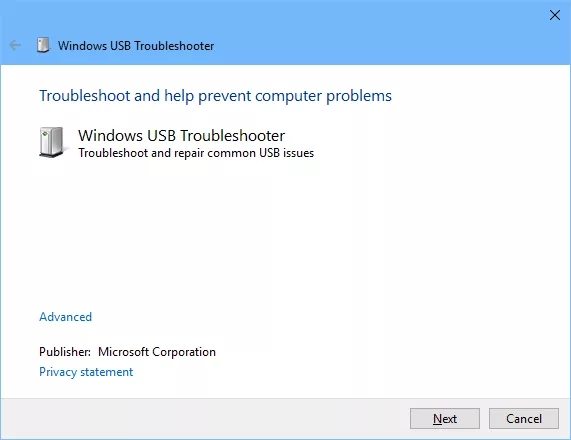 8. Disable the USB Selective Suspend Settings
Disabling this power option on your computer will likely help you fix your USB device issue and the following is how to do it.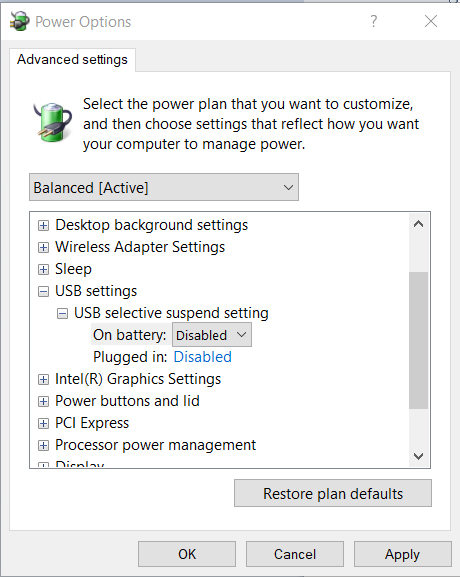 On your computer, head to Control Panel > Power Options > Change plan settings > Changed advanced power settings > USB settings > USB selective suspend setting and Disable and Disable both the options.
9. Uninstall USB Storage Devices
You may want to try uninstalling your USB storage devices and let them reinstall again when you want to plug-in your physical USB devices. Here's how to do it.

Open Device Manager on your computer, find your USB entry in the list, right-click on the entry, and select Uninstall device.
10. Uninstall Hidden Device
There could be some USB devices hidden in the Device Manager utility. You will need to first unhide them to then uninstall them from your system. The following is how to do it.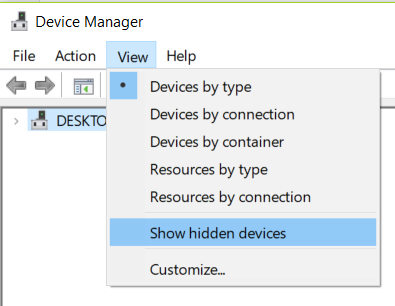 Launch Device Manager on your computer, click on the View menu at the top, and select the option that says Show hidden devices. Once the devices are visible, right-click on them and select Uninstall device to uninstall them.
Part 2. How to Recover Data from USB Drive Not Recognize?
If you have lost any data while performing any of the above methods on your computer, the following will teach you how you can easily recover and restore your data.
In order to recover the data, you are going to use a software called Tenorshare 4DDiG for Windows Data Recovery. It helps users recover their data no matter how they lost them, and the following is how you can recover your data, too.
Step 1: Download and run the software on your computer. Choose the drive where your data was restored and click on Scan.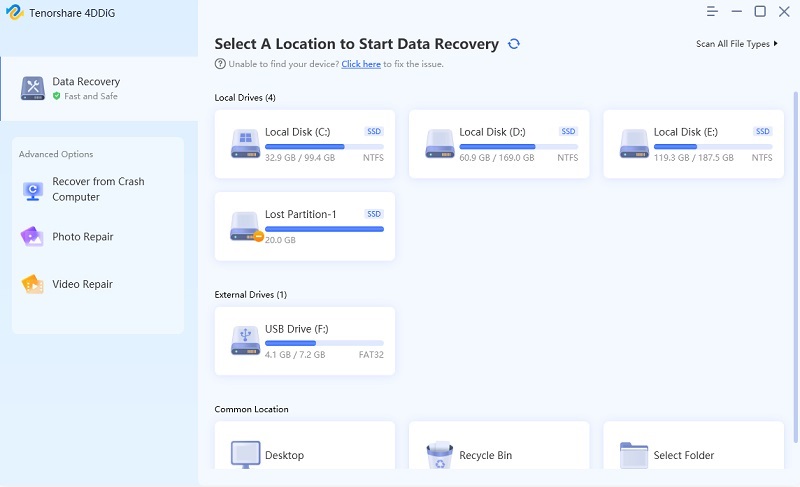 Step 2: Preview and select the data you want to recover and click on Recover.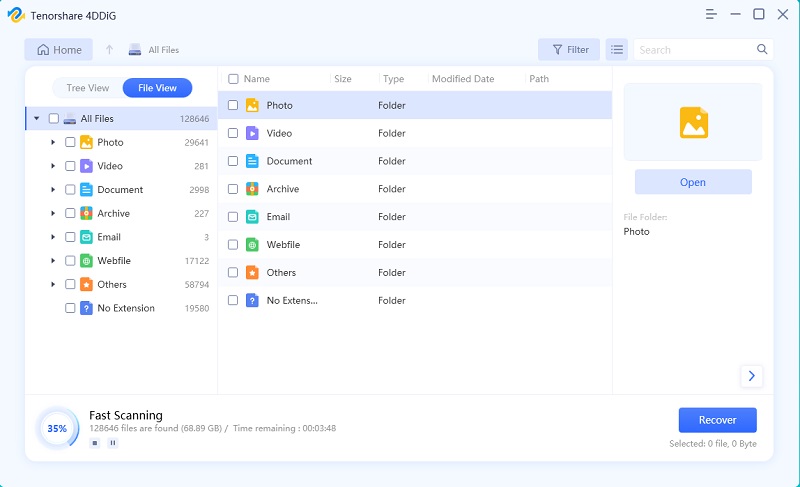 Step 3: Choose a folder to save your recovered data in and click on OK.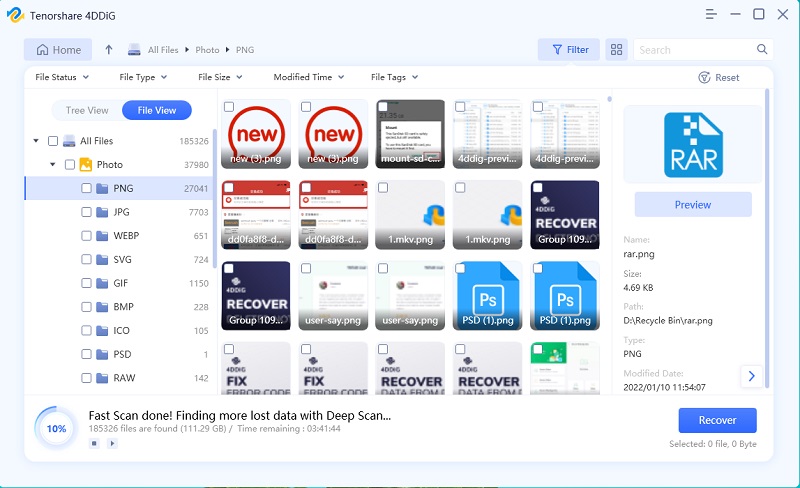 That's all there is to. The software makes it extremely easy to recover lost data on any of your machines.
Final Verdict
We are sure you have been able to fix your USB drive not recognized issue using our top ten fixes described in the above guide. And in case you lost some of your data as a result of applying a fix, you know what software to use to recover your data.