iPhone Backup Failed? 2023 Latest Fixes
by Anna Sherry Updated on 2023-08-21 / Update for Data Backup
Are you getting irritated by the iPhone Backup Failed notification constantly popping up?
Doing a backup can be a frustrating process. Oftentimes you might run into errors that you will just not have any answer for. One such error is the iPhone backup failed due to insufficient storage error notification that many people receive while backing up their data.
Well, don't worry because this article is specifically made to answer that difficult question.
Part 1: Why iPhone Backup Failed Notification Won't Go Away
Before we delve into the actual issue, let us first address the irritating iPhone backup failed notification. Why this iPhone backup failed notification keeps popping up on your phone?
The main reason is "your iCloud storage is insufficient." Please note that iCloud storage is different from your device's internal storage.
Part 2: First, Does iPhone Backup Count Against iCloud Storage?
The answer to this question is yes. iPhone backups, including app data, settings, and photos, consume a lot of iCloud storage space. This makes it essential to manage your iCloud storage wisely to ensure sufficient space for your data backups.
Part 3: Fix iPhone Backup Failed with 4 Ways
Coming to the meat of the matter, let's see how you can actually solve the iCloud backup failed problem. We have showcased 5 methods that you can use to get over this issue.
Way 1. Check and Get More iCloud Storage
The simplest way in which you can solve iPhone backup failed problem is by checking how much iCloud storage you have left.
You can do this by going to Settings > [your name] > iCloud > iCloud Backup. Connect to WiFi and then wait for your phone to calculate your next iCloud backup size. You can determine whether you have enough storage by comparing the next backup size with the remaining iCloud storage.
If it's insufficient you can clear some of the stuff you don't need to pave the way for the things that you want to back up. You can check iCloud storage by going to iPhone Settings > [your name] > iCloud > Manage Storage. Delete some unnecessary data.

Alternatively, if you are unable to clear space you can look into buying more iCloud storage or changing your iCloud storage plan. You can buy more storage by going to Settings > [your name] > iCloud > Manage Account Storage > Change Plan. Here're some upgrade options: 50GB, 200GB, and 2TB.
These 2 methods will ensure that you have enough space and that your iPhone backup failed but I have enough storage problem to be solved.
Related read Free Up iCloud Storage When It Is Full.
Way 2. Reset Network Settings
One more way you could go about fixing the unable to backup iPhone issue is by resetting the network settings on your iPhone. This will rest everything including Wi-Fi networks and passwords, cellular settings, and VPN and APN settings.
For iOS or iPadOS 15 or later users:
Go to 'Settings'.
Then to 'General Settings'.

Here click on 'Transfer or Reset' then go to 'Reset' and click on 'Reset Network Settings'.
For iOS or iPadOS 14 or earlier users:
Settings > General > Reset > Reset Network Settings and voila, you are done.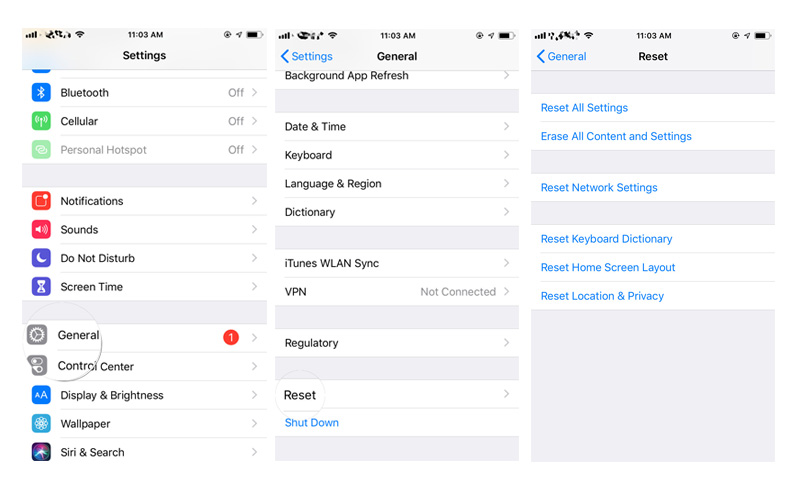 Way 3. Reset All Settings (No Data Will Be Erased)
You can also reset all settings in your iPhone if the above method doesn't work. You don't have to worry about your data because this method will do nothing to harm it. You can follow almost the same method to reset all settings on your iPhone. Here's how you do it.
If you have iOS or iPadOS 15 or later:
go to Settings > General > Transfer or Reset [Device] > Reset > Reset all settings.
For iOS or iPadOS 14 users:
Settings > General > Reset > Reset all settings.
Way 4. Update iOS to the Latest Version
If anything works you can try to update iOS to the latest version to solve the iPhone/iPad backup failed problem.
To check the latest updates go to Settings > General> Software Update. If there is an update to be installed, install it.
Part 4: Backup iPhone Data to PC via 2 Alternatives [FREE]
#1. Back-Up all iPhone Data to PC via iCareFone for Free-One Click
The above-given fixes are great, but what if they don't work like you intended to? Well, we have got a great alternative for you just in case. It goes by the name of Tenorshare iCareFone. It offers a great and free fix to the iCloud backup failed but I have space problem.
You can use iCareFone to back up your iPhone data securely and quickly to your computer and view/restore/export it whenever you want to. And the best part is that your device data will not be overwritten if you restore the backup data on iCareFone to your device.
Let's look at some of the features of Tenorshare iCareFone.
Hassle-free process to export all photos to PC/Mac.
Smart iOS data backup options make backing up your iPhone a piece of cake.
A wide range of restricted apps like ChatGPT, Tiktok, Free Fire, BGMI, etc can be downloaded from his app with a single click.
Runs smoothly on the latest iOS versions like iOS 17.
Now let's see how you can use Tenorshare iCareFone to back up your iPhone to computer for free:
Install and open the iCareFone app on your PC and connect your iPhone. Now click on the 'Backup &Restore' tab from the left menu.

In the next screen select all the file types you want to backup. Click on 'Backup'.

The backup will now start. Once it's complete, you can view the items backed up. You can even export the backed-up data to your computer or restore it to your device.
#2. Back Up iPhone on Computer via iTunes
With iTunes, you can easily create a secure backup of your iPhone. However, compared to iCareFone, the operation steps of iTunes are more complicated, and the backup process takes longer. Additionally, after the backup is completed, you cannot view your backup data on the computer.
To do this connect your iPhone to your computer using a USB cable, launch iTunes, and select your device.

Press the 'Back up Now' option and the process will start immediately. That's how easy it is to back your iPhone up via iTunes and get rid of the iPhone backup failed not enough space problem.
FAQS
1. How long should an iPhone backup take?
While it does depend on various factors (Internet speed, data size, device battery, etc.), an iPhone can take 30 mins to 2 hours to back up. The iCloud and iTunes backup time cannot be guaranteed, but the iCareFone backup time generally will not exceed 30 minutes.
Related read How Long Does It Take to Backup iPhone.
2. How much storage is needed to back up iPhone?
The storage required to back up your iPhone is equal to the amount of data you want to back up. Typically a 128gb iPhone requires 50-100 GB of storage space.
The Bottom Line
So the next time you are stuck on the iPhone Backup Failed issue don't hesitate to refer to this article. It has everything from fixes to alternatives like the powerful Tenorshare iCareFone app. Keep fixing!