4 Best Ways to Copy Contacts from Android to iPhone
As a long time Android user if you are thinking to make a great change and switch to iPhone, then your biggest concern should be transferring all of your data. Many new users are troubled with this and wonder how to transfer contacts from Android to iPhone. Well, if you are using non-iOS users, it will not be easy for you, when you are switching over to an iPhone X/8/8 Plus/7/6/6s/SE/5. But it's not impossible! You can do it by choosing the right way. Read this article carefully, and you will come out with 4 different solutions in the end that you can choose according to your best-suited requirements.
Way 1: Transfer Contacts from Android to iPhone using Move to iOS
After the launch of the Move to iOS app, the data transfer to iPhone from Android has become very easy. The Move to iOS is available at Google Play Store. This particular app was designed to transfer all of your Android data like contact information, text messages, photos, videos, calendars and even email accounts. But all of this data will be transferred as a whole. You won't be able to selectively choose a single type of data or file for transfer. So, follow the steps below to transfer contacts from Android to iPhone with the help of Move to iOS app via Wi-Fi network.
1. On new iPhone/iPad, find the "Apps and Data" screen and simply tap "Move Data from Android".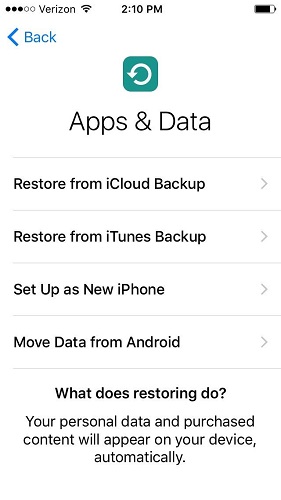 2. Now, download and install the "Move to iOS" app from the Google store and tap "Continue".
3. Tap "Agree" and tap "Next" when you get the "Find Your Code" screen
4. After tapping "Continue" on your iPhone, you will get a password. This is required to be entered on your Android.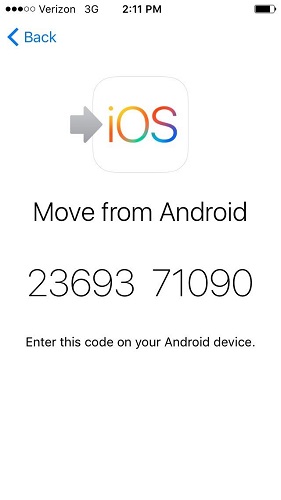 5. After entering on Android, a pop-up box will ask you to select certain files. Choose "Contacts" and hit "Next". You can also select other options from the list too.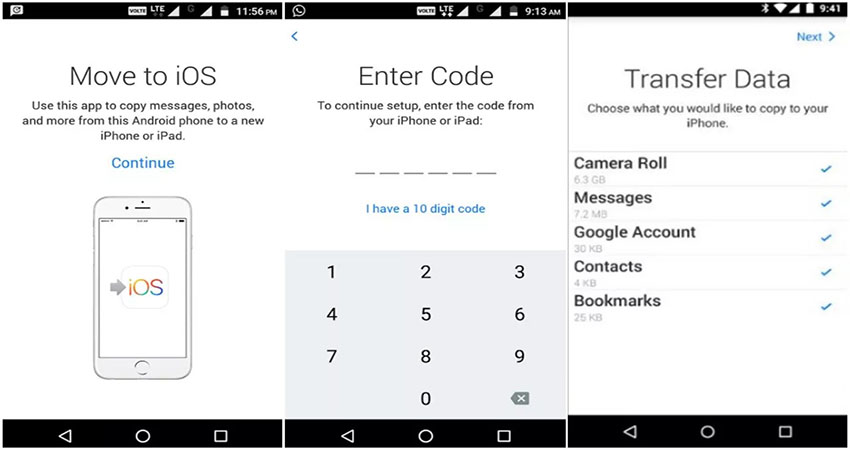 6. Once the progress bar gets complete, tap "Done" on your Android device.
If you think it through, you will see that the transfer process could not be simpler. Unfortunately, the app is newly launched so, to use it you have to at least use Android 4.0 or any higher version of Android and your iPhone should be running on iOS 9.3 or higher. If you fulfill these requirements then you will be able to download and install the app from Google Play Store.
Way 2: Import Contacts from Android to iPhone with Google Account
You can use your Google Account to keep all of your data in sync. Well, using Google services is one of the easiest options because it supports both Android and iPhone. And with the help of its sync feature, you can easily sync your contacts from Android to iPhone. You will just need Wi-Fi and a Google account and that's it. So, if you want to know another way on how to copy contacts from Android to iPhone, you can follow the method mentioned below…
1. Unlock your Android phone and backup your contacts from your address book on Google. Enter "Accounts & Sync" or similar feature and enable sync. If you are using your Google account then the backup would happen automatically.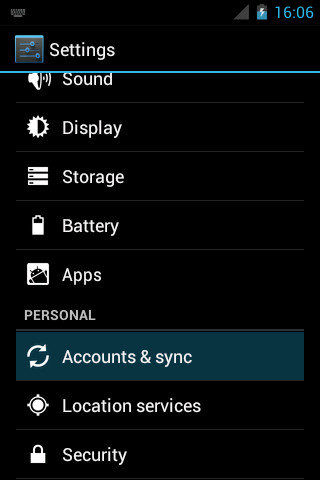 2. After you are done, add that Google Account to your iPhone. Go to "Settings", then "Mail, Contacts, Calendars option, and simply select "Add Account. Choose Google from the list and follow the on-screen prompts to add the account successfully.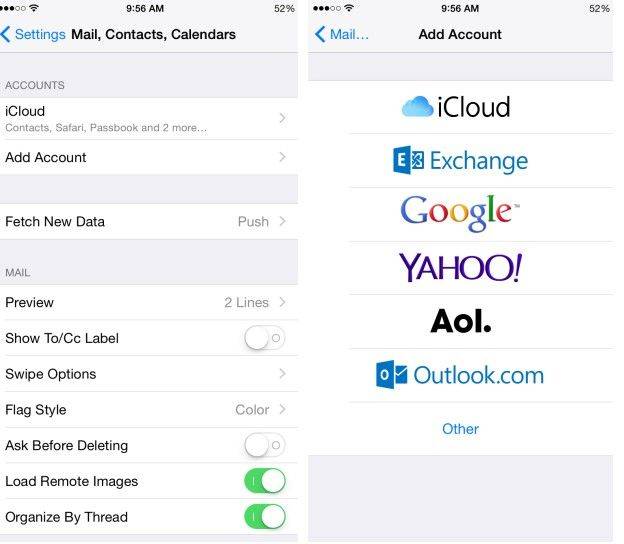 3. After you have completed setting up the account, the contact will be synced automatically.
4. If not, go to "Settings" from there go to "Accounts and Passwords" and press on your Gmail account.
5. Now, change the Contact option to green with the help of the toggle switch and it will be synced to your iPhone.
After it is completed, if you make any new changes to your address book for your iPhone, it will be synced to your Google Account. So, basically you have your address book in two places, now, you will be able to transfer to a new device any time you want.
Way 3: Move Contacts from Android to iPhone with SIM Card
If you are switching from Android to iPhone, then you are in need of an excellent medium to transfer your data from one device to another. Actually, there are a few efficient ways to transfer that data but you can also use your SIM card to move your contact information very easily. This process is possible because Android provides you the way to store your contact information data on your SIM card. You can easily backup your contact information on your SIM card and move that SIM card to your new mobile. Although, the SIM card on both devices has to be of the same size. All of the iPhones starting from iPhone 5 uses nano-SIM cards and almost all Android phones also come with the same, so you usually won't have any compatibility problems. Follow the steps below to complete the process:
1. Unlock your Android phone and backup the contacts from your Address Book to your SIM card.
2. Take out the SIM card from your Android device.
3. Now, insert that SIM card into your new iPhone.
4. Then, unlock the iPhone and go to Settings.
5. Navigate to "Contacts" or "Mail, Contacts, Calendars" for older iPhones, and select the option "Import SIM Contacts".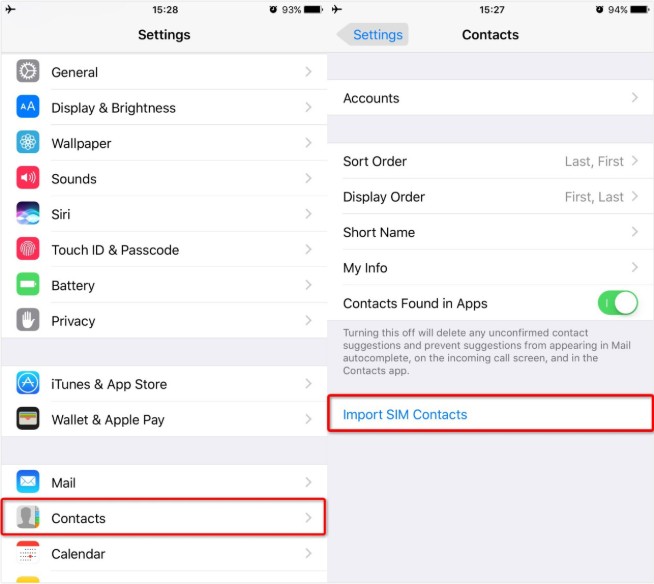 It will take only a few moments to import the contact information. After the data transfer is complete you will find the contacts on your iPhone.
Way 4: Sync Contacts from Android to iPhone with iTunes
Another way to import contacts from Android to iPhone is to use iTunes. Yes! It is possible to move contacts from Android to iPhone using iTunes. All you have to do is to sync your Android data with your iPhone and iTunes will do the rest. So, follow the steps below to transfer with iTunes:
1. Connect your Android phone with your computer. If you are using the newer version of Microsoft Windows, then you have to download and install Windows Phone Companion from the Microsoft Store for this process.
2. After your contact information from Android is synced you need to disconnect the device and connect the iPhone.
3. Now launch iTunes and click on the iPhone icon.
4. Navigate to "Settings" and click on the "Info" menu.
5. On that panel there is another option "Sync Contacts with", check the box beside the option to select it.
6. Now, in the drop-down menu, you need to choose the address book program you use.
7. Select the button beside the "All Contacts" option.
8. Finally, click "Apply" to save the setting and transfer all the contact information to your iPhone.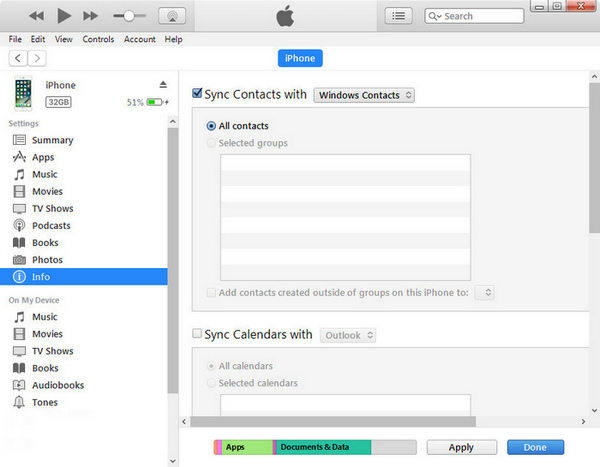 So, here's how to send contacts from Android to iPhone using iTunes. You can follow the process mentioned above to transfer them safely and effectively.
In the end, all of these methods seem very promising, as they are simple and effective. At the moment a large number of users are struggling with transferring data and especially their contacts from Android to iPhone as contact information is very important and that's the first thing one looks for while changing over to a new device. Hopefully, these 4 solutions will put them at ease. Also if you need to transfer any type of data from iPhone to iPhone, we highly recommend you to go for Tenorshare Phone to Phone Transfer. It is a very effective third-party app that comes with a simple interface and can transfer contacts and any type of data from your existing iPhone to a new iPhone or iPad with great efficiency.
If you like this article, don't forget to comment and share!!