5 Tricks to Fix Poor Performance on iOS 10.3.2/10.3.1
by Jenefey Aaron Updated on 2020-03-17 / Update for Cleanup iPhone
If you find your iPhone or iPad work sluggish after updating to iOS 10.3.2 or 10.3.1, read this post to get some tips to speed up iOS 10 performance on old iPhone 5s/5/6, iPad Air, iPad Pro, and also new iPhone 7/7 Plus and iPad.
"I update my iphone 6s 128 gb two days ago into ios 10.3.2 and now my iphone its extremely slow, i cant open apps and texting its horrible, i did try to restore my iphone and it doesn't help me enough... Can someone help me?"
These tips we are going to share will work for all iPhone, iPad, iPod touch running iOS 10.3.2, iOS 10.3.1, iOS 10.3, and older versions of iOS 10 as well.
Way 1. Restart your iDevice to Fix iOS 10.3 Laggy
Give your device a fresh restart may have positive impact on speeding up your device's performance. The restart process will quit background apps and clear app caches.
You can manually restart your device by holding both "Sleep" and "Home" (Volume Down button for iPhone 7 and 7 Plus) buttons for at least 10 seconds until the Apple logo appears.
Alternatively, you can use free Tenorshare ReiBoot to restart your device by entering and then exiting recovery mode.
Way 2. Reset Network Settings to Fix Slow Internet on iOS 10
If you are noticing slow downloads on the internet, in apps, or in the App Store after iOS 10 upgrade, we recommend you to reset your network settings. It is considered to be helpful in fixing poor network connectivity issue. You will not lose any data in your device by doing this. Just go to Settings > General > Reset > Reset Network Settings.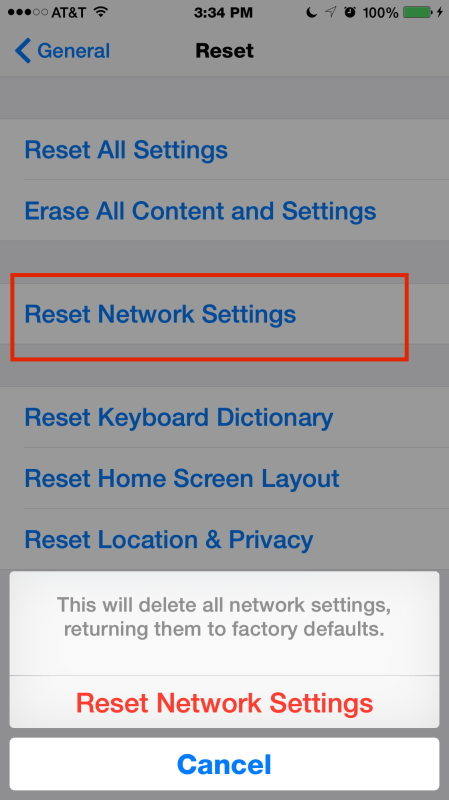 Way 3. Update Apps to Support Latest iOS 10
Some Apps will run slowly on iOS 10 device if they are not compatible with the latest iOS 10.3.2 or iOS 10.3.1. We will suggest you to check in App Store whether there is a new version comes out. If have, please update these kinds of apps to latest version.
Way 4. Clean Up Your iPhone iPad to Speed Up Slow iOS 10.3
With time goes, your iPhone is accumulated with invisible useless files like app cookies, caches, temporary files, downloaded logs, crash logs, etc. These junk files take a large amount of iPhone storage and slow down your iPhone performance. Getting rid of these hidden files on a regular basis could be helpful to improve iOS 10/10.3 performance.
Here I recommend you to use an iOS 10 Cleaning Tool – Tenorshare iCareFone Cleaner, to find these clutter files and clear them permanently.
As you can see from the software interface, it optimizes iOS 10 performance from 5 aspects. While the "Junk Files" and "Temp Files" will remove useless junk files from your device, the other three functions will save more storage by compressing photos without quality loss, seeking and managing large files on your iPhone, managing apps in bulk.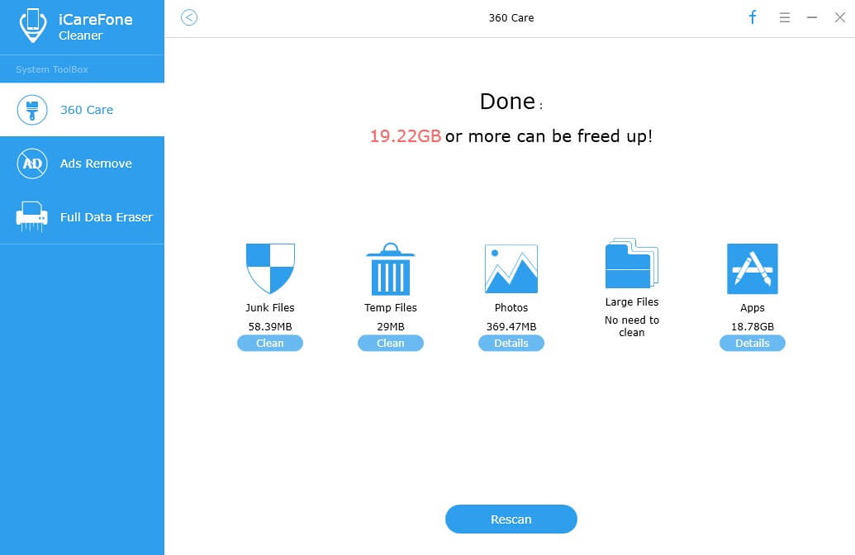 Way 5. Remove Widgets on iOS 10
The redesigned Widgets in iOS 10 show you information from your favorite apps like News, photos, and calendars without ever unlocking your phone. While they can be useful, they could also be hogging your device's resources and slowing down the device. Try removing some of the widgets that you do not use to see if that helps improve iOS 10 performance.
Swipe right over the Home screen, and scroll to the bottom, tap Edit. To remove a Widget, tap the red circle with the white line and tap Remove. Remove them as needed.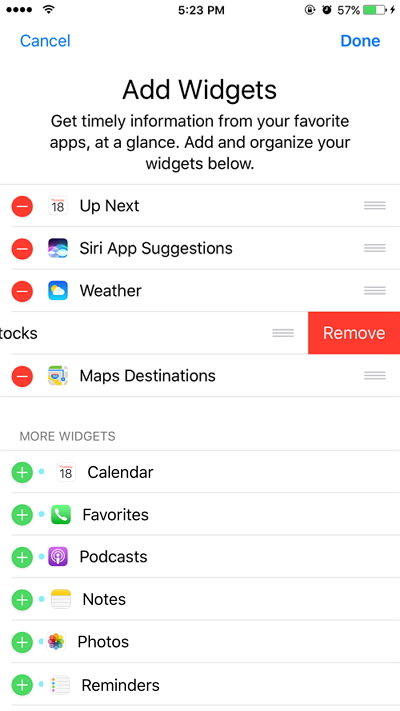 The Bottom Line
When you are noticing iOS 10.3 is slow on your device, these are the tips that you can use to fix poor iOS 10.3/10.2/10.1/10 performance. More iOS 10.3 problems and fixes can be found here.