The Walking Dead: Our World Cheats Guide
by Anna Sherry Updated on 2022-12-13 / Update for change location
If you are looking for walking dead our world cheats, then you come to the right place. In this article, we will show you how to cheat the game. There is also a video guide you can refer to cheat the game.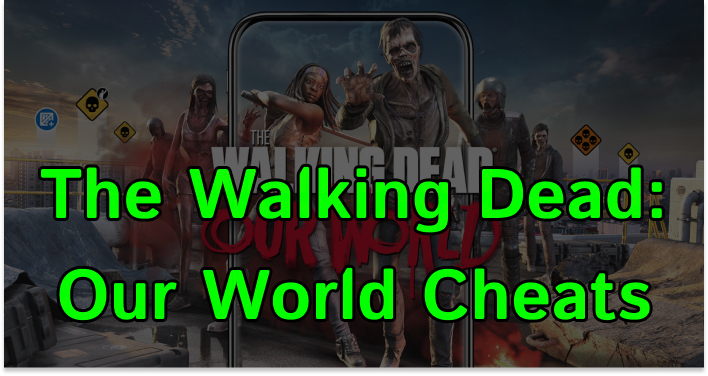 Can You Cheat The Walking Dead: Our World 
You certainly can. As previously stated, we will assist our users by informing them of some useful cheats for playing The Walking Dead.
Some will believe it is not even possible. However, it is technically possible because we will introduce an application that will assist users which is Tenorshare iAnyGo. So, why wait any longer? Let's see what we can do.
The Walking Dead: Our World Cheats on iOS Device 
For iOS users, there is software that can help them spoof The Walking Dead: Our World with Tenorshare iAnyGo. This application that is about to be disclosed will help you efficiently spoof your location because of its simple and easy steps to follow. 
Video Guide: How to Cheat The Walking Dead Our World?
Also, there is an additional feature of a joystick that will help users modify their location. The walking dead our world joystick hack will be available in Tenorshare iAnyGo. To enjoy the feature of iAnyGo Joystick Movement, follow these steps:
Launch the program on your computer. Connect your iPhone to the computer. Now choose the joystick movement mode on the home screen. You will find the joystick in the lower-left corner of your screen.

Now set the movement speed by dragging the slider.

Now use the joystick to start the automatic movement. This is how you will use the iAnyGo go joystick movement which is very simple and easy to use.
The Walking Dead: Our World Cheats on Android Device 
Above we covered how walking dead users can use the cheats on an iOS device, but don't worry we didn't forget our android users. We will tell the fans of walking dead our world hack android as well. 
For our android users, the Fake GPS Location Spoofer application works the best. It has two versions i.e. free and paid. Even the free version has some really good features that one can use for location spoofing. For location spoofing via fake GPS location spoofer, follow these steps: 
Firstly, you will need to have android 6 or above, this way you won't be needing to root your device.
After successfully downloading the application, tap on the open button.
Then allow the application to have access. This will give access to the location of the device. · Now enable the developer option.
Tap on selecting the mock location app and select the application as your mock location app and close the menu.
Select the start button on your application and choose the desired application there, your location will be spoofed and changed to the new one.
This way one can spoof their location using the fake GPS location spoofer.
Tips for the Walking Dead: Our World Cheats 
Here are some tips and tricks that will help the walking dead users to play even better. These tips will help us explore the walking dead our world map even more. So, let's look into them one by one: 
1. Don't Change GPS Location too Frequently 
The first piece of advice for our users is to not change their GPS location too frequently. This is because users have experienced a soft ban after changing their GPS location too frequently. 
2. Use Joystick to Fake Moving Is Better 
Using a joystick is always an advantage rather than changing location. Because the GPS joystick will help customize your movement in any direction. The more realistic your movement will be the better it will be and there won't be any chance of getting blacklisted. 
3. Coordinates are Available for The Walking Dead: Our World 
The last tip that we have for our users is to the coordinates that are available for the walking dead. Some specific cities are available for the game. Up to now, New York City is available for the game.
If you can't reach New York, then you can try Location spoofer to reach this city to play The Walking Dead: Our World. 
The Bottom Line 
In this article, we covered walking dead our world cheats and tricks that users can use to level up their game. We hope these tips were helpful for our gamers as we want them to excel. Happy gaming to our readers!